Congratulations to Michele W., who won my newest favorite necklace.  I'll get that to you asap!
So we're in the midst of Read Across America week at school and with that comes lots of dress up days for teachers and kids…and I'm coming off a weekend at a scrapbooking retreat where I wore lots of comfy pj pants and sweats to scrapbook in.  Which means not that many blog-worthy outfits this week.  Such is life.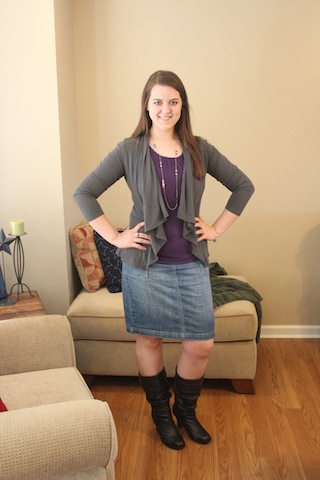 shirt/Loft outlet
cardigan/Gabriel Brothers
skirt/NY&Co.
boots/Madden Girl via Marshall's
My hair is looking good in that picture for a change.  Just sayin'.  Also, I really like that cardigan – I wonder why I don't wear it more? (you should see the back – it has a really pretty lace panel)
On Friday the teachers dressed up as book characters and did the Harlem Shake at morning assembly to get the students pumped up about Read Across American/Dr. Seuss' birthday.  I think it worked.
I dressed up as Madeline – I wasn't going to include my outfit here since I already posted a picture Friday, but then I thought that maybe I should share since it was super simple to put together and would be a great costume in a pinch.  So if you're needing a quick costume, maybe this will be of some use.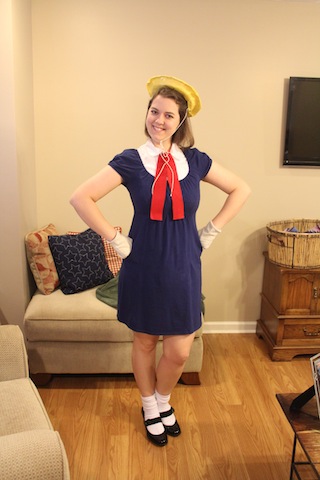 I used a blue dress I already had (Loft outlet…you've seen it a gagillion times around here).   I wore a white collared shirt under the dress so that the collar peeked out the top.  The black shoes are from Target, I borrowed a pair of Michael's white socks, and wore white winter gloves.  The red "tie" is just two strips of red felt safety pinned to the white shirt.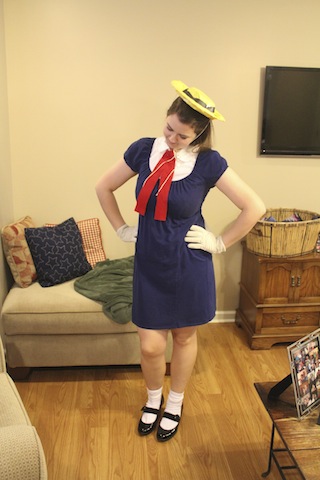 The hat is the only thing I had to make.  I glued a paper bowl upside down to a paper plate.  I covered the whole thing with yellow paper and then used black paper to make the band and "ribbons" hanging down the back (you can't see them in this picture).  I tied the hat on with yarn under my chin to keep it in place.
Easy, cheap (I already had all the pieces), and (I think) cute.
Linking up with Lindsey.