I've been scrapbooking since 7th grade but I had never been on a scrapbooking retreat until this past weekend.  I never really saw the appeal – I mean, it's a lot of work to pack up all your scrapbooking stuff, lug it to the retreat, set it up, and then pack it all back up at the end of the weekend.  Plus, I just couldn't justify paying money to go scrapbook when I could do that for free in my own home.
Boy was I missing out!  A friend from church invited me to go on her annual scrapbooking retreat, and I finally decided to check it out and see what all the hype was about.  I am so glad I went.  First of all, I had an absolute blast.  And second, I got a ton of scrapbooking done!
I had no idea what to expect since this was my first one.  The retreat actually started Thursday night, but I had to work on Friday so by the time I got there Friday night, everyone else was in full scrapbooking mode.  When I walked in the door I was totally overwhelmed.  It looked like a scrapbook store exploded in there!  There were Cricuts, computers, printers, albums, punches, tools, papers, stickers, tables, chairs, boxes, and bags galore.  It was overwhelming.  I thought I had a lot of stuff, but I'm pretty sure I had the smallest amount of stuff of anyone there (except maybe the girl that was working on a digital scrapbook and only had her computer).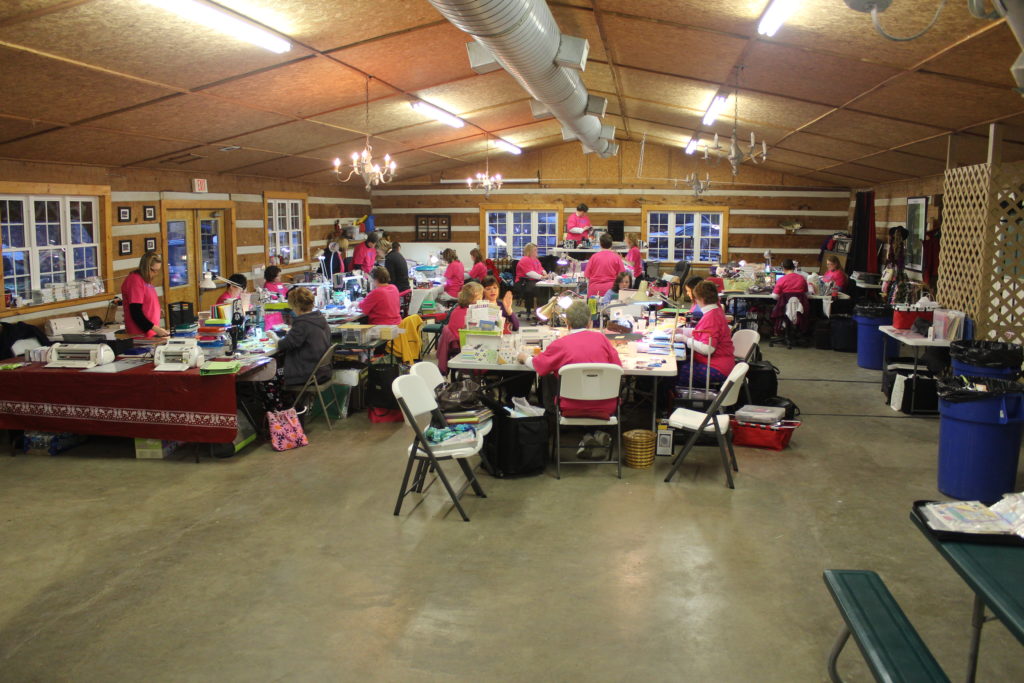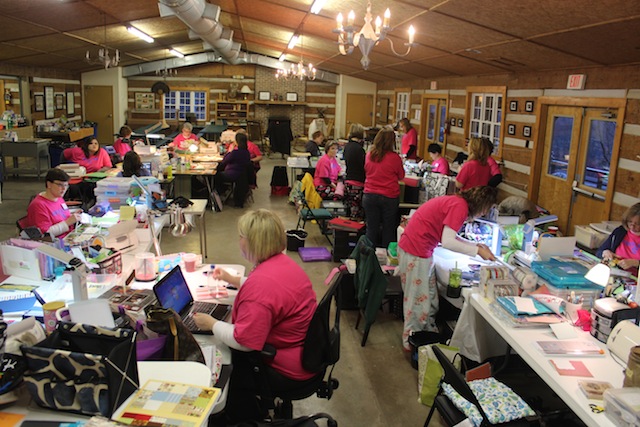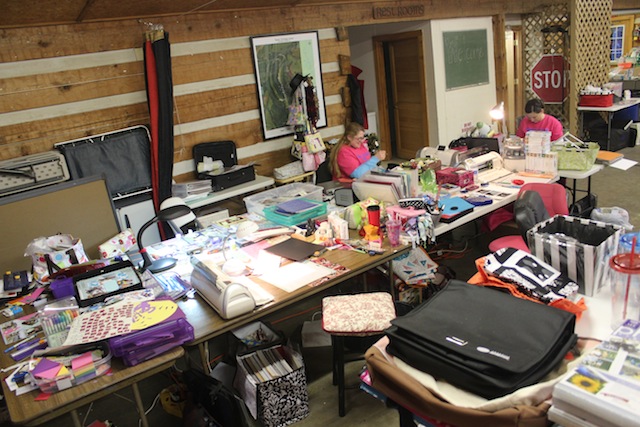 We each brought a folding table, chair, and of course, all our stuff.  Mine is the one on the right side of the picture with the pink chair.
Of course most of our time was spent scrapbooking.  The schedule was pretty much eat, sleep, and scrapbook.  We did have some fun activities like contests on who did the most pages each day, a contest for who made the best page using the same paper, a pajama and ice cream party, and a scavenger hunt.  And the food was amazing.  There is a sweet lady who does not scrapbook, but volunteers her time to come to our retreat and cook for us so that none of the participants has to stop scrapbooking to fix food.  The food was amazing – way better than your typical "camp food", and it was so nice to just grab a plate, eat a quick meal, and then get right back to scrapbooking.
We also got a surprise snow while we were there.  It was the first weekend in March and no one expected snow, especially not this much!  It snowed pretty much all day Saturday and it was absolutely beautiful!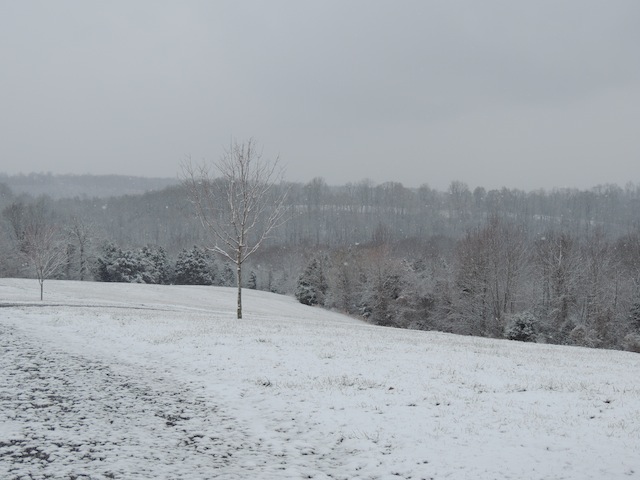 It was so fun to stay all cozy inside the mess hall while we scrapbooked, with snow coming down outside all day long.  And then fortunately it was all melted by Sunday when it was time to go home so we didn't have to deal with slick roads.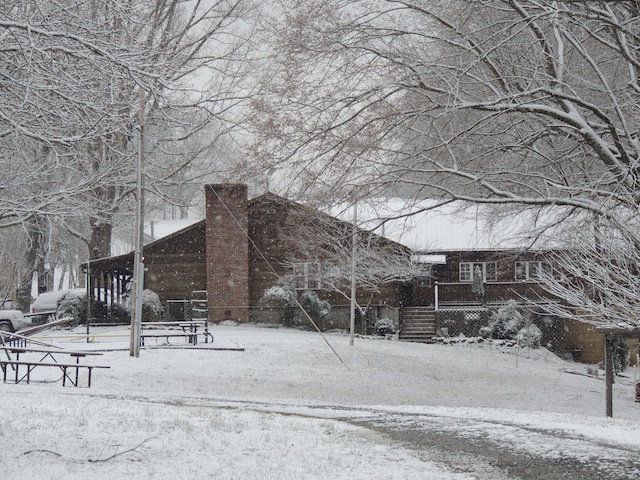 The snowflakes were unlike any I'd ever seen before.  You could actually see each individual snowflake – they were huge and looked like the ones you cut out of paper.  What an amazing testament to God's design.  So intricate and beautiful.  I tried so hard to get a picture but my camera just doesn't have the capabilities to zoom in that close.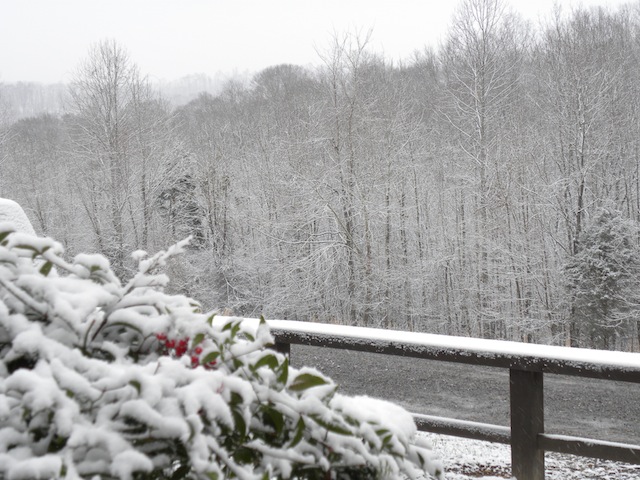 Overall it was a fantastic weekend!  I made new friends, had a blast, and got a ton of scrapbooking done.  It also motivated me to get more done, so I've been working this weekend on finally getting my craft area set up in our bonus room.  I hope to have that area semi-organized soon so I can keep on working!
As for the retreat…definitely worth the money!  And I'll certainly be back next year.  Oh and next year it will be held at our church's new camp that we are currently building (thought I'd throw in a little plug…) – check out the great article about Big Reedy that was in the paper this week!