I straightened my hair a few times this week…it doesn't seem like it would make that big of a difference, but when I look at pictures of it straightened I think it just looks so much more longer! This is the longest my hair has been since about kindergarten and it still surprises me when I see a picture.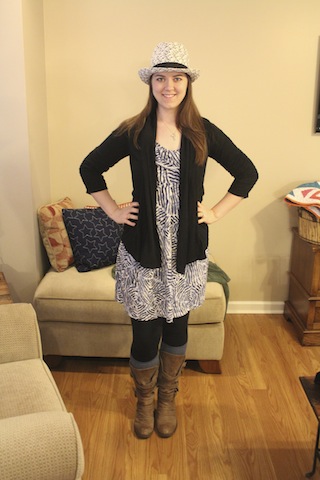 dress/Loft outlet; cardigan/Gabriel Brothers; leggings/???; socks/Forever 21; boots/Gianni Bini via Hyder's; hat/Forever 21
It was hat day at school for Read Across America Week (Cat in the Hat = hat day). I was excited to get to wear this hat. I've had it for nearly a year and never found an opportunity (or the guts) to wear it. I think it was kinda cute, though.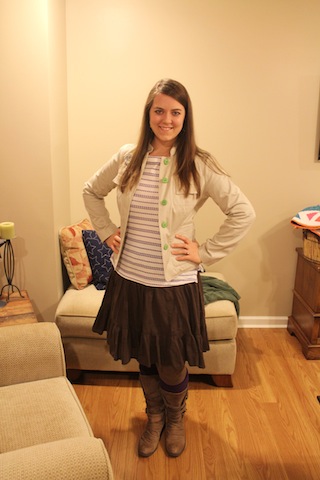 jacket/Target via Goodwill and refashioned by me; shirt/Gap outlet; skirt/Old Navy; leggings/Forever 21; socks/Target; boots/Gianni Bini via Hyder's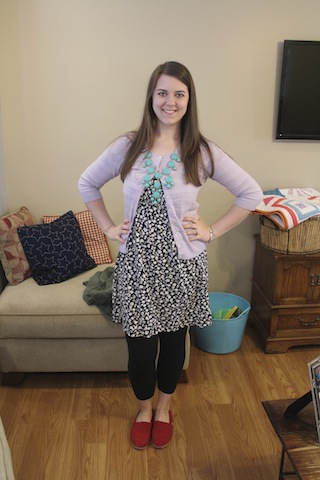 dress/Loft outlet; cardigan/Limited; leggings/???; shoes/TOMS; bubble necklace/Snuggle Luv
Linking up to What I Wore Wednesday