Oh my, y'all.  I love me some potato soup.  I've tried the potato soup at just about every restaurant that serves it and I've made several recipes myself.  I'll had some really good ones, and I've had some really bad not so delicious ones.  But this recipe I have to say is the best potato soup I've ever had.  It's way better than my old potato soup recipe or any of that stuff served in the restaurants.  I love it and it's pretty easy, too (total plus).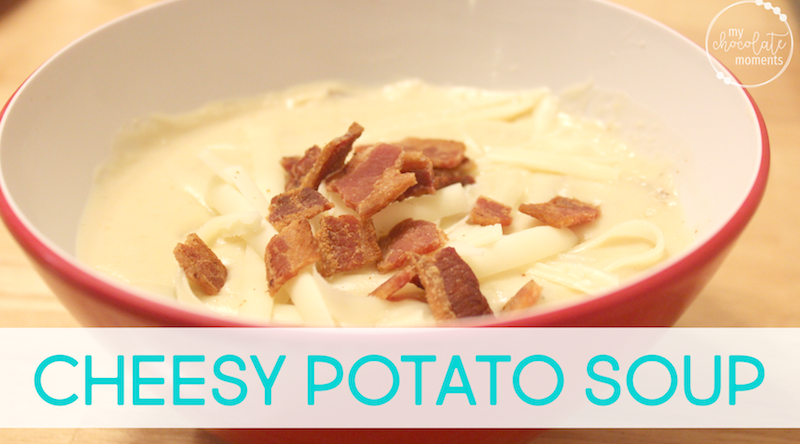 It's creamy.  It's cheesy.  It doesn't require peeling any potatoes.  It's delicious.
Let's make some, shall we?
You don't need too many ingredients – just potatoes, onion, chicken broth (we make our own so it's way darker than store bought), cream cheese, cheddar cheese, and garlic.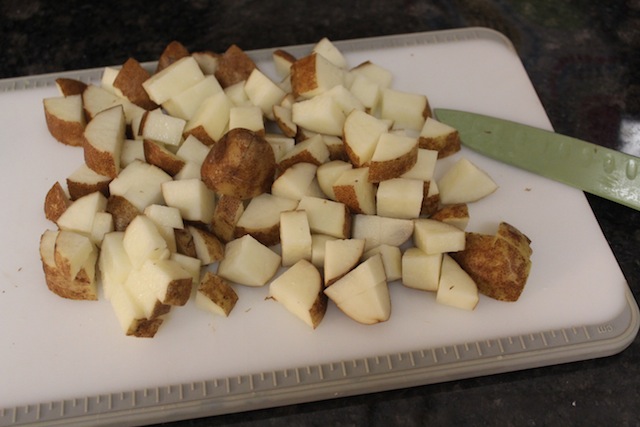 Chop up those potatoes but don't even worry about peeling the potatoes…just leave the peel on and chop them up into a small-ish pieces.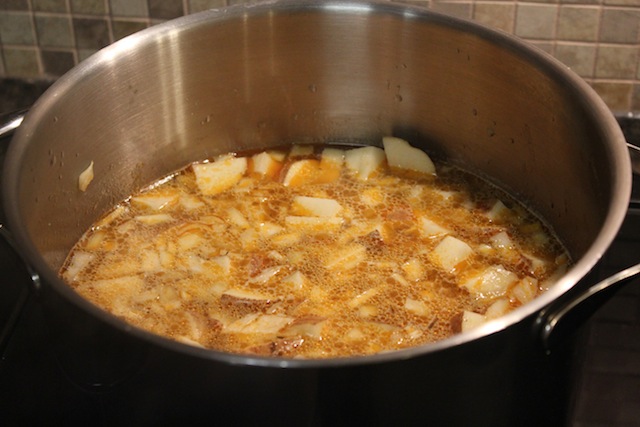 Ok so I got a little overexcited and forgot to take pictures of each step, but the gist of it is…chop the onion and then put the onion, potatoes, garlic, and chicken broth in a pot.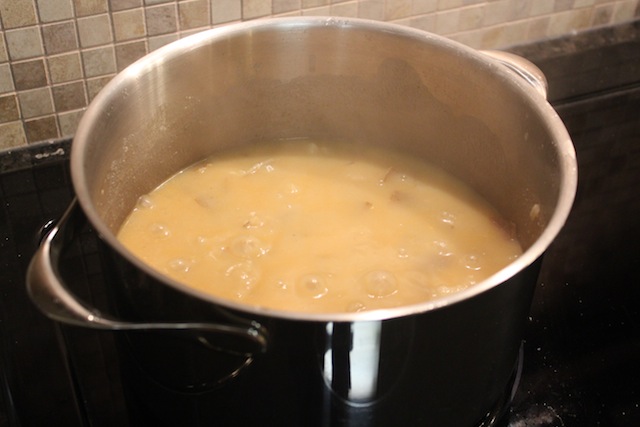 Bring it to a low boil and cook it until the potatoes are nice and soft.
Add the cream cheese and cheddar cheese.  Stir them into until they are melted.  Once that's all mixed together then you're all done!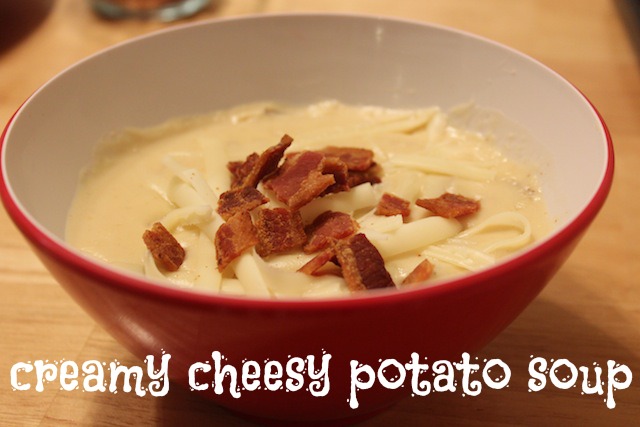 Serve it up, top with some more cheese and bacon (chives and/or sour cream would also be good here), then enjoy!
Recipe (adapted from here)
Ingredients
2.5 pounds of potatoes, chopped with peel left on

1/2 yellow onion, chopped
6 (or so) cups of chicken broth (we make our own but you could certainly use store bought) – sometimes I have to add a bit more broth but I always start with 6 and then add if I think it needs it
2 TBSP garlic powder
8 oz cream cheese
1 cup cheddar cheese
any desired toppings (extra shredded cheese, crumbled bacon, chives, sour cream, etc.)
Instructions
Combine the chopped potatoes, chopped onion, garlic powder, and chicken broth in a stock pot.  Cook on a low boil until the potatoes are soft, the peeling is starting to fall off, and it looks creamy rather than brothy.  For our stove this takes about an hour.  Stir occasionally and don't be afraid to stir vigorously – this helps the potatoes break up and dissolve a little, which gives it that creamier texture.  Add the cream cheese and cheddar cheese; stir until melted and mixed thoroughly.  Top with desired garnishes and serve!
This recipe makes about 8 cups of soup.  It can easily be doubled to feed a larger crowd, but it will take longer for the potatoes to cook down, and make sure you use a large pot.  A double recipe fills my 6 quart pot nearly to the top and I have to be very careful stirring it.
Oh and one other note…2 tablespoons of garlic powder seems like a ton, and it may smell super garlicky when it first starts cooking, but I promise it doesn't taste strong at all.  So don't worry.
Mmmm.  I'm not even hungry right now but I still want to go heat up a big 'ole bowl.
If you've been looking for a good potato soup recipe, you can stop looking now.  Go try this recipe out and see if you agree with me.