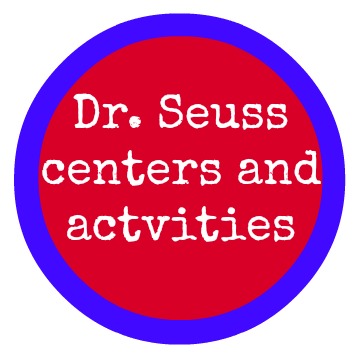 Well I know Dr. Seuss' birthday/Read Across America week are long over, but I want to go ahead and write a post about what we did at our school while it's fresh on my mind.  If you're a teacher you'll just have to bookmark this post and hang on to it until next year :).
I can't take credit for all of these ideas.  There is another teacher at our school who is working on her master's in library media and as part of her practicum she planned a lot of these activities.  Props to her for organizing all this!
The Friday before we did our Dr. Seuss week we kicked everything off with the teachers doing the Harlem Shake dressed as book characters.
My book character was Madeline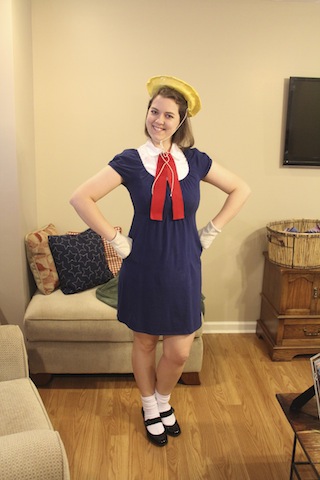 During the week we had dress up days each day based on Dr. Seuss books – Monday was crazy socks day (Fox in Socks), Tuesday was PJ day (I am Not Going to Get Up Today), Wednesday was wacky/crazy day (Wacky Wednesday), Thursday we wore hats (Cat in the Hat), and Friday we dressed as our favorite Dr. Seuss character.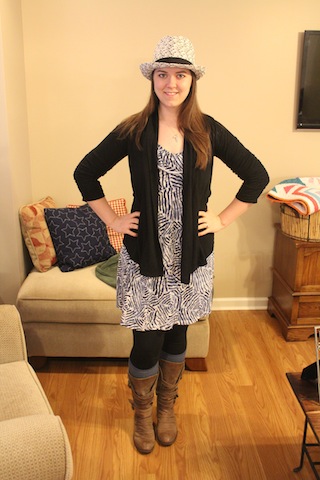 We had several guest readers who either recorded themselves reading and we played it for the kids or came in to school to read.  The best (in my opinion) was Big V aka Vito Banga…a local rapper who used to be part of the Kentucky rap group, Nappy Roots (apparently pretty well know to Kentucky natives…I happen to be a Kentucky transplant so I didn't know much about them prior to this week).
Anyway, he read to two of my preschool classes and totally blew me away with how good he was with the kids – really interacted with them, sang with them, and did a great job reading Dr. Seuss' ABCs to them.  I was super impressed.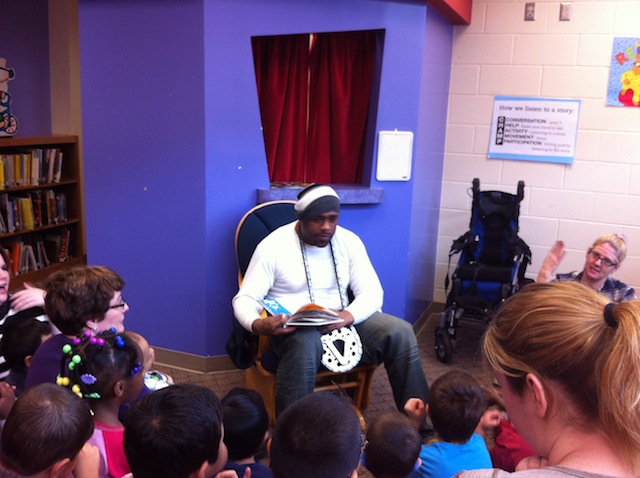 We also had a door decorating contest between the teachers and classes.  Everyone did a fantastic job and it was really hard to choose a favorite (fortunately we had the students vote so that we wouldn't have to choose :) ).
These were some of my personal favorites.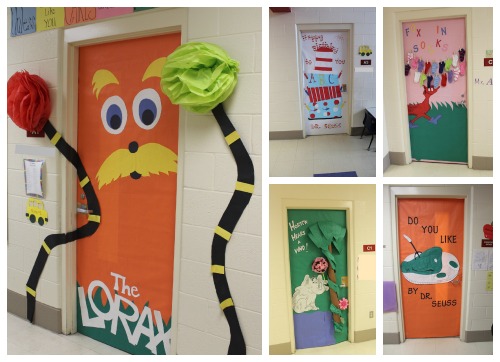 I didn't compete in the contest, but I decorated the library doors anyway.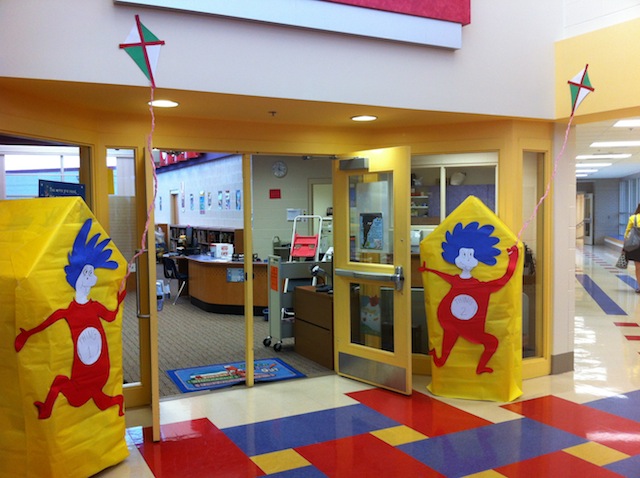 Ok so on to my centers – this is the part I'm really excited to share with you!
This whole year I've been rolling the idea of centers around in my head, wanting to give them a try in the library but not quite sure how to proceed.  Then I stumbled upon The Centered School Library and got super inspired by how Cari does centers in her library.  Cari has several centers set up each week and students can choose from any of the centers.  I gave that a try for a few weeks, and while the kids absolutely loved getting to do the centers, I am just a little too type-A for the kids to roam around selecting centers at will.  Also, the kids were fighting over the "fun" centers (the ipods, the computers, and the Interwrite board) and no one wanted to do the not-so-fun ones (free reading corner, puzzles, coloring, etc.).  While I wanted to keep doing centers, I needed for it to be just a tad bit more structured.
I created four centers that related to Dr. Seuss.  I then divided each class into four groups. Over the course of two weeks each group visited the four centers (they went to two centers the first week and then the other two the second week).  This worked much better because each child had an assigned location so they weren't roaming around everywhere.  It also ensured that they each had a chance to try each center and the same kids weren't hogging certain centers.  The kids seemed to really enjoy them!
My four centers were:
1.  computer center – The kids could get on seussville.com and do any of the Dr. Seuss activities.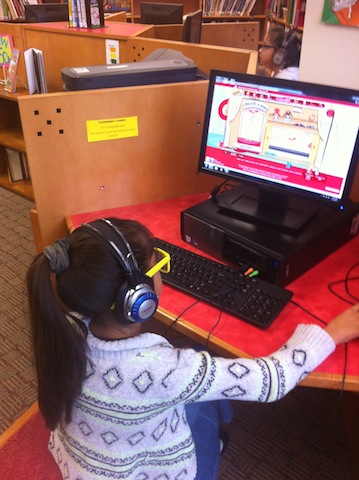 2.  AR center – I had a stack of short Dr. Seuss books.  The students could read one of those books and then take and AR test (I have ipods that they can use for taking AR tests) or take an AR test over a book they had read prior to coming to the library
3.  ipod center – With my other 5 ipods (I have 10 total…I use 5 at the AR center and 5 at the ipod center) the kids could get on the PBS kids app and watch educational videos (not the most Dr. Seuss-y activity, but there were some Cat in the Hat videos on PBS kids and I couldn't find any more relevant ipod apps – maybe before next year I'll have a better AR center set up)
4.  Interwrite Board/Classroom – I have an Interwrite Board (like a Smart Board or a Promethean Board) in my library classroom.  Sometimes I use it for the kids to play games/do activities, but for this round of centers I just used it as a projector and the kids watched Justin Beiber read The Cat in the Hat and Tim Tebow read Green Eggs and Ham.
I also offered the free reading corner as an option if the students would rather sit and read a book or magazine than participate in their assigned center.
Grades 2 – 5 rotated through the four centers over the course of two weeks.  Overall, I think they enjoyed it and I really liked it, too.  I was afraid that classroom management would be an issue with the kids all spread out doing different things all at once, but it actually made it easier.  It also make check-out much smoother because I would just call one group at a time to check out over the course of the class rather than having the whole entire class check out in the last 5-10 minutes (super chaotic).
Centers are something I intend to continue using in the library.  The classes are currently rotating through centers that have to do with genres (I plan to blog about that, and the genre challenge that they are doing, later) and toward the end of the year I'd also like to do a round of centers that deal with searching for library books by using the OPAC, understanding call numbers, locating books on the shelves, etc.
I'd also like to do eventually do centers with kindergarten and first grade, but I wanted to start small with the older kiddos who don't need as much help at each center and get used to that first.  In case you wondered, during the two weeks that 2nd-5th did centers I read various Dr. Seuss books to the kinders and 1st (well actually one week Justin Beiber and Tim Tebow read to them via the above videos since I had laryngitis and then the second week I read I am Not Going to Get Up Today but I got a cd of someone else reading Fox in Socks and played that while turning the pages of the book under the document camera…Fox in Socks is a huge tongue twister and I was more than happy to let someone else read it!).  I cracked up during one kindergarten class when I was reading Fox in Socks because when I got to this page, one girl very indignantly exclaimed "pigs don't play drums!"…never mind that we've read about foxes wearing socks, slow joe crow sewing clothes, tweedle beetles battling in puddles in bottles…clearly that is less absurd than pigs playing drums…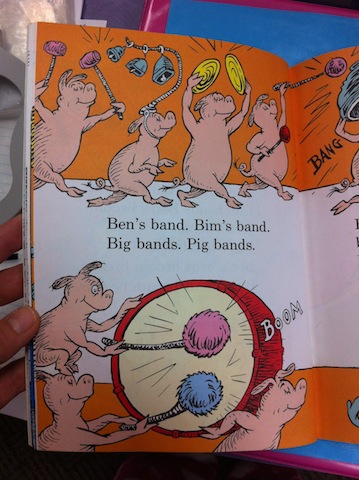 Whew!  Sorry for the hugely long post, but I really wanted to put all my Dr. Seuss stuff together in one place!  If you've been contemplating centers I hope you'll at least give them a try.  I'm really pleased with how mine turned out.  Check out Cari's blog for tons of ideas to get you started.