Ahh spring break – the time of year when everyone is tired of school, there's only a few weeks left but it feels like you just.can't.go.any.longer.  The weather is starting to turn nice (if you're lucky) and everyone just needs a little break.  This year for spring break I headed to Atlanta with my aunt and cousins.  Elizabeth's parents live in Atlanta and Miller had gotten an American Girl doll for Christmas – there is an American Girl store in Atlanta that we thought would be fun to visit.
We headed out Monday morning to make the long drive from Kentucky to Atlanta.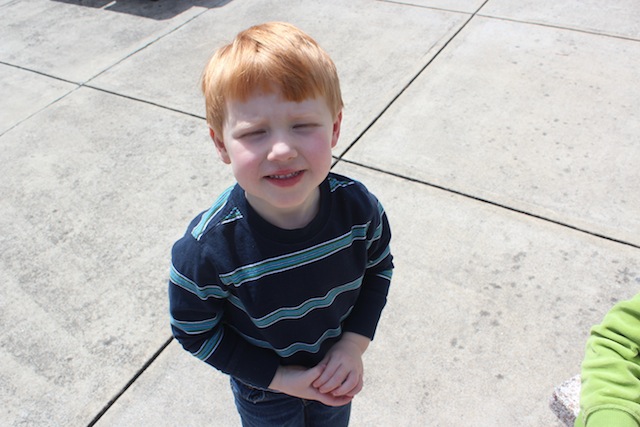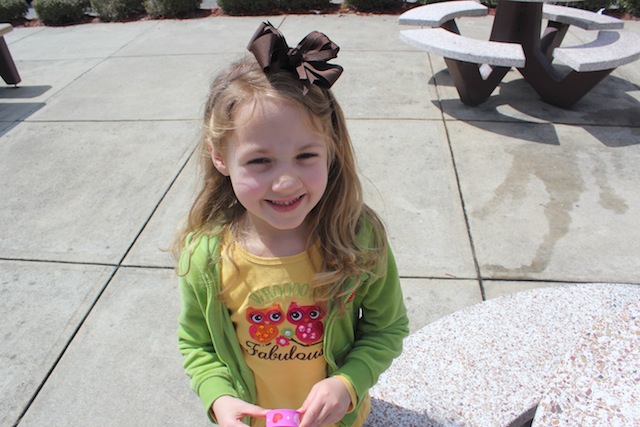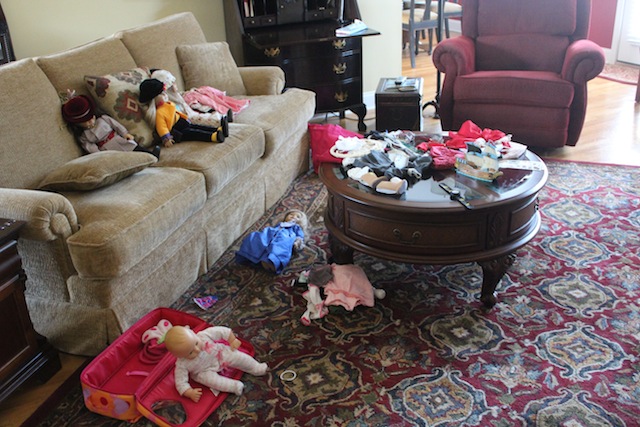 Just about as soon as we got there Monday night, Miller and I had all our American Girl stuff out to play with (yes, that's right…I brought all four of my American Girl dolls and most of their accessories with me).
Our adventure for Tuesday was the Georgia Aquarium.  I LOVE aquariums so I was excited about this.  It was fun and there were a lot of amazing things to see, but apparently all of Atlanta chose to come to the Aquarium on the same day because it was packed!  Some of the exhibits you couldn't even see because there were so many people in your way.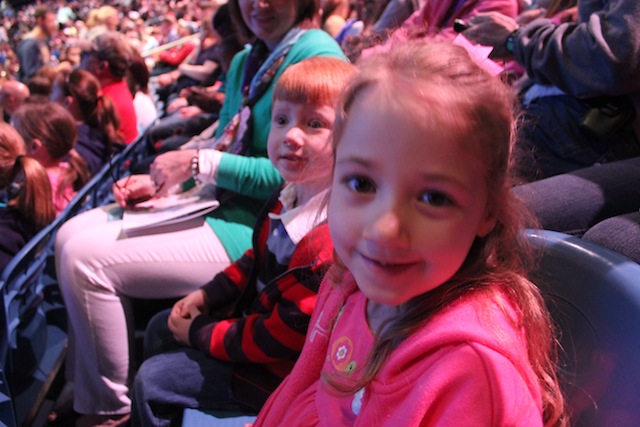 our first stop was a show called Dolphin Tales – it was kind of a Dixie-Stampede-meets-Sea-World kind of thing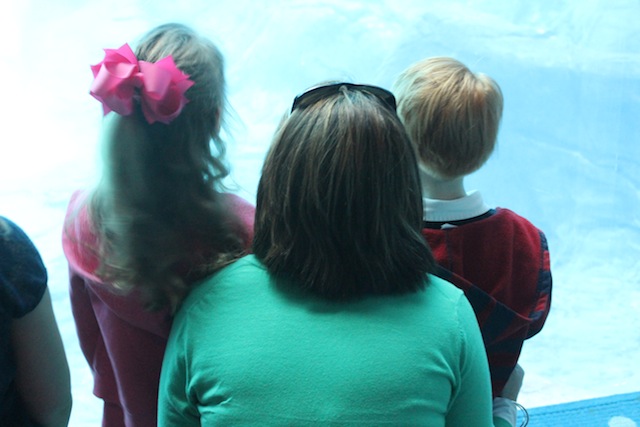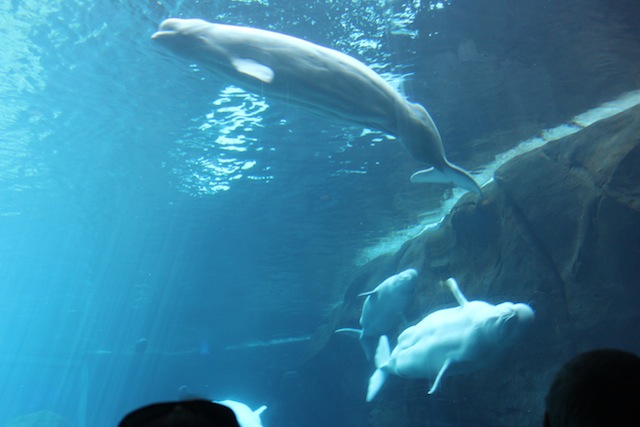 four beautiful whales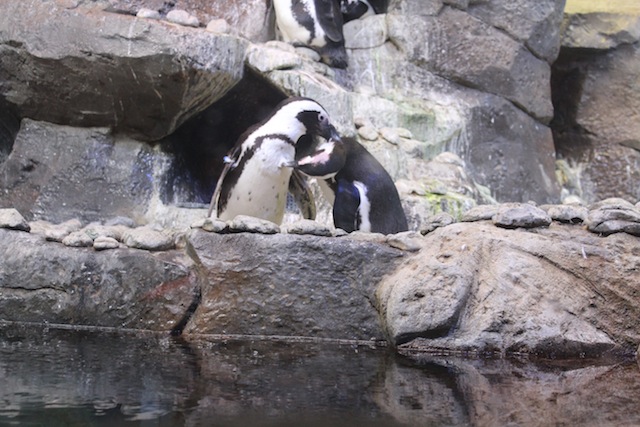 these penguins kept picking at each other – maybe they were cleaning each other?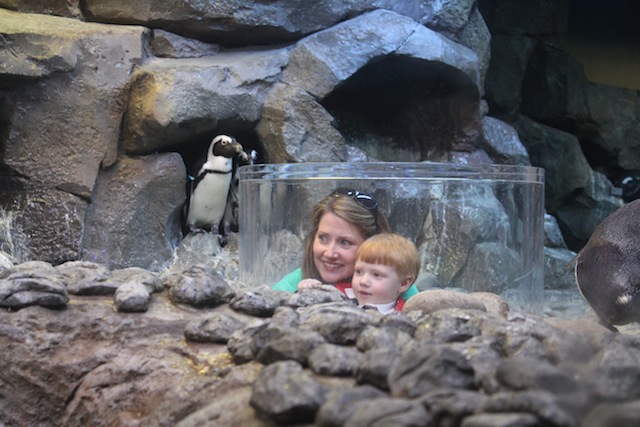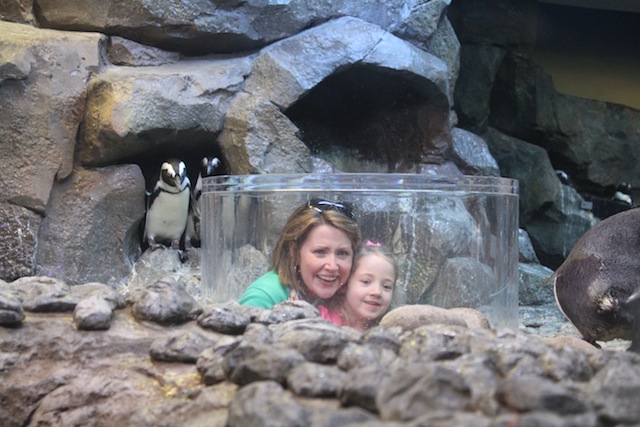 Elizabeth, Miller, and Jackson got to crawl through a tunnel into a tube to be "inside" the exhibit with the penguins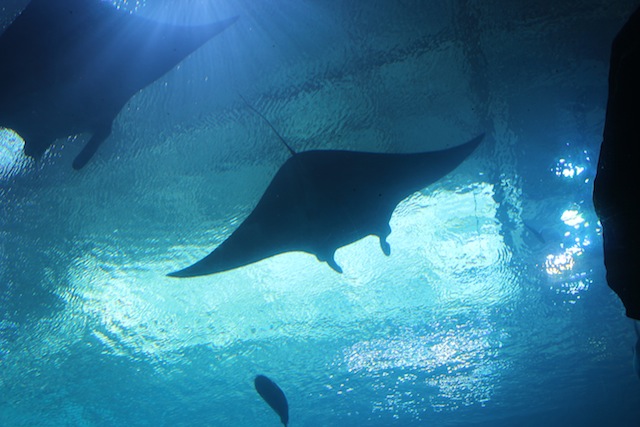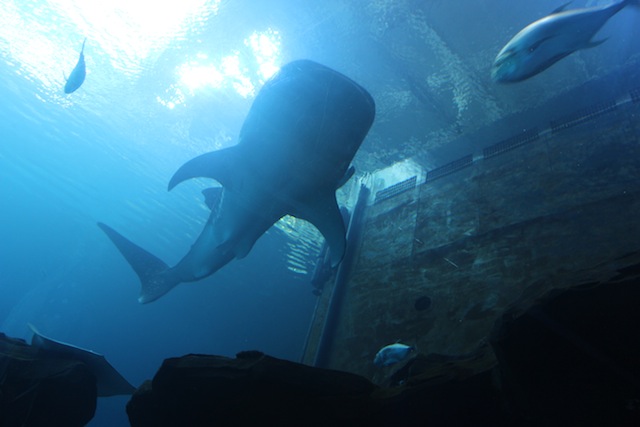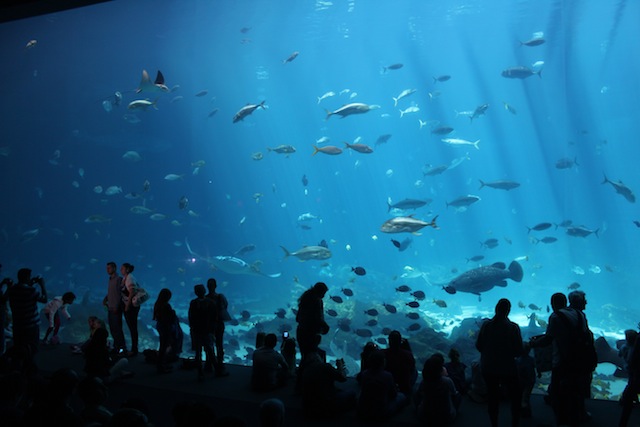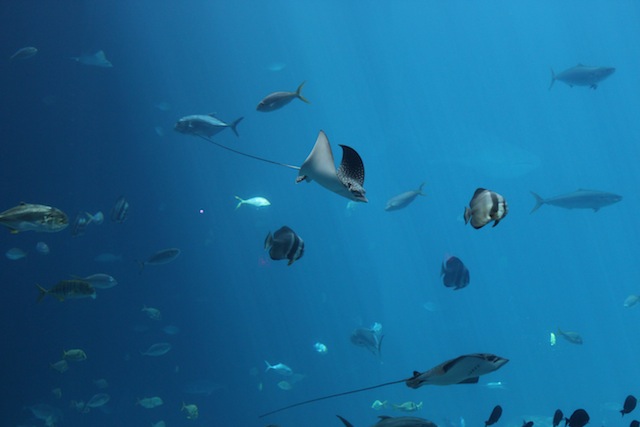 I love watching all the beautiful fish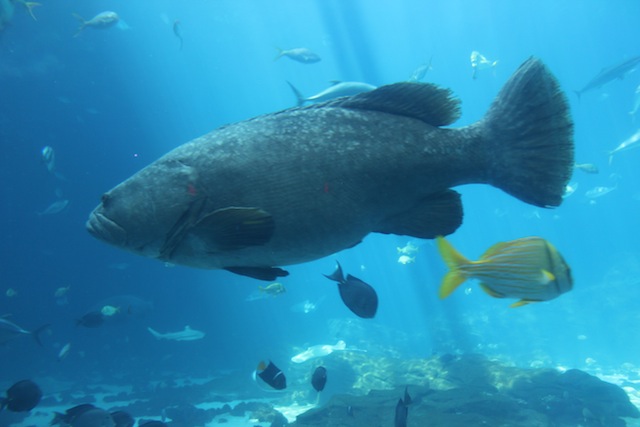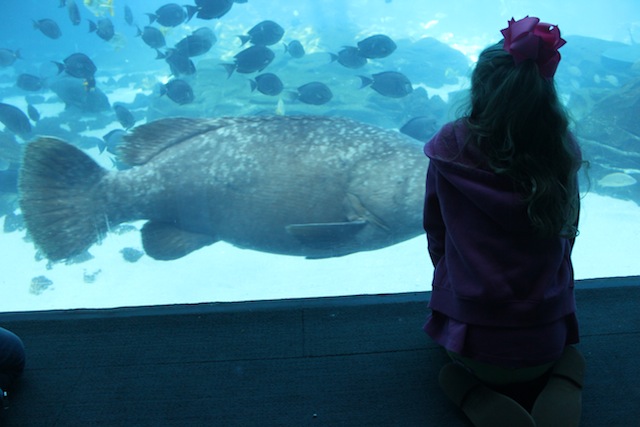 look how huge that fish is!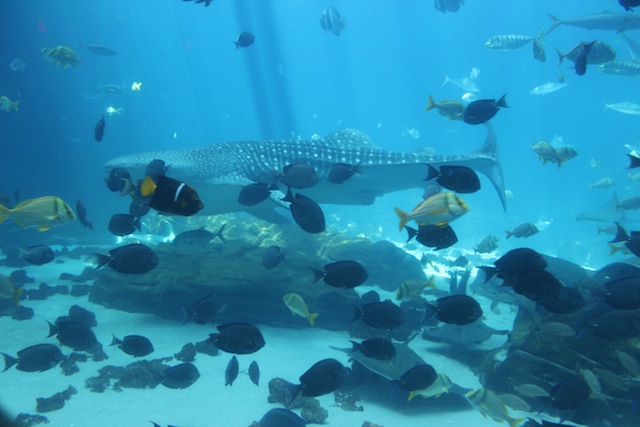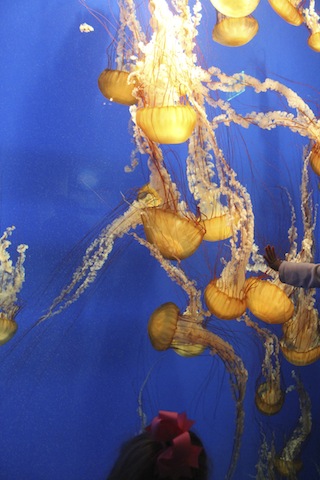 I'm so fascinated with jellyfish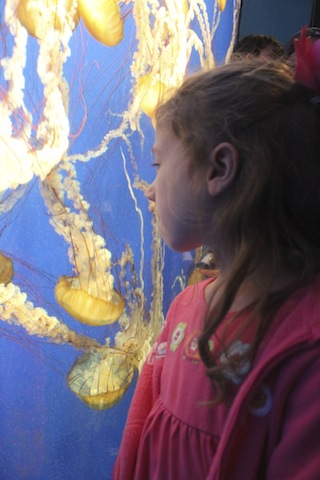 touching the stingrays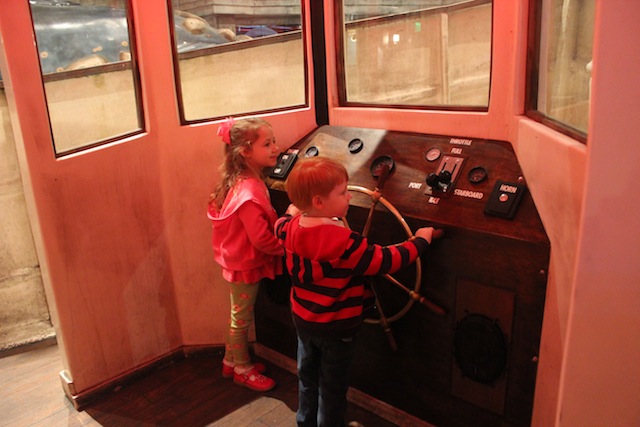 steering the boat in the play area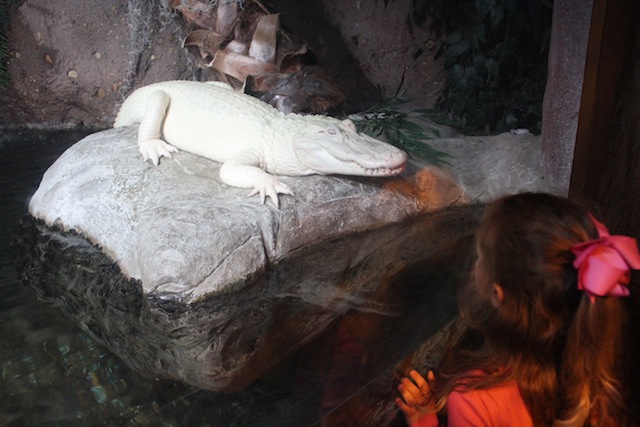 an albino crocodile – that was one of the creepiest, weird things I've ever seen!
So other than the insane amount of crowds, the aquarium was fantastic.  Also, I just have to note that the food was surprisingly good!  I'm used to museums, aquariums, zoos, parks, etc. having mediocre food – usually the only choices are hamburgers, hotdogs, and pizza.  Not so at the Georgia Aquarium!  There were all kinds of choices – soups, salad bar, nacho bar, fresh fruit, and lots of ala carte items.  However, they didn't tell you what all your options were, you just kind of walked through a line in a horseshoe shape and picked out what you wanted.  That wouldn't been so bad except that there were so many people there you couldn't really look at everything and then go back to what you wanted.  You just had to pick something that looked good to you and hope you didn't see something further up the line that looked better and regret your choice.
Wednesday was the day Miller and I had been waiting months for…American Girl day!  We loaded up all of our dolls to take with us.  I have four: Samantha, Felicity, Molly, and a looks-like-you doll (that looks nothing like me…she has blonde hair, but for some reason when I was younger I really wanted a blonde doll) that I named Brook; Miller has two: a looks-like-me doll that she named Madelyn and a Bitty Baby.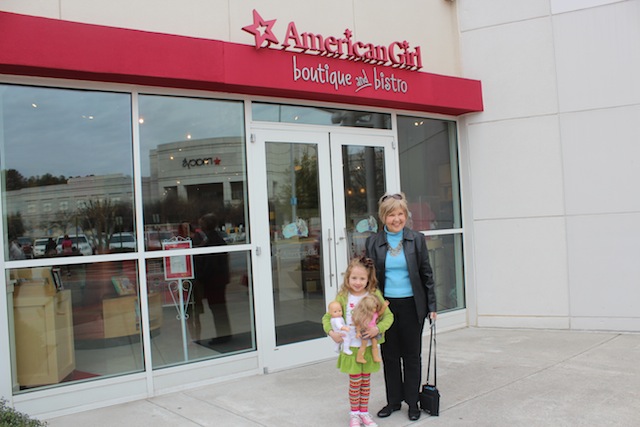 Miller Ann and her Gran in front of the store
We're pretty sure that the crowd from the aquarium followed us to the American Girl store the next day, though, because it was a madhouse!  We got there around 11:30, fully expecting to get to eat at the bistro they have in the store, only to find out that all the tables were reserved for the whole day!  However, there was a counter bar that you could eat at that was first come first serve.  A huge thanks to Gran who stood there for 30 minutes while we shopped so that we could be seated just as soon as they opened for lunch.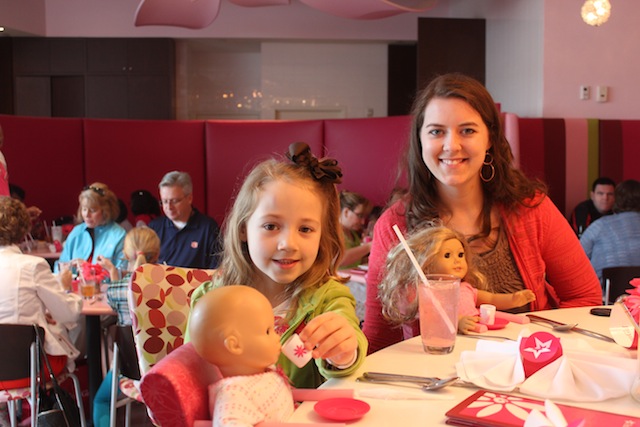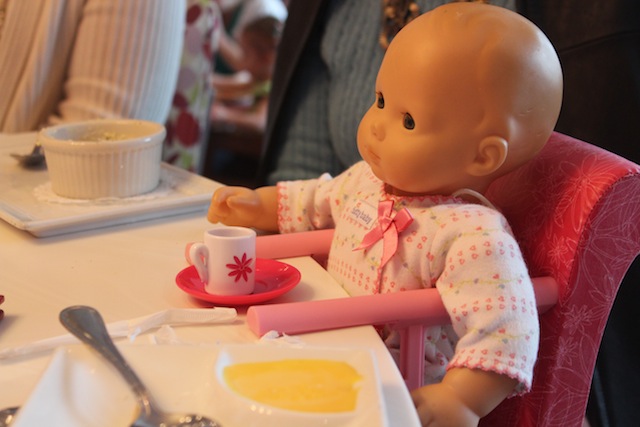 The bistro was so adorable!  They had these little seats that clipped onto the counter for your dolls to sit in.  Each doll also got a plate and cup served to them when you first sat down.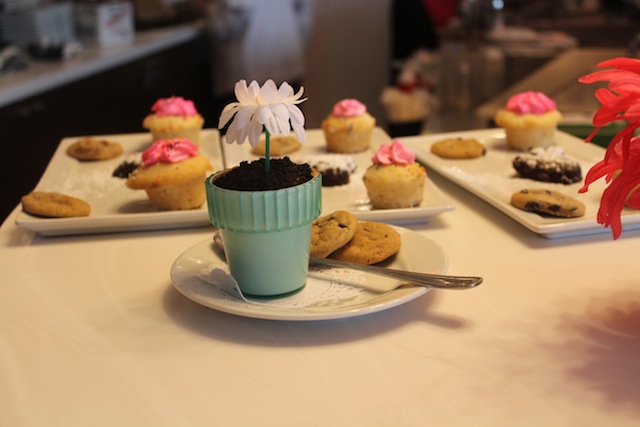 The food was delicious and the desserts were adorable!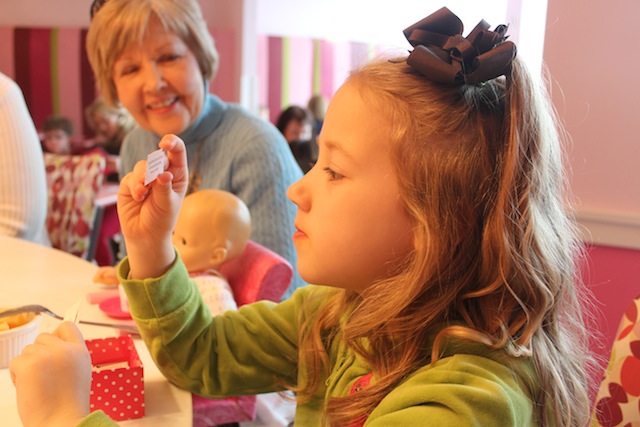 There was a box of conversation starters on the tables that the girls could ask their moms (or whomever they were with).  I thought that was a neat way to encourage communication and bonding.  Miller had fun asking us questions!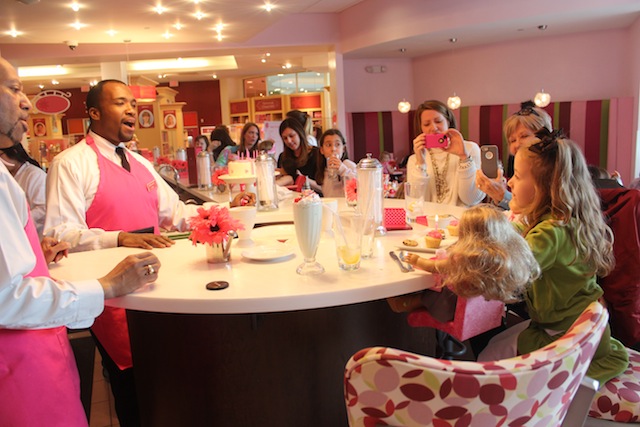 If it is your birthday (or if you want to say it is your doll's birthday), then the waiters will sing to you.  It must have been every little girl's and every doll's birthday because we heard Happy Birthday so many times while we were there!  This was part of Miller's birthday celebration from earlier in the month so of course we had them bring dessert and come sing to her, too :).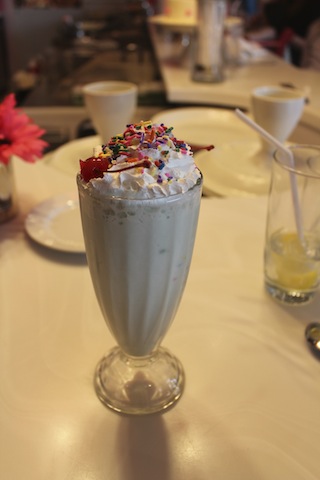 It wasn't my birthday, but I had a birthday cake milkshake anyway :)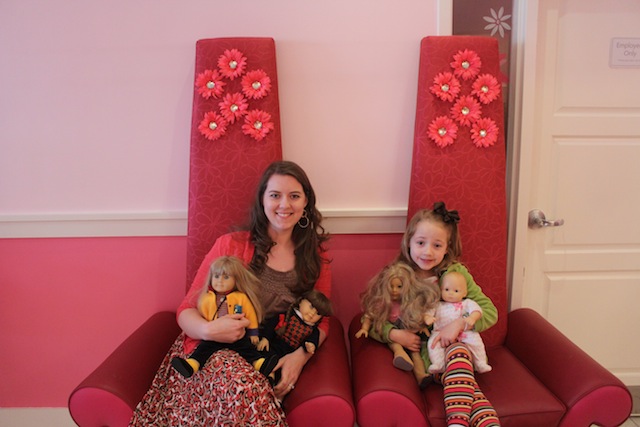 cousins 20 years apart (26 and 6 years old) bonding over our shared interest – American Girls!
After lunch we browsed some more while we waited for our doll's hair appointment.  Yes, another downside to the huge crowd was that even though we got there around 11, the earliest appointment for our dolls to get their hair done was 3:00!  So we shopped and picked out some stuff for the dolls, and even went out and shopped in the rest of the mall while we waited.
I was good – I only bought one thing!  Miller and I got our dolls some matching pjs (and Miller got a matching set in her size…).  That was my little "souvenir" and I didn't buy anything else.  Believe me, it was hard.  Everything is so adorable and miniature and cute!  The attention to detail is amazing!  I kept trying to justify it in my head by thinking that someday I will have a little girl to play with the stuff I bought, but my frugalness and practicality won out and I only got the one outfit.
I'll say this – I'm sure glad there wasn't all this stuff around when I was big into AG!  "Back then" there were only 5 or 6 dolls with 6 or so outfits each and it was hard enough to decide what to save my money for (and order out of the catalog…how archaic!).  Now there are hundreds of dolls and thousands of accessories to choose from.
Finally 3:00 rolled around and we were able to watch our dolls get their hair done.  That part was so cool – they had tiny little barber chairs and capes for the dolls while they got their hair done.  I had them re-do Felicity and Samantha's hair back to their original hairstyles (15-20 years can take a toll on a doll's hair!).  It was fun (although it made me feel a little old), to hear the ladies ooh and ahh over my dolls – apparently they are made quite a bit differently now and it is unique for them to see one of the original dolls.
I was just so impressed with the whole experience.  The workers at the American Girl store are fantastic.  They are so kind and you could tell they love what they do.  I can't really describe it, but the way they took interest in the girls and treated each one as if they were incredibly important was wonderful.  I was blown away by the customer service.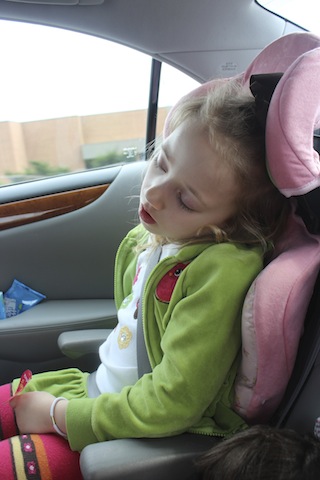 I'd say this picture pretty much describes how we all felt after that day – exhausted!
American Girl store: hands down best part of the trip.  It.Was.Awesome.
Oh and don't worry, we didn't drag Jackson to the American Girl store with us – he got to spend the day hanging out with his D'Daddy and shopping at Bass Pro.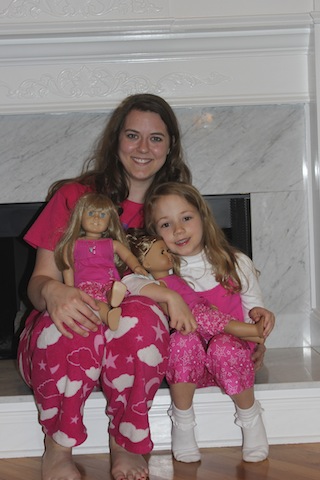 We had a "slumber party" when we got home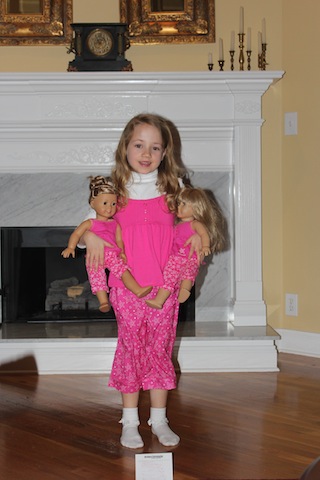 Miller, her doll Madelyn, and my doll Brook in their matching pajamas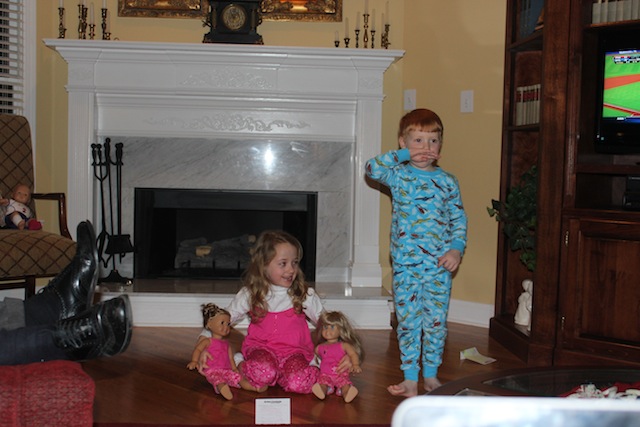 Miller and Jackson put on a play for us – the 3 Little Pigs
Thursday we headed to IKEA.  I'd never been to an IKEA before but had heard tons about them, so I was intrigued.  Jackson had been talking about it so much that I just had to know what was so great about it that a 4 year old would be excited to go (answer: the cinnamon rolls.  He loves the cinnamon rolls).  The place was huge.  The whole upstairs is a show room, with all their furniture and accessories set up in various ways so you could see how to use them.  The downstairs was where you actually shopped and put the stuff you wanted in your cart.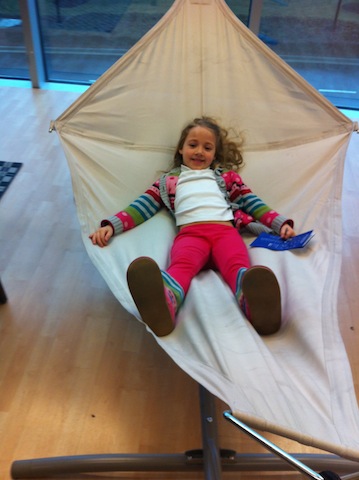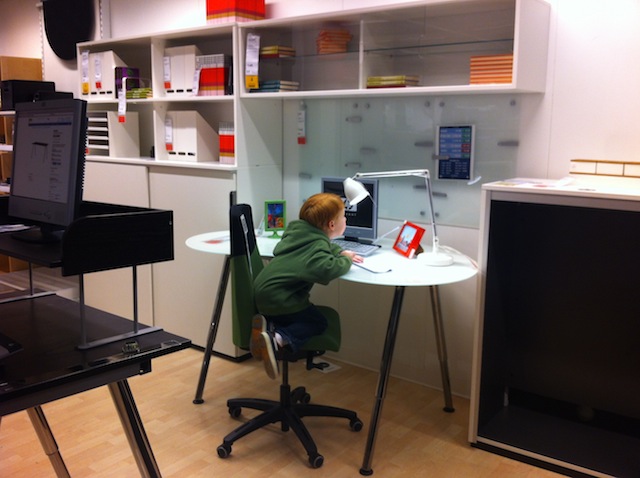 The shelf saga.  I've been admiring the IKEA Expedit shelves for many years now.  While we were at IKEA I decided I really wanted to buy some.  I hadn't planned very well and hadn't measured the space I was wanting them for so I didn't know if they would fit.  Michael was able to measure for me and he said that I couldn't go any higher than 59 inches…Guess what, the 4×4 Expedit is 58 and 5/8 inches tall.  How perfect is that?!?  However, getting these boxes home proved to be a bigger ordeal than I expected.
To make a very long story short, after several false attempts, a lot of measuring, research, Googling, and a day of pondering, we were able to come back the next morning and somehow cram the four boxes into Elizabeth's SUV.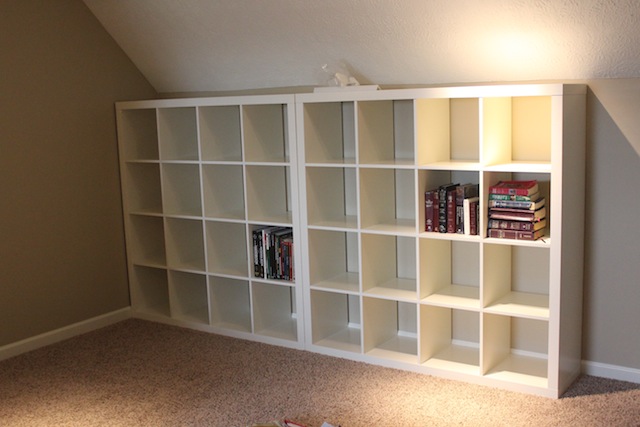 And here they are (with just a few things thrown on there to get a feel for them) – a perfect fit!  I'm so excited to fill them up (and get a ton of junk up out of our bonus room floor…).
Thursday night we were supposed to go watch the Braves farm team play at their new stadium, but it was cold and rainy so we didn't go.  That ended up being for the best since we were all so tired.  I have to say, I wasn't expecting the 5:00 suppers and 8:00 bedtimes that come with being with a 4 and 6 year old, but as exhausted as we all were at the end of each day it was actually kind of nice to turn in early.
Friday the kids stayed with Gran while Elizabeth and I went shopping.  She introduced me to the wonderful world of Talbot's outlet.  I've heard her talk about Talbot's for years but have never been to one.  I'm so glad she took me – I racked up on cute spring clothes for a steal!  They were having a huge sale and everything in the store was $25.00 or less.  I got a $100+ blazer for $25!  Check back in on Wednesday for What I Wore Wednesday cause I'll be showing off a bunch of my new cute outfits.
Friday afternoon we went to visit and eat dinner with some of their other relatives that live in Atlanta.  Then Saturday morning we packed up and headed home.  Back to school, work, and reality.  What a fun trip and I am so thankful that I got to tag along :).