So…modesty.  Kind of a touchy, but necessary subject, wouldn't you say?  Well, get ready 'cause I'm about to stomp on some toes (my apologies in advance).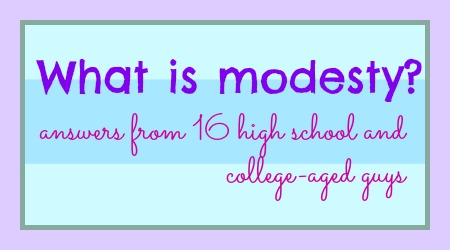 A little background: over the last year or so I've started questioning some of my clothing choices and wondering if they weren't modest enough.  Let me be clear, I've never worn anything that I intended to be immodest or that I knew was immodest, but recently I've started wondering if some of the things I thought were modest were actually immodest.  I first started noticing that the things that were fine when I was teaching high school (and not moving around much) did not provide enough coverage now that I teach elementary and am sitting on the floor or trying to pick up a screaming child who has prostrated themselves on the floor or bending over to shelve books.  I also started to notice that the clothes that were fine while sitting or standing very still in church were not so modest when holding a squirmy, grabby baby.
I had already started altering my wardrobe a little to be more modest and actually planned to write a blog post about modesty but before that happened I was asked to teach the junior high and high school girls class at church this quarter. We are coving a lot of heavy material this quarter, but one of the big things we've covered is modesty.  And then, on top of that we recently had a girls day at our church where our topic was modesty.  Needless to say, this has been on my mind quite a bit recently.
I think the issue of modesty typically is seen as a teenager issue and is reserved for girls classes and devotionals, but I have to say that I have seen a lot of young adult women that struggle with this (myself included!) and I feel like the most important audience to reach regarding modesty is the mothers of these teens…because for the most part the parents are the ones buying the clothes.  So even though my blog is probably not read by many teenagers, hopefully this will still be impactful to some of my readers.
There are two types of modesty: dealing with our attitude (usually meaning humble) and dealing with our clothing.  Obviously I'm going to be talking about clothing.  Webster defines modesty as "propriety in dress, speech, or conduct".  We know that when Adam and Eve ate of the tree of the knowledge of good and evil their eyes were opened, they realized they were naked, they made coverings for themselves, and then God made even more coverings for them (Genesis 3).  1 Timothy 2:9-10 tells us (and I'm paraphrasing here) that women should adorn themselves in respectable apparel, with modesty.
The hardest part when teaching about modesty, though, is that it is very subjective.  The Bible tells us to be modest, as indicated in the above two examples, but it does not come out and specifically say that shorts that are x length are modest and shirts that cover x, y, and z are modest.  Trying to figure out what is modest and what is immodest can be a bit of a gray area.  So we (the girls in my class and I) decided to get some more concrete guidelines…by asking the guys what they thought was modest or immodest.
Let's be honest.  If there were only girls on earth, it really wouldn't matter what we wore.  One of the biggest reasons for us to dress modestly is so that we don't cause the guys we come in contact with to stumble.  Matthew 5:8 says "but I say to you that everyone who looks at a woman with lust for her has already committed adultery with her in his heart".  Males are very visual.  They struggle with lustful thoughts.  And when girls put their bodies on display, it makes it very difficult for men to not notice.
However, we usually hear this speech from other women – our moms, some other lady at church, etc.  And we think, "oh surely this or that isn't really a problem for the guys I know".  Which is why we went to the source.  To get actual guys who we actually know to tell us what is and is not a problem for them.
Now, this survey is very simplistic.  We chose 14 items that we weren't quite sure if they were immodest or modest.  We gave the survey to 16 guys at our church from 7th grade to college aged.
Here were their answers: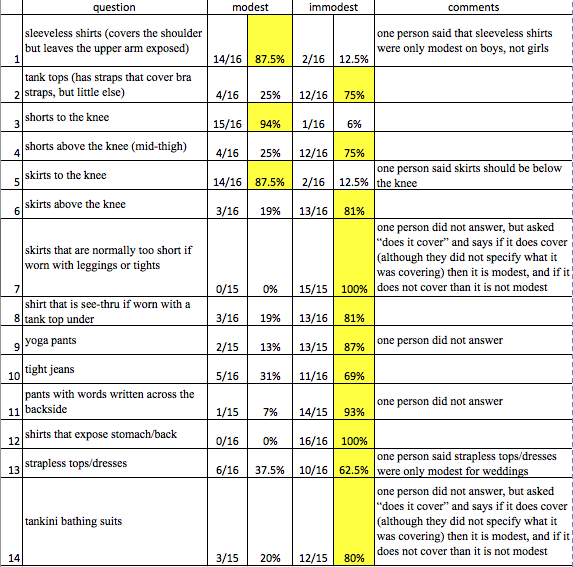 Of the 14 items we listed, there are only 3 things that the majority (87% or greater) of the guys surveyed said were modest:
sleeveless shirts
skirts to the knee
shorts to the knee
In regards to the other 11 things listed, the majority (62% or higher) of the guys said these were immodest:
tank tops
shorts above the knee
skirts above the knee
skirts that are normally too short if worn with leggings or tights
shirt that is see-thru if worn with a tank top under
yoga pants
tight jeans
pants with words written across the backside
shirts that expose stomach/back
strapless tops/dresses
tankini bathing suits
In fact, 2 of these items (skirts that are normally too short if worn with leggings or tights and shirts that expose stomach/back) were considered immodest by 100% of the guys surveyed!
Here are some of the additional comments that were left by the guys:
one person mentioned that writing on the chest of shirts was immodest
"anything that men would/could have sexual attractions to" is immodest
"girls you shouldn't seek attention by dressing immodest, it is the wrong attention to get"
"all the things I circled I consider immodest because they often times results in men having sexual thoughts" (Caitlin's note: the things this commenter indicated as immodest included everything except sleeveless shirts, shorts to the knee, and skirts to the knee)
"please dress modest girls :)"
I have to say that I was floored by some of these answers.  I knew bikinis were immodest (you're basically wearing panties and a bra in public…get real), but I was ok with tankinis (although now that I think about it, that's just like wearing panties and a small, tight tank top).  I also was big into wearing leggings or tights under skirts that were a little too short – 100% of the guys we surveyed said that was not ok!  And most of my skirts were pretty close to the top of the knee while standing, but got much shorter when sitting down.
If you want to see survey results from over 1,600 Christian guys that cover 148 different questions about modesty (much more thoroughly and extensively than the survey we did), I highly recommend checking out therebelution.  Very interesting stuff indeed.
This has gotten my wheels turning and is definitely making me re-think my clothing choices.  Like always though, I don't want to just be preached at and told to do something (you need to pray more, you need to study your Bible, you need to wear modest clothes, etc.)…I also want to be given a few suggestions of HOW, and I assume many of you are the same way.  So tomorrow we will talk about that in light of these survey results and discuss some practical ways to be more modest.
Your turn – what do you think about those survey results?  Are you as surprised as I was?  Did it change the way you view modesty?