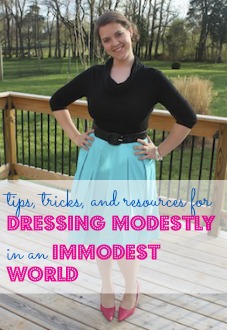 Let's face it, we live in an immodest world.  I mean, we've got stars letting it all hang out on the red carpet, girls wearing sports bras and short-shorts at the gym, bikinis everywhere at the pool and beach (not to mention pictures of girls in said bikinis posted all over Facebook), cleavage and miniskirts at church, and every other picture on Pinterest someone is half naked.
We learned yesterday that guys have some pretty strong (and surprising!) opinions about what is immodest.  If you're like me, those results convicted you a little and you're thinking that your wardrobe needs a bit of a modest face-lift.  We established that there is a need to be more modest, so now let's talk about some ways to actually do that.
First, you need to get in your mind the difference in fixed modesty vs. functional modesty (thanks to Daniel for introducing me to those terms).  Fixed modesty is when an outfit is modest while you are fixed – just standing in front of the mirror.  Everything looks fine, not too short, no cleavage showing, etc.  But then when you start to move around (i.e. function) to notice some issues – cleavage when you lean over, too short when you sit down, skirt rides up when you walk, back is exposed when you sit down, etc.  Functional modesty is when you can do all those things I just listed (and more) and still be covered modestly.
I'll be honest with you – fixed vs. functional modesty is what gets me just about every time.  I never buy something knowing that it is immodest, but often I'll look really quickly in the dressing room mirror, all looks fine, and then the first time I wear it out I start to realize it's not functionally modest.
The first thing to do to make sure your clothes are modest is to check your clothes before you buy them.  If it is hard to check in the dresing room because there is nowhere to sit down or the lighting is bad then make sure to check them thoroughly when you get home before you take the tags off.  Here are some things to look out for:
– bend over to see if any cleavage is going to show

– tug on your shirt a little to see if it is going to slip down too low or ride up too high
– raise your hands above your head to make sure you belly is still covered
– sit down in a chair and cross your legs to see if your skirt is still covering enough
– sit down in a chair and make sure your pants and shirt still meet in the back
– bend over and check to make sure that your rear end and legs are still covered
– move around in your clothes – walk around, do some normal activities, make sure everything is going to stay in place and covered without lots of tugging and adjusting
– examine from all angles to make sure your shirt, pants, skirt, dress, etc. isn't too tight and form fitting.  If it looks like your pants were spray painted on or that you had to be melted down and poured into them, they are too tight!
I saw this on Facebook and thought it was worth sharing.  I couldn't find the source of the image (if you know who made it, please let me know so I can credit them), but I know the original list came from here.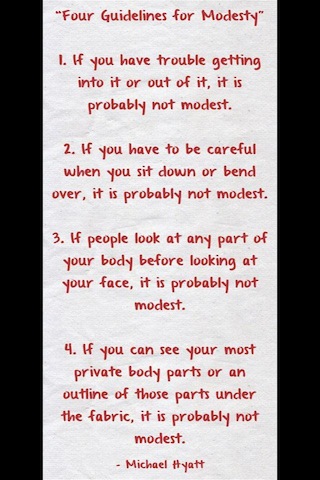 Now let's say you already have some cute clothes that you love and/or your budget just won't allow for a total wardrobe make-over.  My second tip is layer, layer, layer.  Invest in some tank tops, thin but modest long sleeved or short sleeved tops, skirt extenders, and cardigans.
– wear tank tops with a higher neckline than your shirt to give you more coverage up top
– wear tank tops that extend lower than the bottom of your shirt to give you more coverage between your shirt and pants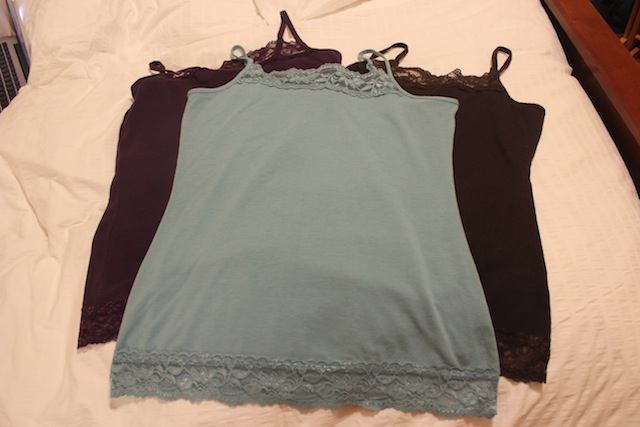 I have a ton of these tank tops (they are Maurice's brand but I always find them at Rugged Wearhouse/Gabriel Brothers) – the lace at the top and bottom makes them perfect for too short and/or too low-cut shirts.
Courtney at Women Living Well shares where she likes to get her layering tanks (spoiler – one place she gets them is from the men's section…I never would have thought to look there!)
– use cardigans over shirts/dresses that are too strappy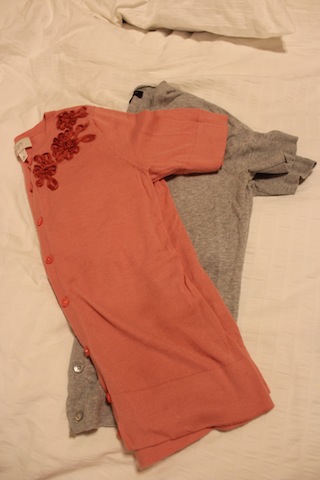 I adore cardigans and have a gagillion-million of them.  I get them from all different places, but the ones from Loft are my favorite
– wear a t-shirt or long sleeved shirt under a shirt/dress with thin straps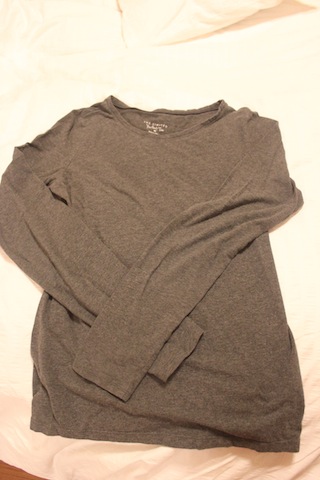 too tight to be worn by itself, but perfect for putting under another shirt or dress for extra coverage and warmth
– wear a skirt extender (basically a slip with a pretty edge at the bottom that is meant to hang out below your skirt) if your skirt is too short on its own
There are several places you can buy skirt extenders (here and here) or learn how to make them yourself (here and here)
– turn an item that is sold as a dress but is much too short (hello Forever 21, I'm looking at you) into a tunic-like shirt and wear it over pants (but not leggings or tights)
Take heart, I have some good news for you – it is much easier to dress modestly than one might think.
– Vintage clothing (which is usually fairly modest) is very popular right now, as are maxi skirts/dresses.
– Pinterest has made is so much easier to visualize cute clothing pairings – I see cute and modest stuff on there all the time.
– The amazing tool we have called the internet makes it so much easier to find modest apparel – you can Google "modest swimsuits" or "modest dresses" and come up with a wealth of information right at your fingertips.  Gone are the days where we were limited to what you could find in stores or in a few catalogs!
– There are tons of online shops where everything (or almost everything) is modest.  I love this one, this one, and this one.
– Uniqueness in fashion is pretty normal and accepted
But you know what, even if it isn't easy to dress modestly, even if we do stand out and look different than everyone around us, that is okay!   We are not supposed to look like the rest of world.  Romans 12:2 "And do not be conformed to this world, but be transformed by the renewing of your mind, so that you may prove what the will of God is, that which is good and acceptable and perfect."  I know that is is hard to be different.  We want to dress like everyone else (especially high schoolers).  But being like the world is not what we are here for.  We are here on earth to honor God, to be light to the world, and to bring others to Christ.  Being mindful of the way we dress is a part of that.
You might have noticed that I didn't talk about bathing suits.  I was intending to, but then decided that the bathing suit issue needs a post of its own, so be looking for that later this week.
Your turn – what advice do you have for dressing modestly?