This week is all about modesty.  We've talked about what modesty is and some tips for making your clothes more modest.  Today for What I Wore Wednesday I'm showing you some of my new, more modest outfits (and tomorrow I'll be covering the big issue of what Christians should do about bathing suits…stay tuned).  Like I mentioned Monday, after reading the results of the modesty survey that we collected my eyes were opened about some of the clothes that I wear.  Specifically, the fact that skirts need to be knee length.  According to the guys who took the survey, skirts that are normally too short, even with leggings or tights worn underneath, are immodest.  I had a lot of skirts/dresses that I wore that I considered too short but felt like they were ok when I put something under them.  Not anymore.
Unfortunately that realization meant I needed a bit of a wardrobe makeover.  Thankfully when we went to Atlanta over spring break I hit up the Talbots outlet (which was having a fantastic sale) and got a bunch of beautiful modest skirts.  Here are some of my new looks.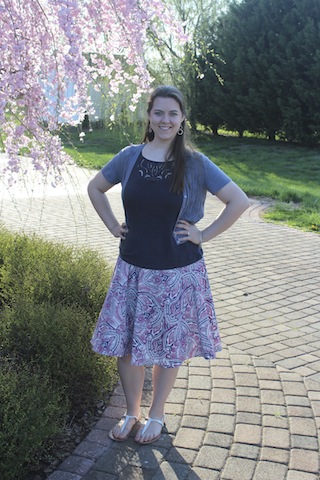 skirt – Talbots outlet
shirt – Loft outlet
cardigan – Loft outlet
sandals – Target
That sleeves (or lack there-of) on that shirt are immodest when worn alone, but layered with a cardigan keeps things nice and covered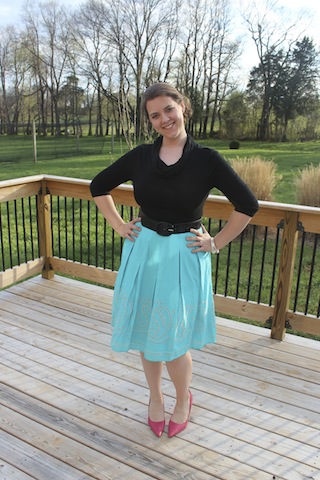 skirt – Talbots outlet
shirt and belt – ??? (old)
shoes – Shoe Carnival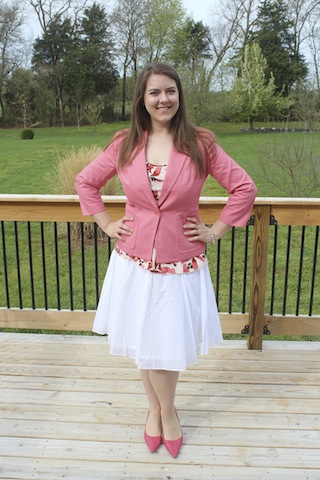 skirt – Talbots outlet
shirt – Banana Republic outlet
blazer – Talbots outlet
shoes – Shoe Carnival
Another example of layering to turn immodest items into something modest.  On its own, that shirt is too low cut and too strappy.  But wearing it under the blazer covers my shoulders and keeps it in place so it doesn't slide down too low.
On another note, I am LOVING that blazer!  I got it at such a good price (which is an awesome bonus), and it is totally me.
One more note…I think that pointy toe shoes are out of style now.  This makes me very sad since I love these shoes.  Plus it took me years to get up the guts to attempt pointy toe shoes with my gigundo feet.  But I don't want to be one of those people who keeps wearing out of style outfits from 10 years ago.  I guess I need to find a new pair of pink heels…with a rounder toe.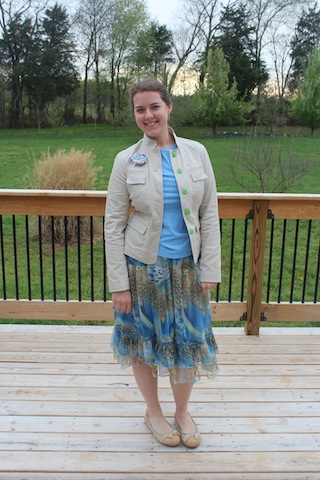 skirt – Rugged Wearhouse (Gabriel Brothers)
shirt – Belk
jacket – Target via Goodwill (made over by me)
shoes – Maurice's
So this skirt is a little too boho/hippie/leopard print/beachy/something for me, compared to what I usually wear, but it was modest and since I'm basically having to re-build my whole wardrobe  I thought I'd give it a try.  I tried pairing it with a more structured jacket to see if that would offset the flowy-ness.  It's not my favorite outfit in the whole wide world, but I think it's alright.  What do you think?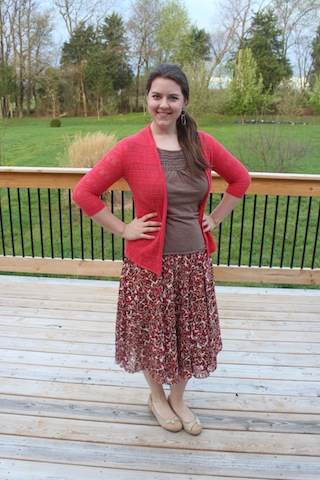 skirt – Jones New York
shirt – Loft outlet
cardigan – Forever 21
shoes – Maurice's
I'm pretty pleased – I love my new skirts and think I was able to look cute while still being modest.
What do you think about my new, more modest outfits?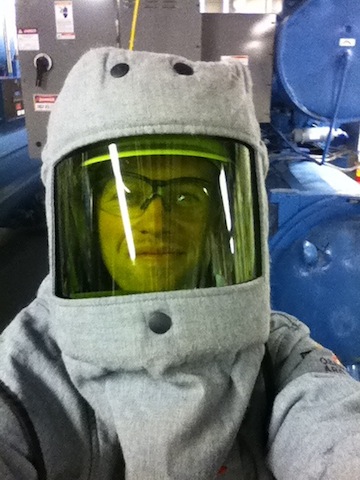 And if all else fails you can just be modest by wearing this awesome head-to-toe arc flash suit like Michael :)
Linking up to What I Wore Wednesday