Y'all, I am overwhelmed with responses to my previous modesty posts!  The views, the comments, the shares on Facebook, the pins on Pinterest have been awesome!  I didn't realize how strongly so many of you felt about this issue as well.
Monday I shared with you some of my thoughts on modesty, but more importantly the results of the survey I gave to 16 high school and college guys about modesty.  I was a bit surprised about the results and from the comments I'm getting, you were too.  Then Tuesday I gave you some tips, tricks, and resources for dressing modestly.  I originally intended to talk about swimsuits in that post, but ultimately decided it deserved a post of it's own.
One of the most questioned/commented on topic when I taught the modesty class to the girls at church and when I wrote the first modesty post was about the issue of swimsuits.  Specifically, what should Christian girls do about swimsuits/swimming/the beach/etc.?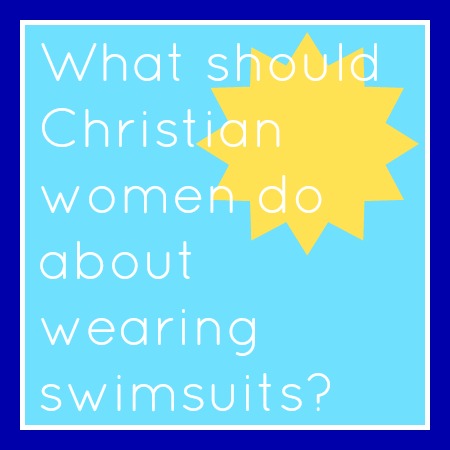 Honestly, prior to just a few months ago I didn't have an issue with most tankini's or one pieces.  In my mind you shouldn't wear a bikini, but a tankini or one piece was fine.  Recently, though, I've started to really think about bathing suits and examine my thought process and I'm finding that I no longer agree with that line of thinking.
I do not believe that bikinis, tankinis, or one piece bathing suits are modest.  Here's why:
1. 80% of the 16 guys who took my survey said tankini's were immodest (I didn't even ask about bikinis because I already knew those were immodest)
2. The majority of the 1,600 guys who took this modesty survey agree that bikinis, tankinis, and one pieces are immodest
3. In all these items, you are showing just as much leg as if you were wearing panties.  The exception to that is if you were wearing boy-short bottoms (which are as short as booty shorts) or a skirt bottom (which is usually just a short as a mini-skirt).  None of those items of clothing are modest or acceptable for us to wear any other time, so why are they ok at the pool or beach?
4. In a bikini, you are essentially wearing a bra and panties out in public.  In fact, bikinis often cover less than underwear.
Ok, so bathing suits are immodest.  Now what are we supposed to do about the beach, church camp, the lake, etc?
First let me say that my suggestions are just that…my suggestions.  The Bible does not tell us specifically which bathing suits to wear or not to wear.  You are going to have to decide for yourself (hopefully through prayer, studying the scriptures, and talking to other Christian women in your life) what you think is modest.  Most of my suggestions are going to be based off what the guys said regarding modest swimwear.  I definitely urge you to go read all their answers regarding bathing suits (they went in to much more detail and have many more comments in their survey than I did in mine).  However, please remember that ultimately our goal is to be pleasing to God, so that should be the main deciding factor in what we wear while swimming.
1. Wear a one piece bathing suit that does not show any cleavage, with long shorts on the bottom.
Modcloth has some cute one pieces that, when paired with shorts, would be modest.
2. Wear a tankini top that  does not show any cleavage and completely covers your stomach, with long shorts on the bottom.  Personally I like tankini's better than one pieces, simply because it is easier to get on/off to go to the bathroom, etc.  Plus with tankinis you can often get more camouflaging of the tummy area (my problem spot) than with one pieces.  However, most guys agreed that showing the stomach is definitely immodest so if you go the tankini route, make sure it will stay down over your stomach.
This website has some adorable tankinis that when paired with some long shorts would be plenty fine.
3.  If you still aren't comfortable with a tankini or one piece top, a rash guard and board shorts is a great idea.  I didn't even know what a rash guard was until last summer when several girls had them at church camp.  Rash guards are t-shirts made out of swimsuit material and lots of surfers wear them.  So basically with that outfit it's like wearing a t-shirt and shorts.  It sounds like it would look weird, but they actually look very cute and sporty.
I was skeptical that they would have them for adults, but I did some searching and actually found a lot!  You can find some rash guards/swim tops here, here, here (how cute is that turquoise one?), and here.  There were lots more results, I just chose 4.  Remember, Google is your friend…search for "rash guards", "swim tops", or "modest bathing suits".  Also remember to pair your rash guard up with a pair of long board shorts (or a pair of swim trunks will work just fine).
Amber wrote a fantastic post about her and her husband's rash guard and board short bathing suits, including some pictures.  Check it out!
This option actually appeals to me the most…think about it, no straps to keep up/tied.  No tugging to keep your cleavage covered.  No vast expanse of back that needs to be sunscreened but that you can't reach (I think the not-needing-sunscreen part is my favorite :)).
So you see, there are quite a few options that are modest, but practical so you can still enjoy swimming in the summer.
Now, before I wrap up let me address a few questions that have come up from the girls in my class or in comments on my blog.  Again…totally my opinion.  You may disagree.  If so, please let me know why in the comments.  I'm still trying to decide on some of these issues for myself so I'd love to hear your thoughts.
I'm on the swim team, what should I do about my bathing suit?
Unfortunately I don't have a great answer for you.  From what I recall, the tops of athletic bathing suits are pretty modest, so maybe ask your coach if you can wear shorts over your suit and you should be pretty covered then.  Sports can be difficult as so many of the required uniforms are immodest – swimming, volleyball, gymnastics, cheerleading, dance, etc.  I'm not 100% sure how I stand on this issue yet.  This is something that I'm going to say you'll need to pray, study, and talk to your mom (or other Christian women in your life) about.
What should my family do about going to the beach – we'll be dressed modestly but the other people around us aren't and that could be a problem from my dad/brother/husband/son.
We can't avoid everywhere that people are immodest.  People wear their bikini tops and shorts at amusement parks all the time.  Good grief, I see cleavage  stomach, rear ends and more at Walmart, at school, basically everywhere.  Again, this is something that your family has to decide for yourself.  If you know one of the males in your family really struggles with lust then maybe you just need to avoid the beach all together.  Yes, that's a bummer, but sometimes taking the high road is hard.  Helping someone else avoid temptation may not be the most fun thing, but it is the Christian thing to do.  However, you could try to go somewhere family friendly.  Pick beaches where families are going to be rather than "party" beaches, or beaches that don't have lots of other people around.
What about when it is just us girls?  Then immodest swimsuits shouldn't be an issue.
You're right, when it is just girls the problem of your swimsuit being a lustful distraction probably isn't an issue anymore (I know there are exceptions…I'm speaking in generalities).  However, think of the example you are setting.  The younger girls at church camp probably aren't going to know that you only wear bikinis at camp and wear something more modest when you are around men.  They are just going to see a girl they look up to wearing a bikini, assume that is what you always wear, and think that is what they want to do when they grow up…be like you.  Or let's say you are with a group of girls where they aren't all strong Christians…again, unless you tell them they probably aren't going to know that you wear something more modest around men.  You may be sending them the message that immodest bathing suits are ok to wear around anyone, not just girls.
Well, my daughter is only 3 and little baby bikinis are so adorable.  She has nothing to show, anyway.
Why start?  At some point you are going to have to have her switch from bikinis to something more modest.  Why set the precedence now that bikinis are acceptable swimwear?  Babies have delicate skin, anyway, so kill two birds with one stone and keep her skin protected.
So what do you think?  What are your thoughts on modest bathing suits?  How would you answer the four scenarios above?