Remember how we moved into a new house in October?  Have you noticed the severe lack of pictures of our new house?  Well, here's the deal…in my too-optimistic mind I just knew that I'd have everything all put away, organized, and decorated within a matter of weeks so I could share lots of beautiful pictures with you.  HAA!!  That definitely hasn't happened.  We've gotten lots of things done, but not nearly as many as I'd like.  Everything seems to take 3x as long as I originally anticipate.  So long story short, I'm not quite ready to show off any of the rooms in my house.
Instead, I'll give you a little glimpse of some things we're currently working on.  Now that the weather is warmer and the days are longer, we've been more motivated to get going on some of the project on our to-do list.
1.  We have a bonus room upstairs in between the two bedrooms that we plan to use as a craft room/office/library/future playroom.  Since we've moved in that space has basically just been used as a junk room for the things we didn't quite know what to do with.  The main reason we hadn't done much yet was because we didn't have the furniture we needed, but over the past few weeks I've finally found some of the pieces I've been looking for and have started actually putting the room together.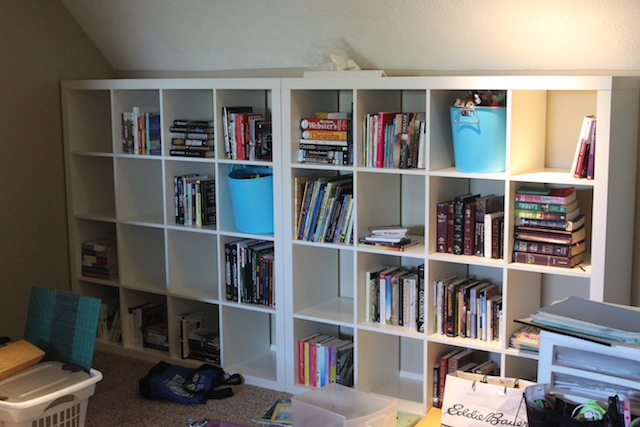 I've been working on putting our books on our new IKEA bookshelves.  Right now they are just thrown on there with no rhyme or reason so I can get a feel for them (pardon the huge mess in the floor).  We have plenty of empty openings that can be used for games and toys when this becomes a playroom someday.  I love my new shelves!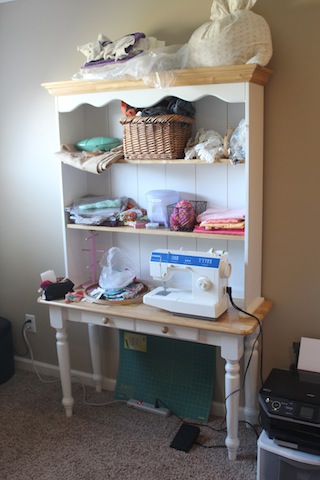 I was so excited to find the perfect hutch for my sewing machine, fabric, and sewing stuff.  It was exactly what I had imagined in my head.  Nothing is organized yet – I need to get some cute baskets and such, but I'm just so glad to have a place to put my sewing machine!
We're also "building" a craft table of sorts that I can't wait to show you, too.
2.  We're trying to get our garden started.  We've plotted it out and staked off the area we want to use, but we still have to till and plant.  This year we are going to plant a little bit of everything to see what grows well, what we like, what's a bust, etc.  Then next year we should have a better idea of what is worth it to plant ourselves and what we will just buy at the farmer's market.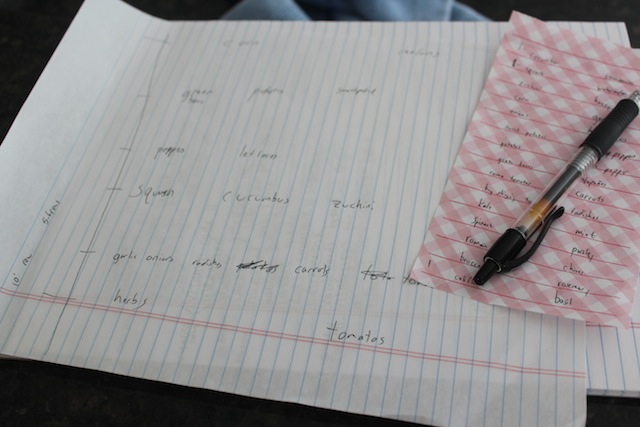 3.  Michael built a beehive – how cool is that?  All we need now is to get some bees to go in it.  I'm fascinated with how bees work and am looking forward to seeing the whole honey-making process from start to finish.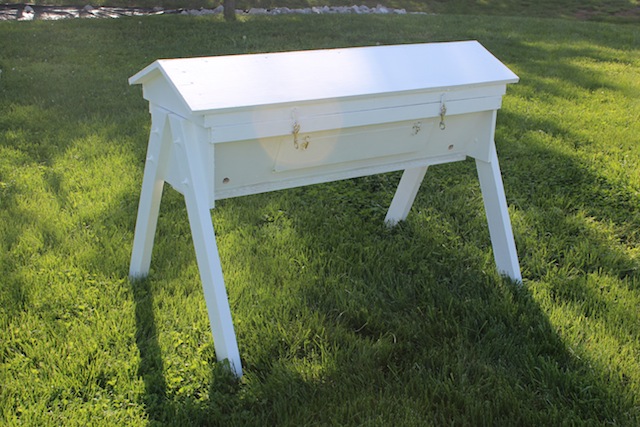 4.  Since way back before we were married I've wanted all white bedding.  I'm not sure what it is about having an all white bedroom but it just seems so calming and luxurious.  Plus you can change the whole look very easily and cheaply just by changing out accent colors easily.  However, I was afraid that white would be way too hard to keep clean so when it came time to register for our wedding I went with something else (you can check it out here at our old house).  I liked that bedding, but I've always held that wish for all white in the back of my mind.  While we were at IKEA I finally decided to take the plunge and get a white duvet cover and pillow shams.  What do you think?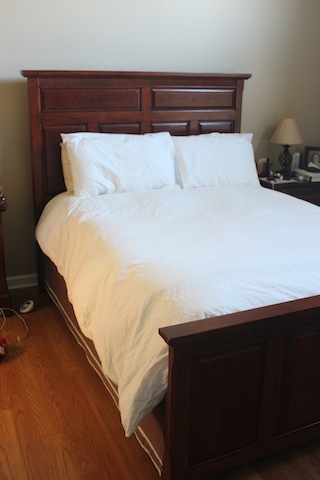 I love it!  Obviously, it still needs a lot of work including a new bed skirt (notice the bed skirt that goes with our old bedding?), some accent pillows, and some more color in general, but it's already looking great.  The way the white looks against the dark wood of our bed is lovely.  I'm working on a total bedroom makeover…stay tuned!
What projects are you working on this spring?