It's that time again!  Not only do I like WIWW because it encourages me to make cute, original outfits but I also like it because I always know what I'm going to post on Wednesdays.  I've been so busy recently that at least knowing what to write on one day is a relief :).
On to the clothes.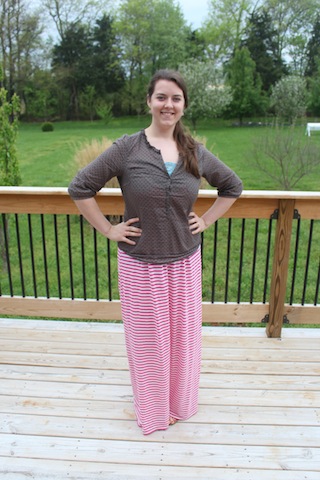 dress (worn to look like a skirt) – Old Navy
shirt – Old Navy
tank – Maurice's via Gabriel Brothers
Maxi skirts are so in right now.  I don't have one yet, but I do have a maxi dress – on a whim I threw this shirt over it and now it looks like a shirt+skirt combo.  Love it!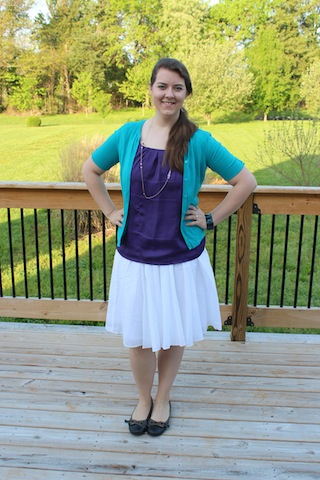 shirt – TJ Maxx
cardigan – Loft outlet
skirt – Talbots
shoes – Shoe Carnival(?)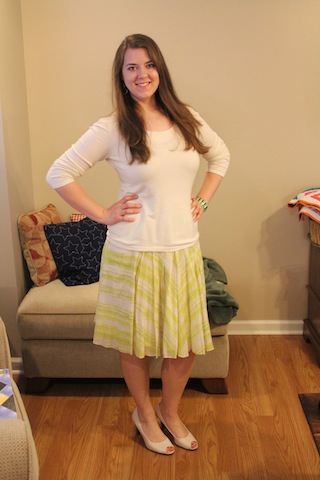 shirt – Loft via Gabriel Brothers
skirt – Talbots
shoes – Shoe Carnival
Why is it that sometimes you put on an outfit, think it looks so great, and then see a picture of yourself and realize otherwise…but then other times you put on an outfit  think it doesn't look very good at all, wear it anyway, and then see a picture and end up liking it much better than you originally thought?  So odd.  That's what happened with this outfit – I thought it had way too much cream/white and that it wasn't flattering at all, but I decided to wear it anyway because I couldn't decide on anything else, and then when I looked at the pictures Michael took I realized that it was cuter than I thought.  Score!
Kinda like this…
In other news, I cannot get my hair to stay in a regular ponytail.  I don't know if it's because my hair has gotten so long or I need to get some more supportive ponytail holders, but even when I put my hair in a ponytail in the middle of my head, it slides down to the nape of my neck and somehow becomes a side ponytail that drapes over one shoulder.  Every.Single.Time.  Anyone else have this problem?
Linking up to What I Wore Wednesday.