Friday!  Only one more Friday until school is out…whoa!!  So yep, here's what's happening this Friday.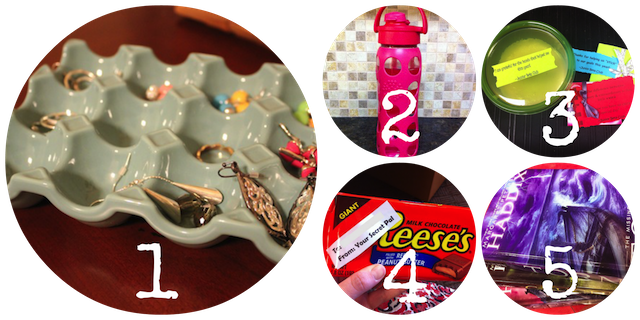 1.  My new jewelry holder – a ceramic egg carton thing from Kohls.  It's so pretty to display on the top of my dresser and the little cups are perfect for holding some of my jewelry.
2.  My newest water bottle – it's glass!  I hear so much terrible stuff about plastic that I thought I'd give a glass bottle a shot.  So far, so good (as in, I haven't dropped it and shattered it, so that's good).
3.  Teacher appreciation week rocks.  Our junior beta club has been giving us a present each day this week – it is so fun to have a little surprise on my desk when I get to school each morning.  The gifts have been so cute, too.
4.  We're also doing secret pals among the teachers/adults.  I greatly enjoyed the Reese's my secret pal gave me :).  We've talked about how my love language is getting gifts, so I love having a secret pal!
5.  I'm hooked on a new kids/young adult series – The Missing.  They are really good!  I'm planning to do a book review tomorrow so stick around for that.
I hope your Friday (and weekend) is fantastic!
Linking up with Lauren