A year ago, Michael and I were gearing up to start our 100 days of real food challenge, where we would eat nothing but real, local, organic food for the next 100 days.  I had actually spent a couple of months thinking, researching, and reading Lisa's blog before we took the plunge.  We successfully completed that challenge (you can read about it here: week 1, week 2, week 3, and our results) and have since then stuck to the basic real-food principles.
Here we are a year later, and I can say that we have completely changed the way we eat.  Yes, we still eat non-real foods (usually just the occasional dessert or eating out), but 80-90% of what we eat is good, whole, healthy, and natural.
If you've considered trying to eat more natural, now is the time to do it!  The farmer's markets are opening back up, you still have time to plant a garden, and you'll have tons of variety in the summer.
One of the biggest hurdles I hear people talk about is the cost.  I've heard many people say that they'd like to eat more natural and organic, but that it is way too expensive.  Yes, it can be more expensive but it doesn't have to break the bank.  Personally, I think that we put so much money into gyms and insurance and doctors, and not nearly enough on eating nourishing food.
Now don't get me wrong, I realize there are many families who have a very small grocery budget and absolutely have no wiggle room.  I'm not trying to make those people feel bad.  But if you do have some extra money (or could cut back elsewhere) and focus more on the food you buy, I highly suggest giving it a try.
Anyway, here are some tips I've found for eating healthy without spending a fortune
Grow a garden – You'll have the start-up cost (plants or seeds, dirt, water, wood if you decide to do raised beds, etc.), but once you've paid that then you get virtually free veggies with the bonus of knowing exactly where they came from.  Even if you don't want to grow a full-on garden, you could do a small container garden like we did last year when we lived in our apartment.  Even if you just grow some herbs, you've saved quite a bit of money there – fresh herbs at the grocery are outrageous!  You could also choose one or two items that you know you eat a ton of, and just plant those so you don't have to keep buying them week after week.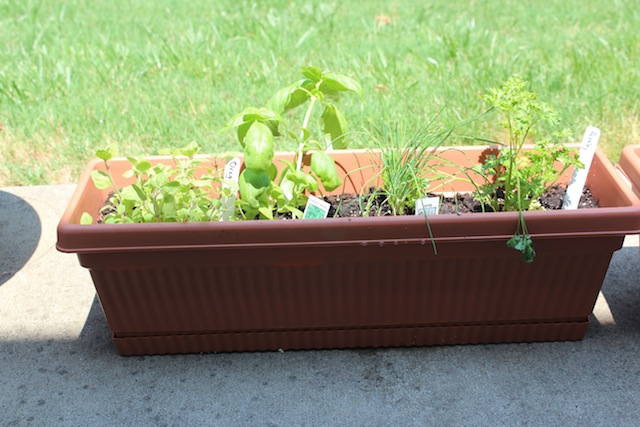 Shop at the farmers market…but also compare prices with the grocery – I really do prefer to buy food from the famers market.  Our farmers market only allows people who grow organically, plus I like knowing where my food comes from and supporting local farmers.  Also, you can often find great prices on items at the farmers market.  That being said, sometimes there are things at the farmers market I just can't bring myself to pay for.  For example, at the farmers market potatoes may be $3.50 per pound and I need 2 and 1/2 pounds for my potato soup.  However, I can get a 3 pound bag of organic potatoes at Kroger for just a little over $2.00.  In that instance, I choose to buy the Kroger potatoes.  That's just my personal preference.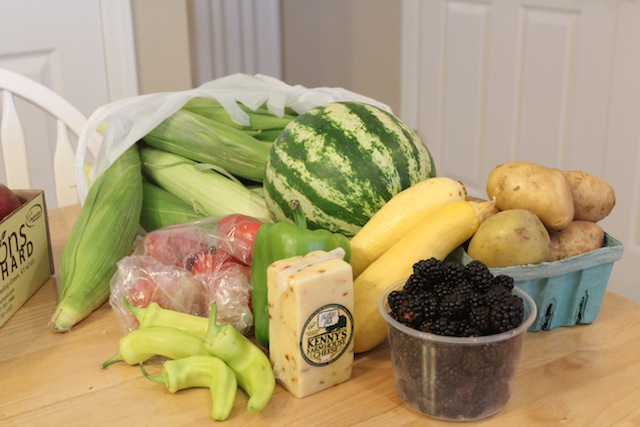 Ask about "seconds" at the farmers market – A friend of mine who sells at the farmers market gave me this tip when she learned I was planning to can tomatoes.  I was able to buy a huge box of tomatoes for about $10.00 (way, way less than the usual price of tomatoes per pound) because they were "seconds" – not very attractive, and some with bad spots.  But since I was using them to make sauce or to can, I didn't care about how they looked and just cut out the bad parts.  This saved me a ton of money.  It might be worth asking about to see if anyone at your farmers market does the same thing.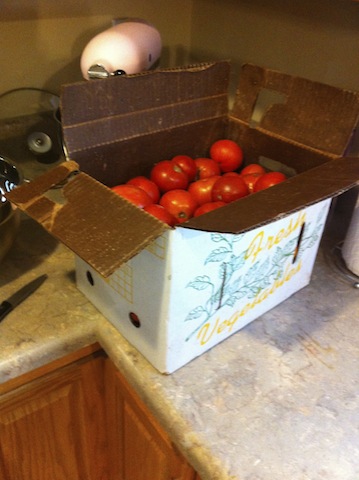 Use coupons where you can – You will rarely get coupons for produce.  Kroger occasionally gives a $5.00 off your total order coupon or a $1.00 off $6.00 of organic produce, but other than that I can rarely use coupons on the food we buy at Kroger (and of course, not when we buy at the farmers market).  However, I can still try to use coupons and shop sales for our paper goods and toiletries, then use the money I saved from that to buy more expensive organic food.
Learn the "dirty dozen" – If you can't afford to buy all organic, try to figure out what foods are most likely to contain pesticides (and thus, the ones you are going to definitely want to buy organic) and which ones aren't so bad (and you could just buy the conventional ones).  I've seen lists of the "dirty dozen" all over Pinterest; the 12 items you should definitely buy organic and the 12 items that aren't so critical.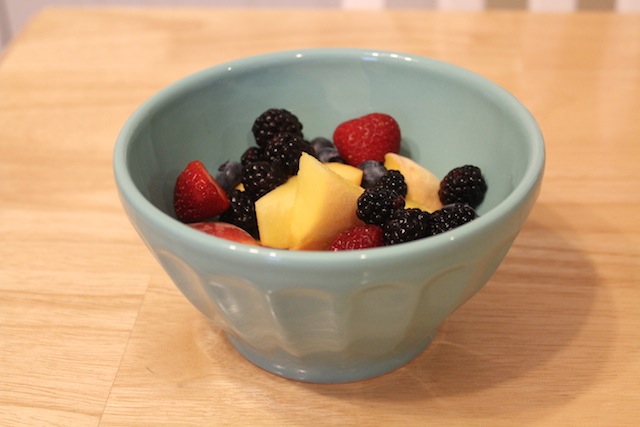 Eat less meat – Meat is expensive.  Organic, local meat is really expensive.  Try eating a few meatless meals a week or reducing the amount of meat you use in your recipes to save a little money.  Some of our favorite meatless meals are homemade refried beans with homemade tortillas, potato soup, pancakes, and pizza.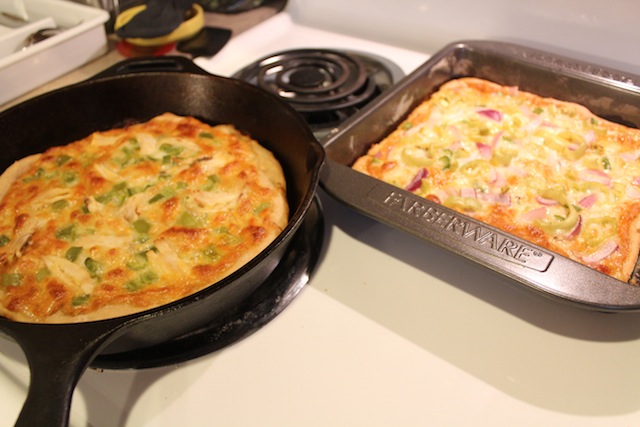 Stretch the meat that you do use – Gone are the days of buying boneless, skinless chicken breast and canned chicken broth.  Now we buy a whole chicken at the farmers market, which is quite expensive at about $17.00 per chicken, but we stretch it further.  We cook the whole thing in our crock pot and then pick as much of the meat as we can off the bones.  We usually have one meal with the chicken as our main dish, and then use the rest of the meat that we de-bone either for sandwiches (Michael likes chicken sandwiches for lunch) or in another dish (like chicken and dumplings, cheesy chicken and rice, chicken quesadillas, or white chili).  After we de-bone the chicken, we throw the bones and skin back into the crockpot overnight and make chicken stock.  It is easy peasy, makes 10-12 cups, and is way better than the store-bought, watered down stuff.  I use it in soups and such, and if I'm not going to use it right away I freeze it in ice cube trays for later.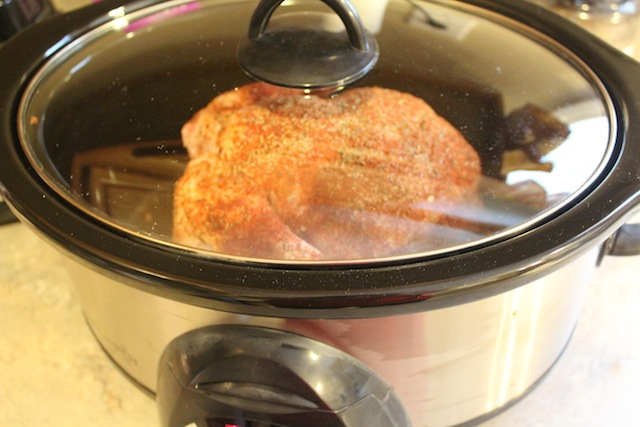 Preserve food while it is in season – Not only is eating in season food much better for you, it is also usually cheaper.  Freeze or can extra in the summer to eat on all winter so you can have the most nutritious produce and save some money.  We were brand new to canning last summer, but we gave it a try, canned quite a bit of food (more than we needed…it's almost summer again and we still have a lot left!), and so far have been pleased with the results.  We also froze some stuff (not much since we had very little freezer space at the time) and intend to freeze even more this year.
Trade with a friend or see if they have extras they want to get rid of – If you have an abundance of tomatoes and your friend has way too much squash, maybe you could trade.  Or if you're really lucky, someone might be bursting at the seams with food and just wanting to give it away so it doesn't spoil.  We were very fortunate that for a while I worked with a professor whose chickens laid way more eggs than she could eat and she gave me free, fresh eggs nearly every week.  My in-laws had an abundance of apples on their apple trees this year that they gave us and I turned into homemade apple butter.
Reduce waste – Letting food go bad and having to throw it away is just throwing money in the trash.  Try to be mindful of what is about to go bad and eat it before it does.  An Eat First box is a good way to do this.  Or try to salvage things that have started to go bad (use wilted spinach in a green smoothie, freeze too-brown bananas to use later in banana bread of banana pancakes).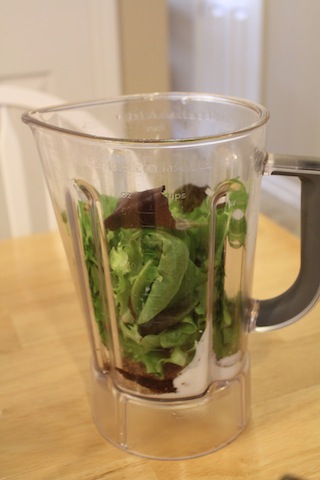 How do you eat healthy without breaking the bank?
(Other resources you might like: eating real food while traveling and the busy girls guide to eating real food)
Linking up to Works for Me Wednesday