Now that the cat's out of the bag, I want to share how we told our families that we were expecting.  I had fun thinking up creative ways to break the news!
On Memorial Day we went to visit my mom and brother.  Making my mom's Christmas cookies has been on my bucket list for two years…I asked her for the recipe and told her I was wanting to finally get that crossed off my bucket list.  I was going to make the cookies and bring them to surprise her but she suggested that we make cookies together when I came on Memorial Day – even better!  So I mixed up the dough and gathered up the "supplies" we would need :)  I got some pink, blue, and yellow sprinkles and cookie cutters shaped like various baby items (bottle, bib, onesie, letters that spelled BABY, duck).  Just in case that wasn't obvious enough I wrote a list of "ideas" for the cookies.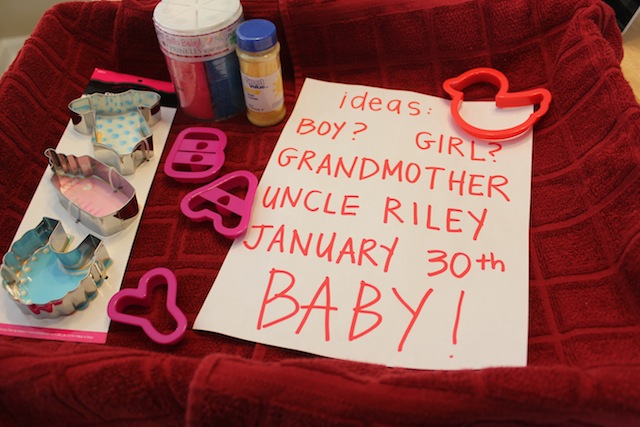 Mom, Riley, Michael, and I made a bunch of cookies which we planned to use to tell Michael's parents.  His parents came up that next night to deliver some furniture of ours and eat dinner.  When they got to our house we showed them what we had made for dessert…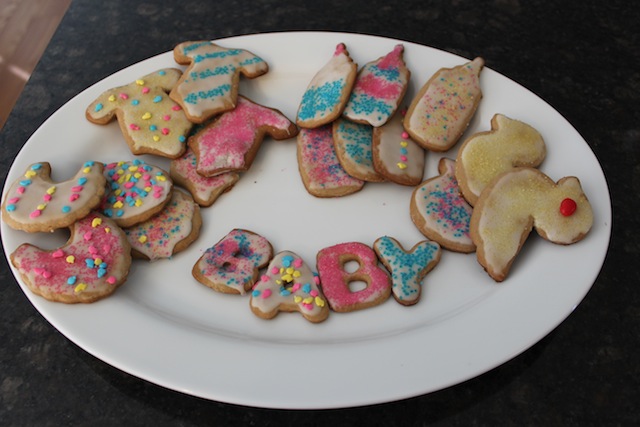 Cute, huh?
Most of the rest of our family and friends were told via text or phone call.  I tried to think up fun little creative ways to tell (although Michael says that some of my ways were too vague…but it's so much more fun than just blurting out "I'm pregnant"!).  I came up with a corny little poem to text to my other brother, who I knew we probably wouldn't see in person for a while.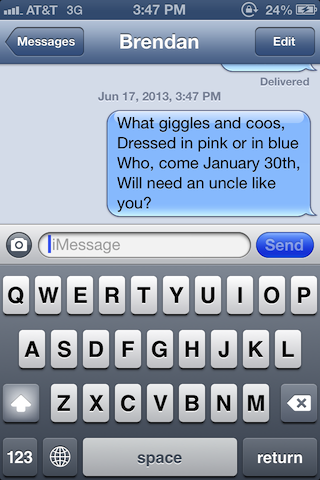 Then of course if you saw my post from yesterday you saw how we announced to the Facebook and blog world :).  I wanted to play off our jobs – an engineer and a librarian.  So I had Michael holding blueprints and setting up a crib (which happens to be my old crib from 1987…it's not the one we'll use for our baby since it is missing some parts, but it worked for the photoshoot) and I was reading baby/pregnancy books.  My sweet sweet friend Tiffany came over early one morning before she left on vacation to help us make my vision a reality.  I'm thrilled with how they turned out!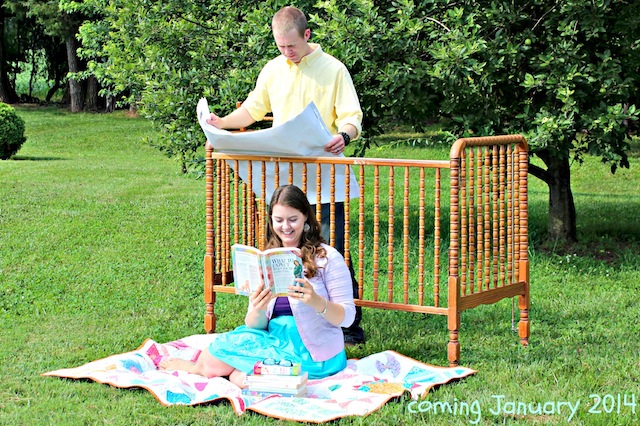 I made a subtle version and a not-so-subtle version.  I wasn't sure which one to use but I ended up going with the subtle version…I figured that most people would get what I was going for.
Let's just overlook the fact that building a crib in the yard while your wife sits nearby on a quilt reading is probably not the most realistic of situations…but whatever!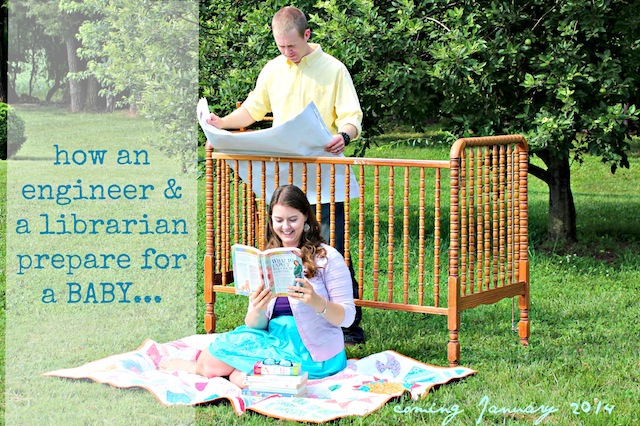 We played around with some other shots, too, but I ultimately liked the crib picture the best.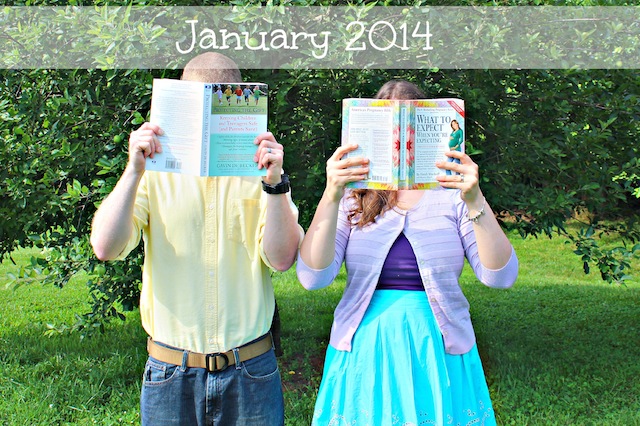 You can see more here.
I also thought it would be fun to use an old fashioned library card to announce the due date (remember when I used them as graduation invitations?) with us being the "authors".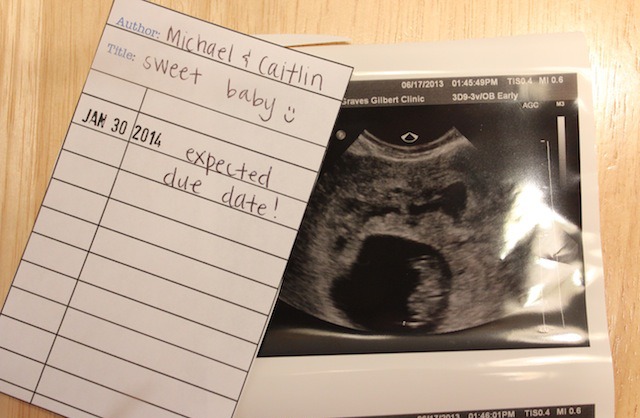 There are so many cute ideas floating around Pinterest, but I think I was able to come up with something a little different, unique, and perfectly us.
Linking up to Works for Me Wednesday.