Ok, I promise I am not going to bore you with nothing but baby stuff from now on, but after keeping this secret for over a month I just have a lot of stuff in my head that I need to get out!
So…to answer the most common questions I been getting:
When are you due? I try not to put too much stock in due dates since they are just an educated guess, but technically my due date is January 30, 2014.  So chances are this baby will make an appearance late January or early February.
How far along are you?  8 weeks – it's going fast!
How do you feel?  I felt great up until about 5.5 weeks.  Then the nausea hit :(.  I haven't thrown up and the nausea is manageable so I try not to complain too much…I know they are many people who have it so much worse!  Basically the whole world smells bad to me…it's weird how certain smells like soap, lotion, and the clean dishwasher really stink!  And cooking is completely out of the question.  We'd eaten out just about every meal until a few days ago – I can eat if someone else prepares it and set it in front of me, but if I have to prepare it myself it's a no-go.  I feel very bad about that #1 'cause it's expensive and #2 'cause let's be honest, eating out is not the healthiest thing in the world (and after a year of eating pretty much only real food I'm having a hard time reconciling things like Taco Bell!).  The last two weeks or so I was kind of in survival mode…just get some sustenance in my body no matter where it has to come from.  Now I'm learning that I need to eat to stay ahead of my nausea and that helps a lot, plus I've found some food that I can make at home with minimal smell (or Michael can make while I stay in another area of the house) so I'm eating much healthier right now.
I have to say, I CAN'T WAIT for church camp in a week.  Of course I always look forward to church camp, it's one of my favorite parts of the year, but this year I'm especially excited because at camp someone else fixes all your meals, you just show up at the mess hall and food is waiting for you, and they take care of the dishes, too.  It's like this pregnant girl's dream come true!  I think the kitchen staff may be my new BFFs :).
So other symptoms: I was feeling pretty tired in the afternoons after work, but now that I'm on summer break and able to rest more during the day the exhaustion hasn't been bad at all.  But boy, when I'm ready to go to bed at night, I am out!  Also, I have always been so cold natured – everyone else around me will be hot and I'm freezing…until now.  Now I'm hot all the time and I'm the one freezing everyone else out!
So overall I feel a little off and the nausea is a bummer, but it isn't terrible.  I'm just praying that it doesn't get worse.
Food cravings?  Salty and crunchy things!  Salt and vinegar Pringles, cheddar bunnies, popcorn, pizza, crunchy tacos, etc. (the salsa post was born out of an intense chips and salsa craving)  I also had huge cravings for Taco Bell bean burritos for a few days – that has since passed but for a few meals that's all I wanted.  It was so weird too because I probably haven't had Taco Bell in at least 6 years.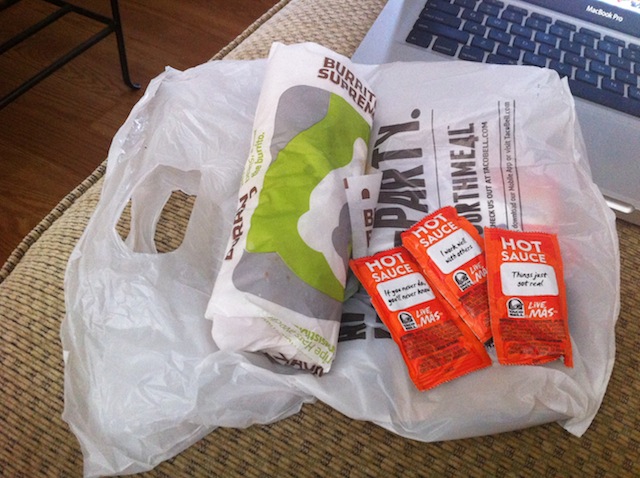 Food aversions?  I have very little desire to eat sweets, especially fruit.  That is super unusual for me because I love sweets and eat fruit several times a day.  It doesn't make me sick or anything to eat sweets, but I don't prefer them and will pass them up for crunchy/salty things anytime.
Weight gain?  Not really, especially since the nausea keeps me from eating as much as normal.  However I seem to be one those lucky (*sarcasm sign*) people who swell and bloat immediately.  Right now I don't look pregnant, but I'm certainly looking chunkier.  I've packed up quite a bit of my clothing that is already too tight as I'm sure it will be a year or more before I get to wear that again!
Some pictures from the past few weeks: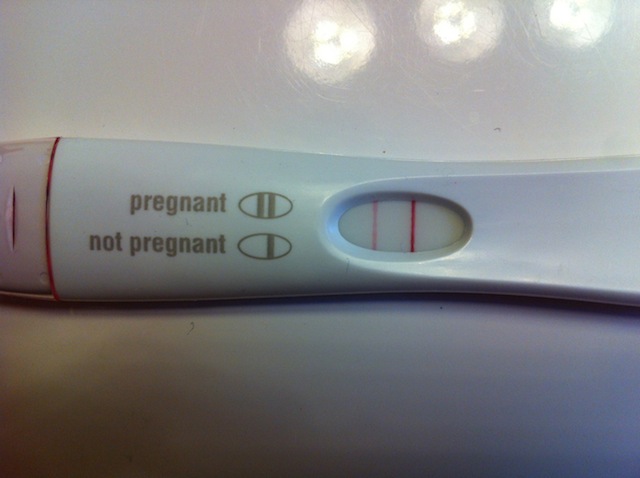 One of my many pregnancy tests…so excited to see those two pink lines!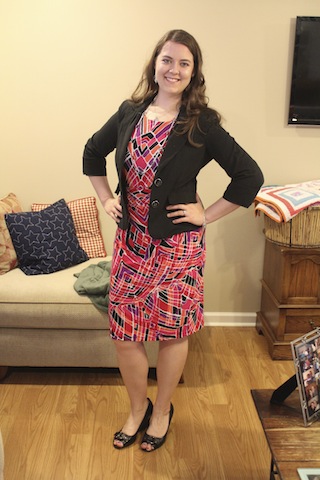 My WIWW picture the day after we found out – so technically my first pregnant picture :)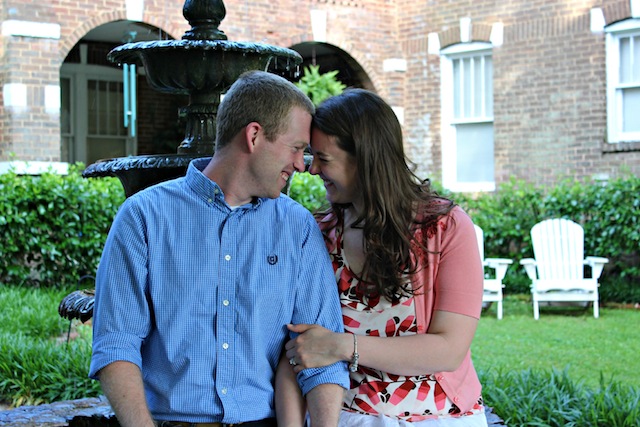 Our little photoshoot was done just a few days after we knew we were expecting – enjoying the secret that only we knew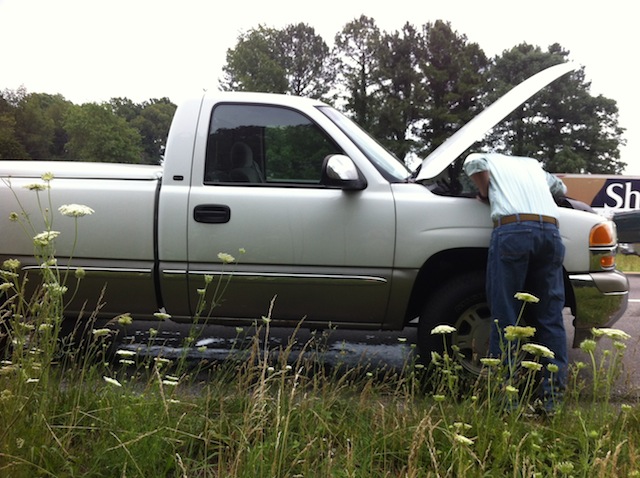 On Sunday we went to Springfield to celebrate Father's Day with Michael's family and our truck overheated.  Something came undone and all the coolant leaked out so we were stuck on the side of the interstate.  It wouldn't have been that big of a deal except that I was was having an intense wave of nausea and it was hot outside (not really that hot, but since I seem to run so much hotter these days it felt miserable).  Standing out in the grass was not the most fun in the world.  Thankfully our family rescued us and got us back on the road.
And by the way, happy belated Father's Day to Michael!  "The baby" gave him a card and a Daddy picture frame for his first Father's Day.