I know I mentioned a while back that we (well, Michael) have recently gotten into raising (is that even the right word?) bees.  People are always very interested when we talk about them, and I think they are super fascinating creatures so I thought I'd give a little update here on the ole blog.  That being said, Michael knows way more about this I do (maybe I should get him to do a guest post, hmm?) so this isn't going to be a greatly detailed and scientific explanation…just my limited knowledge.
Jared and Ashley, friends of ours from church, have bees and last summer they taught us a whole lot about them.  This was right as we were getting into our real foods lifestyle and we were very interested in making our own honey.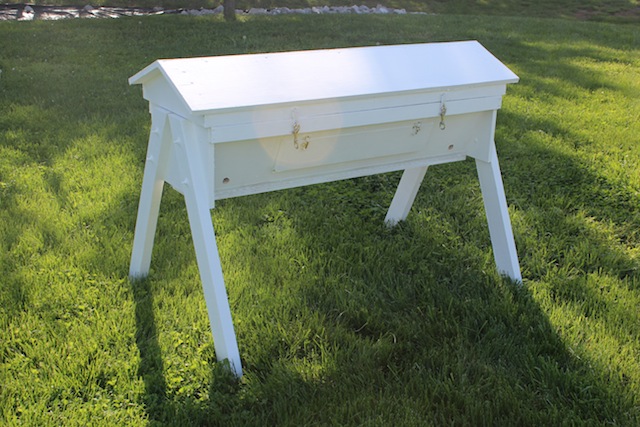 This is our beehive.  Over the winter Michael read up on raising bees and then this spring he started working on building a beehive so we would be ready for some bees come summertime.  Lots of people have the beehives that look like boxes stacked on top of each other (that's the picture I usually have in my mind of beehives), but Michael decided to build what is called a top bar hive (I don't remember why he chose that over the stacked boxes, but I'm sure he'd be happy to tell you if you want to know).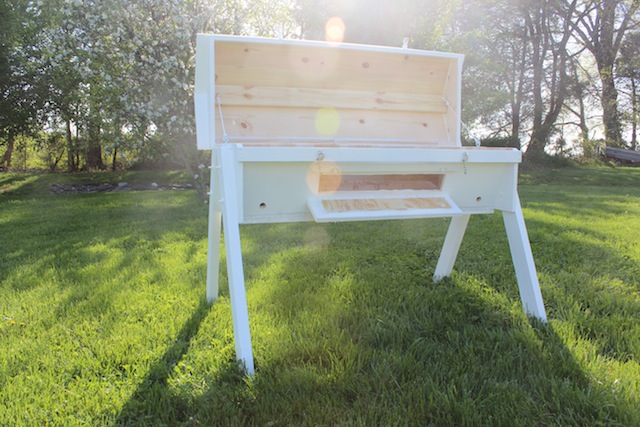 The lid lifts up so you can get to the bees/honey, plus Michael built this neat little viewing window in the front so we can check on the bees without opening the top and disturbing them.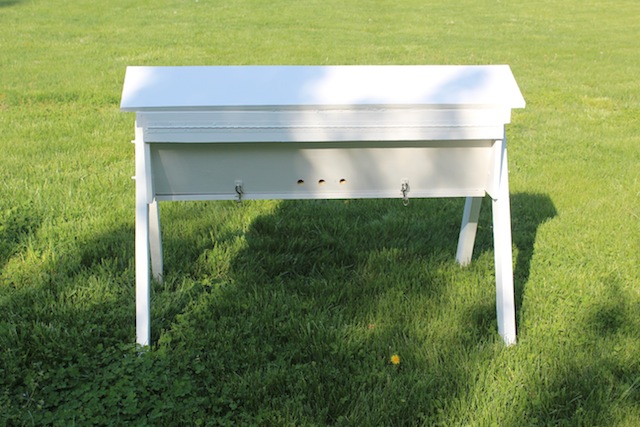 Here's the back of the hive – the three little holes are where the bees come in and out.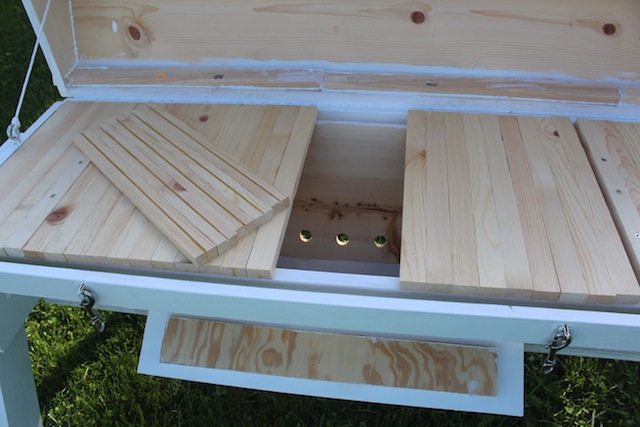 The inside has all these pieces of wood that the bees use to build their comb.  Some hives have a frame kind of established already and the bees build their comb around the frame, but with this kind all they get are those pieces of wood and Michael poured a tiny bit of beeswax in the grooves to give them a start, then they just build from there.  Pretty cool!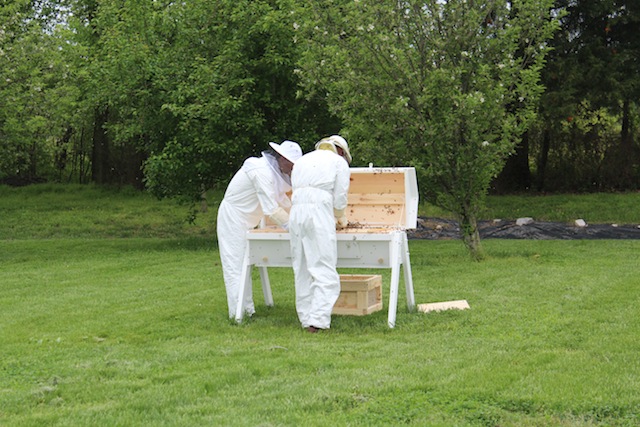 Earlier in the summer (well, technically I guess it was in the spring since summer technically just started…) Jared's hive swarmed.  When a hive gets too large, they raise a second queen (there is only one queen per hive); the queen and some of the bees break off from the hive and leave.  That's called swarming.  Anyway, Jared's hive swarmed so he and Michael captured the swarm in a box, brought them to our house, and put them in our beehive.  I was too afraid to get very close, but if you look carefully you can see the bees crawling and flying all over the hive.
Since then, our bees have just gone to town.  It is totally clear to me now why people use the term "busy as bees" because those little boogers are hard and fast workers!  Within days the bees had already built a substantial amount of comb.
We only have one of those white bee suits so when Michael goes out to check on the bees I can't go with him.  At night time, they all go back into the box and stay there until daylight, so sometimes I go out with him to look at them at night since they aren't aggressive right then.  So I haven't gotten a super good look at the insides since they started working (since they are all in there at night, it's a little crowded and I can't see the comb very well through the viewing window…plus it's dark), but Michael keeps me updated and says they have made lots of honey and have laid lots of eggs(?  baby bees?  whatever).  We probably won't have honey this year (most everything they make this year they will need to eat on during the winter), but we should get some next year.
He made a YouTube video where he shows the inside of our hive, so if you're wondering what the inside looks like, you should check it out!  (sorry, I can't seem to get it to embed here!)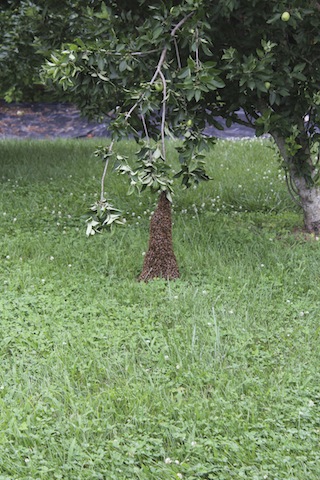 A few weeks ago we came home from work and when Michael went to go check on the bees he realized that our hive had swarmed!  The new queen and the bees that left with her had flown about three feet from the hive and landed on a branch (that's the dark, tower-like object that's going from the branch to the grass).  I really wanted to get closer to show you what a swarm looks like up close, but I was afraid to get too close!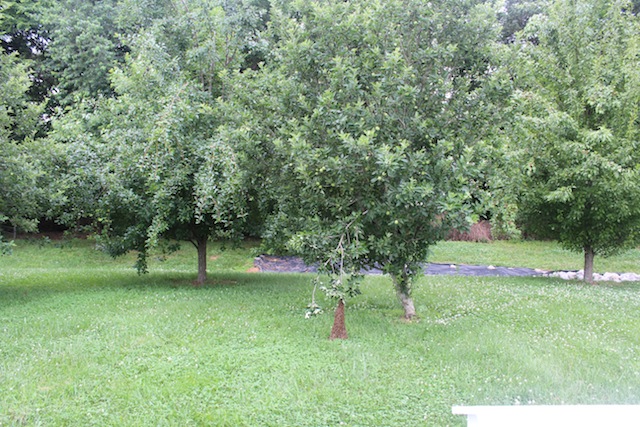 I zoomed out a little so you could get a better point of reference.  From what Michael and Jared say, there were 3-4,000 bees in that cluster there.  Michael had a neighbor come over help him cut the branch off the tree, then Michael held it over a box and shook the bees into it (that is super cool – you just give it one big shake and they all fall into the box sort of in a ball…I expected them to fly everywhere, and some do, but most of them just kind of keep clinging to each other and fall right into the box!).  He took them to someone else who had an empty hive.
We were a little afraid that our hive would suffer after it swarmed.  After all, we had a fairly "young" hive – remember  they had swarmed from Jared's hive just months earlier.  The amount of bees in that swarm in our tree was about the amount of bees that we had initially gotten, however, apparently our hive had been busy multiplying because we still seem to have plenty of bees.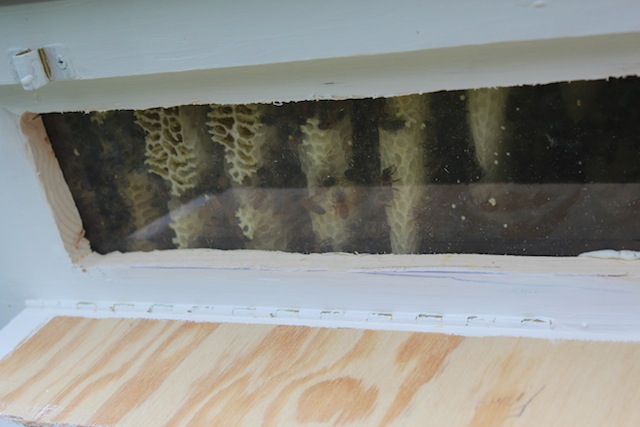 During the swarm fiasco I took an opportunity to take some daylight pictures through the viewing window.  Most of the bees were either out foraging or in the middle of that swarm, so I felt "safe" to take a peek.  Anyway, this is how the comb looks inside the hive.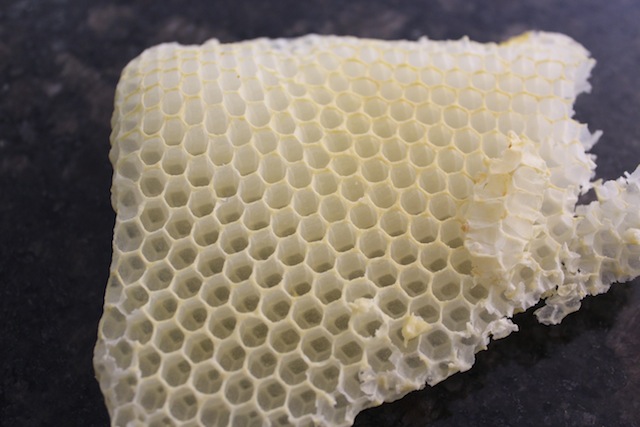 Michael also brought some comb in for me to check out.  It is so fascinating that the bees made that all by themselves!  All we gave them was a place to build and some sugar water to get them started before they started flying out on their own.  The comb is so lightweight and yet it will get very heavy when it is full of honey or baby bees.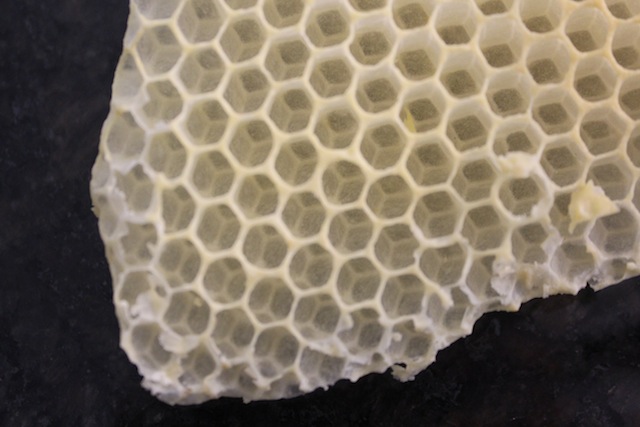 I know this picture is a little fuzzy, but I really wanted to zoom in and show you a close up.  There are openings on both sides and if you look closely you can see that the "walls" don't line up exactly on both sides.  The corners of the little pods (I really have no idea what they are called) on one side meet up in middle of the pods on the other side.  This makes the structure even stronger.
The more I learn about bees, the more amazed I am.  It is fascinating how complex these tiny little creatures are!  It's one of those things where I wonder how anyone could not believe in a Creator.  How else could such a complex, perfect system exist?
So anyway, there's an update on the bees!