This Friday came a little quicker than I would have liked – I have a lot to get done before this weekend/next week!  But I am glad it's Friday because:
1.  Tomorrow we're off to Lexington to celebrate Noah's first birthday.  I'm excited to see our Lexington friends!  I'm putting the finishing touches on his cake today and keeping my fingers crossed that it turns out ok.
2.  Tomorrow night I'm off to church camp.  I love love love church camp – it's one of my favorite parts of the year!  I can't wait, although I'm praying for mild weather – this pregnant mama feels hot all the time and is not looking forward to 90+ degree weather with no air conditioner!
3.  We finally got our vacation selected and booked!  We knew we wanted to go to the beach but we didn't really have any specifics in mind.  Michael has never been to Florida and I haven't been since I was really little, so we didn't have many preferences.  All I really wanted to do was go to The Wizarding World of Harry Potter one day :).  So now we've got all our hotels and plans confirmed – we're going to Harry Potter World and then heading to Saint Petersburg to relax on the beach for the rest of the week.  Now if it could just hurry up and get here!
4.  I got my wedding rings cleaned this week.  It had been awhile but I was in Springfield running camp errands during business hours so I hopped over to our jewelers.  I forgot how sparkly they are when they're all cleaned up – I can't stop looking at them!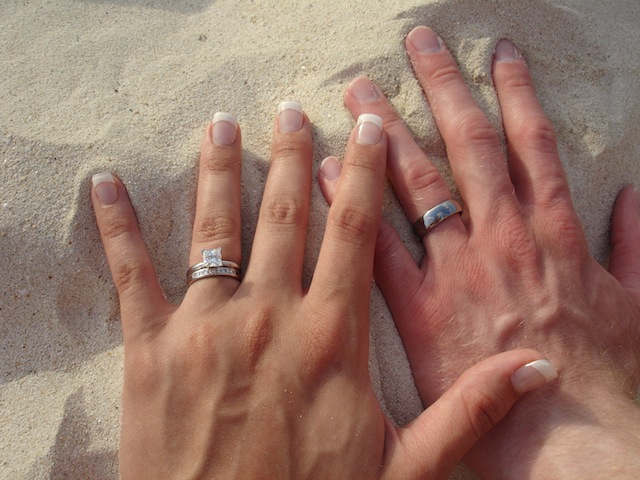 5.  I have lime green toenails.  Lime green was THE color when I was in 4th/5th grade and I got so tired of it then that I didn't think I'd ever want anything lime green again…but it's back and quite popular so I decided my toes needed a little update from their usual pink, red, purple, or dark blue/gray.  I would show you a picture but I find it so hard to photograph feet, so just pretend, m'kay?
Linking up with Lauren