Well I at least have two outfit pictures to show you this week…that's way better than all the past weeks!  Summertime (aka not going to work) + church camp doesn't really lend itself to that many cute outfits….although I have actually worn some really cute stuff recently and just not taken any pictures (no worries, I'm sure you'll see it all over and over again once school starts back).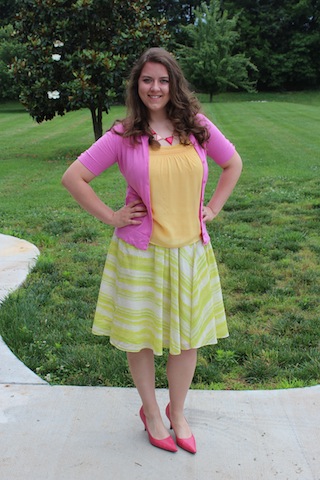 shirt – Talbot's outlet
shirt – New York and Co. via Gabriel Bros
cardigan – Loft outlet
shoes – Shoe Carnival
necklace – Rugged Wearhouse (Gabriel Bros)
Ok so this outfit picture was actually taken over a month ago  – apparently I never put it in a WIWW post.  Even though it's way out of date I thought I'd pop it in here 'cause I thought the outfit was cute and someone might like to see it (not because I only had one other outfit for this week or anything…)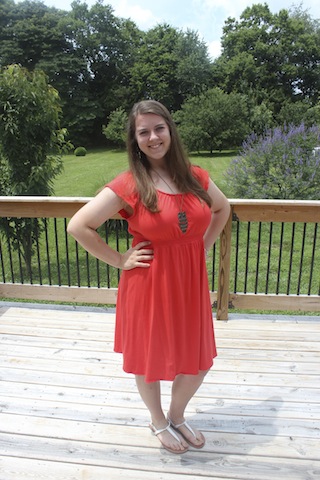 dress – I'm not 100% sure since the tag is torn, but I think Old Navy maternity (I've been given/purchased a ton of maternity clothes recently and I'm not sure where everything came from)
shoes – Target
owl necklace – here (it was only $.85 when I bought it…awesome!  It's $1.50 now, but it's still a great deal!)
Even though I really don't have a baby bump yet (right now my waist is still growing out sideways, making me just look chunky, rather than forward…but I'm sure that will change pretty soon!) and I really haven't gained any weight yet (today the scale says I'm up 1.5 pounds since I found out I was pregnant…but yesterday that was up 3 pounds and tomorrow it may be down 2 pounds…my weight fluctuates so much and so quickly that a few pounds either way don't mean much), my body has still been changing for sure and other certain areas *ahem* are expanding.  Lots of my old clothes just aren't fitting right anymore.  I don't need maternity clothes yet, but I just can't make myself go out and buy a bunch of clothes just one size up from what I was wearing, so instead I'm just going to straight to maternity clothes.  I know some people make it nearly their whole pregnancy with only a few maternity pieces and are able to stretch their "normal" clothes to the end – ha! not me!  (besides, have they even worn maternity pants?  Those things are thebombdotcom…how have I never worn them before?!  I may never go back to a conventional waistband…)
Fortunately I have several good friends who have loaned, given, or sold very cheaply their old maternity stuff to me.  In fact I really don't anticipate having to buy anything new for myself unless I choose to get a new dress or something for a baby shower (other than the super expensive new undergarments I'm having to buy…woo wee those guys are expensive!).  Anyway, between all those girls and all their clothes, I have a wide range of seasons and sizes – I have stuff that is small enough now that I can wear it comfortably without it hanging off me like a tent, and then I have stuff that should fit great this fall/winter when I have a huge belly.  Yay for not having to shell out thousands for new clothes!
Linking up to What I Wore Wednesday