I can't believe I'm already at week 11 – that's about 1/4 of the way through a 40ish week pregnancy…crazy!
I was at church camp last week when I hit week 10 and obviously wasn't blogging while I was away, so this update will cover the last 2 weeks.
We got to see Sweet Baby again Monday.  Everything is looking great.  Such a big difference 3 weeks makes – at 7w4d baby looked kind of like a seahorse, but at 10w4d baby actually looked like a baby!  We got to see his or her sweet little legs (that didn't really show up in the ultrasound picture but we got to see them on the screen).  It looks like we have a thumb sucker on our hands (or maybe not, since I don't think baby even has thumbs yet, but you can see his/her hand up by his/her face and mouth so that's what I'm pretending).  Heart rate was 170 and the ultrasound tech said the baby was moving around – he/she was pretty still when the tech turned the screen to show us, though.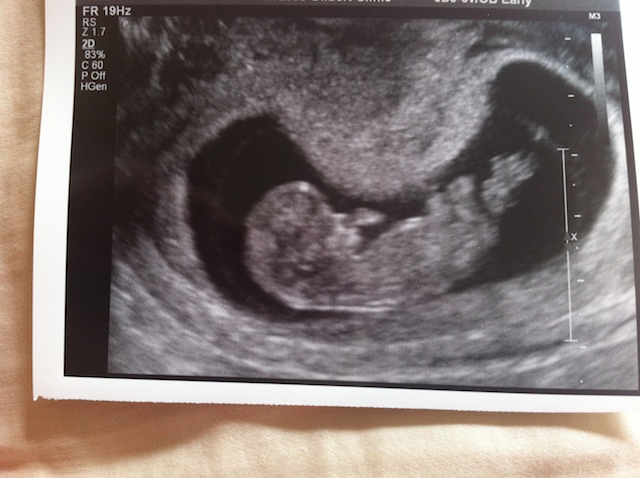 Baby is a little over 1.5 inches long and the size of a fig (obviously I need to brush up on my fruit because I'm having a hard bringing to mind a visual of last week's kumquat or this week's fig).
I was a little anxious about going to camp while pregnant, but it went even better than I expected!  For one, we had unseasonably cool water.  I mean, let's be honest, what really is seasonable weather in Kentucky?  Who ever really knows.  But I did expect it to be pretty hot during 4th of July week.  That wasn't the case; in fact it was so cold that many people spent most of the week in sweatshirts and pants.  Typically that would be me, but pregnancy is like having a personal heater inside me and I feel much warmer than I used to, so I was quite comfortable in shorts and t-shirts in the cool weather.  It was much nicer than sweating like crazy.
The best part I think was having three great meals served to me each and every day, with no prep or clean up required.  I've been a pretty good eater this whole pregnancy, but the thought of fixing or cleaning up after a meal makes me feel sick (well, it did, I'm much better now).  Having someone else fix my meals and hand them to me for me to devour was fantastic!  And trust me, I'm devouring a lot of food these days.  A huge thank you to all the ladies who cook for us at camp…they were my best friends last week :).
I was afraid that the nausea would be worse at camp, but it actually was much better!  I don't know if it was the fresh air or the distractions of camp, but I felt much better while I was at camp than I did before or after while being at home.  Now the smells…that was another story.  I was still very sensitive to smells and there were several things (bug spray, cleaning supplies, BBQ, etc.) that didn't smell too great, but it didn't bother me too terribly bad.  My back hurt the first two days until I started carrying my camping chair around and sitting in it all the time rather than on the hard benches – that helped my back considerably and I had no more pain.
Really, the hardest part of the week was the whole middle-of-the-night-bathroom-situation.  I have to get up each night around 2-3am to go the bathroom – at home that's no big deal; I just roll out of bed, walk two steps to the bathroom, and then crawl back into bed without ever having to even really wake up.  But at camp you have to put on shoes, get a flashlight, make the long trek to the bathhouse (possibly in the rain since it poured two nights we were there!), squint in the bright light, and then trek back.  Very inconvenient.
I had gotten used to a much longer night of sleep than I got at camp.  I really didn't feel tired while I was at camp, but when I got back I crashed!  It took sleeping 12 hours Friday night, a nap Saturday, another good night's sleep Saturday night, and then another nap Sunday before I finally felt somewhat recovered!
But all in all, camp was fantastic!  I felt much better than I expected and I'm looking forward to another week – oh yes, baby and I are headed off to camp again on Sunday, this time with the group I grew up with.  Hopefully the weather will be mild but I think two weeks of cool weather in July is just asking for too much :).  Anyway, full recap of last week's camp coming soon (with much more riveting details than pregnancy stuff).
Ok, enough about camp.  Other pregnancy news: I am feeling much, much better.  The nausea is basically gone and the heartburn is minimal – still occasional, but not awful.  The smell sensitivity seems to be hanging on, though.  Not everything smells bad, it's just that everything smells so much more intense.  There are some things that smell bad…like the kid in the class I teach at church on Wednesday nights whose cologne nearly knocked me over last night (let's save the fact that I teach the 1st and 2nd grade class and that one of those little munchkins was wearing cologne for another day, huh?).  Also, I think my house smells awful.  And that's kinda a problem since I'm there nearly all day every day.  Bummer.
I actually went and worked out once this week.  I've only worked out a few times so far while pregnant (due to summer laziness not feeling so great) and when I have gone I've done some cardio, so it's been two or more months since I've done any weights.  I'm sure it's a combination of not working out and being pregnant, but that class kicked my tail!  I mean, I was only using 3 pound weights and I felt like my arms were going to fall off!  (I usually use 5-8 pounders, depending on the exercise).  Not only that, but I get out of breath so fast these days.  I was doing squats and felt like my heart rate was a good 160-170 bpm…looked down at my monitor and nope, it was only 126.  126!  And I felt like I usually do when pushing 170.  That made me feel ridiculous.  But mostly I was just glad to be getting a little exercise.
Anyway, that's about it.  Like I said, I'm heading off this weekend for another week of church camp, then Michael and I are off to Florida for vacation.  When we get back I'll be basically finished with my first trimester (depending on if you think it ends at week 13 or 14) and it will be time to go back to work.  Boy has this summer flown by!