How far along:  13 weeks – according to some pregnancy books, this means I'm now in my second trimester.  According to my own math, that is clearly not the case and I'm still in my first trimester.  Doesn't matter though, from what I hear first trimester symptoms should be going away about now, whether or not I'm "out" of that trimester.
How big is baby:  According to Babycenter.com, Sweet Baby is almost 3 inches long, the size of a medium shrimp (quite appropriate since I've been feeding baby lots of shrimp recently…Florida = delicious seafood!)
My symptoms:  Nothing new really.  I haven't been plagued with heartburn in a few weeks so that's a big relief.  The biggest "symptom" this week is actually the absence of many of the symptoms I had been having – I'm finally starting to feel normal again.  I've been a little tired and like a short (or long!) nap in the afternoon.
Weight/belly:  I haven't paid much attention to my weight, but last time I hopped on a scale I was up about 2 pounds.  My weight fluctuates so much from day to day that 2 pounds really doesn't mean much for me.  And honestly, I don't really care.  Obviously I don't want to gain a ton, but I'm not going to obsess over my weight right now.
However, my belly has definitely popped this week!  I've always heard that it happens practically overnight, but I didn't realize how literal that was!  I just looked down Monday and realized my belly was way big!  Part of that could be that I've been at camp wearing stretchy shorts, oversized t-shirts, and not really looking in the mirror other than when I washed my face, so I haven't had much of a chance to check out my stomach.  Part of it could have been my big dinner.  But honestly, I think it did just pop out recently!  It's not noticeable all the time, but this particular night in this particular dress I was looking very pregnant (12w4d).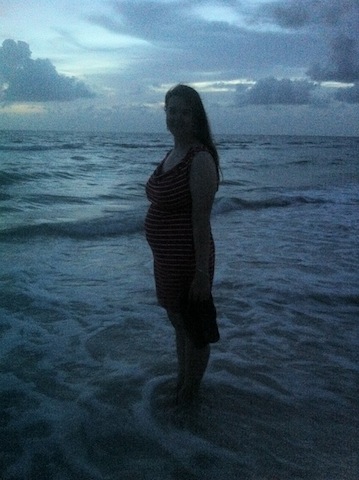 (pardon the grainy cell phone pic)
Movement:  Nothing yet.  I probably have a few more weeks before I can feel the baby, but I'm so looking forward to that!
Food cravings:  Nothing really.  Enjoyed a lot of seafood while on vacation but not really craving it, just taking advantage of the beach.
Food aversions:  Things with marinara sauce.  Two days in a row last weekend I got Italian food (a calzone at Mancino's and manicotti at Carabba's) and hated it so much that I couldn't eat more than 3 bites of my dinner.  I felt so wasteful but it just tasted so nasty to me!  I did eat some mozzarella sticks with marinara last night and like them, so maybe that has passed.  Also sweets.  I don't really have aversions to them, I just don't prefer them.  Several times at camp I got dessert, ate a few bites, and just didn't want anymore.  Very unusual for me!  And I don't particularly like anything mint right now.
Sleep:  I didn't sleep well at camp, but that was due to normal camp situations, not pregnancy.  Now that camp is over I'm sleeping fine.  I haven't been sleeping on my stomach as much because it's uncomfortable, but I'm so used to sleeping that way that sometimes I still end up on my stomach or partially on my stomach sometime during the night.
Best moment(s) this week:  Realizing my belly has popped!
What I'm looking forward to:  Going back to working out now that I'm finally feeling normal again and I'm done traveling for the summer.  I have sorely neglected the gym this summer and I'm going to be regretting that in a few days when I go back!
Baby items purchased:  A Harry Potter onesie at The Wizarding World of Harry Potter :).  Also, a new book for our children's book collection.
Thoughts:  I had a fantastic second week at camp.  It was quite a bit hotter than my first week of camp, but I was able to stay pretty cool.  I actually felt better the two weeks I was at camp than I did while at home – I don't know if it was the fresh air or what, but I definitely had less unpleasant symptoms.