How far along: 15 weeks
How big is baby:  The size of an apple – about 4 inches long and weighs approximately 2.5 oz.
My symptoms:  Sometimes when I yawn big, sneeze, or switch positions quickly I get a pain in the side of my stomach.  I've heard that is normal and the pain comes from ligaments stretching, but it's a little annoying…especially when it's getting late and I'm yawning a lot!  Speaking of, I've noticed I've been much more tired this week.  It is the first week of school, which is always exhausting after getting to sleep late and rest for a whole summer, but this year I feel like it's more tiring than years past.
Weight/belly:  I'm up about 6-7 pounds from my pre-pregnancy weight.  My belly is definitely sticking out, but it doesn't seem to have grown much since my big "growth spurt" at 12 weeks.  However, it's obviously noticeable enough that my students have guessed about the baby.  I didn't plan to tell my students until they started figuring it out themselves; I really didn't want to have to field baby questions for the next six months and I figured once I got a little bigger they would start asking.  Welp I had several kids notice the first day of school – even as young as some of my first graders!  Quite observant (although I guess when you are eye level with adult's bellies you notice the changes pretty quickly).  One of my sweet first grade girls came up to me yesterday and asked me "When is the baby going to come out?".  Sorry, friend, it's going to be a while!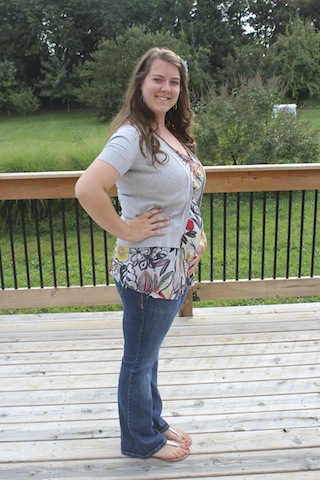 Movement:  Not yet.  Hopefully soon!
Food cravings:  Starbursts and Dr. Pepper are my new ones for this week.    I'm still wanting pretzels and mustard, too.
Food aversions:  None – yay!
Sleep:  Lots of good sleep…but waking up early for school has been hard.
Best moment(s) this week:  Getting to hear Sweet Baby's heartbeat for the first time at my appointment this week!  It was such a neat little sound.  The nurse suggested Michael use his phone to record it, so we've been able to share the sound with friends and family.  The heartbeat was good and strong – with a heart rate of 162 (Michael said he could see if changing on the screen while she checked it and it fluctuated between 155 and 165, but I guess the nurse averaged it or something and said 162).
Also, we scheduled our next appointment for September 9.  We'll have the ultrasound where we'll *hopefully* get to find out if we're having a girl or a boy!  Less than five weeks…I can't wait!
What I'm looking forward to:  Feeling the baby move.  I think it will be such a neat feeling, even though I know it may still be weeks away.
Baby items purchased:  Nothing.
Thoughts:  So far it doesn't bother me when people touch my belly.  That will probably be a different story if/when a stranger tries to touch it, but right now the adults who have wanted to rub have asked first and I've had no problems with them touching me.  The kids touch without asking, but I'm totally used to that…they are so short that they used to touch my belly pre-baby just because that's what's closest to them so this doesn't really feel any different.