How far along: 16 weeks
How big is baby:  The size of an avocado – about 4.5 inches long and weighs about 3.5 ounces.  Baby has fingernails and toenails!
My symptoms:  The headaches.  Oh the headaches.  Every day from about the time school lets out until I go to sleep I have one off and on.  I'm going to be making a visit to the chiropractor very soon to hopefully help with that.
My feet and hands feel drier than usual and my skin, especially on my belly, is itchy.  Oh yes and heartburn off and on.  I bit the bullet and tried some apple cider vinegar mixed with grape juice as a natural heartburn relief the other day.  It worked, but it was not a fun experience, my friends.
Weight/belly:  + 8 pounds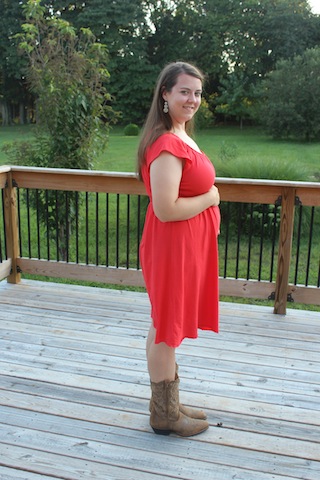 15 weeks, 6 days
Movement:  None yet, but I'm anxiously awaiting!
Food cravings:  Split pea soup.  Oh my stars, I have made two big batches this week and eaten it two, sometimes three times a day.  It is so good!  I didn't even realize I was craving it; I put it on our supper list for the week and then after I had that first helping I couldn't stop thinking about it.
Food aversions:  Thankfully nothing, although other than ice cream I still don't really want any sweets these days.
Sleep:  Fantastic, although there have been a few very vivid and weird dreams.  I'm still sleeping partially on my stomach, kind of a stomach-side hybrid like I always did pre-pregnancy.  So far it's still very comfortable.
Best moment(s) this week:  Not having the extreme exhaustion that accompanied the first week of school!  Other than the daily headaches, I have felt fantastic this week.  Best week yet.  In fact, now that I can actually stay awake when I get home from school, I've been to the gym three times already this week!  That's the most times I've gone in a week since before pregnancy so I am so proud!  And it's only Thursday so I may get a few more in.  Not only that, but yesterday I ran for the first time in probably 10 weeks.  Granted it was a sloooow jog/walk but at least I did it.
Funny comments: I had to add a new category this week…now that school is back in session I see this becoming a necessity (and I definitely want to remember the things my kiddos say!)
Each class comes to me once a week for library.  One of my first grade classes noticed my belly and commented on it, so I told them that yes, I was pregnant.  This week when that class came to library one little boy looked at my belly and asked, very puzzled, "Did you not take your baby out yet?.  I guess he's a little fuzzy on the whole nine months thing.
What I'm looking forward to:  Feeling Sweet Baby move!  Oh and less than four weeks until we find out boy or girl :).
Baby items purchased:  How adorable is this onesie?!?  Michael and I have t-shirts (although mine is a bit small these days) that support Daniel, Tiffany, and family in their fundraising efforts, and we decided Sweet Baby needed one as well :).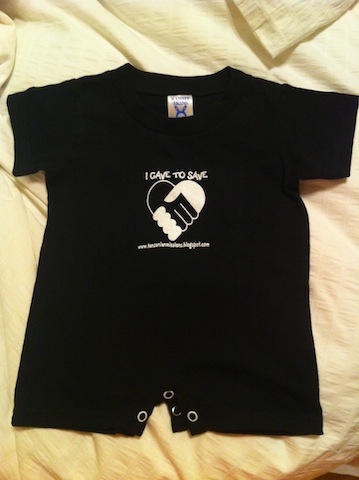 The Gaines' will already be in Africa when baby gets here *sniff, sniff* but at least baby can match our "family" from afar.

Thoughts:  I'm so thankful to be feeling better!  Now that I've conquered (for the time being) the after school sleepies and gotten back into an exercise routine, I hope to tackle blogging next.  I've been a terrible blogger of late and have lots of things to share with you but just haven't had the energy to do so.  I plan to change that soon.