A week after returning from the first church camp I attended this summer, I packed back up and headed off again.  This time I was off to camp with my family's church –  the group that I've been going to camp with for most of my life.  They are so sweet to let me come back year after year, even though I don't live there anymore.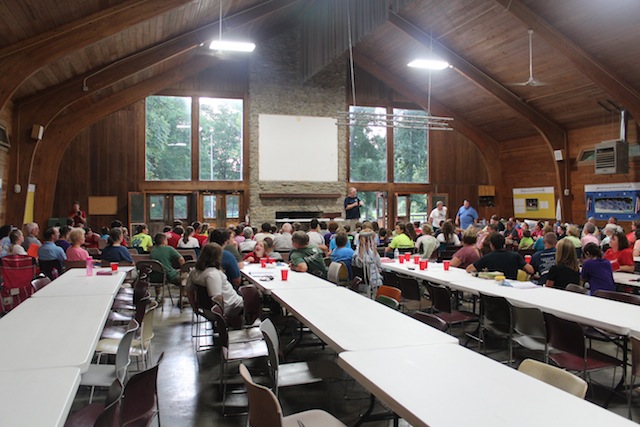 This year our theme was about the 5 senses.  We had great lessons and classes, plus the theme lent itself to tons of fun demonstrations and visuals.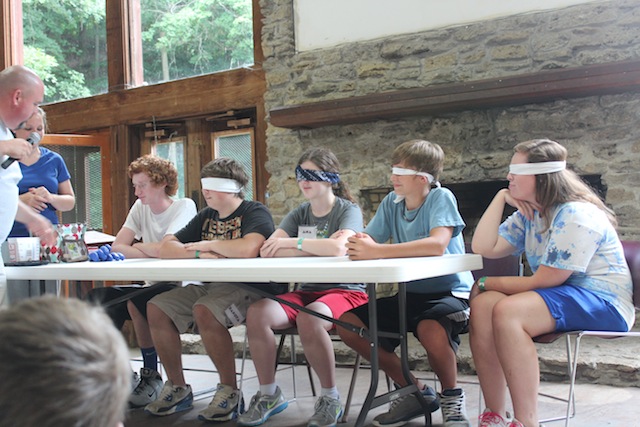 Like this one where each kid had one of their senses hindered and together had to make a peanut butter and jelly sandwich.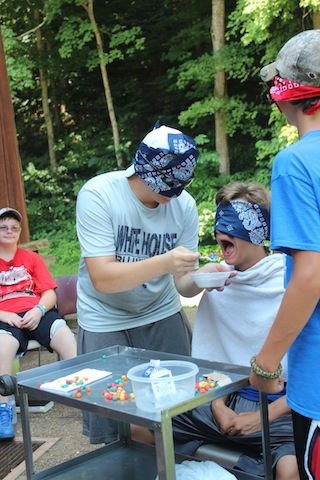 Or this one where two kids had to prepare cereal blindfolded and feed it to a third, also blindfolded, boy.  It actually went pretty well until Gabe brought his hand up to wipe cereal off his face while the bowl was still right in front of him…hand met bowl and cereal went flying everywhere.  It was hilarious!
My main "job" this week was to be one of the counselors for the 5th and 6th grade girls.  This is such a fun little group that is near and dear to my heart as many of those girls I've know from birth, and two of them were the flower girls in my wedding.  It's been so neat to grow up.  In fact, that's one of the great things about going back to camp with people I've known most of my life – we get to visit and catch up and I get to watch my "babies" (who really were babies when I went off to college and then got married and moved away) grow and mature.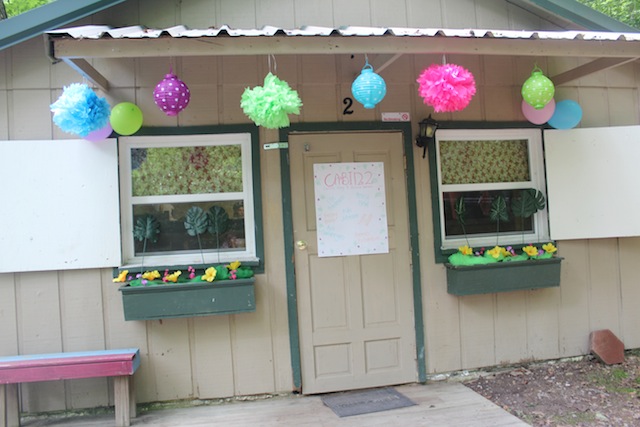 Our cabin had a jungle theme.  A huge thanks to my co-counselor Jessica for doing most of the planning for our cabin!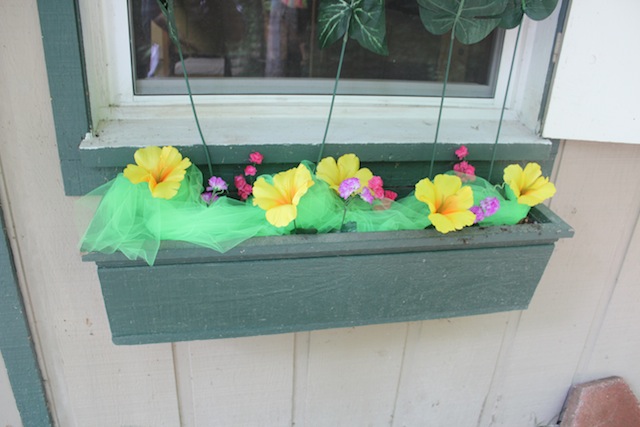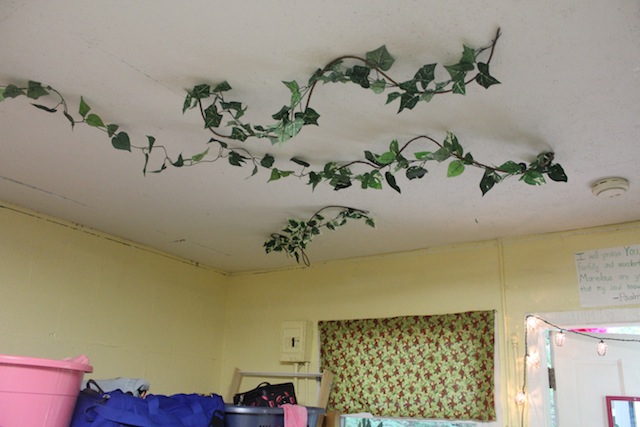 How cute were the vines on the ceiling?!
I also helped out some with the junior campers Bible class.  It's always full of fun activities to get the kids interested in the lesson and learn some new verses.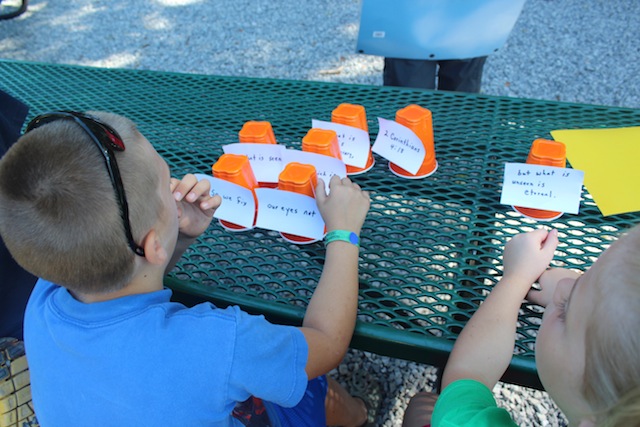 practicing memory verses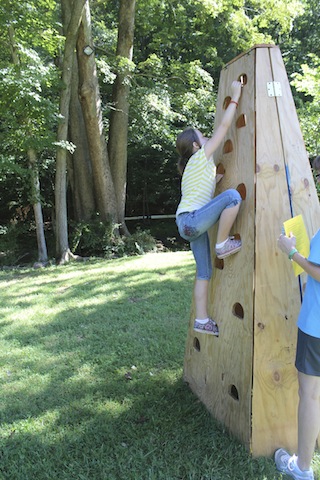 getting to climb the wall after saying a memory verse
We have a pretty small group and just about every one knows everyone else, so the atmosphere is very relaxed.  We have some structured activities each day but also lots of free time for the kids to do what they want.  The camp facility that we use has tons of fun things for the kids to do during their free time.  Such as a lake/pond for fishing or canoeing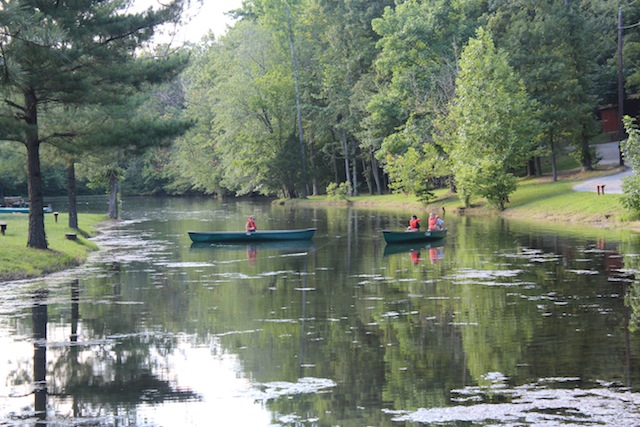 a creek that runs through camp where the kids, especially the younger ones, want to spend just about every spare moment – it makes for a lot of wet clothes and shoes, but also a lot of fun memories
There is also a zipline that everyone loves.  You may remember how I conquered my huge fear of heights last year and did the kiddie portion of the zipline.  I fully intended to do the whole course this year, but alas, they frown upon pregnant ladies ziplining.  I was a little disappointed, but this baby is totally worth it!  Maybe next year.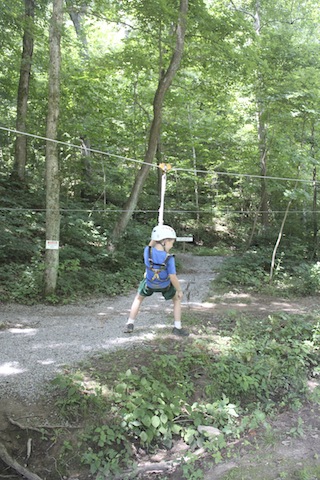 Of course we have lots of other fun activities planned, like ice breakers on the first day of camp.  This game is called Birdie on a Perch.  The kids are paired up and walk around in circles away from each other.  When the caller yells out time the pairs run and find each other and one jumps on the other one's back.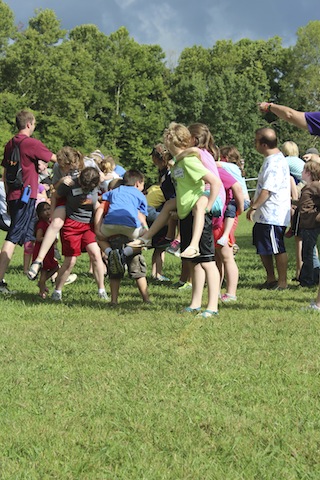 They also played the body part game, someone calls out a set of body parts (i.e. foot to knee) and the kids grab the person closest to them and have to complete the task.  They love it!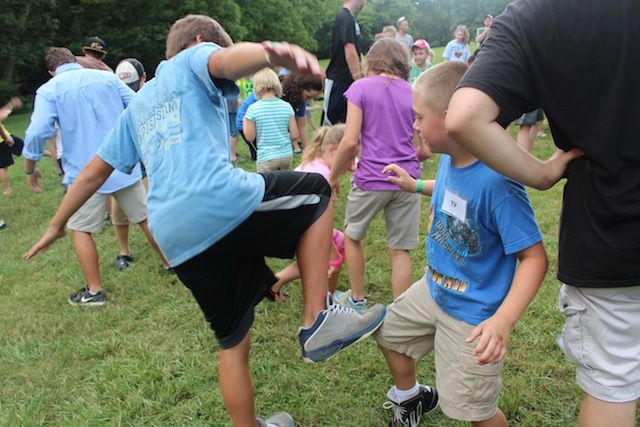 We also had a camper versus counselor softball game,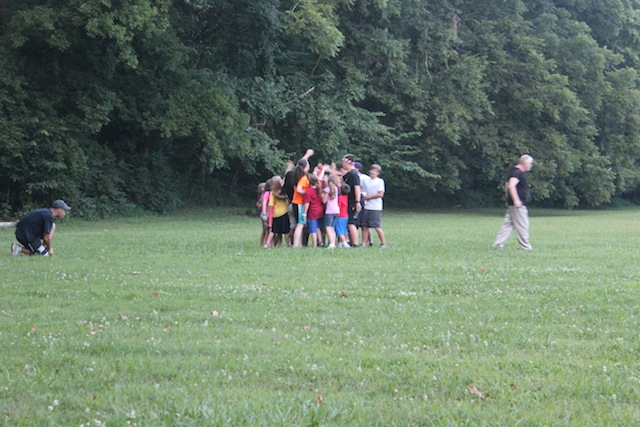 and my personal favorite…the variety show!  There were some silly acts, but also some really fantastic, talented kiddos.  I was asked to be a "judge" for the judging panel.  The persona they gave me was Britney Spears…that seemed easy until I started planning out my costume.  Let's just say that finding a modest Britney Spears-esque outfit is not exactly easy.  So I basically just wore sparkly things, teased my hair, wore a lot of makeup, and acted ditzy.  It was quite fun :).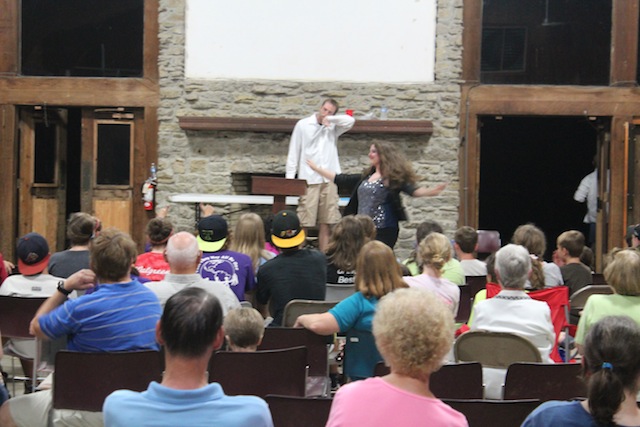 Making a grand entrance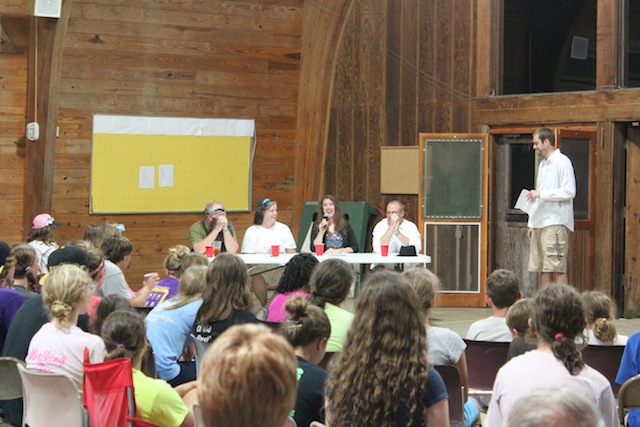 Our judging panel: Si Robertson, Flo from Progressive, Britney Spears, and Simon Cowell.
The final act was hilarious.  Some of the guys sang "I Want it That Way" by the Backstreet Boys.  I honestly don't know if the kids appreciated it as much as we 20ish aged girls did, but I loved it.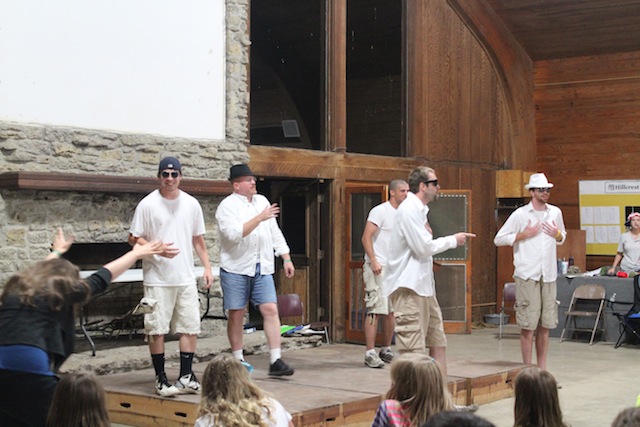 That's me in the left being all crazy fan-like.  It was fun stuff.
At this point I was about 11 weeks pregnant and getting further away from that first trimester yuckiness.  However, I still really appreciated the whole not-having-to-fix-or-clean-up-my-own-food-stuff.  It was quite a bit hotter this week than it was my first week of camp, but it wasn't unmanageable.  I just spent a lot of time sitting and relaxing so I wouldn't overheat.   And again, it seemed like the fresh air did me some good and I felt great most of the time.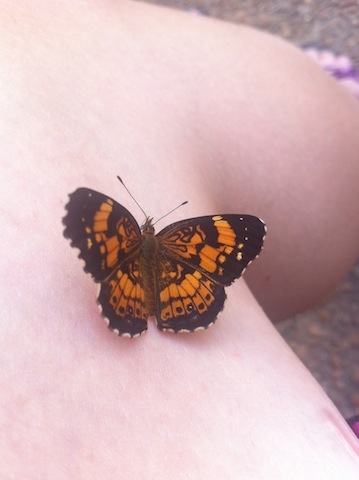 This butterfly came and sat on my leg for a good ten minutes while I was hanging out in my handy dandy camping chair one day.
The only big pregnancy related thing that I had an issue with at camp this particular week (other than the whole middle-of-the-night-bathroom-thing again) was my feet.  It was like wearing socks and tennis shoes itched and burned my feet!  I had just spent a week at camp wearing socks and shoes nearly the whole time with no problems whatsoever, but for some odd reason I just couldn't stand to have them on my feet anymore.  So Monday I zipped over to Opry Mills and got myself a pair of Chacos.  Those things were life savers and well worth the money!  I'm going to have to do a whole post about them later!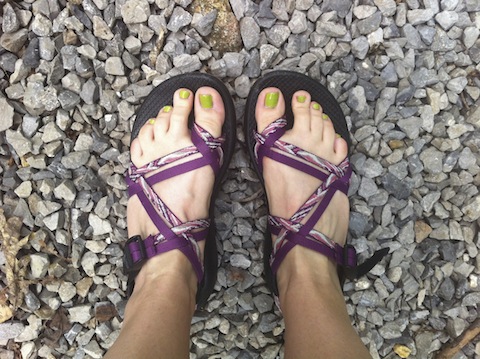 It was another fantastic week.  I am so blessed to have a job where I am able to go to camp each summer as well as two church families who host such great camps and let me tag along!