How far along: 17 weeks
How big is baby: the size of a turnip – weighs five ounces and is about 5 inches long (I had to Google a picture of a turnip, I don't think I've ever eaten one or even looked closely at one!)
My symptoms:  Heartburn.  Ick.  Painful and also random – things like chips and salsa don't set it off, and yet eating almonds does.  Weird.
The headaches are much better this week.  A friend recommended that I visit my chiropractor and he was able to help a lot.  Not only did he adjust me and help the tension, he also taught me some pressure point tricks that Michael and I could do at home to help.  I've had a few slight headaches since then but they have been much less and the exercises he gave me helped.
Weight/belly:  Still +8 pounds.  I noticed this week while taking my toenail polish off that bending that far to reach my feet was a little uncomfortable and made me a little out of breath.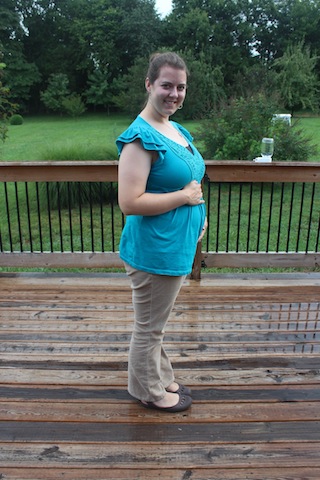 last night before church – 16w6d
Movement:  I think so but I'm not certain.  Last Thursday I felt something in my stomach that I thought was the baby.  It happened several times over the weekend, always in the same spot, but it felt more like a pinching way down low almost under my belly and actually hurt a little.  It wasn't anything like the fluttering, gas bubbly feeling that everyone describes.  After doing a little Internet searching it sounds like what I was feeling was actually pain from my ligaments stretching.
But then within the last two days I've started having some other feelings.  I guess you might call them flutters, but to me it feels more like a muscle twitch.  I'm feeling it kind of near and around my belly button area.  It's not really strong enough to tell if it's the baby, but I hope so!
Food cravings:  Chips and salsa
Food aversions:  None.
Sleep:  Saturday morning, the only morning I would have been able to sleep in, I woke up an hour before my alarm was set to go off and I couldn't go back to sleep.  Then Wednesday morning I woke up between 3 and 4 and it took a long time to go back to sleep.   Both of those things are highly unusual for me.  However, I've slept well other that those two incidents so I can't complain much.
Best moment(s) this week:  Getting to feel what I *hope* is Sweet Baby moving around in there and not just random muscle twitches!
Funny comments:   I actually didn't have any specific ones this week (at least that I can remember), but I do think it's so funny how when people ask my due date and I tell them, they often say something like "oh, try to have the baby on January X because that's my birthday!".  Oh yeah, sure, I'll note that in my planner.  I don't know, if they said something like "Oh my birthday is January X, that would be fun if the baby came that day" I don't think it would be as odd.  And honestly, I know people are just excited; it doesn't bother me at all, I just sort of think the directives to have babies on particular days are a bit amusing.
What I'm looking forward to:  Figuring out for sure if I feeling the baby or if its something else.  Finding out if Sweet Baby is a boy or a girl (less than 3 more weeks!).
Baby items purchased:  We went to a huge, bi-annual, local children's consignment sale Tuesday night.  We didn't find all that much stuff, only because we don't know the gender yet, and we haven't really had time to discuss what specific baby items (strollers, cribs, pack-n-plays) we want so we didn't look at those for long.  If we had been more informed and went in knowing we needed certain gendered clothes or with particular items in mind, we might have been more successful.  However, I did get a brand new Moby Wrap for $20 and I felt like that was a very good deal.  I've been practicing my wrapping technique with my teddy bear :).
A co-worker of Michael's also gave us several baby items that they used with their kids and are getting rid of (a Diaper Champ, a soft baby carrier thing, bathtub, booster seat thing with tray, and some clothes).
Thoughts:  The sheer amount of stuff that baby "needs" is overwhelming.  I hadn't thought much about registering or what we'll need to buy until this week, and we aren't going to do our big registering until we find out boy or girl, however I thought now would be a good time to start researching and looking at some of the more gender-neutral items we'll buy or register for (things like strollers, play yards, high chairs, and such we are going to get in gender neutral colors so we can use them for all our babies, regardless).  There's just so much to think about and so many choices!