We had such a fantastic and relaxing last kid-free (for a while at least) vacation.  I know our vacations in the coming years will be great, but they'll be totally different from the lazy beach days we got to enjoy :).
This trip held several firsts for us.  Michael had never been to Florida; he'd been to the beach but never to Florida.  We'd also never driven to a vacation destination before.  We flew to our other trips and I think the farthest we had driven was about four hours to Gatlinburg.
The day after I got home from my second week of church camp we headed out to Florida.  It wasn't ideal that I had to go straight from camp to vacation, but that was the only week that worked with both of our schedules so we just made it work (Tim Gunn moment).  I knew I would be too exhausted Saturday to make the 12 hour trip, but we also knew that waiting to leave on Sunday would make it a super long day since we would need to stop somewhere for church too.  We decided that the best choice would be to break the trip up into two days.
Friday evening I got home from camp.  We unloaded everything, I immediately started unpacking, ran several loads of laundry, and began packing again.  Saturday morning we went to pick up our rental car, ran a few last minute errands, ate some lunch, finished packing, and hit the road.
Can I just say that our rental car was awesome?  I drive a '97 Camry and Michael drives a '99 GMC pickup.  It's nice to have paid for, fairly reliable cars, but they are nothing fancy.  Our rental car was a new Dodge Charger and it was the bomb.  It had dual heating and air (nice!), heated seats (which we never used but I would have loved in the winter), and best of all it had keyless entry.  You put the key fob thing in your pocket or purse, and then when you lift the handle to open the door it automatically unlocks.  You start the car by pushing a button – no keys!  Magic I tell you.  I spent the whole week in awe of this car.
Saturday we drove as far as Macon, GA.  We stayed in a Holiday Inn that looked very nice and fancy, but was one of the most humid hotels I've ever been in.  Ick.  And even worse was that our carpet was wet.  I know, so gross.  We are hoping that they had just shampooed the carpet and it hadn't dried yet, because I don't even want to imagine the other possibilities.  It was so late when we got in that we didn't want to hassle with changing rooms.  Instead we did an adult version of the-floor-is-lava game and wore our shoes at all times or hopped around avoiding the carpet.
Sunday morning (our carpet was dry when we woke up, by the way) we worshipped with a wonderful congregation near our hotel in Macon.  That was one of the friendliest congregations I've ever visited (and we've visited a lot) and we felt so welcome there.  If you are ever traveling through Macon, make sure to attend service at Thomaston Road.  After church we hit the road toward Florida.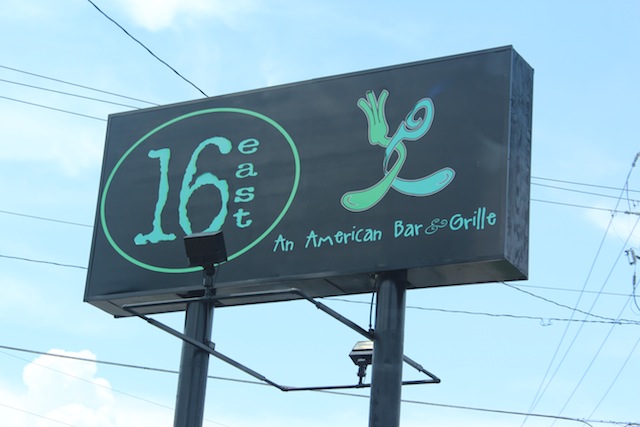 We stopped and ate lunch at 16 East Bar and Grille in Cordele, GA.  It was one of those things where we had been seeing only chain restaurants, and right before we stopped at one we noticed this cute local place.  We decided to try it out and that was a good decision.  The food was way yummy.  I had potato soup and it was the thickest, cheesiest potato soup I've ever had!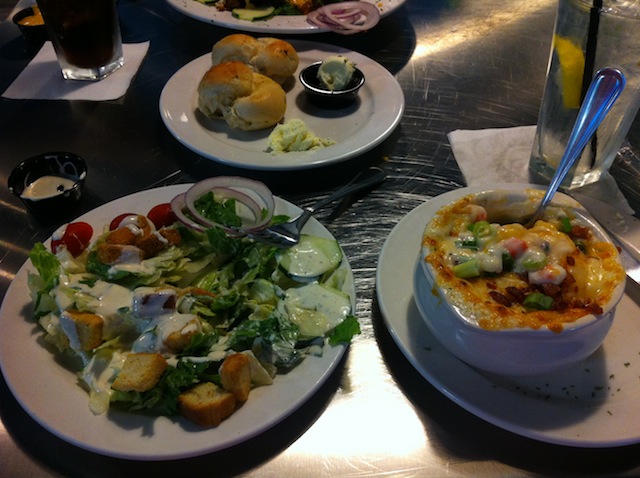 We reached Orlando around suppertime.  Michael's grandparents live near Orlando and we very rarely get to see them, so we were excited to get to spend Sunday night visiting with them.  Sadly, it wasn't nearly as much time as we would have liked to get to visit, but early Monday morning rolled around quickly and off to Harry Potter World we went!
Monday was the culmination of a huge chunk of my childhood.  In fact, I pretty much planned our trip to Florida around my desire to go to Harry Potter World.  It did not disappoint.
The Wizarding World of Harry Potter is located in Universal Studios Islands of Adventure.  I've been to Disney World several times but I'd never been to Universal.  Honestly, I didn't care to see anything else at Universal except Harry Potter.
I decided not to take my good camera into the park, so please suffer through enjoy this crazy amount of crummy cell phone pictures (and be thankful that I only am posting about a third of the ones that we actually took).  I somehow forgot to charge my phone the night before and it died within the first two hours from all the pictures I was taking.  Fortunately Michael's was fully charged and I was able to take a bunch more with his phone.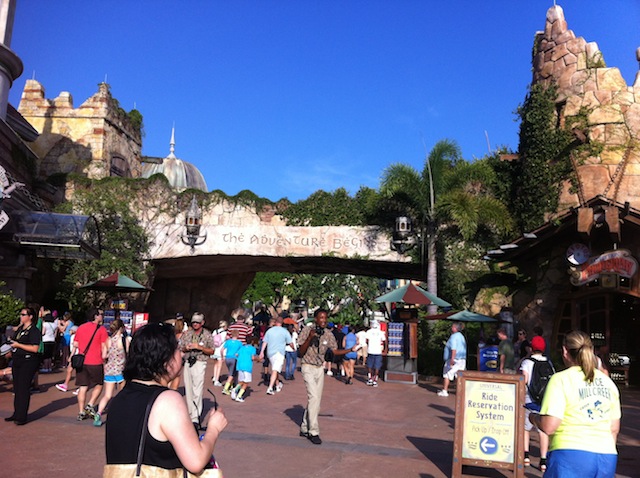 After a long walk and long lines we finally made it into the park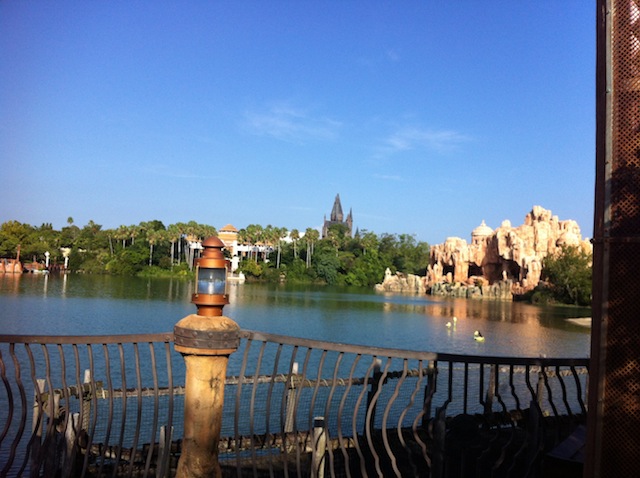 Our first glimpse of the castle!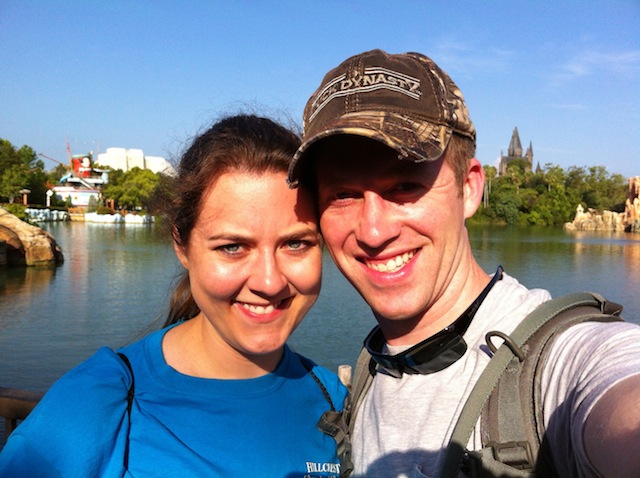 Ready for the magic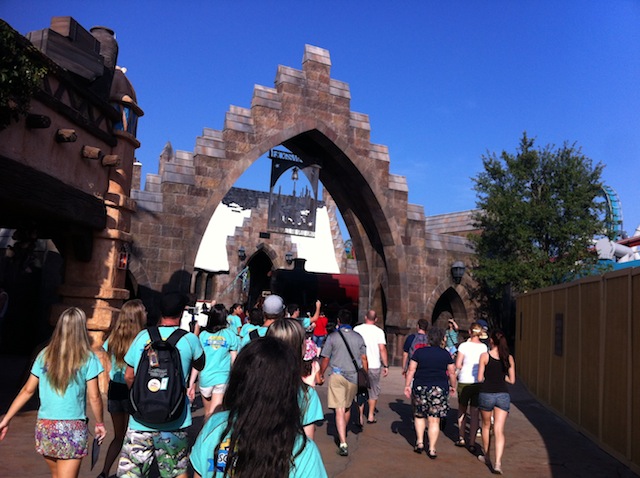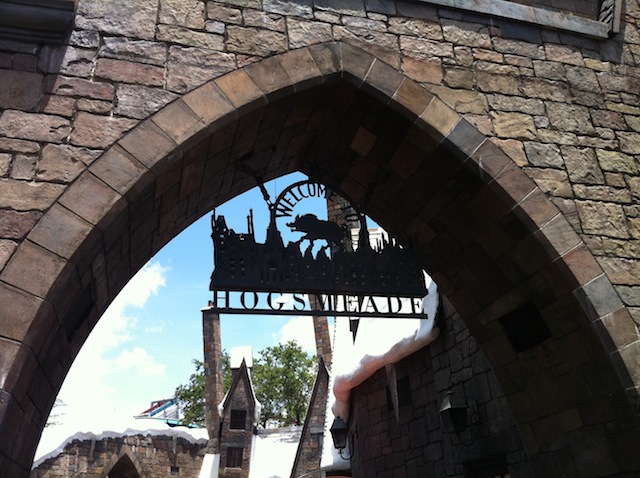 Welcome to Hogsmeade!
Our first stop was the Hogwarts ride.  We had to wait in line a long time but the line went all through the castle and you got to get the whole experience.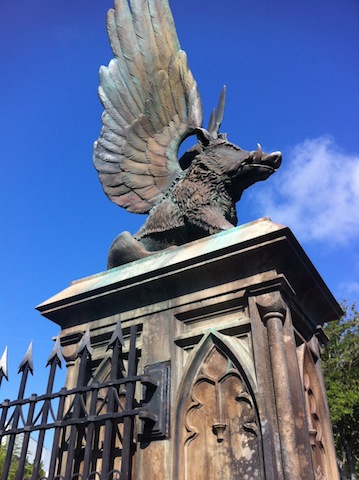 The entrance of the castle/line for the ride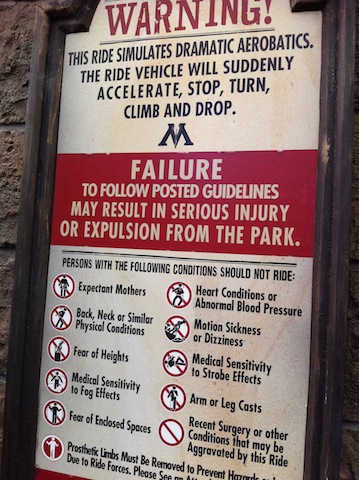 Unfortunately expectant mothers (that'd be me…) weren't supposed to ride the ride, so I had to sit this one out.  However, I was able to go with Michael all the way up until right before he got on the ride and then just wait for him.  So I got to see the whole castle except for the actual ride.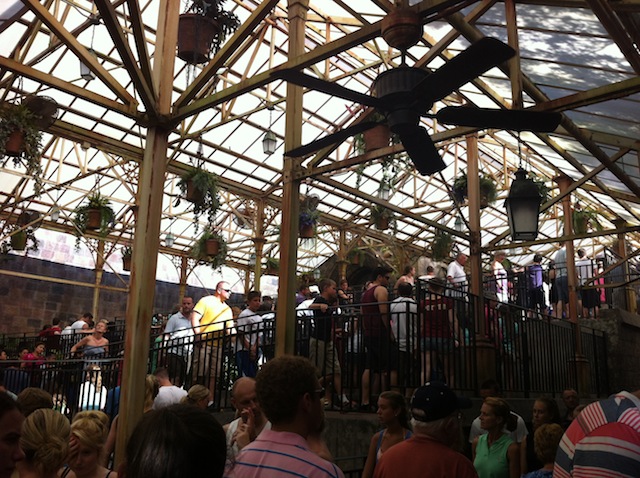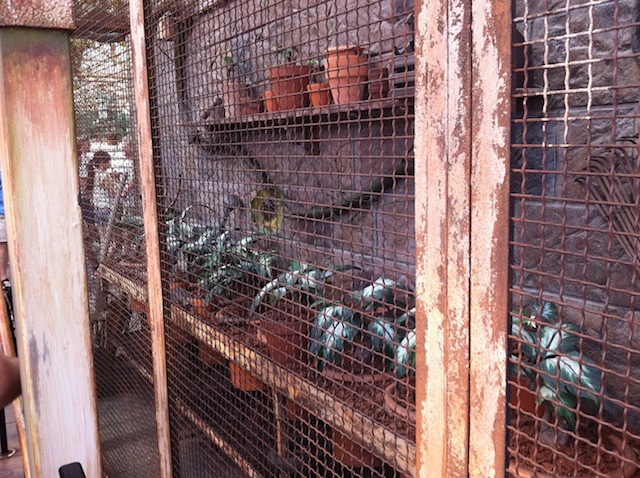 Professor Sprout's greenhouse
The house points…Gryffindor is winning (as they should)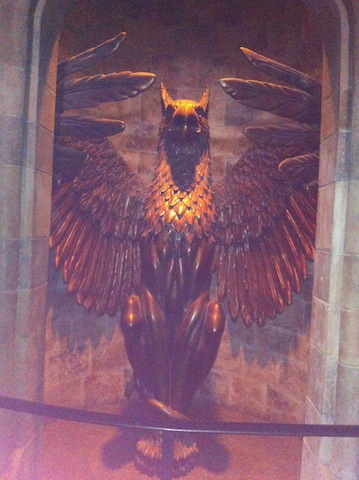 The entrance to Dumbledore's office
I took a bunch more pictures, but they were all really grainy thanks to the low lighting and using my cell phone so I'll spare you those pictures…and tell you to just go see it yourself!  It is so, so cool to see everything from the movies in real life.
After we finished the castle ride we were starving!  We headed over to The Three Broomsticks to grab some lunch.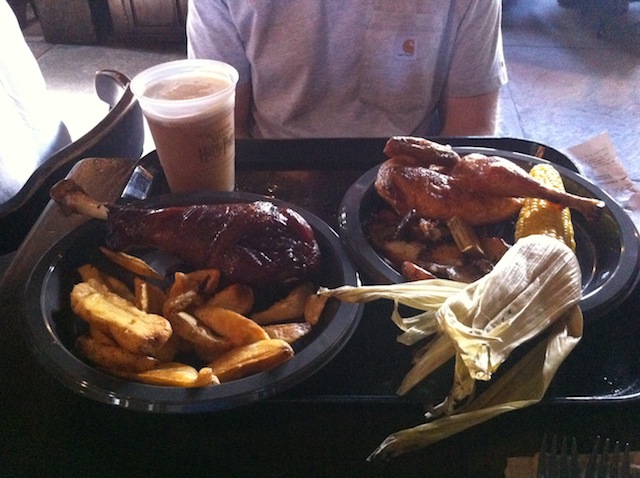 Michael had the turkey drumstick and potato wedges; he said his meal was just so-so.  I had the chicken, corn, and potato wedges – mine was delicious!  I ate every last bite and could have eaten more (maybe that was just the pregnancy talking, but it was so yummo…).  We tried the butterbeer (we got the frozen, not the regular) and I didn't like it at all.  It was way too sweet for me.  But I'm glad we tried it.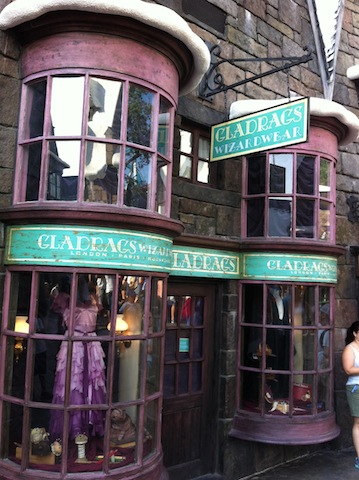 After lunch we walked around the other shops and things in Hogsmeade.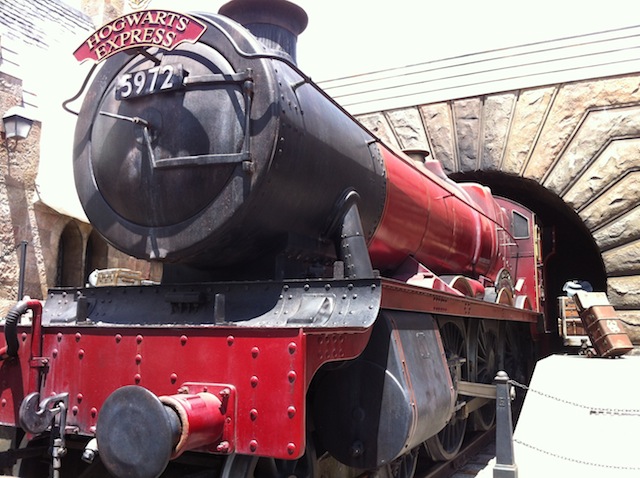 the Hogwarts Express at Platform 9 3/4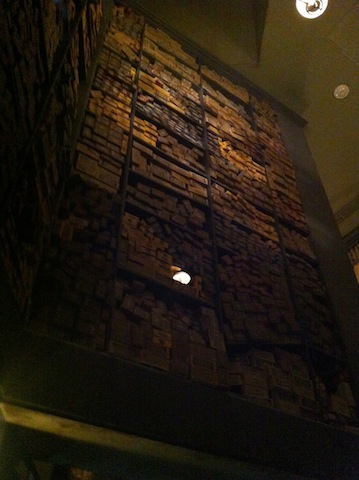 Another awful picture, but this is inside Ollivander's.  You wait in line and get to go in and "Ollivander" does a little show where he picks some kids from the audience (sadly he did not pick me…) and have the wands "choose" them.  It was fun to watch.  It was really dark inside but I just had to take a picture of the tons and tons of wands.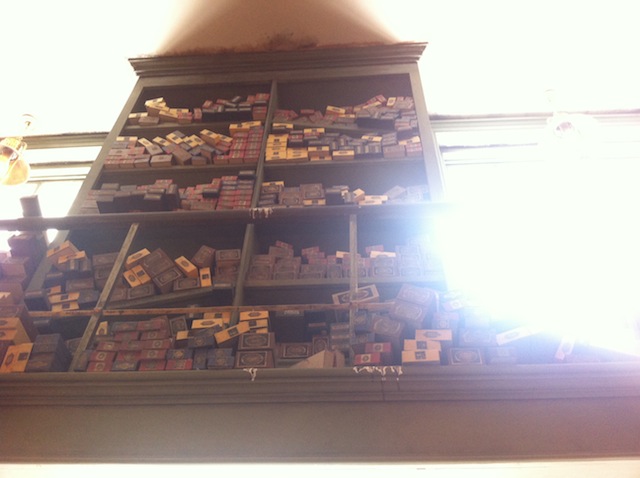 The wand shop attached to Ollivander's where you could buy wands and other souvenirs.  I really kinda wanted a wand of my own but just couldn't justify that purchase…how many 26 year olds really need wands anyhow?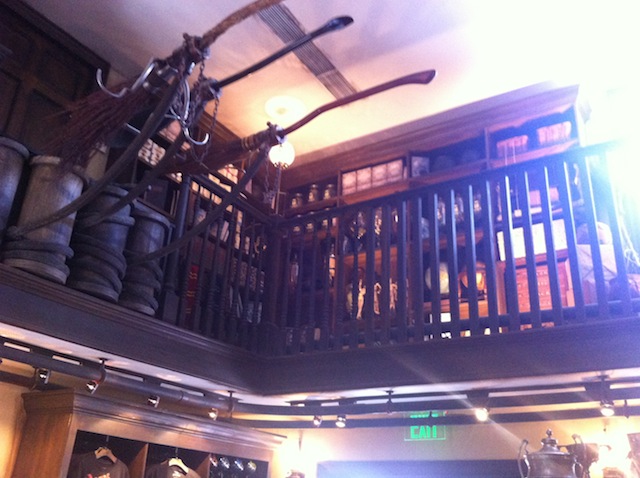 Inside one of the other shops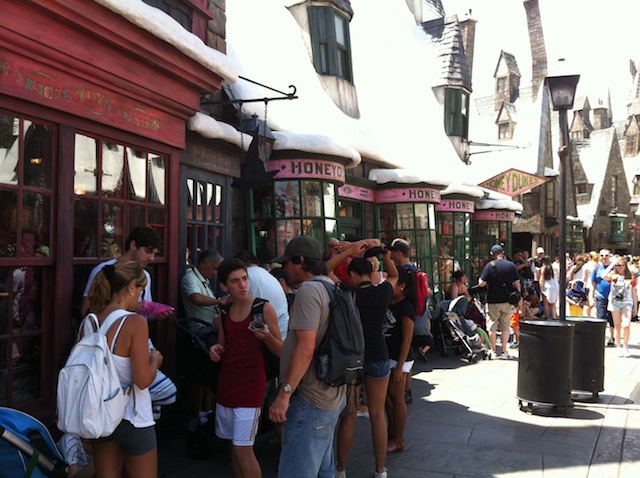 Zonko's and Honeydukes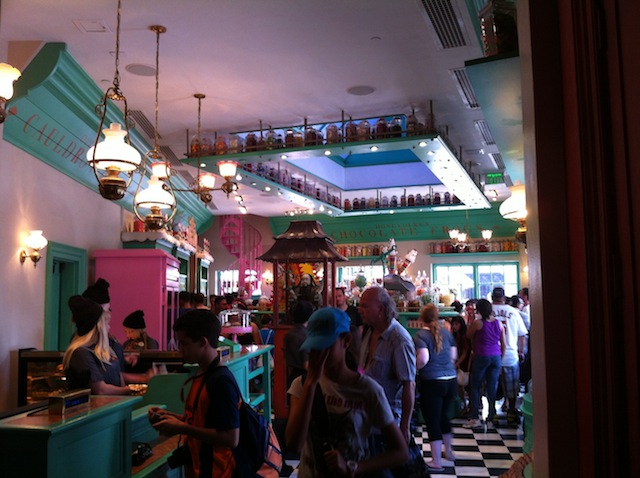 Honeydukes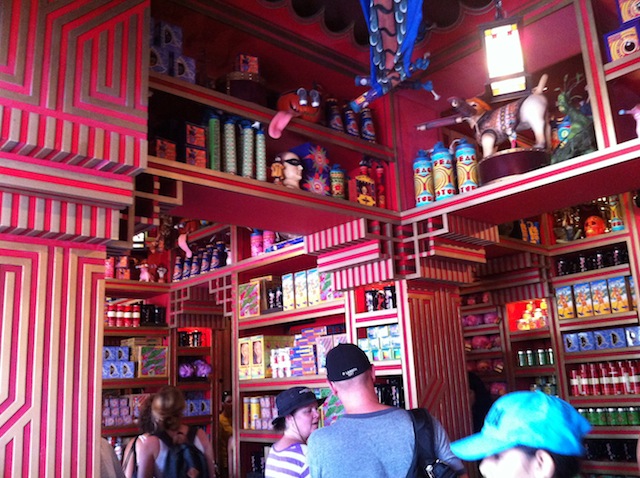 Zonko's Joke Shop
bathrooms
There was an outdoor stage with performances throughout the day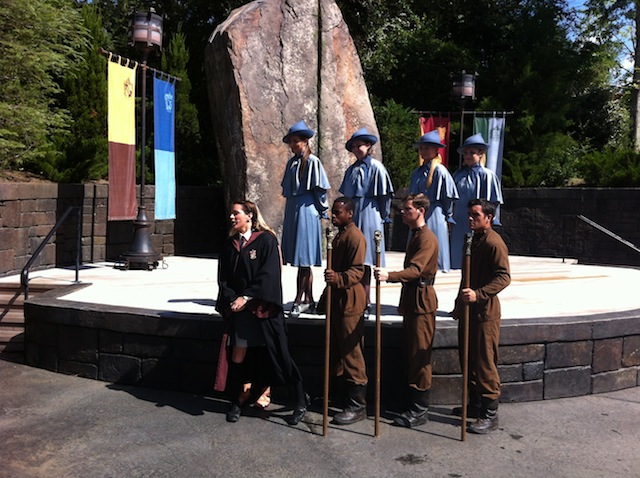 students from Durmstrang and Beauxbatten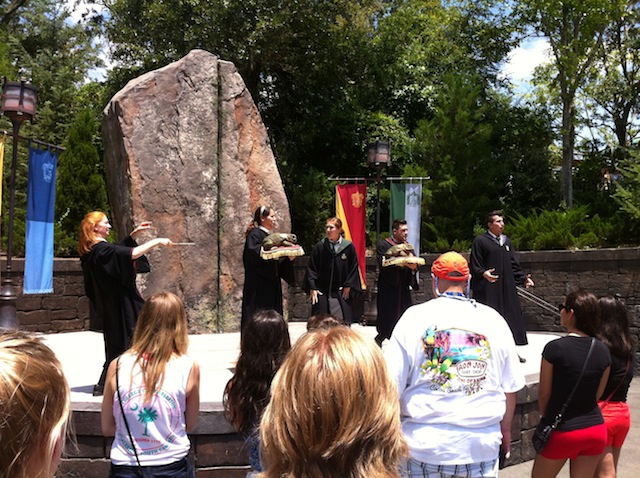 The Hogwarts House Choir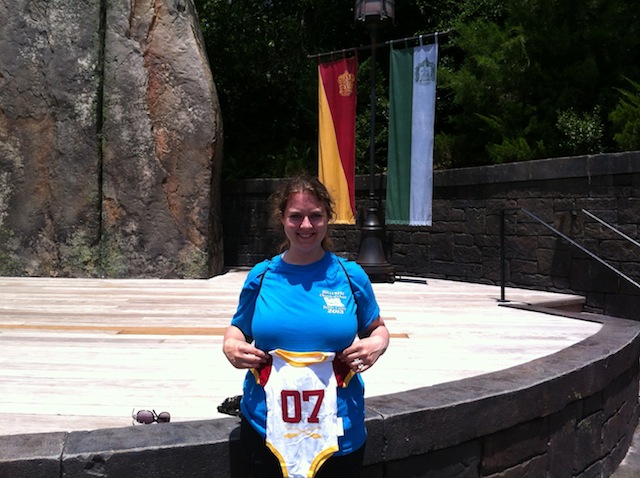 Showing off the onesie we bought for our tiny Gryffindor :)
We didn't ride either of the other Harry Potter rides; I couldn't and Michael didn't have any desire to do so.  After we had gotten our fill of Harry Potter world we decided to walk through the rest of the park.  Honestly we didn't care to see or do anything else in the entire park except Harry Potter, so we quickly walked around the different sections just to see if there was anything else that caught our attention.  There wasn't.
We did stop in the Dr. Seuss section for a few minutes to look in the gift shop and so I could ride my one and only ride of the day…the Dr. Seuss carousel.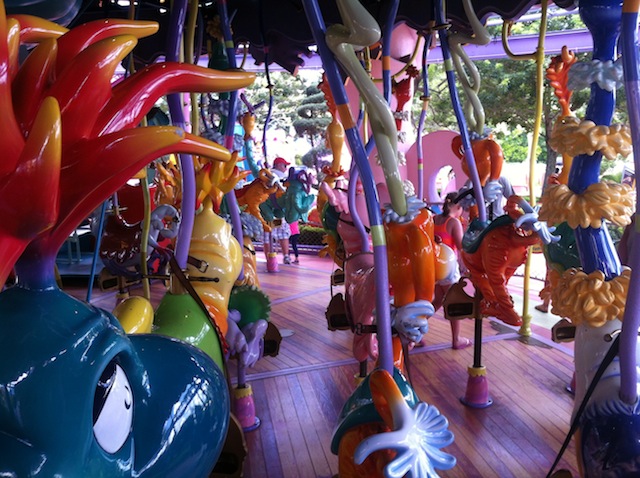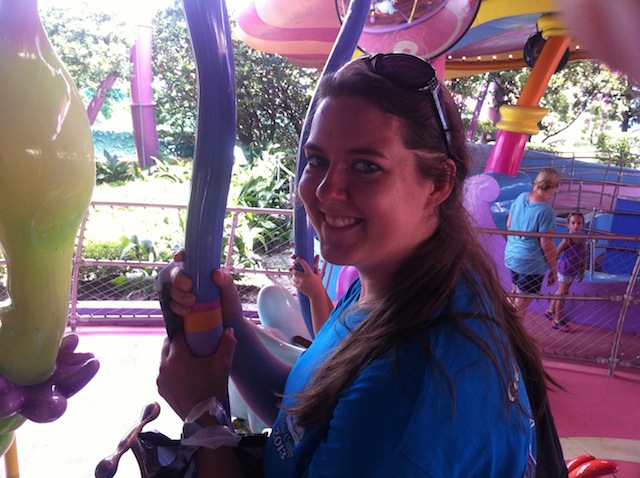 After that we were pretty pooped and over the whole theme park thing so we headed back to our car and hit the road toward our hotel in Treasure Island (near St. Pete and Clearwater beach)…our destination for the rest of the trip.
The rest of this post may read as a travel guide…sorry to bore you to tears with the mundane details, but just in case someone else might be headed to Treasure Island for vacation I want to give my recommendations of where to stay and eat (oh and so I can remember these details in case we go back someday).
First our hotel.  We stayed at the Westwinds Waterfront Resort.  We found it on Travelocity or Priceline or one of those travel deals website and couldn't have been happier.  The "resort" is basically a hotel full of condos.  From what I understand, individual people own the condos but the hotel rents them out for the owners all the weeks the owners aren't staying there.
It's not right on the beach, but it's the next row of buildings over.  There's the beach, then a row of hotels/buildings, then the road, and then another row where ours was located, if that makes any sense.  Basically you just crossed the street and went between two buildings and you were on the beach.  It was probably a less than five minute walk to the beach.  So we couldn't see the beach from our window or hear the ocean at night, but we were close enough I think.
Our condo was gorgeous.  I was ultra-impressed with the accommodations.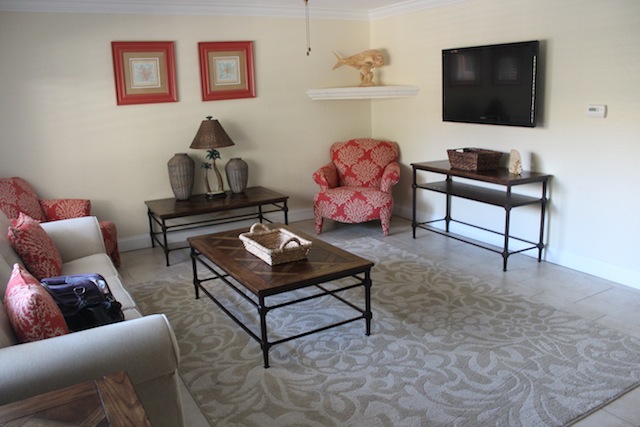 living room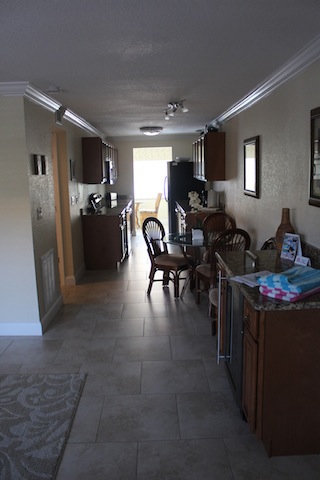 kitchen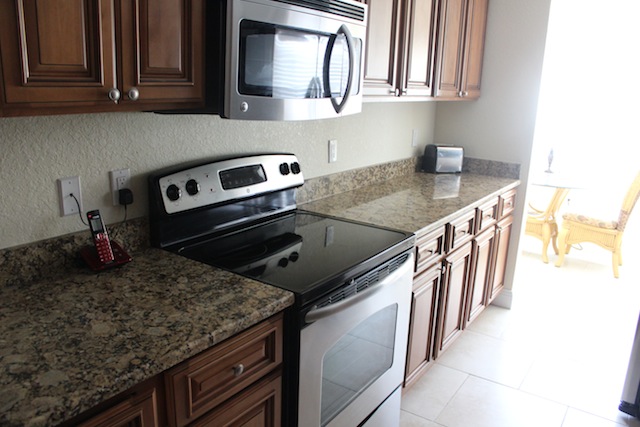 very nice appliances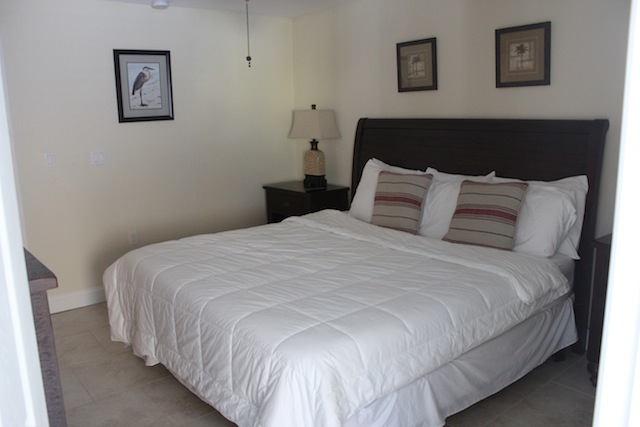 bedroom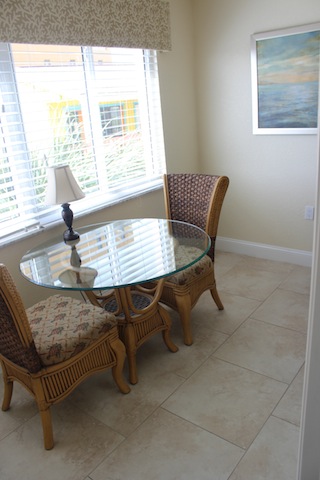 breakfast nook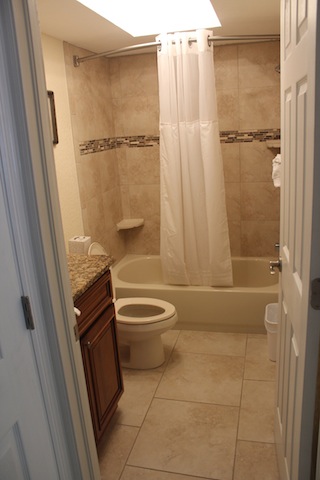 bathroom
The hotel also provides you with chairs and toys you can take to the beach, laundry facilities, beach towels, dvd players, and more.  The employees were so nice and helpful.
Ok I know this post is getting ridiculously long so I'll try to make the rest of it quick.
Tuesday – Friday: sleep in, lounge on the beach, eat good food, watch tv, read, sleep some more.
Oh was that a little too quick?  Well, that was basically what we did, in varying orders each day, however let me at least share with you what delicious restaurants we discovered.
Monday night:  We checked in, unpacked, and went out to grab some supper.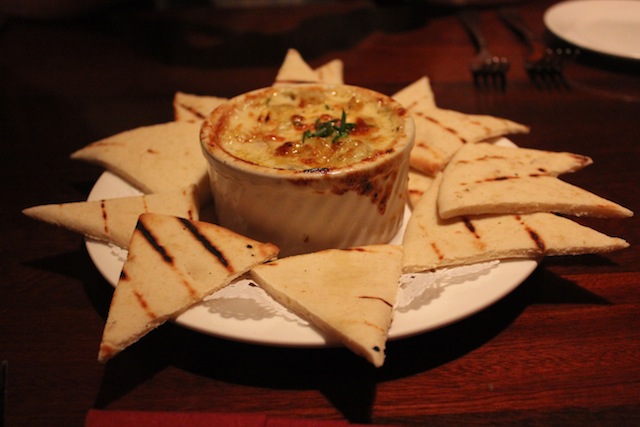 We ate at Middle Grounds Grill and it was fantastic.  The picture above was our appetizer – spinach artichoke dip.  That was the first meal in a long line of fresh seafood meals :)
After dinner we went to the Publix near our hotel and got some food to have for breakfasts, lunches, and snacks.  Having a kitchen in our condo was wonderful and kept us from having to eat out every single meal.
One we unloaded our groceries we headed out to get our first glimpse of the beach!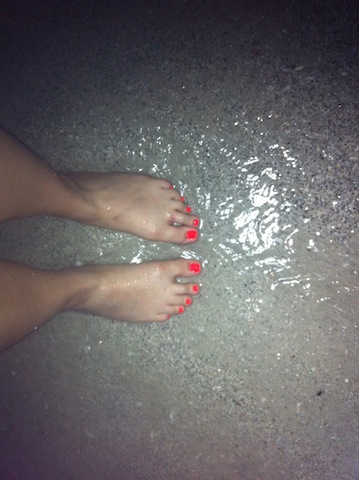 Ahh…that first feeling of having your toes in the water is the best!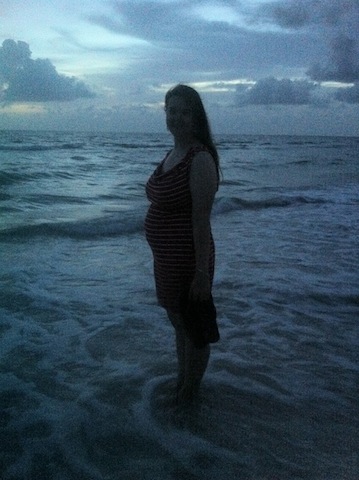 It wasn't until Michael took this picture that I realized that my belly had "popped".  After spending a week at camp wearing baggy clothes and with almost no mirrors, I guess it could be that I hadn't looked at myself very much, but it seems like that bump appeared overnight!
Tuesday – The first morning of our vacation that we actually got to sleep in with no alarm!  After a week of camp, then getting up early Saturday to hit the road, early Sunday to go to church, and really early Monday to go to Universal, I was so glad to have a day to sleep as late as I wanted!  The day progressed as I mentioned earlier: eat, relax, beach, eat some more.  Tuesday's supper was at Sloppy Joe's, just a few buildings down from our hotel.  I had the fried shrimp, which was fine but I couldn't decide between that and the lobster macaroni, and then once I got my meal I started wishing I had chosen the macaroni and regretted playing it safe with shrimp.  Oh well, maybe next time.  The view of the beach while sitting outside on patio is really nice, but it was marred by the crazy loud music being played and the very loud, drunk, smoking family that was out there at the same time.  Next time I'll eat inside.
Wednesday – Sleep late, relax, beach, tv, read, eat.  Supper at Harold Seltzer's Steakhouse in St. Petersburg.  The food was great and I'd totally recommend it, although we were the youngest people there by a good twenty years or so.  We felt out of place for sure, but the food was good so who cares?  I think I had scallops but I can't remember for sure.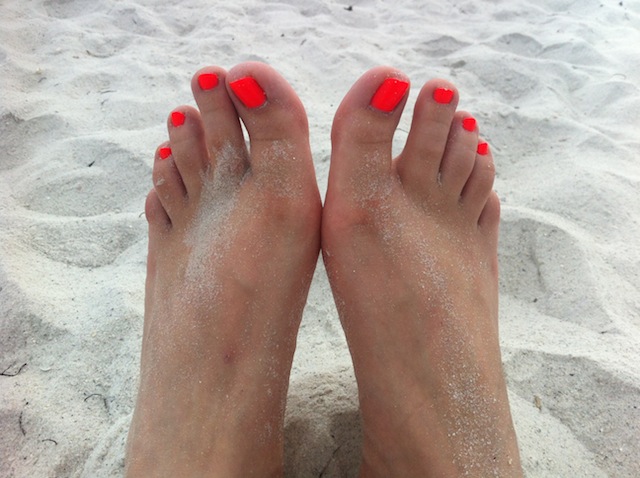 Thursday – Rinse and repeat.  Some friends of ours from church were staying a few minutes away in Clearwater beach so we met up with them for supper.  We ate at Dockside Dave's in Madiera Beach.  This was probably my least favorite meal of the week.  I got fried shrimp and it just didn't taste good at all to me.  I don't know if I was just shrimped out or if I didn't like the batter it was cooked in or what, but I barely ate any.  But we had a good time with Will and Kelsey and their company was totally worth the so-so meal.  Everyone else enjoyed theirs, though, so I'm not writing it off as a terrible restaurant.
Friday – You guessed it.  By Friday we had run out of most of our breakfast and lunch foods that we had gotten from Publix, so we went our for lunch and dinner.  Lunch was at Shrimpy's Po-Boys Pub.  I was a little tired of seafood so I got black bean soup and was so glad I did…it ended up being some of the best black bean soup I've ever had and one of my favorite meals that week!  Michael got this mostrosity: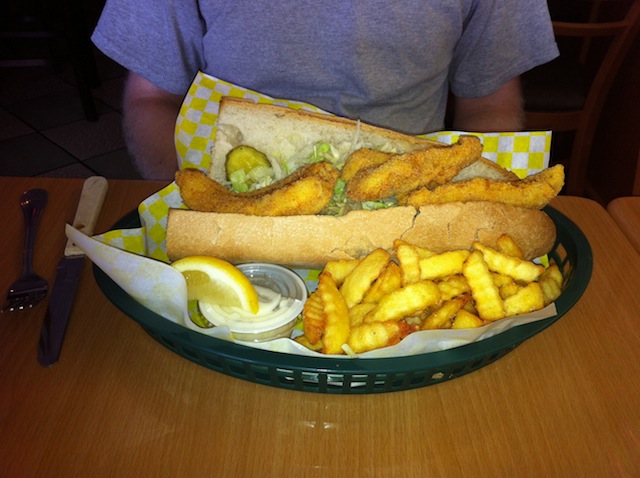 Friday night we drove to St. Petersburg (inland from St. Pete beach) and ate ate 400 Beach Seafood and Taphouse.  I had lobster for the very first time (which I found out later apparently you aren't supposed to eat when you're pregnant…oops!) and it was very good.
Saturday morning we got up early-ish, packed up the car, and hit the road home to Bowling Green.  Michael was a champ and drove the whole way.  He had driven the whole way down, but we broke it into two 6-hour days, and he's pretty used to driving long stretches like that by himself so it wasn't as big of a deal.  On the way back I fully expected us to have to switch out driving, but he did great and drove the whole 12 hour trip home.  I was immensely grateful because I hate to drive.  We were pretty worn out by the time we got home, but we finally made it.
What a wonderful, fantastic vacation we had!