I love to share with you when I find new products or items that I like.  I hope you don't mind or think I sound like a walking saleswoman…I just like to share the things that work for me!  And for whatever reason I really like to make my lists in fives, so here are five items I've discovered this summer that I love.
1.  Chacos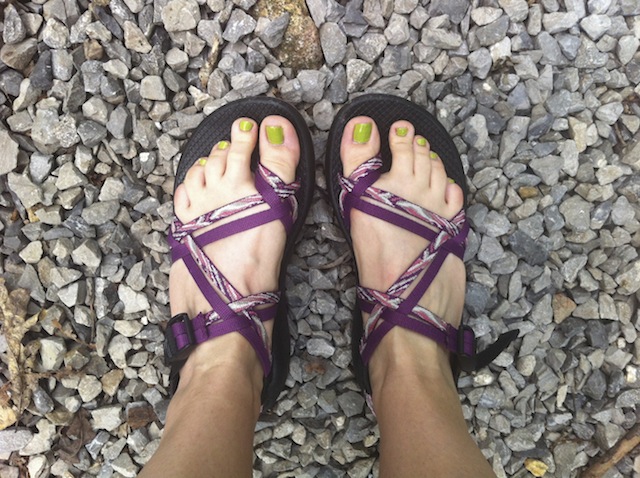 I've sort of wanted a pair of Chacos for a few years now.  Everyone raved about them, and I thought they might be nice in the summer for church camp and such, but I also thought they were kind of a "crunchy" thing to wear and that they were way to expensive to justify wearing them a few times in the summer.  I'd tossed the idea around in the past but just never felt like I needed to buy any.
That changed this year at church camp.  I told you how all of the sudden my feet started burning while wearing socks and tennis shoes (pregnancy related, I'm sure) and that at camp we have to wear shoes with back (i.e. no flip flops) so I had no other choice than my tennis shoes (which I have never played tennis in, by the way).  The burning, pregnant feet drove me to fork over the $100 for a pair of Chacos to wear that week at camp.
Best. Decision. Ever.
They are amazing!  I have now joined the Chaco-loving club.  They do take a little bit of getting used to – mainly because they rub on the side of my heel in a way no other shoes have, so it hurt a little at first and now I just have small callouses there.  Within 5 days of wearing them all day long at camp I had them completely broken in.  They are incredibly supportive; way more so than I would expect with some sandals.
I thought I wouldn't wear them past camp, but I wear them pretty frequently now.  I would wear them more, but they don't quite go with my work clothes and I haven't hit the desperation point where I just don't care about my shoes matching anymore.  Now by January that may have changed…but as for now I still like my shoes to go with my outfits.
They're worth the money.  I promise.
2. UnderArmor insulated stainless steel bottle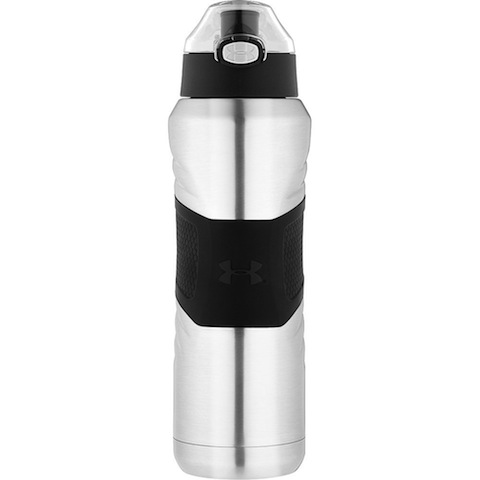 [source]
This is my new favorite bottle.  I drink so much water that I carry a water bottle around with me almost constantly.  My issue with most bottles, though, is that they sweat and/or don't keep the water cold for very long.  I also try to avoid plastic when possible, and many insulated bottles or cups are plastic.  Michael found this stainless steel UnderArmor bottle for me before we left on vacation.  It was pricey and I hesitated to buy it, but it turned out to be so worth it!
I put ice and water in it before we went to Harry Potter world.  I carried it around hooked onto my backpack all day.  At the end of the day (we left the theme park around 2pm, I think, and I had filled it around 7am) the water was still cold.  I had refilled it with fresh water several times during the day, but the ice I had put in in the morning had stayed for so long that it kept all my water cold.  I filled it and took it every day to the beach, and no matter how many hours we sat out in the hot sun it stayed cold.
When I'm indoors, the ice will last any longer.  I can put ice in the bottle in the morning, refill with water throughout the day, and there will still be ice in the bottle by the end of the day (or even the next morning!).  It really does that great of a job keeping my water cold.
3.  Turbie Twist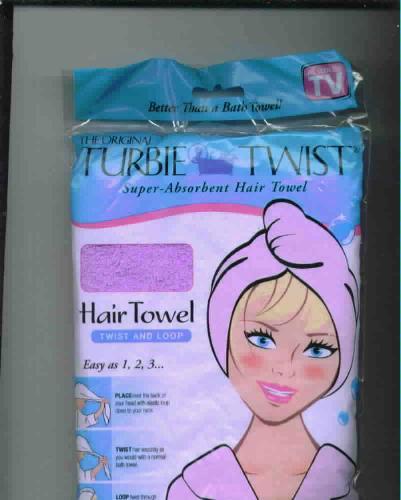 [source]
I've always wanted a Turbie but just never got around to buying one.  I finally picked one up at Sally Beauty Supply a few months ago and I am so glad.  I use this on my hair after my shower instead of a heavy, full-sized towel that slips and slides and yanks on my hair.  I'm able to leave it on my hair for much longer than a normal towel since it is so light and it does a great job drying my hair so I don't have to spend as much time with the hair dryer.
This was a cheap little item that has made my life much easier when it comes to hair care.
4.  Norpro "The Original" Sauce Master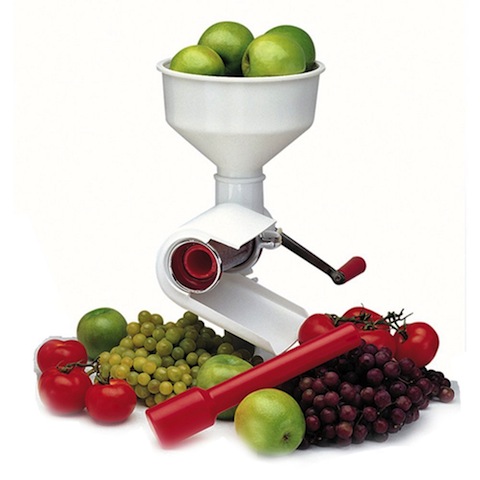 [source]
Wow, has this juicer made a world of difference in our canning process!  You may remember that last year was our first year canning.  We did a lot of tomato-based items (tomato sauce, pizza sauce, salsa, etc.).  Unfortunately that was a LOT of work.  Worth it, but definitely lots of work.  Making the tomato sauce and pizza sauce was the worst because you had to blanch, peel, and chop the tomatoes, then cook them down into a sauce.
My friend Chelsea from whom we purchase our tomatoes started telling me about the electric juicer she had bought and how it had made a world of difference in her canning this year.  She was so convincing that we decided that it would be worth it to buy one this year.  We looked all over Bowling Green and couldn't find an electric juicer like she had, so we decided to get a hand-crank one instead.  It is admittedly a little more work than an electric one (duh), but honestly it isn't bad at all (I can say that of course, as I was not the one cranking all those tomatoes through, that was Michael's job).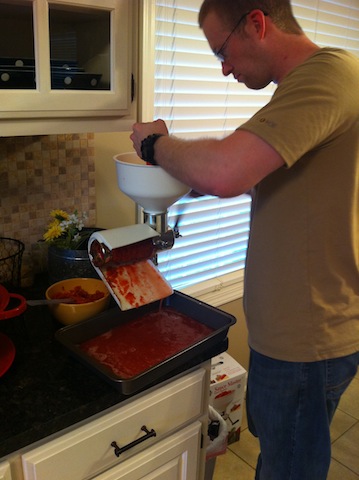 The only "work" required is cutting the tomatoes into manageable chunks and then cranking the handle.  The juicer spits the seeds and skin out one side and the good juice out the other side.  No blanching, no peeling.  Incredible.  We flew through those tomatoes (60+ pounds of tomatoes) in no time.  We saved hours from what it would have been the old way.  That definitely justifies a $50 juicer purchase in my mind!
I was a little concerned because it came out so thin, tomato juice, and I'm used to cooking the whole tomato minus the skins.  But if you cook it long enough the juice cooks down and it becomes a sauce-consistency (if that is was your objective is).
A-Mazing.
5. Pampered Chef Kernel Cutter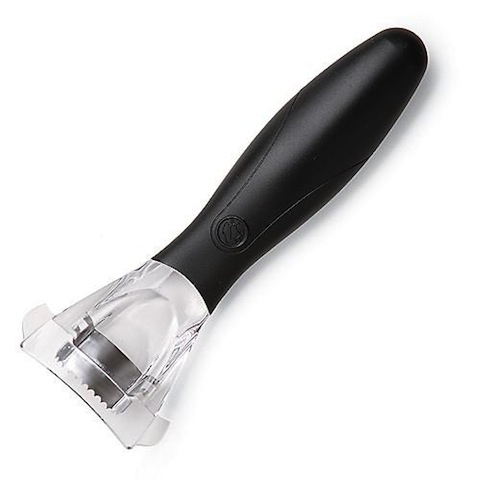 [source]
This kernel cutter got rave reviews from my friends at a Pampered Chef party I went to awhile back.  I impulsively added one to my order, thinking it might be useful come summertime when I put up quite a bit of corn.  Oh boy, was it.  As Michael put it the first time he used it "Game. Changer.".  It is great.  I will never scrap corn off the cob with a knife again.  I don't know what it is – the shape and the way it fits around the cob, the little teeth, or what, but something about this thing makes it a million times easier to cut corn off the cob.
I have put up about 8 dozen ears of corn so far this summer and it has been a breeze cutting the corn off the cob.  In fact, I need to order another one so that we can each have one when Michael helps me with the corn.  No one wants to use a plain 'ole knife anymore!
This is another one of those pretty cheap little items that make a world of difference and that you can't believe you lived without for all those years!
So, do you use any of these items?  Are they as worth it to you as they are to me?