I have not done a What I Wore Wednesday post in so.long. y'all.  Part of that was being in a chunky-but-not-looking-really-pregnant-yet stage, part of it was the fact that almost all of my maternity clothes are hand-me-downs or consignment pieces and so I don't remember or know their brands like I would have if I had bought them from the store, and part of it was just plain laziness in remembering to get pictures each day.
Apologies for the longest run on sentence ever.
You might be glad for a break from the semi-narcissistic weekly pictures of my clothes, but I've had requests (yes, actual requests… people want to see my clothes, can you believe it!?!) to start posting again and show off my pregnancy wardrobe.
So here is a hodge-podge of pictures, from week 14 to week 17 (I've taken a few each week but failed to blog about them, so I'm getting caught up on the few outfits that I do have pictures of).  I promise I'll try to start doing better each week.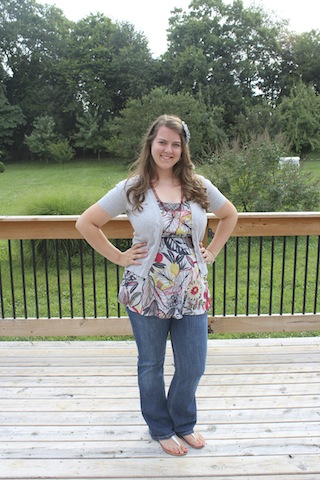 14w3d
top – Daisy & Clover Maternity (no idea in which store(s) you can find that brand)
cardigan – Banana Republic outlet (not maternity)
jeans – Old Navy maternity
sandals – Target
headband – Gussy Sews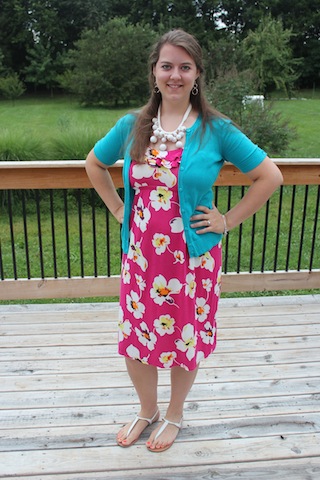 14w5d
dress – Old Navy maternity
cardigan – Loft outlet (not maternity)
sandals – Target
necklace – Our World Boutique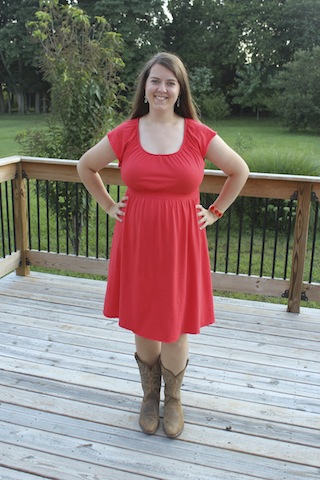 15w6d
dress – not sure since the tag is partially torn, but I think it is Old Navy maternity
boots – bought in Texas, not sure of the brand or the store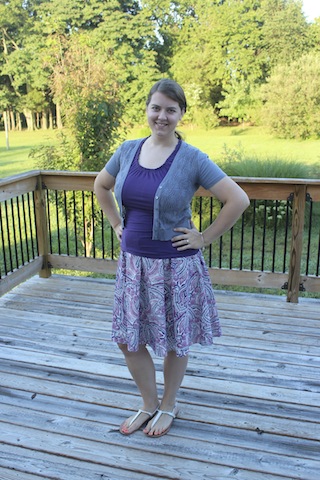 16w0d
skirt – Talbot's outlet
shirt – Loft outlet
cardigan – Loft outlet
sandals – Target
You might actually recognize this outfit…the whole thing is from pre-pregnancy!  I'm still able to squeeze into a lot of my old skirts (I just keep having to raise them higher and higher over my bump) and several shirts still fit, too (just a wee bit lot tighter).  Thankfully all my many cardigans that I love so much still fit as well.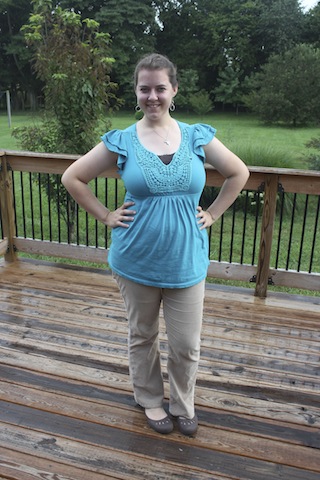 16w6d
top – Duo Maternity (not sure what store carries that brand)
tank – Gabriel Brothers
pants – Old Navy maternity
shoes – Crocs
Eww…this is definitely my fail outfit for the week.  Very unflattering.  I think it might be the pants.  I found two of the exact same pair in different colors at a consignment store and was thrilled because, while I've been given bookoodles of maternity tops I have very few pants (everyone who  gives me clothes is either too tall or too short!), and desperately need some for work.  I was excited to find these and snatched them up, but now that I've worn them I'm not so sure that they look all that great.  Hmm.
17w3d
jeans – Motherhood Maternity
top – Motherhood Maternity
tank – Gabriel Brothers
sandals – Target
Some of the very few maternity clothes that I've purchased brand new.  I am beyond thankful to have been given so many pieces and to have been able to purchase so many secondhand items at a huge discount, but every once and a while it's nice to have some brand new, you picked them out, fresh from the store clothes.  That's how I feel about this outfit.  I desperately needed some jeans and Motherhood was having a good sale on them last week so I grabbed these, and then the shirt was on the sale rack and I needed a few more dollars to get my order up high enough to get "bump bucks" (so strange how that works) so I got it too…basically for free ;)
In other ponderings…why on earth does everything have to be so low cut?!?  I have to wear a tank top under nearly everything and as hot natured as I am right now, the last thing I want to do is wear more layers.  Then add a cardigan on top if the shirt is strappy or sleeves and there's yet another layer.  Sigh.  Oh well, at least I have clothes and I have variety, so I should quit complaining and remember how blessed I really am.
Linking up to What I Wore Wednesday