How far along: 18 weeks
How big is baby: The size of a bell pepper – about 5.5 inches long and weighs almost 7 ounces.
My symptoms:  The headaches are still popping up, but they don't seem to be as bad as before I went to the chiropractor and the pressure point exercises he taught me have helped a lot.  I'm starting to think that the headaches are triggered by certain foods, but I'm not quite sure which foods so I'm trying to pinpoint those.
Other than that I feel fantastic!
Weight/belly: +8 pounds.   My belly itches more these days and I've started putting special lotion on to try to prevent stretch marks.  Honestly I think they'll come if they want to, whether or not I'm using special stuff, but I figure it cann't hurt to try.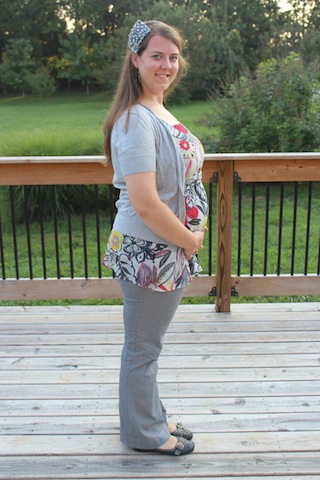 16 weeks, 6 days
Movement:  Yes, finally!  It's not a lot, but I usually feel it a few times a day.  It feels like a muscle twitch or like gas bubbles.
Food cravings:  Cinnamon Toast Crunch.  I had that three times over the weekend but after each time I got a headache, so I think there must be something in Cinnamon Toast Crunch that triggers my headaches…no more for me right now!  Also, french fries.  I'm still so much more into salty and savory foods than I am sweets.  Other than ice cream, I don't really care for any sweets right now.  That's been the case this whole time and it's just so unlike me!
Food aversions:  none
Sleep:  Still great.  I just wish I could get in bed earlier so I'm not so tired when I wake up!
Best moment(s) this week: Feeling Sweet Baby moving around in there!
Funny comments:  I read There Was an Old Lady who Swallowed a Fly to my preschoolers this week.  There is a puppet that goes along with the book and we put stuffed animals that match the ones in the story in the puppet's mouth.  During one class as we were talking about the old lady having all these animals in her stomach, either I or one of the preschool teachers/aides made a comment about me having a baby in my belly.  One little boy asked "Did you eat the baby?".
What I'm looking forward to: Having a three day weekend this weekend so we can hopefully get some stuff done around the house.  We have a big list of house to-do's before baby gets here, and we plan to knock a few of them out this weekend.
Baby items purchased:  No baby items, but last Friday night we went to Babies R Us just to look around and get a gist of what's out there before we start registering or buying big ticket items.  I want to choose what crib, stroller, car seat, etc. we plan to get well in advance so that I can start watching for good deals on them.  Our trip to Babies R Us was hilarious.  Trying to figure out how to work the carseats and strollers was insanely hard and we were sweating by the time we got done in that section.  You'd think with two bachelor's and a master's between us, we'd be able to figure this kind of stuff out…not so much.  It definitely helped us determine more about what we do and do not want.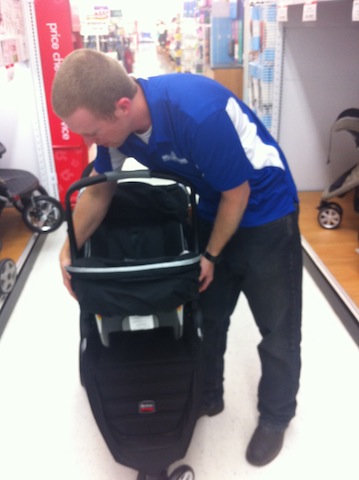 I sure wish I could have gotten our adventure on tape, but the best I got was this picture
I also bought the book Baby Bargains, which is supposed to be the best guide to finding the best deals on the safest, most well made baby items.  What I've read of it so far has been very interesting and formative.
Thoughts:  I can't believe I'm almost halfway though this pregnancy and that we find out in less than two weeks if we're welcoming a son or a daughter.  I'm so thankful to be feeling so great right now and plan to work hard over the next weeks and months to channel that energy into getting things ready for baby!