How far along: 19 weeks
How big is baby: the size of an heirloom tomato – 8.5 ounces, 6 inches long
My symptoms:  Almost nothing except for heartburn.  I haven't even had any headaches this week, which I'm super thankful for after weeks of dealing with them.  Honestly, other than the whole belly-getting-in-the-way thing, I feel fantastic like my pre-pregnancy self.  I'm super full of energy and rev'd up to get a bunch of house projects knocked out right now.  I'm declaring September and October to be get 'er done months – paint the house, paint some furniture, make curtains, decorate the house (aka hang up the decorative items that have been sitting in the floor since we moved in last October), decorate the nursery, finish my Stacked Books quilt, make a quilt for the baby, start a quilt for our bed, finish my craft room area.  We may not get it all done, but I'm going to try to do as much as I can while the weather is cooler, but before the holidays and the third trimester uncomfortableness get here.
Weight/belly: + 10 pounds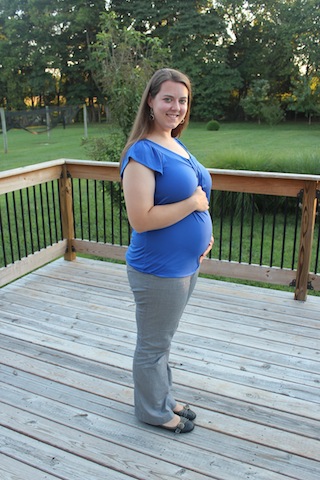 18w6d
I'm starting to notice my belly making certain things more difficult these days – bending over, shaving my legs, sitting with my legs drawn up to my stomach.
Movement:  Lots!  The movement has really picked up this week…or else I have a super twitchy belly.  I'm going to go with active baby :).  It still feels just like muscle twitches but there are lots of them now.  I especially notice it when I sit still for a few minutes.
Food cravings: none
Food aversions:  I haven't wanted my usual apple with peanut butter snack after school this week.  I wouldn't say that it's an aversion, I just have wanted to eat other things more (and usually my peanut butter is one of my favorite things!).
Sleep: Great, although some mornings I wake up a little stiff and sore.  I still really want to sleep on my stomach but I'm not sure if that's ok while pregnant – I keep hearing mixed ideas and I'm a little afraid I'll squish baby.  I've been doing a stomach hybrid thing where I draw one leg up and roll a little bit so that I'm laying on the side of my stomach and also on my hip. Any stomach sleepers have advice for what to do while pregnant?
Best moment(s) this week:  Feeling baby move so consistently!  It's making this finally seem really real…there's actually something in there!
Funny comments:  A teacher at school said "You're looking PG today".  At first I thought she meant inappropriate (i.e. a PG movie rating) but then I realized she meant pregnant.  She said "Today is really the first time all year I've thought you looked PG."  I thought it was funny, though, because I was wearing a loose, blouse-y shirt that I thought made it much less obvious than when I wear tight, bump-hugging ones.  To each his own, I guess.
What I'm looking forward to:  MONDAY!!!  We find out if we're having a little Mr. or a little Miss.  This week is dragging by because I'm so anxious for Monday to get here.  I have no idea why I scheduled an afternoon appointment instead of a morning one – I guess I was trying to avoid missing work, but I'm sure I'll be worthless all day Monday.
Baby items purchased:  Our stroller – a BOB Revolution SE.  I am so, so excited about it!  It came yesterday and I wheeled it around the house for a while testing it out :).  I really wanted to take it around the neighborhood but thought that might be just a little too weird.  You can read about the awesome deal we got on it (and tips on how to get similar deals) here.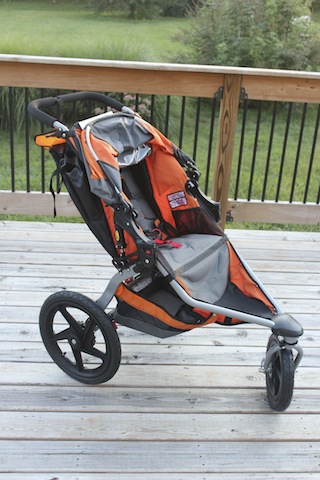 We've also been doing lots and lots of research on some of our bigger, non-gender specific baby items (crib, pack 'n' play, high chair, car seat, etc.).  Baby Bargains has been a huge help and we've also consulted Consumer Reports quite a bit.  I can't imagine how some people just walk into a store and buy whatever looks good to them.  Michael and I are so not impulsive and we research everything.  I've spent hours reading reviews and comparing different items.  It's exhausting and overwhelming.  However, we've gotten a lot of the bigger items chosen so that's a big relief.  We haven't purchased anything besides the stroller yet but I've started an Amazon registry and added a few of the items to it (we're also watching quite a few items through Camel Camel Camel).
Thoughts:  Hurry up, Monday!
I'm not sure if I've addressed names on here so here's an update on that: we have a girl name picked out that we've had for about a year and a half now.  We're not 100% sure yet on the middle name, but we've got it down to two options.  We're not sharing the name though, because I'm afraid of name-poachers (sounds crazy, but it's happened to some of my friends).  That will stay a secret until after Monday…if the baby happens to be a girl. We've gone months without coming up with a single good boy name.  There just weren't any that were automatic yeses like our girl name.  However, this weekend we talked about some and think we've got it narrowed down to two.  So if Monday brings us a boy baby, we'll have to buckle down and make a decision…then of course I'll let you know :).  We know that we will use Michael for our first boy's middle name – we're just having a hard time figuring out the first part!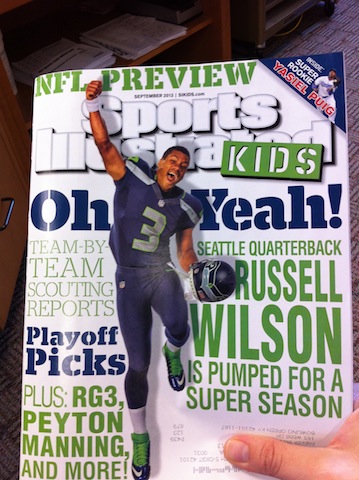 Here's an example of how much I think about baby things (and how little I care about sports): I got the latest issue of Sports Illustrated for Kids out of my school mailbox to take to the library and the first thing I thought was "ooh that would be a pretty color combination for a boy nursery!".  And I promptly took an "inspiration" picture to save for later.