This week at school I let my students (and the teachers if they wanted) guess whether we were going to have a boy or a girl.  As I mentioned yesterday, apparently most of them (especially the younger ones) didn't even realize I was going to have a baby so it was more like a pregnancy announcement plus a gender guess!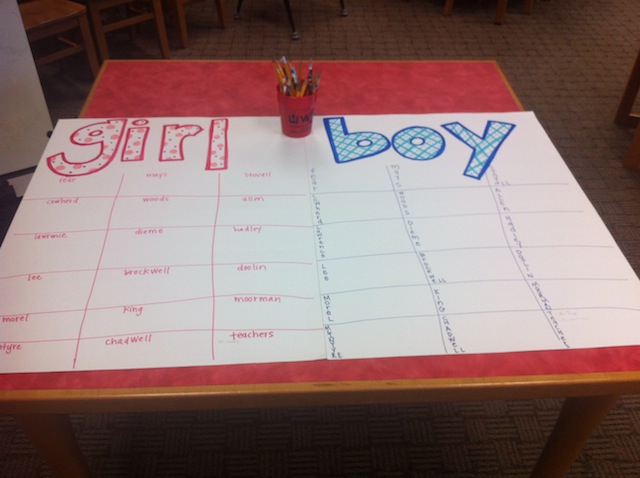 Each class had a square on both posters and the kids signed their names in their class's box on either the girl or boy poster…depending on what they thought I was going to have.
The news that I was having a baby and the guessing of boy or girl brought about some very interesting and hilarious comments from my kiddos.  I tried to keep up with as many of them as possible so I could share them with you :).
…………………………………………..
4th grader: How tall are you?  How does your stomach feel – heavy or like a normal stomach? (apparently these details are linked to baby gender in this kid's mind)
4th grader: Who's the daddy?  me: ummmm…my husband duh (ok, I only said "duh" in my head, but I certainly implied it in my voice inflection).  (It makes me sad that they even think to ask such questions)
4th grader: Will you bring the baby to school on Monday?  me: No, I'll tell you Monday if the baby is a girl or a boy, but the baby won't be here until January.
I actually had a lot of kids who thought the baby was coming soon (obviously they haven't seen how ginormous most pregnant women get toward the end…or noticed that I'm not even close to that point).  I just kept telling them that the baby wasn't coming until after Christmas.
4th grader: How did the baby get in your stomach?  me: Why don't you talk to your mom about that. (not touching that one with a ten foot pole…)
4th grader: If your belly is up high it's a girl, if your belly is down low it's a boy.  (Where do these kids hear this stuff?  I had never even heard that "theory" until I got pregnant…and I'm 26!)
A lot of kids: Can I choose both?  me: No, the baby can only be a girl or a boy so you have to pick one.
2nd grader: What room are you going to be in?  What hospital are you going to be in?  I want to come and see the baby.  me: Sorry, you can't come see the baby in the hospital.  Whole class:  (disappointed) awwwww.  (again, how do they think of this stuff?)
1st grader: You can tell me.  I won't tell.  Just whisper it in my ear. (Of all the kids to say this…he'd be the last kid I'd trust not to tell!)
5th grader: Will you give the baby to me?  My mommy can take care of it and you can still come visit.  (ok this one is just borderline creepy…)
a lot of the kids: (very confidently) I know it's a boy (girl)!
adult: (examines my belly) You're carrying high.  another adult on the same day: (examines my belly) You're carrying low.  (how on earth do people determine these things, especially when I'm hardly even showing)
…………………………………………..
And finally, here is my number one favorite quote from the week:
1st grader: (explaining why she choose to write her name on the "boy" poster) When girls have babies they have boys; it makes things even.  Usually it's when daddies have babies that they have girls.  (so now we know the secret to guessing gender correctly…but seriously, has this child ever been around someone pregnant or brand new babies??  I am cracking up)
I literally stopped class, walked over to my desk, and wrote this quote down.  I definitely didn't want to forget it!
…………………………………………..
Hope this brought a little laughter to your Friday!