Saturday night we hosted a fun little gender reveal party for our family and friends to announce the gender of our little Hudson Michael.  I had so much fun putting everything together and I think it turned out pretty cute.  I decided to DIY a lot of the decorations to keep costs down.  I didn't do full tutorials or anything but I'll try to link to similar ones or explain what I did in case you want to replicate.
The first thing I had to do was decide on a theme.  Our last name (which I haven't yet shared on here…in case of creepers, ya know?) is royal-ish so I decided to do a play on words and go with a "prince or princess?" theme.  I looked at lots of invitations online and none were exactly what I wanted.  I contacted some Etsy sellers to see about getting custom ones made, but they never contacted me back, so finally I just busted out Word and made my own.  (this tutorial was very helpful and this pin was my invitation inspiration)  I was very proud of how they turned out.
edited version of what we sent out
After deciding on the prince or princess theme, I sort of forgot to actually use that in the decorations (ahem…facepalm), but I did carry over the gray, blue, and pink from the invitation into the decorations.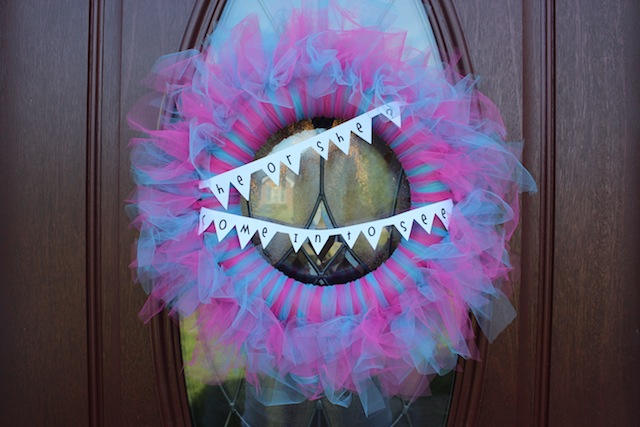 I made a wreath for the front door to greet the guests.  It was so easy!  I just cut strips of tulle and tied them around a wreath form, then made a little bunting banner out of paper.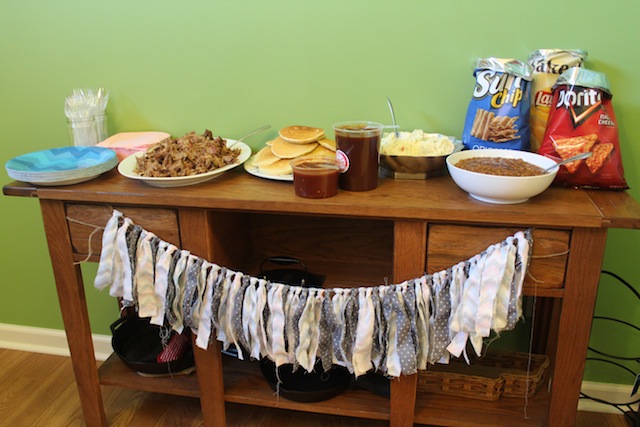 We served BBQ and sides (I just couldn't pull off handmade decorations and an elaborate homemade meal…so I decided to make the decorations and buy most of the food.  I don't think anyone minded).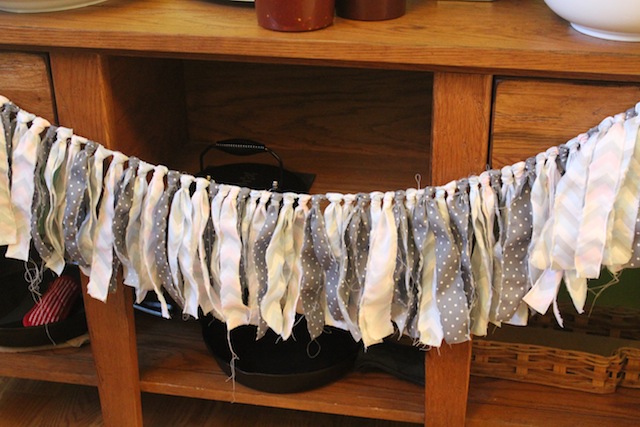 This fabric scrap bunting is probably my favorite thing that I made for the party.  I modeled it after this tutorial, but didn't use quite as many fabric options.  I only used three fabrics: pink and gray chevron, blue and gray chevron, and gray polka dot (all bought at Hancock's).  I also didn't cut out each strip individually (the original poster used pinking shears to cut hers); instead I sniped into the fabric about a half inch and then ripped.  It gave the strips the shabby chic rough edges that I like.  I did 20 strips of each color, about 1.5 inches wide and 22 inches long (each strip was half of a width of my yardage, which I assume was a standard 44 inches).  I love this and think I might make another one in the appropriate colors of our bedroom.  Or Hudson's room.  Or Christmas decorations.  Or all of the above.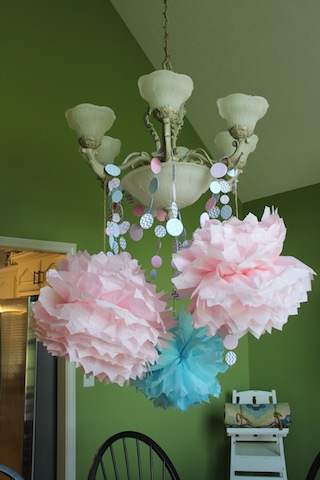 The other big things I made were tissue paper pom poms and circle garlands.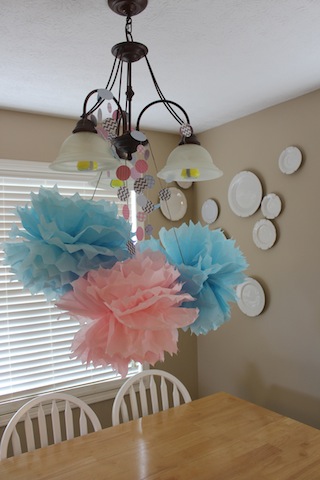 The pom poms were made using this tutorial, and I made six total – three for each chandelier.  Each pom was made from one pack of tissue paper from Hobby Lobby (I think each pack had ten sheets).  They were a little bigger than I expected, and I probably should have cut the tissue paper down some, but I still think they turned out cute.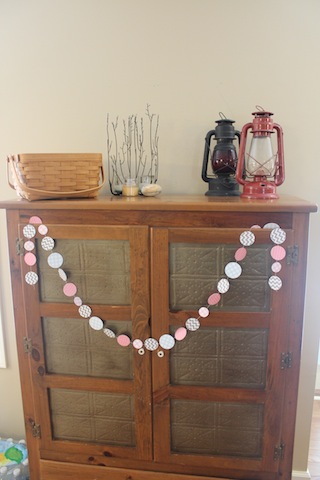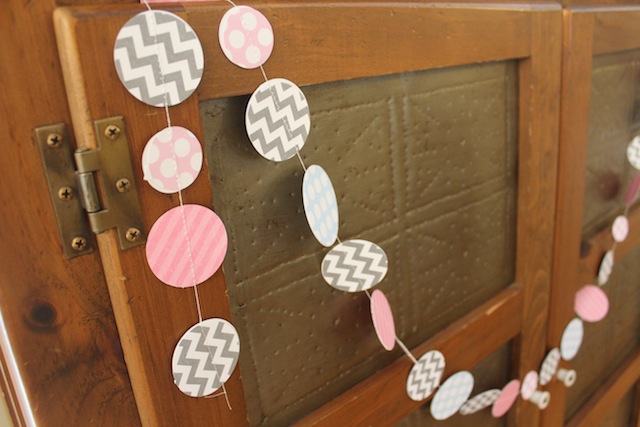 I also made a lot of these circle garlands to hang everywhere.  They are cheap and easy to make, so I love them!  I used my Cricut to cut out a bajillion circles of different shapes (ranging from 1 1/4 inches to 2 inches) from a bunch of different pink, blue, and gray baby-themed papers from Hobby Lobby.  Once I had my circles cut out I ran them through my sewing machine to make the garland.  Easy peasy.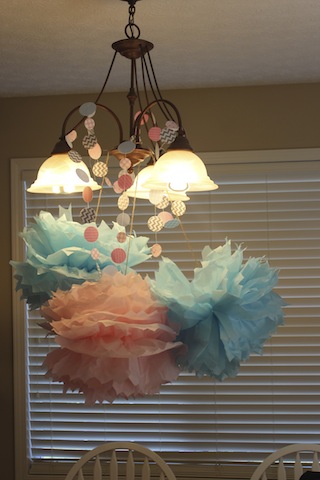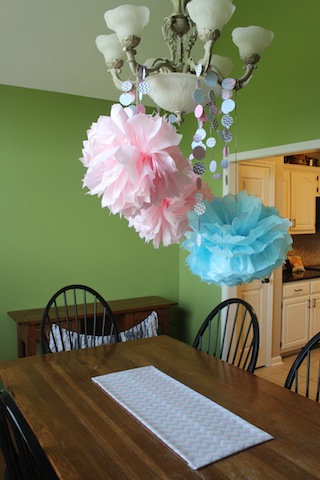 The leftover pink and gray chevron fabric became a table runner of sorts.  I totally meant to do centerpieces but ran out of time, so I just slapped this fabric on the table (it's folded under, the edges aren't even hemmed or anything) and hoped that the dramatic stuff hanging from the light fixture made up for a nearly naked table.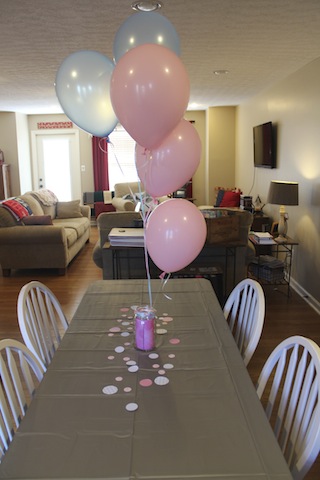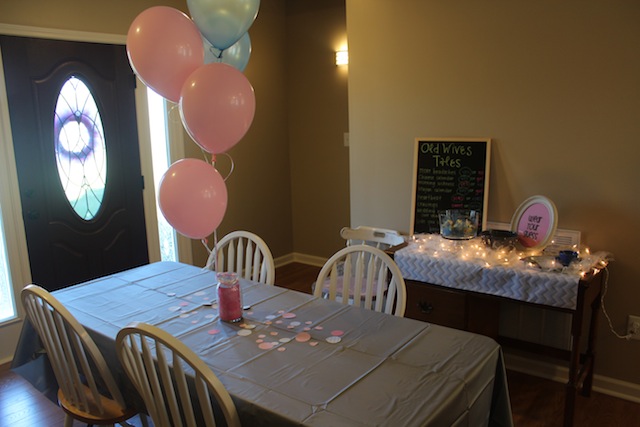 We had one folding table set up that didn't have a light fixture above it.  I covered it with a gray tablecloth (from Hobby Lobby), scattered some of my cut out circles on the table like confetti, and tied some pink and blue balloons to a mason jar for a centerpiece.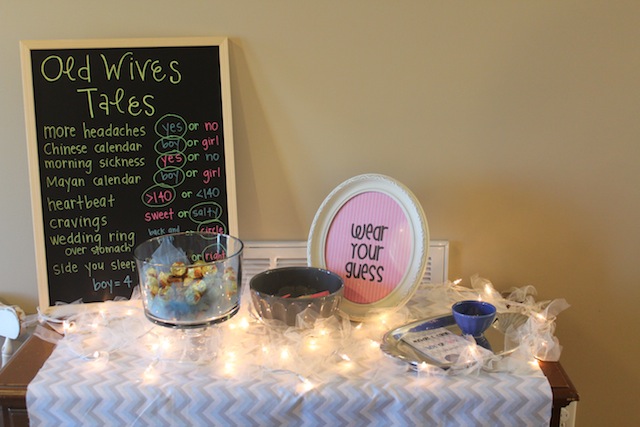 There was a table right inside the door for when people first walked in.  The leftover blue and gray chevron became the tablecloth for this table (raw edges and all…that's just how I roll in a time crunch).  Some of the extra blue tulle from the wreath got added to a dish full of yummy Reese's.  The lights are white Christmas lights with strips of white tulle tied to the cord in between the lights.  I made this last year at Christmas and it has come in handy for some many different things.  It's great to have on hand and pull out to jazz up a space quickly.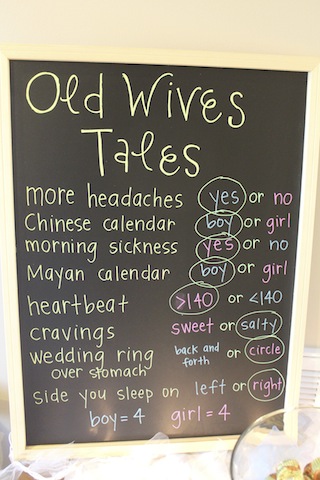 I used chalkboard markers (Hobby Lobby) to fill out a chalkboard with the results of some old wives tales.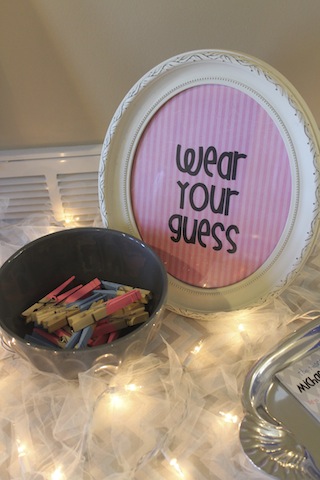 I also painted clothespins for people to wear indicating if they were team girl or team boy.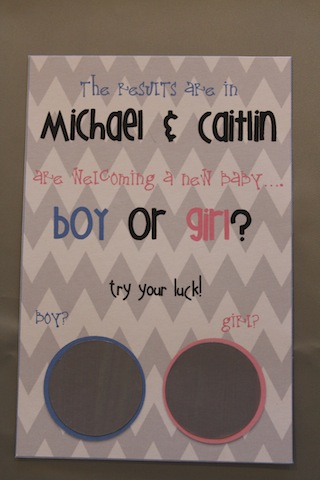 The way we chose to reveal was with scratch off tickets.  I made the tickets in Word using the same fonts, colors, background, etc. as the invitations.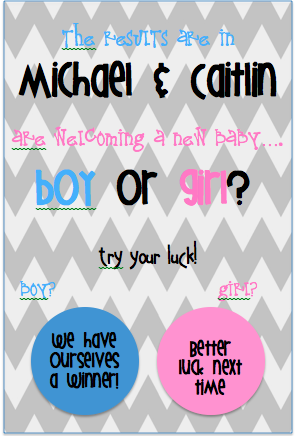 Here's what it looked like before I printed them and covered the "answers".
The scratch off stuff was pretty easy to make – I followed this tutorial.  All you need is contact paper, silver craft paint, and dish soap (don't be like me and paint on the wrong side of the contact paper, let it dry over night, wake up ready to finish, and realize you have to paint all over again because you didn't use the right side…oops).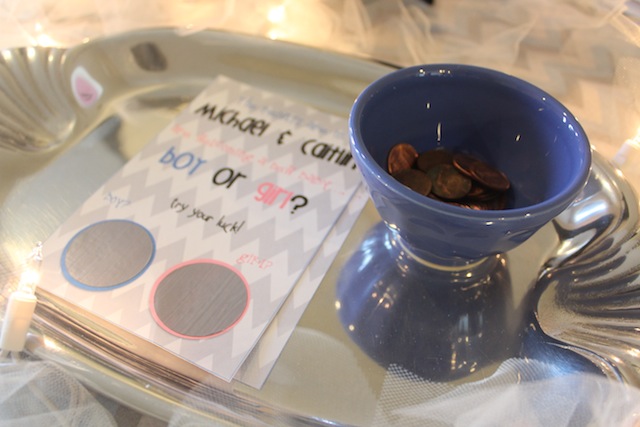 Ready to reveal our big news!!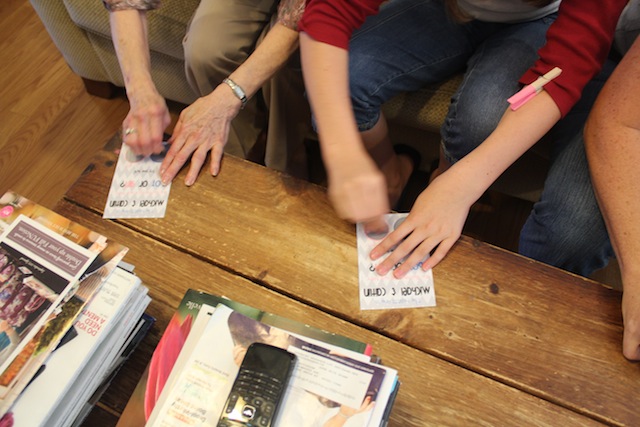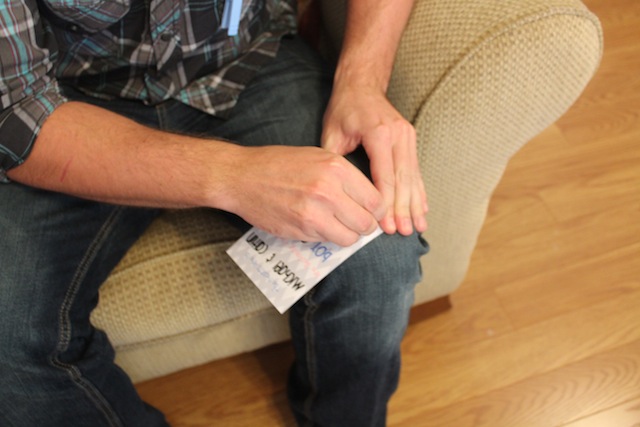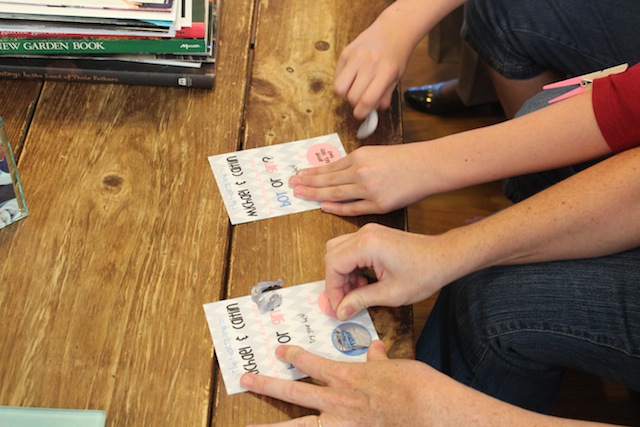 The sad thing was that they didn't work quite as well as I thought they would.  When I did my trial run, the scratch off stuff scratched off perfectly.  However, when everyone started scratching they could hardly get it to scratch off!  Most people ended up just peeling off the contact paper to see the results.
At first I thought I had made them too far in advance (I only did them about 9 hours in advance!) but now I think it's because I didn't use enough dish soap.  I think that is the key to keeping it soft enough to scratch off.  See, the tutorial said use two or three parts paint to one part dish soap.  That made the paint really, really thin, so I used way less dish soap.  I didn't realize I needed to make it thinner and then paint more than one coat.  I was trying to keep it thick enough to only do one coat and I think that was my downfall.  I think the paint hardened too much because there wasn't enough soap.  So now I know in case we ever do this again!
And that was our little gender reveal party!  It was a fun way to share our exciting news!