Last week, I let my kiddos guess if they thought baby was going to be a girl or a boy.  The older kids wrote their names in and the younger ones I gave stickers with their names already on them so they could skip the pesky writing-your-name-takes-forever-when-you-are-five business.  They enjoyed it (I think), and other than the common misconception that whichever one "won" (i.e. had the most votes or guesses) was the type of baby I was going to have, they thought it was neat to get to guess and were looking forward to finding out the next week.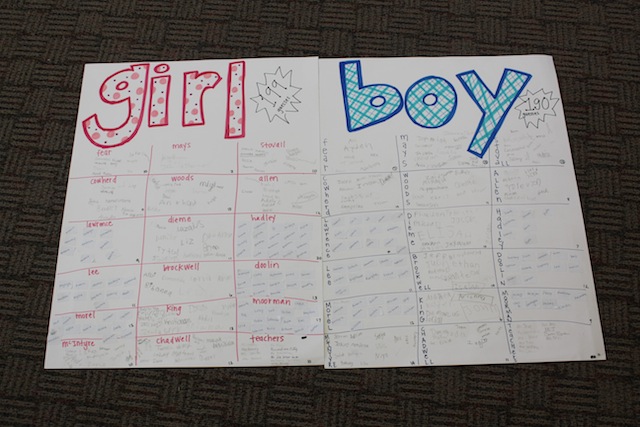 So Monday after our reveal party, I got to school a little early and decorated the library doors with some blue streamers and blue balloons.  Then since the kids had already been giving me name suggestions, I decided not to tell them that we'd already picked Hudson's name, and let them give me some ideas this week.  I flipped one of the posters over and let the kids write down their suggestions.  A lot of the kids just wrote their own names down, of course.  Also, due to some *ahem* creative spelling I'm not exactly sure what name some of them meant.  All names shown here were copied as written on the poster.  A few boys also were writing their own names and then "Jr" after them so I had to explain to them what it means to be a junior.
We have a very diverse population at our school: black, white, Hispanic, Middle Eastern, Bosnian, African, and more so I knew I'd get some unusual suggestions.  I was right :).
Here are some of my personal "favorites":
Bambi
Princeton/Prenceton
A. Kashis/Kashis
Alfie
Lois
Dontay
Pig (so flattering)
Tank
Ember
Prodigy (a bit pretentious, no?)
The Big Show (say what?)
Little Fatter (What???)
Little Mychale King Jr.  (I appreciate the kid using Michael's name, however creatively spelled, but that's quite a moniker for one little dude, huh?)
And here (just for memory's sake) is the rest of the list:
Ross
Tommy/Tomy
Mick
Jaden
Jonny
Preston
King
Prince
Logan
Timmy
Braxton
Chris
Chose
Chase
Jonathan/Jon/John
Sergio
John
Derrick/Derick
Jyden
Marcus
Titus
Lenny
Joe
Kyree
Mike
Darius
Kale
Troy
Code (I wonder if the meant Cody?)
Satban
Pedro
Aziel
Edward
Lalo
Jojo
Erik
Eli
Benjamin
Benji
cr8hin (no joke, that's what they wrote…I don't know if I'm just not able to read their writing or what, but I have no idea what it means)
Kevin
Kayden
Lucas
Luke
Jordan
Markes
Matthew
Ricky
Abisai
Masion/Mason
Cameron/Camoron
Andrew
Coby
Carter
Evan
Abi
Joy (I promise I told them it was a boy…)
Luis
Josiah
Carl
David
Ben
Anderson
Tyler
Duston
Skylar
Ty
Daneil/Daniel
Kindall
Suis
Loub
Jason
Jack (this was surprisingly popular and listed multiple times)
Cash
Mose
Angel/Angle
Justin
Terry
Brailin
Simon
Barzil
Jacob
Mike
Fabian
Tay/Tay Tay
Jackson/Jack
James
Zack
Ian
Jacob
Shaun/Shawn
Toby
Max
Teber
Austin
Rock/Roc
Yay
Miyoe
T.J.
Peace
Desmand
Little Ti
Kaled
Shane
Gray
Carson
Tyler
Quan
Josue
Lewis
Dake
Tyson
Briyin
King Amar
Strike
Braylen
Jone
Jatavieone
Jackel
Konya
Quan
RayRay
DJ
Brayn
Pmate
Bobre
Jacer
Ste
Smi
David
Eloga
Nelson
Adren
Joe
Quite a few nice, normal names…and quite a few crazy, off the wall names.  At least we have plenty of suggestions for baby boys born in the future!