How far along: 22 weeks.  Now I'm for realz halfway there…or maybe even more than halfway there!  Mind=blown.
How big is baby: 11 inches and about one pound…approximately the size of the spaghetti squash.  Little man is growing like a weed!
My symptoms:  Same old story with the heartburn.  Total bummer.
I'm starting to notice it getting harder to get up and down from the floor while I'm shelving books, I get out of breath more easily, and the little kid chairs at school that are little and low to the ground that I sometimes sit in at school are getting noticeably more uncomfortable.
Weight/belly: + 14 pounds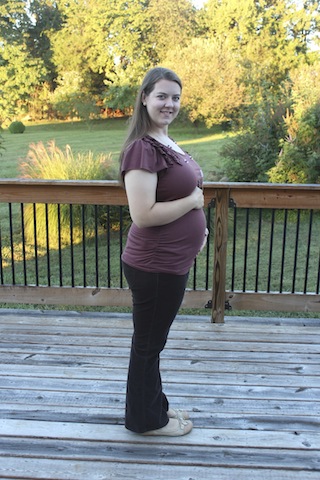 21w4d
Movement:  If his activities in utero are any indication, then we have one very active little boy on our hands!  He kicks and rolls and wiggles all the time.
Food cravings:  Tomato soup and grilled cheese sandwiches, spaghetti, Dr. Pepper, and coffee…specifically coffee with flavored creamer, which is totally crazy because I have never in my life even had flavored creamer!  I've used plain creamer a few times like at Cracker Barrel, but usually I just use milk or nothing at all.  But for some reason the thought of coffee with flavored creamer sounds amazing right now.
Food aversions:  Nothing new.
Sleep:  Still great!  I fall asleep on one of my sides, but I wake up just about every morning on my "stomach" (I say that because even pre-pregnancy I never lay flat on my stomach, but I lay with one leg cocked out to the side and my weight mostly on my other straight leg, only partially on my stomach), so apparently that hasn't gotten uncomfortable yet.
At this point I'm not yet experiencing the awful sleep that I hear about during pregnancy or the need for one of those huge pillows.  I am sure that day will be here before I know it, but for now I am enjoying my nice sleep.  (now if I could just force myself to go to bed a little earlier so I could have more of it!)
Best moment(s) this week:  Michael got to feel Hudson kick!  It was so cool.  We had been told that it would be a few more weeks before you could feel him on the outside so we weren't expecting it anytime soon.  Last Thursday night I laid back in bed to read for a few minutes before we went to sleep.  He always seems to get fired up when I lay back like that and relax.  He kicked me hard twice in a row and I felt kind of a pressure on my stomach that made me think he would kick again.  I called Michael over and put his hand on the spot – sure enough, a few seconds later Hudson gave another hard kick and Michael felt it bump against his hand!  That was really awesome!
Funny comments:  A first grader asked me (while eyeing my belly warily) "Did you get the baby out yet?"  A fellow teacher also informed me that I have begun to waddle (gee thanks, Melinda…).  Oh and of course all the funny name suggestions from last week.
What I'm looking forward to:  We start our birthing class on Monday night.  We are planning to do the Bradley Method of natural childbirth; we'll attend 12 weeks of classes starting next week and going through mid December.  I'm a little nervous just since I have no idea what to expect, but I'm also very excited!
Baby items purchased:  The base coat of the nursery is painted!  We're doing a light blue on the walls, with a thick stripe (or stripes, haven't quite decided yet) of our accent color (navy and/or green) around the middle or toward the top.  I'll wait and do that part once I've bought the fabric and color match to it.
Thoughts:  I just can't believe how fast this pregnancy is going!  I'm so excited about meeting Hudson, but also starting to feel the time crunch to get all the stuff done that I want to get done, you know?