How far along: 23 weeks
How big is baby:  Hudson is more than 11 inches long and weighs a little more than a pound; approximately the size of a mango.
My symptoms:  I've noticed my legs are uncomfortable when I sit for a while.  At first I just noticed that I was having to cross and uncross my legs a lot, alternating sides, because they were so uncomfortable.  I can't really describe the sensation because they weren't numb or tingly, it just kind of felt like that pressure your arm feels when you have a blood pressure cuff on.  Does that make sense?  Like my legs were being squeezed too tight.  At first I was afraid it was a circulation issue, but several people have assured me that it's just another pregnancy symptom.
I'm trying not to cross my legs as much and to put my feet up some.  One of the *ahem* more mature ladies at church brought me a little stool to use to prop my feet up on during church because sitting with my feet flat on the floor was uncomfortable, too.  So yeah, now I'm one of those with a stool at church.  What's next, a lumbar support pillow and a blanket (definitely not the blanket right now…I'm always hot!)  My rear also gets numb after sitting for a while so I have to shift around quite a bit.
Fun times.
Or not.
Weight/belly: + 16 pounds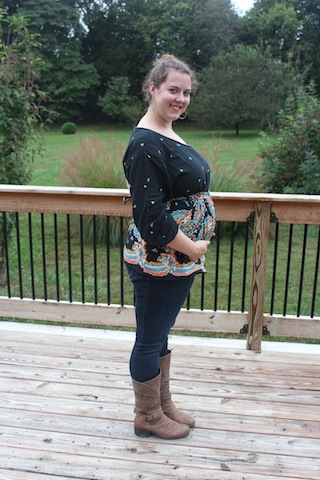 22w6d
Michael had to help me put my boots on when I wore this outfit (in the picture above).  My belly + the tight jeans just made it too hard for me to bend over and pull my boots on.  He is such a trooper.
Movement:  All the time!  He'll get on a roll and it feels like he is having a dance party in there.
Food cravings:  KFC crispy chicken and mashed potatoes with gravy, Shogun (fried rice with steak), egg rolls, and pink nerds (are they strawberry, maybe?).  I fulfilled my KFC and Shogun cravings this weekend.  I have no idea why I'm craving egg rolls…I usually never eat Chinese food!  I haven't had any yet and I probably won't – I think that was a fleeting thing and I'm over it now.
Although now that I'm thinking about them again…mmmmmm.
I guess this wouldn't really be called a craving, but I noticed that since I've been pregnant I prefer my water cold with ice in it.  Previously, I drank my water cold sometimes but room temperature a lot of the time, it just didn't bother me; now I really really want it to be nice and cold.  I don't crave it by any means (I sure wish I craved water!) but I'll reach for a glass with ice every time over a bottle that I had sitting out that has come to room temperature.
Oh also still craving Dr. Pepper.  I've let myself have a little, but I'm trying to avoid it as much as possible.
Food aversions:  None that I can think of this week.
Sleep:  Still great every night but one.  Sunday night/Monday morning I was awake from 2:45 to about 4:00am.  I was starving (but didn't want to get up and get a snack because then I would be wide awake), Hudson was having a party in there I think because he was moving all over the place, and my neck and back were killing me.  I rolled around on a tennis ball to try to get some relief in my back and it helped some but I still couldn't sleep.  I also tried all sorts of positions and pillows with no luck.  Finally, I ended up in an almost sitting up position with three pillows behind me and was able to fall back asleep.  I woke up again around 5:30 when my alarm went off for the first time and I was all slumped down on my pillow mound.
Fortunately that only happened one night.
My back and neck are still hurting but my chiropractor is out of town.  I actually had an appointment last Thursday.  I was starting to have some pain and was really looking forward to getting adjusted.  I showed up Thursday and there was a note on the door that they had to close suddenly.   He isn't open on Fridays and he is on vacation this whole week, so I've spent the whole week in pain and wishing Monday would hurry up so I could go see him!
Best moment(s) this week:  Our first Bradley class was fun.  We just did some basic introductions and learned some exercises and nutrition guidelines to be working on, but it was just exciting to get started.  I'm looking forward to the weeks ahead.
Funny comments:  Nothing new, just the same "Have you got your baby out yet?" and "Have you had your baby yet?" and "When is your baby coming?" questions that I get almost daily from the kids.  One little girl told me "I can't wait for your baby to get here so I can have him."  Sounds suspicious.
What I'm looking forward to:  Fall break!  Today is our first official day of fall break but I'm going to work today and tomorrow to get some of my extended days in, so for me fall break starts Friday afternoon.  We get all of next week off, too, and I plan to get a lot of baby things done.  I'm going to try to get some of the nursery stuff sewn (curtains, quilt, bed skirt, sheets) and maybe get the dresser painted.  We also plan to register this weekend or next week, which I'm sure will be overwhelming but fun.
We have an appointment Monday and since Hudson wouldn't cooperate last time we are going to have another ultrasound to check out some of the things they didn't get good pictures of at the last appointment (his bladder and umbilical cord).  I'm excited to get to see him again!
What I'm NOT looking forward to is my glucose test Monday morning.  I hate, hate needles, and having to go and drink that drink and then just sit there for an hour and wait in anticipation for the blood draw is going to be awful.  I was hoping to take the new Percy Jackson book to read while I wait to take my mind off things, but it doesn't come out until Tuesday…I missed it by one day!  Boo.  I'm also praying I pass the glucose test and don't have gestational diabetes.
Baby items purchased:  We were big spenders this week!
I started by buying two cloth diapers on Zulily.  I'm not 100% sure that we are going to cloth diaper, but I want to buy a few and give it a try since so many of my friends recommend it.  A friend of mine tipped me off that they were on sale on Zulily (normally $23 down to $11!) and I happened to have a Zulily credit, so I went ahead and ordered two.  They haven't arrived yet, but they were so cute online that I can't wait to see them in person (one had robots and one had trains).
We bought the paint for the nursery and, thanks to my mom, the main coat of paint is done.  We went with a very light blue, which she painted for us last week.  We're also going to do a navy and/or green stripe around the top (still deciding exactly what I'm going to do) but we're going to hold off until we've bought fabric and then color match.
We also bought our crib, mattress, and carseat.  The crib came in yesterday (we bought from Walmart.com and had it shipped to the store).  We went to pick it up before church last night and the box looked terrible.  It was completely beat up and part of the crib was actually hanging out of a hole in the side!   We went ahead and took it home, hoping it would be ok, but when Michael unboxed it he immediately found several gashes on the crib.  So back to Walmart it will go.  I'm so bummed!  I was really excited about getting it set up!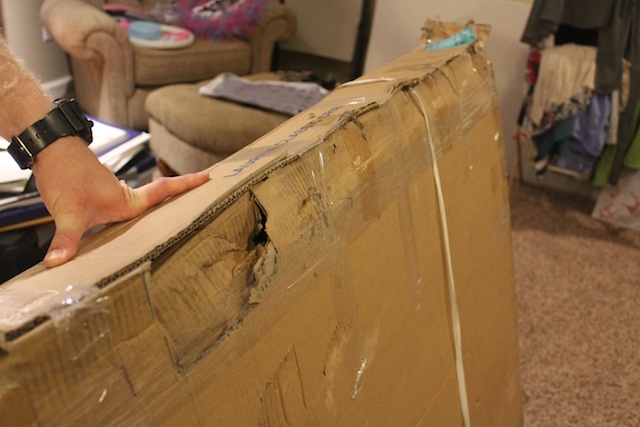 This was after the Walmart guy taped it up for us…it looked worse when we first saw it.  That big hole under Michael's hand is where part of the crib was sticking out.
The mattress came in yesterday as well, but we haven't opened the box yet to check it out.  The carseat isn't here yet.  We didn't plan to buy the carseat quite yet, but we had a 15% off coupon to Babies R Us, and (so far since we've been watching it) the carseat we picked has never gone on sale – we figured we better buy it now while we had the coupon so we went ahead and got it.  I can't wait to see it!
Now just to get my minivan to put the carseat in…
Thoughts:  It's all rushing by so fast!  I can't believe we're already to the decorate the nursery.birthing classes.big belly.carseat purchasing part!  Wow!
Oh also, we signed up for a "class" (if you can call it that) at our hospital to fill out our paperwork and tour the maternity wing, as well as a newborn safety and care class offered by our hospital, and a breastfeeding class.  Y'all, January is going to be here before we know it!  Eeeps!