How far along:  24 weeks
How big is baby: Almost a foot long (about the size of an ear of corn) and weighing in at about 1 and 1/3 pounds.  According to my doctor on Monday, he is measuring exactly where he should be.
My symptoms:  I've noticed my wedding rings feeling a little tighter recently, so I guess my hands must be getting a little puffy.  I've also been having back problems this week, but I don't think that's pregnancy related – I think it's the same things I was dealing with pre-pregnancy.  But it's certainly uncomfortable.
Weight/belly: +19 pounds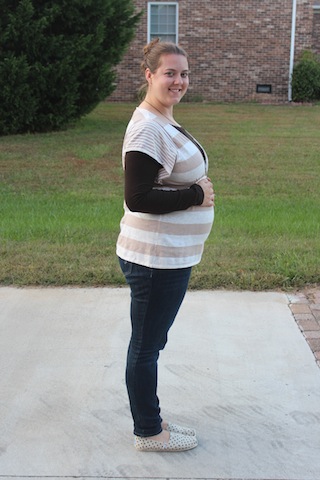 23w6d
I don't feel all that much bigger most days, but I've noticed that some of the shirts that fit fine a few weeks ago are starting to get too short…even some of my maternity shirts!  I must have a longer torso or something than those shirts are made for.
Movement:  So much!  I used to only feel him way down low, almost under my belly, but this week I've started feeling him all over – on the sides, right behind my belly button, and down low.  Michael got to feel him for the second time this week.
Food cravings:  Chocolate milk.  My Bradley Class encourages eating 80-100 grams of protein per day.  That's not too hard for me, although I don't eat a lot of meat so I have to find it elsewhere and right now milk is my protein of choice.
Food aversions:  None.
Sleep:  Still great.  I'm so thankful for that, too.  I've been trying to sleep on my side more as my belly grows but twice this week I woke up laying on my stomach.
Best moment(s) this week:  Getting to see Hudson!  In almost every ultrasound we've had he has had his hands up over/near his face/head.  Monday was no different.  And he was all laid back with his ankles crossed…nice and comfy in there I guess!  His heart rate was 155.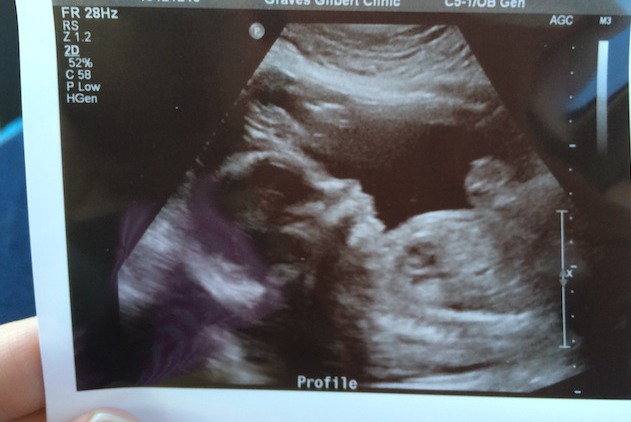 My glucose test was also great.  I was so nervous about it because I hate needles, I've heard the drink you have to drink is nasty, and a few of my friends have recently gotten gestational diabetes.  However, it was way better than I expected.  I got the orange drink and honestly it just tasted like orange Gatorade.  It wasn't bad at all.  I wasn't a fan of the blood draw of course, but it was over quickly and it wasn't too bad.  Best part?  I had great numbers!  My blood sugar was 96 and my doctor said anything under 140 was good.  My iron was also very good.
Funny comments:  None that I can remember.  We've been out of school for fall break, so I haven't really been around many people, much less my funny students.
What I'm looking forward to:  Getting the nursery all put together!  I know it won't be completely done for a while, but I'm excited about getting the big stuff done.
Baby items purchased:  Well, this isn't exactly purchasing…but I'd say registering is pretty close!  We went Saturday night and registered at Babies R Us  (who knew Saturday night was the hot time to register…Babies R Us had a line of couples waiting!).  I also registered online at Amazon.  Thanks to recommendations I got on Facebook when I asked about favorite/least favorite baby items, the research I had done, and my well-loved Baby Bargains book, I felt very prepared.  I went in with a list of things I wanted, we were able to locate most of them quickly, and I didn't feel overwhelmed at all.  It was actually quite fun :).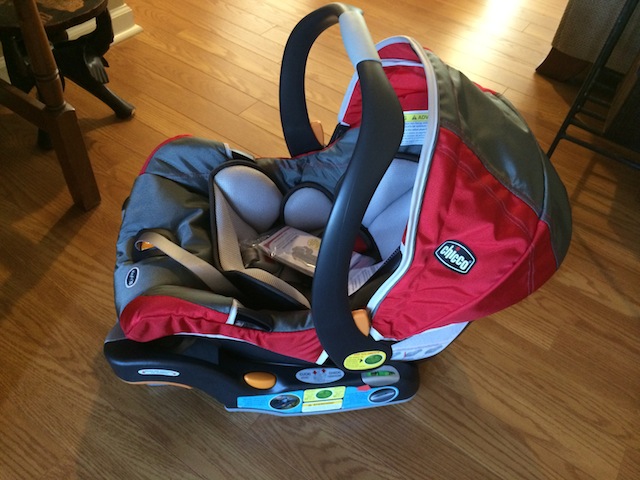 The carseat we ordered last week came in – it's so surreal to think that come January (or February) we'll have a little guy to use that seat!!  Daniel and Tiffany also had one more yardsale to get rid of things before they leave for Africa so I loaded up there and got a bouncer, jumpy seat, lots of clothes, mobile, covers that protect your car seat (the seat of your car, not the baby's car seat), and some more stuff that I can't remember right now.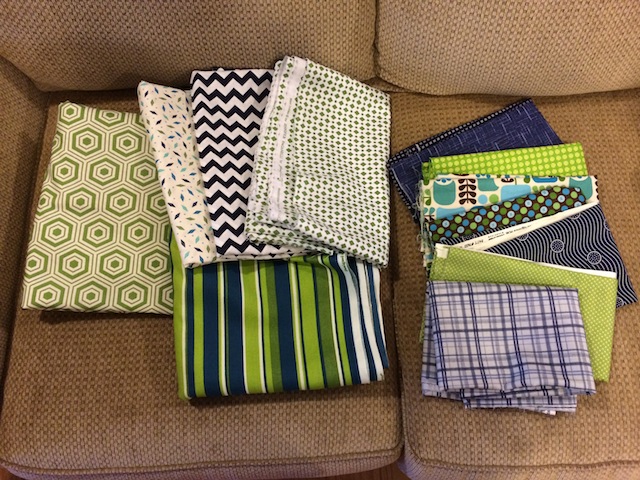 Operation: nursery is in full swing.  I went to Whittle's (a local fabric store) Monday and bought most of the fabric for the nursery.  Look at all those yummy fabrics!  I am over the moon in love with what I found!
The green hexagon on the far left will be the curtains, the green and navy stripes at the bottom will be the crib skirt (that actually came from JoAnn's and is more of a a heavyweight decorators fabric), the three fabrics on top of the stripes (multi-colored diamonds, navy chevron, and green diamonds) will be the crib sheets, and all the others on the right side of the picture will be used in the quilt, pillows, any other accents I think of.  I've also used pieces of the curtain and crib sheet fabric in the quilt.
Tuesday I pieced the quilt top and back together, sandwiched the batting, and basted it.  All that's left now is the quilting and binding, and I'm working on the quilting a little bit each day when I get time.  Today my goal is to get the crib sheets sewn, paint the dresser that we will use as a changing table, and maybe even get the curtains done if we have time.  If I can get all that done, then I'd say this has been an extremely productive fall break!
Thoughts:  It's odd to me how few pregnancy books I've read.  At the very beginning I was reading quite a few books, but after a while I just quit.  I actually think that's a good thing, since it means I'm just letting things happen as they happen and not worrying, but it's so very unlike me that I think it's pretty strange.