I love a good deal and now with a baby on the way I'm looking for even more ways to save money.  Here are three things I use to help me save money when I'm shopping online.

1.  Amazon Prime/Amazon Mom We've actually had Amazon Prime for several years, but I just now found out about Amazon Mom and I want to share what I've discovered.
With Amazon Prime, you pay $80.00 a year (well, $79 actually but I like to round); you get free two day shipping on most items (things sold by Amazon, but not always things sold by third parties through Amazon), free streaming of tons of videos and tv shows, and Kindle books that you can borrow.  For us, having Amazon Prime pays for itself just in shipping costs alone.  If you buy a significant amount from Amazon then it is definitely worth your money.
Amazon Mom is a free add-on for those who already have Amazon Prime.  If you don't have Prime you can try Mom for free for 30 days, but then you'd have to get Prime in order to continue to participate.  Amazon Mom gives you the benefit of getting up to 20% off diapers and wipes, as well as other "family essentials" (not quite sure what those are yet, I'm still learning). You do have to use their Subscribe and Save program in order to get the discount.  What that means is you have to "subscribe" to have these more items delivered to your house on a regular basis.  However, you get to set how often those things arrive so they aren't going to come way before you use up the first round (like some other subscription services do).  Obviously I'm not to the diapering stage yet, but I can imagine it would be nice for them to show up at your doorstep and you not having to go buy them and haul them home.  Plus, getting them at an additional 20% off discount is pretty great, too.
Sign up for Amazon Mom here and Amazon Prime here.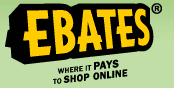 2.  Ebates – This is a new one for me.  I've heard of Ebates on Southern Savers (my favorite couponing/deals website) for years, but it seemed too good to be true and I never really pursued it.
Here's how it works: 1) sign up for a free account. 2) shop online, just go through the Ebates website first 3) earn money back. I know, seems too easy, huh?  So far I haven't found a catch.  If you shop online this is a great tool!  All it requires is one extra step – rather than going straight to Amazon or Walmart.com or Target.com you just go to the Ebates website first, click through to where you want to shop, and then proceed as normal from that.  Somehow that lets Ebates know when you've made a purchase and you get a percentage back in cash.
I've only been using it for a few weeks, but here are some examples: When bought our crib through Walmart so I went to the Ebates website first, clicked through to Walmart.com, bought the crib, and a few days later a credit for $1.49 showed up on my Ebates account.  We got 1% back on Walmart.com, which on a $149 crib isn't really that much, but it's $1.49 more than I would have had if I'd just bought straight from Walmart.  And like I said, if you shop online a lot it will really add up fast.  When we bought our mattress from Overstock I went through Ebates first and got 5% cash back.  Same when I bought some pants from Lands End (6% cash back) and our carseat from Babies R Us (1% cash back).
My biggest complaint is that Amazon, where we do the majority of our online shopping, doesn't offer an across-the-board cash back percentage like the other stores.  Only certain items from Amazon quality for cash back (usually 3%), but not all.  So I'm trying to remember to always go through Ebates first when purchasing from Amazon, but realizing that I may not always get credit.
Anyway, now that I know how very easy it is I am kicking myself for taking so long to sign up…think of all my prior purchases I could have earned money on! Interested in trying it out? Sign up here.
3.  Daily Deals websites – Ok so this more than one website, but they are very similar so I put them all together.  These are all daily deal type website where you can get some really great deals on awesome stuff.
Zulily is probably one of the most popular sites where there are deals posted daily.  Many of the items there are baby/kid/maternity, but there are lots of women's clothes, shoes, home organization stuff, and accessories.  They've had TOMS for half price (or almost half price, can't remember exactly) and Ergo baby carriers (super popular, expensive, brand name carriers) for half price (I'm keeping my fingers crossed that this deal pops up again because I really want one for Hudson!).  A few weeks ago they had a deal on cloth diapers, normally $23 each, on sale for $9.99.  I'm going to give cloth diapering a try and plan to get a variety of brands/styles to see what works best for us; this was a good way for me to get a few to add to my stash.
It's free to sign up, and there's even a handy dandy Zulily app for your phone/tablet.
(I must mention that there are some hilariously ridiculous things on Zulily, too, which one of my favorite bloggers Rachel routinely makes fun of discusses)

Groopdealz is one of my favorite websites for accessories.  I've bought quite a few things from them and am always pleased with my purchases, plus the prices are great.  They have mostly clothes and jewelry with a few other accessories thrown in.  You sign up (free, like the others), and then get a daily email telling you what new items they have.  Other websites with cute jewelry at great prices are Our World Boutique and Bellaboulie Boutique (review and giveaway to come soon, fyi!)

Groupon is another very popular site, and I'm going to mention it but I must say I've had mixed experiences with Groupon.  Again, you sign up (free) and you get sent emails of deals for your area.  I see deals for Bowling Green, Nashville, and surrounding areas for all kinds of things – massages, photography classes, exercise classes, restaurants, clothes, flowers, canvas prints, even travel.  You usually can get these deals for half off.  The biggest thing that I've run in to is that 1) I forget to use my Groupon before it expires (totally my fault) or 2) I  find out that the class I've signed up for has limited spots, none that work with my schedule or something like that (that's pretty frustrating).  But lots of people love it and use it all the time so I thought it was worth a mention.
Ok now it's my turn to learn from you: I know there have got to be tons of other great deals/money saving tips for shopping online that I don't know about yet.  So tell me, what awesome things have you found that I didn't mention here?
Linking up to Works for Me Wednesday
(Disclaimer: this post contains some affiliate links…i.e. if you click through and sign up for some of these sites I may get a referral credit for sending you there.  However, all opinions are mine and I'm only sharing with you because I actually like and use these sites, not to try to get moolah).