How far along: 25 weeks
How big is baby:  Hudson is about 13.5 inches long and weighs about 1.5 pounds (the size of an average rutabaga…which might be helpful if I actually knew what that was).
My symptoms:  I really can't complain much because I feel just excellent for the most part, but I do (as always) have heartburn and my back has been giving me problems recently.  The back pain is stuff I dealt with pre-pregnancy, but my chiropractor says my loosening ligaments (due to pregnancy) are making it flare up again.  The cure?  Delivering Hudson.  Until then I will be trying some prenatal yoga, water aerobics, icing my back, massage, and visiting the chiro regularly to hopefully help alleviate the pain.
Weight/belly: Up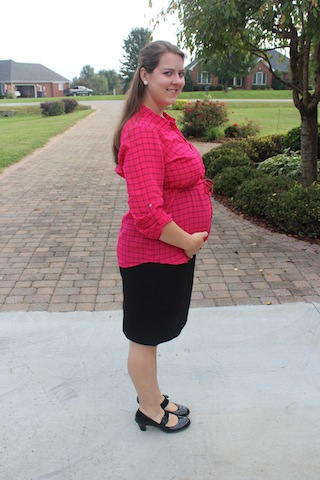 24w3d
Movement:  Lots and I can tell it is getting much stronger!  You can feel him on the outside of my belly much more now, and several times he's kicked so hard that I bet I could have seen my stomach move had I been looking when it happened.  I also feel the movement all over my stomach now – top, bottom, sides, behind the belly button, everywhere.  He seems especially active in the afternoons.
Food cravings:  Nothing specific that I can think of.
Food aversions: None.
Sleep:  I'm still sleeping really well, but I have started needing an extra pillow when I sleep.  I'm not in full-on body pillow mode yet, but I have been using an extra bed pillow to prop up my belly and one leg.
Best moment(s) this week:  Reaching the end of fall break and feeling super productive.  I missed sleeping in and being lazy, but we got SO.MUCH done that it was totally worth it.
Funny comments:  I don't think there were any this week (at least not any that my pregnancy brain can remember).
What I'm looking forward to:  Getting the nursery finished, or at least finished enough that it looks like a nursery and has all the basics done.
Baby items purchased:  I've started my stash of cloth diapers!  I mentioned a few weeks ago that we are going to give cloth diapering a try.  I asked around about favorite types and brands and of course I ended up with a huge list!  What I've decided to do is to get a few (I'm shooting for at least two) of several different styles and brands, then once Hudson gets here we can see what works best for us and stock up later.  I picked several of the most recommended diapers and registered for a few of each of them on Amazon.  Then this week a girl on one of the Facebook groups I'm a part of was selling a bunch of Alva and Sunbaby diapers (both which were recommended by quite a few people) for around $4 a diaper; I thought that was a great price so I bought what she had.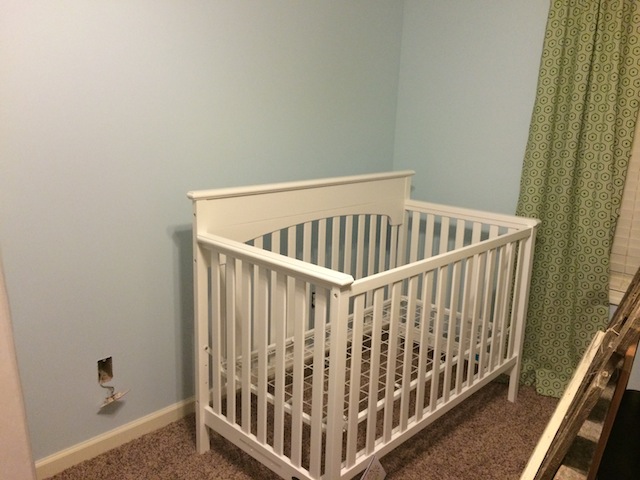 We've also been working hard to get the nursery ready.  Our second crib came in this weekend (in much better condition than the first one Walmart gave us!) so Michael got that set up and I got the crib skirt made.  My mom and Michael both worked on painting the dresser that we're going to use for a changing table.  It's not quite done (the drawers still need some paint to cover the spots where the old handles were, and then we'll need to put the new knobs on) but it's getting close.  Michael also switched out all the plugs in the nursery for some newer ones that are safer (sorry, you'll have to ask him if you want to know all the electric specific stuff).  Really the only "big" thing left for the nursery is to paint the stripes on the wall.  Then it will just be little things like putting decorations on the wall and such.
Thoughts:  The weeks are flying by!  We're getting lots done but there still seems to be so much to do!