My mom always said growing up that when you don't live near your family, the church becomes your family.  As I've gotten older and moved away from my childhood home I've found that to be completely true.
When we first moved to Bowling Green and started attending Lehman, we sat behind a family with two kids and another on the way.  Somehow over the past year and a half they quit being just the people that sat in front of us and instead became our family.  They don't have biological family nearby and neither do we (at least, not close enough to see on a weekly basis), so we basically just adopted each other.  We love them beyond words and think of their children as our own.
Well today they fly off to Africa to be missionaries for the next three years.  I am so very proud of them but also absolutely heartbroken to see them leave.  Hardly a week goes by that we don't get to see them, and usually we are together multiple times each week.  Now we will get to see them only at Christmas for the next three years (starting next Christmas) and, Lord willing, get to go do short term mission work in Africa and see them then as well.
The hardest is saying goodbye to Josiah and Levi, because while Daniel, Tiffany, and Abby won't change that much in three years, Jojo and Levi will be completely different kids from the babies who leave here today.  They'll be four and five instead of one and two.  After seeing and taking care of Levi multiple times a week since he was only two days old, that's a hard concept to swallow.
But because I can't afford to buy a new computer if I soak the keyboard of this one with my tears, I'm going to cut out the sappy stuff and just show a montage of some (ok, a ton) of my favorite pictures.  Warning: picture overload coming.  Not for the faint of heart.
(pardon the grainy, fuzzy pictures…somehow the subjects of the pictures make me not care about the quality as much :) )
(also, apologies in advance to Abby – I don't have nearly as many pictures of her since she doesn't need to be held/watched all the time like the boys, but I promise we love her just as much!)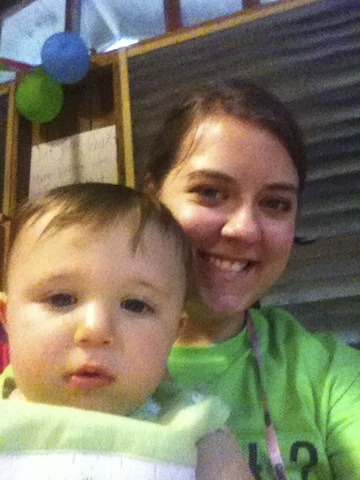 The first of many, many Gaines children pictures.  church camp 2012 – I helped take care of Jojo while Daniel and Tiffany taught Bible class
babysitting Josiah – summer 2012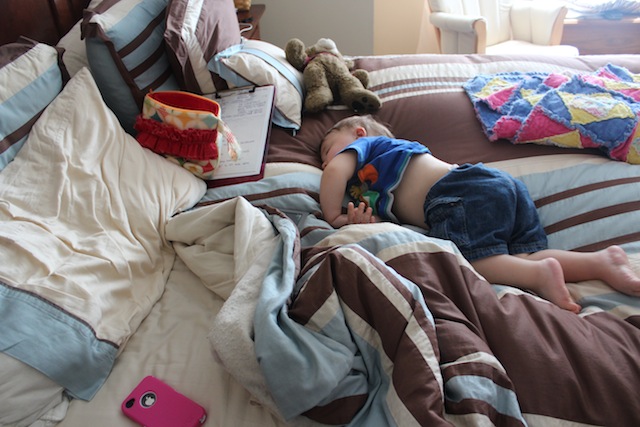 After Tiffany got put on bedrest toward the end of her pregnancy with Levi, some of the ladies at church took turns watching Josiah at our houses during the day while Daniel was at work so Tiff could rest.  He would only take a nap if I laid right with him, so he'd nap and I'd work on my Bible study.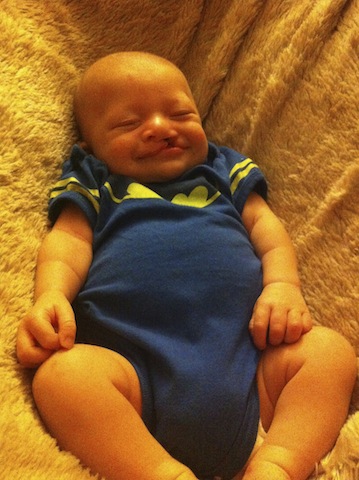 Who can resist that cleft smile?!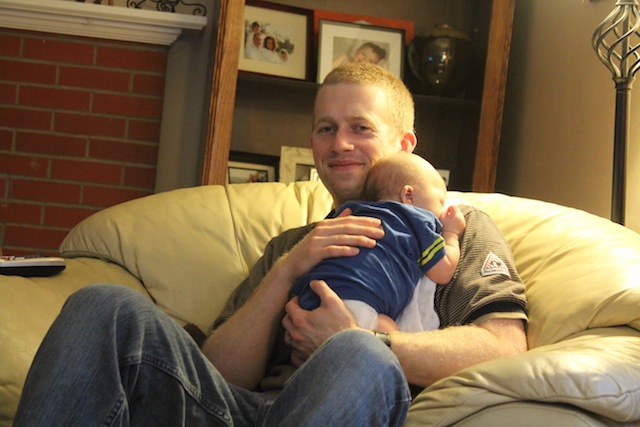 Levi is here!  Our first time babysitting the kids after Levi was born.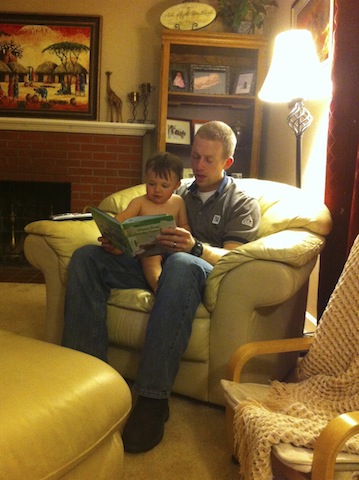 reading a book about electricity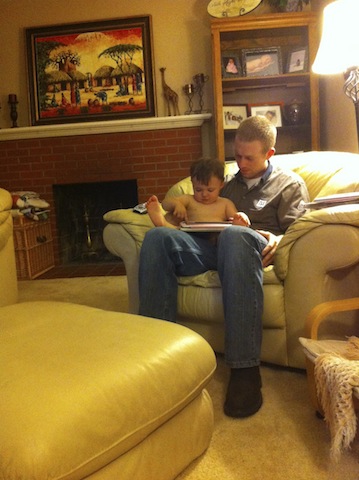 playing with "pad" (what Josiah called the ipad)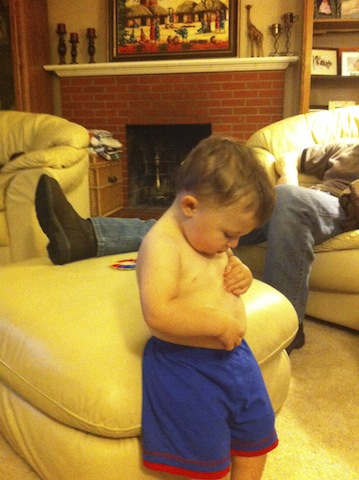 We asked Jojo where his belly button was and he immediately started pulling up his belly rolls to inspect said body part :)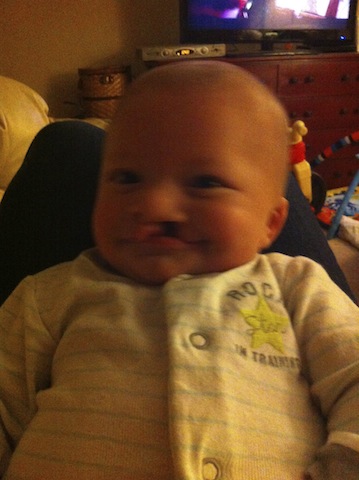 The first time Levi smiled at me was in the middle of church.  I remember looking down at him and thinking "I would do anything for this child".  These sweet boys have for sure taught me a love that I didn't know I was capable of feeling.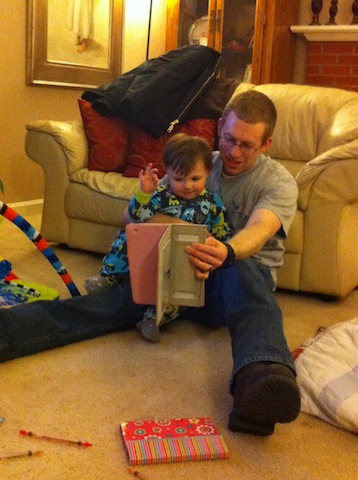 Little man is very proficient with "pad"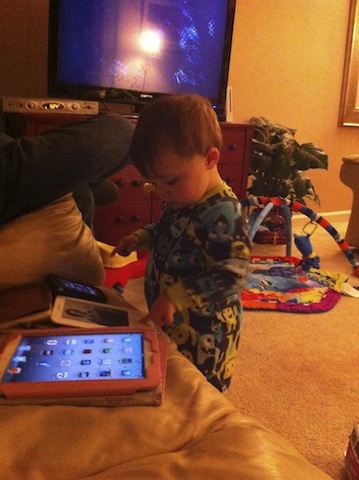 One night he had the ipad, Michael's Kindle, and Michael's iphone all lined up, going between each one.  He didn't care for the Kindle, though, since he couldn't "swipe swipe swipe home button home button"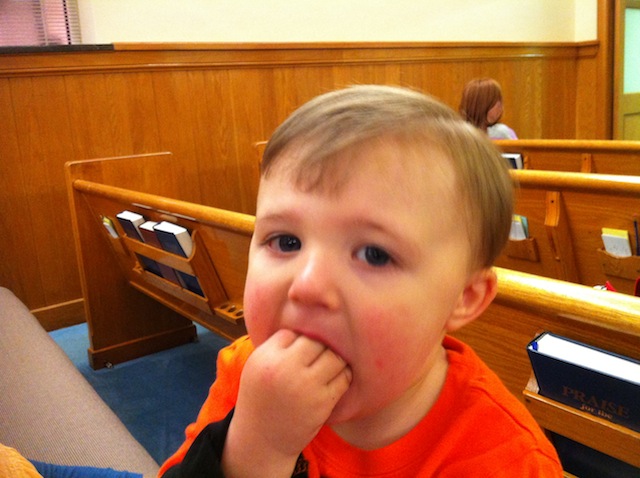 trying to eat a handful of cranberries
Little giraffe, Halloween 2012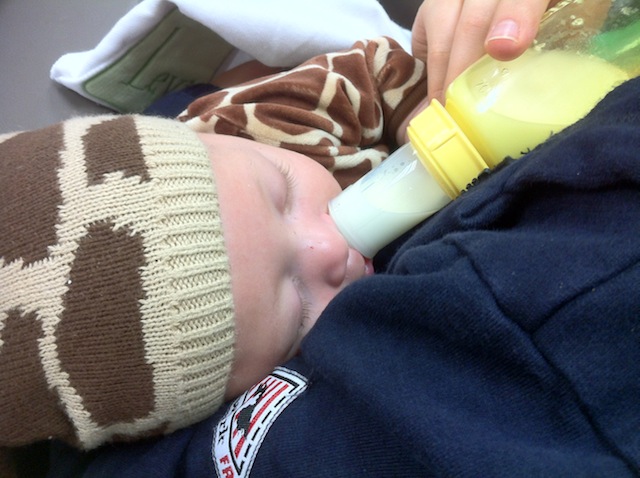 Feeding Levi with his special bottle, specifically for cleft babies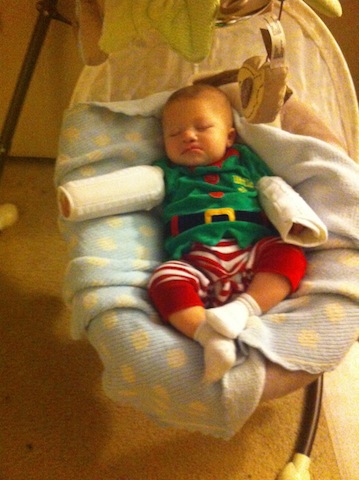 Right after his cleft surgery, wearing his "no no's" to keep him from touching his stitches – December 2012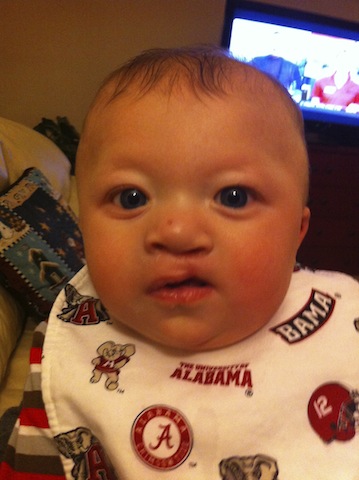 They did a great job repairing his lip!  He had such a tiny, tight smile at first, though, compared to pre-surgery.  And take a look at those dark eyes…I promise they can look into your soul.  When he was really little he would just stare into your eyes and it was impossible to look away!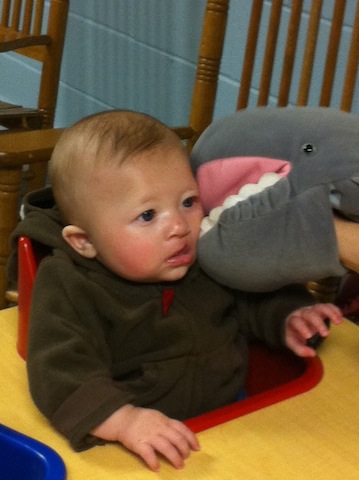 Levi's first time in the nursery class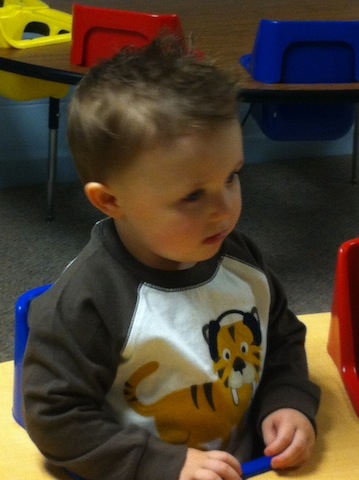 big brother shows him how it's done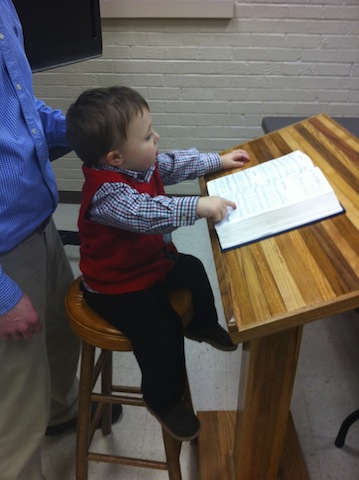 Josiah leading singing – he LOVES to sing church songs!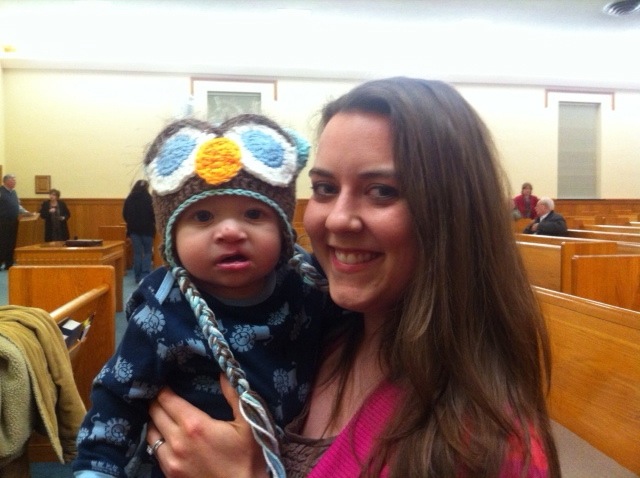 February 2013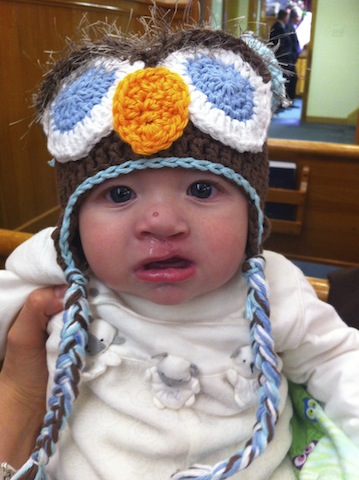 cute owl hat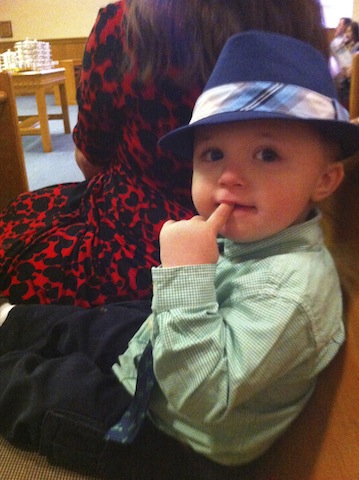 looking so big!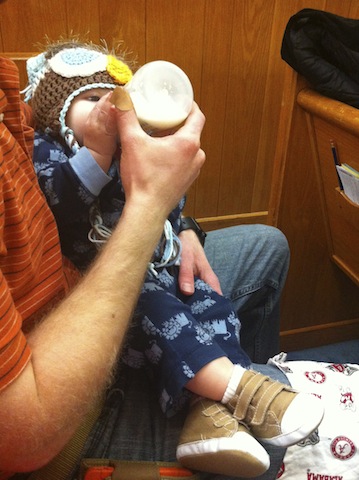 reclined back, feet crossed, drinking that bottle like a champ, and starting to hold it himself!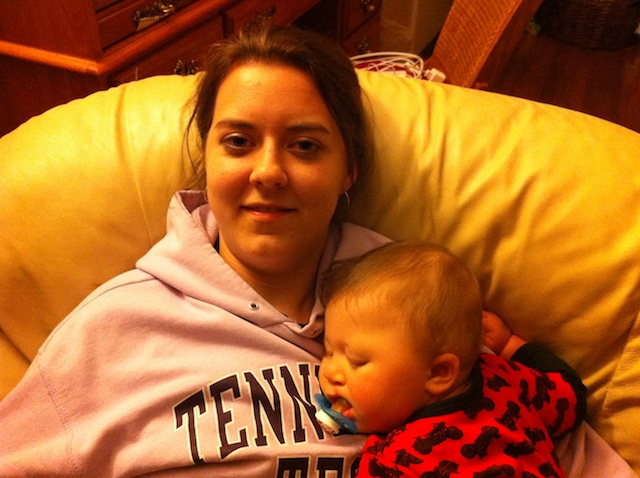 worn slap out…both of us!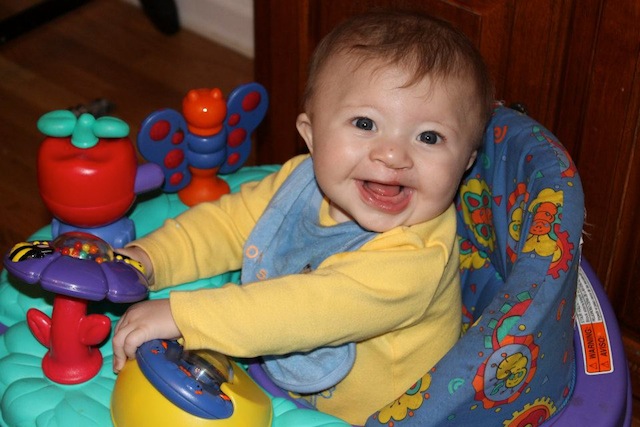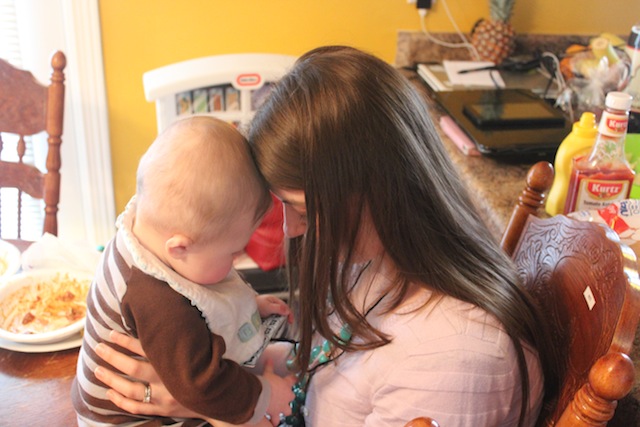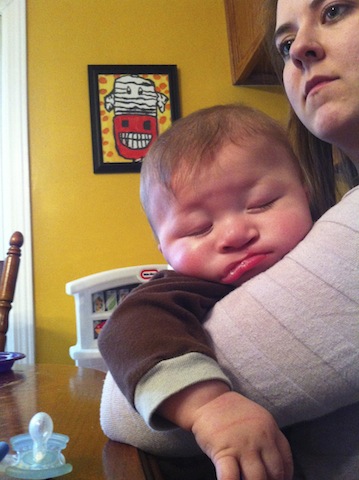 Abby and Josiah's birthday party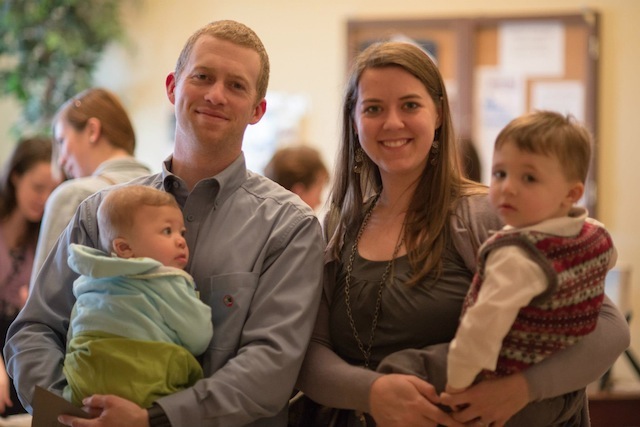 Love, love, love this picture of us with our boys – Kelsey and Will's wedding, spring 2013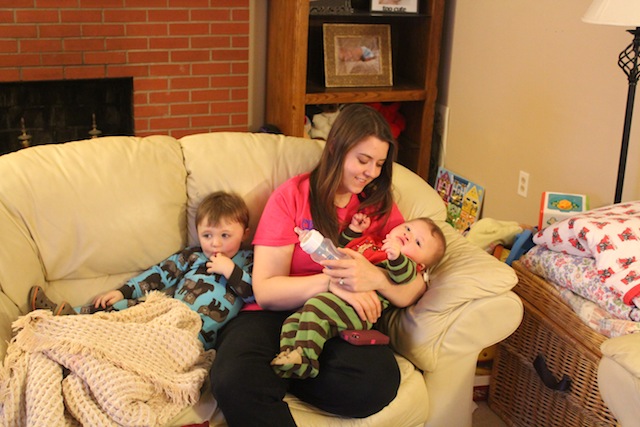 Definitely my favorite way to spend a Friday night – snuggling with my sleepy boys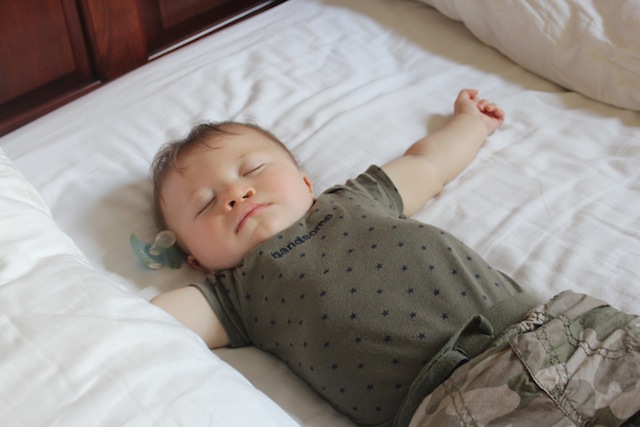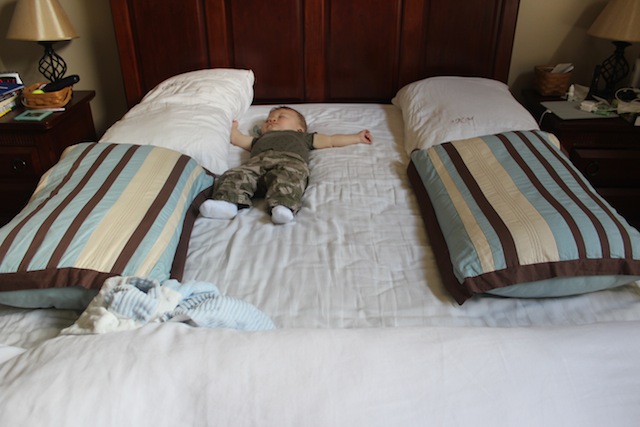 The majority of the Gaines' got sick one weekend so we kept Levi in "quarantine" for awhile at our house.  I didn't really know what to do with him while he napped, so I made some pillow barriers for him on our bed.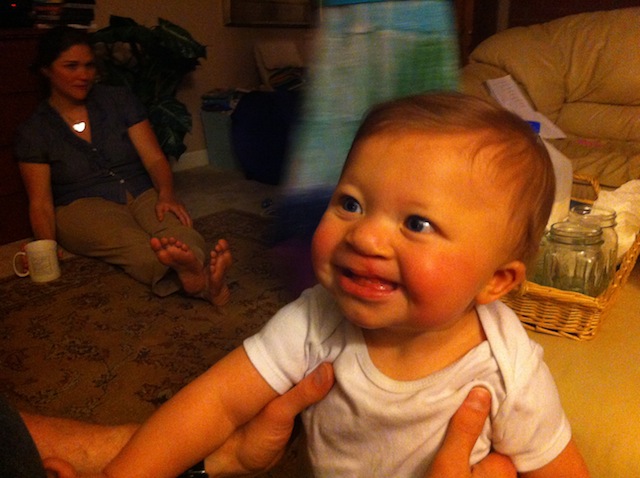 Sometimes Levi just smiles at you with this all-adoring look that is so wonderful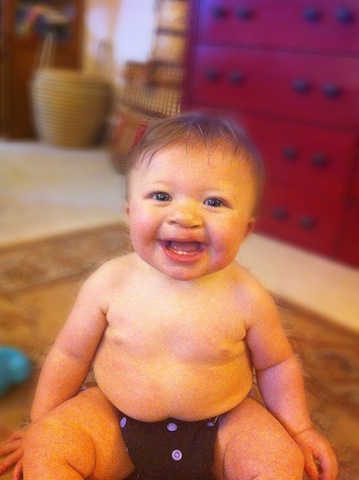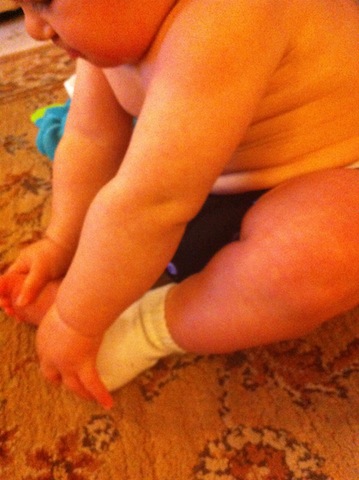 I just love those chunky monkey rolls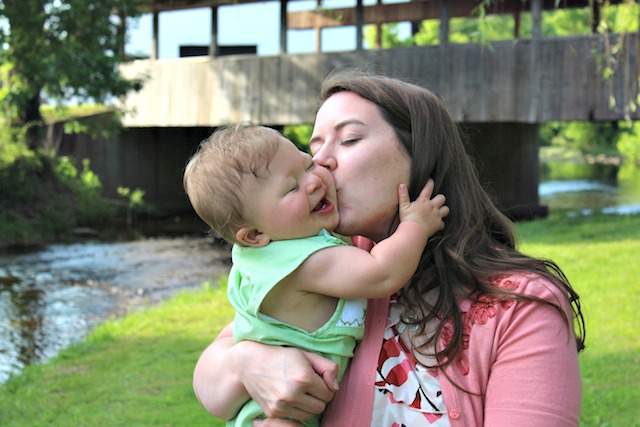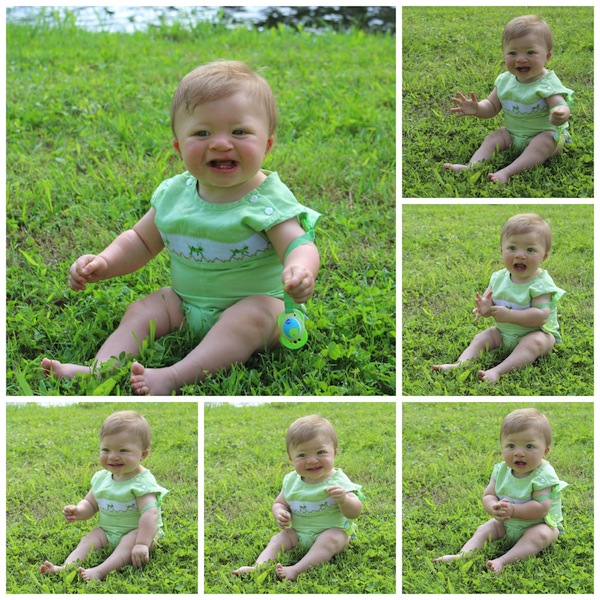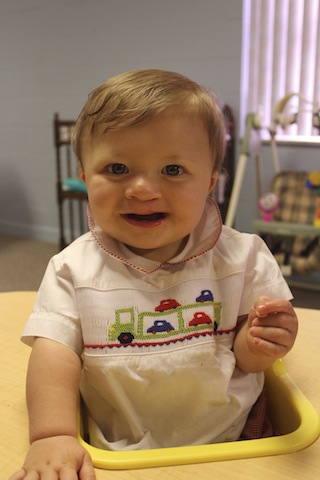 VBS 2013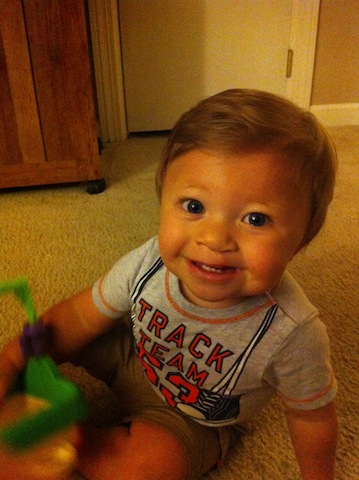 sweet sweet sweet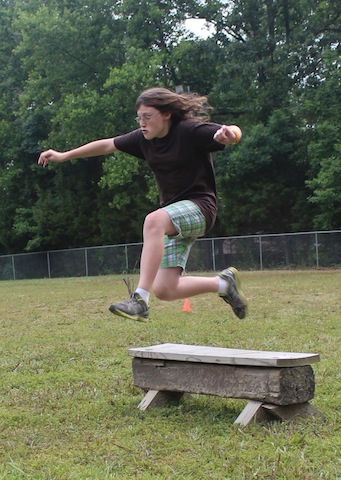 Abby at church camp 2013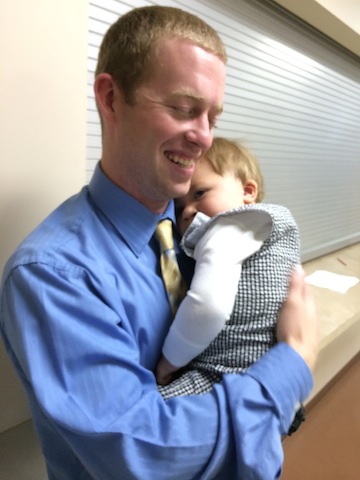 snuggles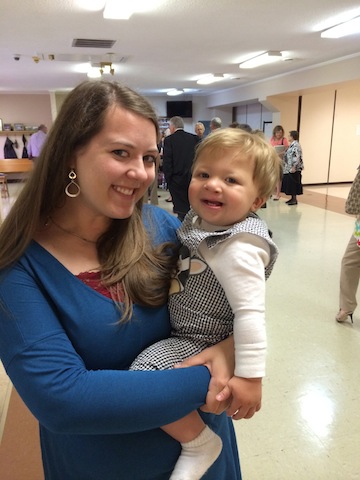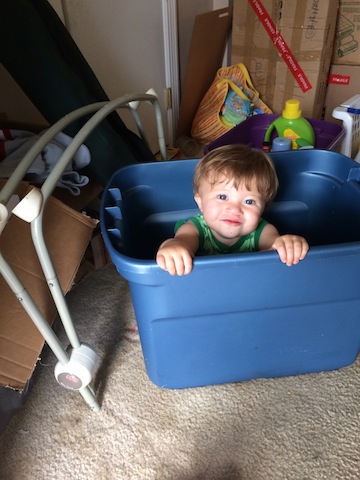 packing to go to "Afka" (what Josiah calls Africa)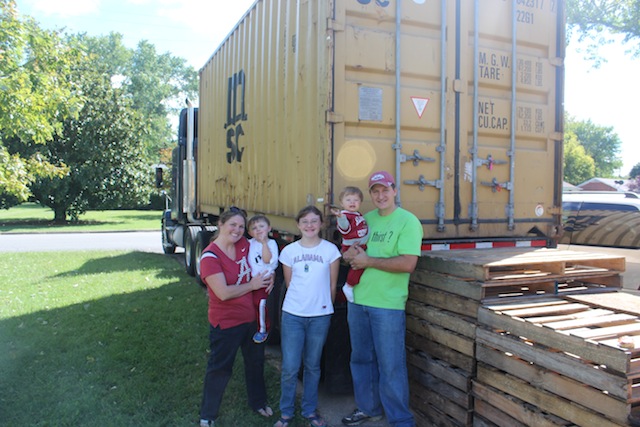 Saying goodbye to the container…see you when we get to Africa!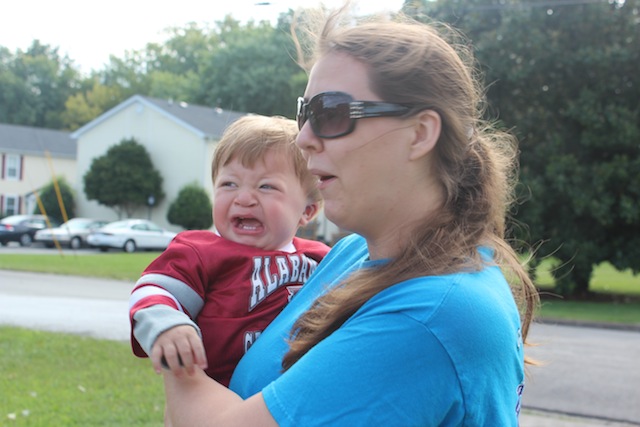 Levi didn't care much for the forklift that helped load the container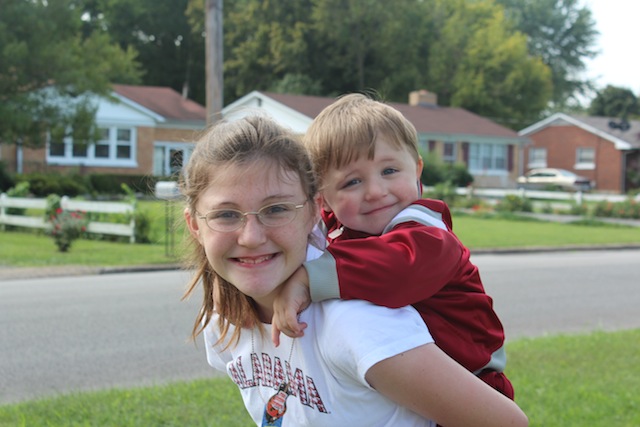 Love them!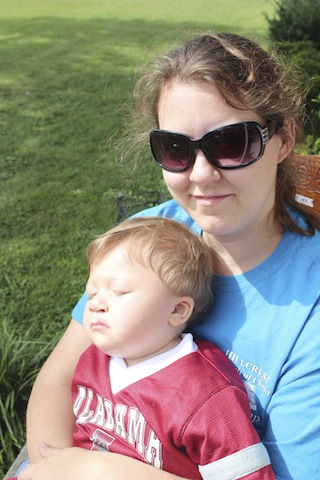 The men loaded, Tiffany packed, and I did what I do best (and the only thing they'd let my pregnant self do anyway)…watch kiddos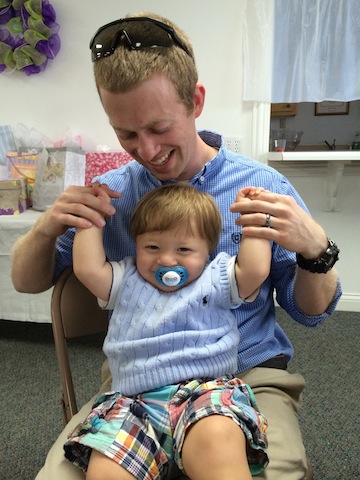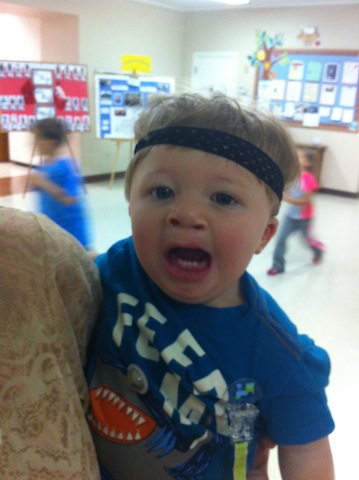 wearing Abby's headband like a boss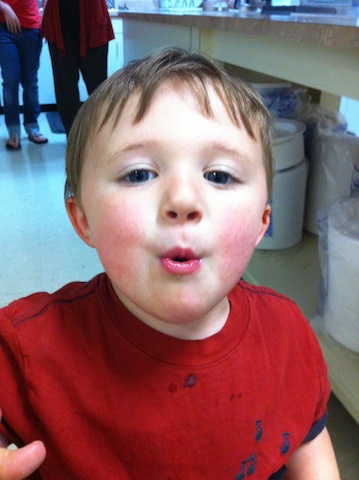 Telling Michael "I miss you, Missah Michael"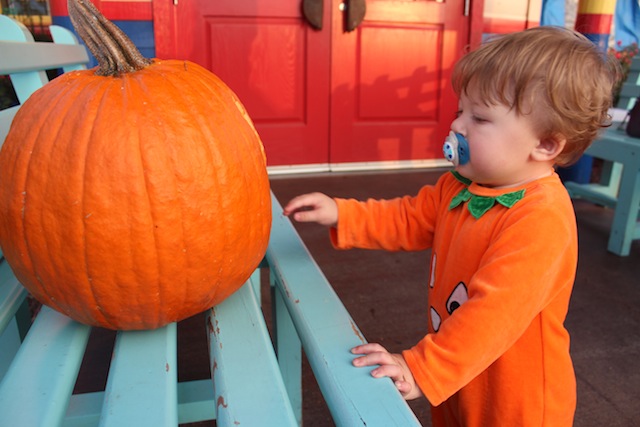 We went to Chuy's to eat supper and say our goodbyes the Monday night before they left.  Talk about a hard day.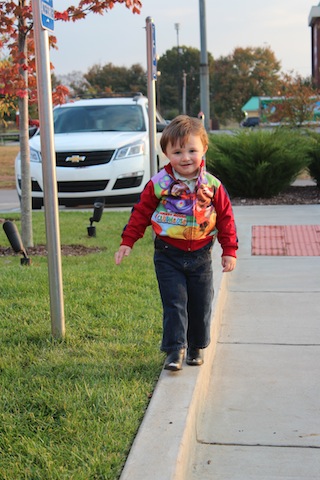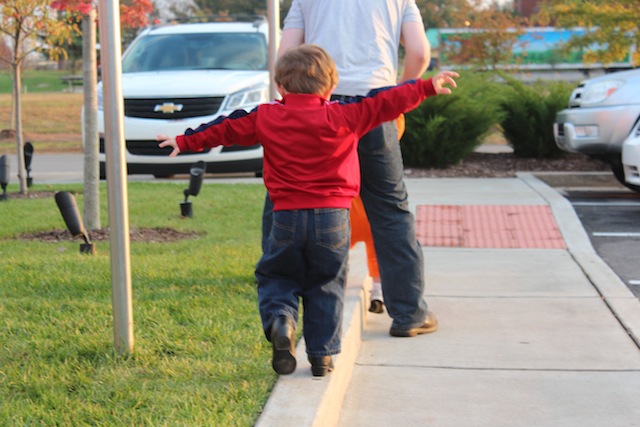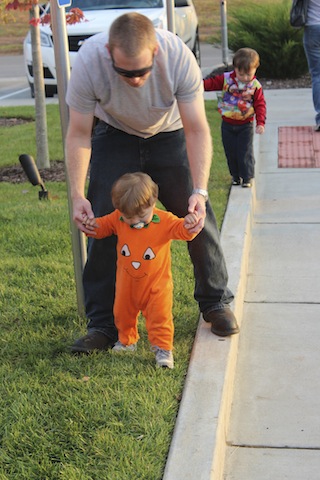 Levi is walking now!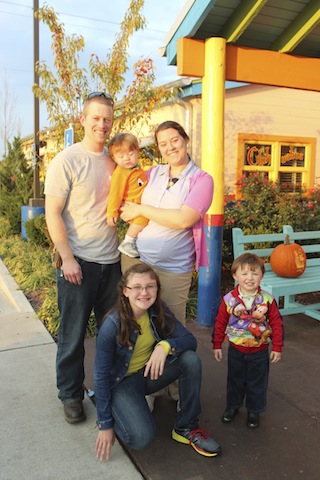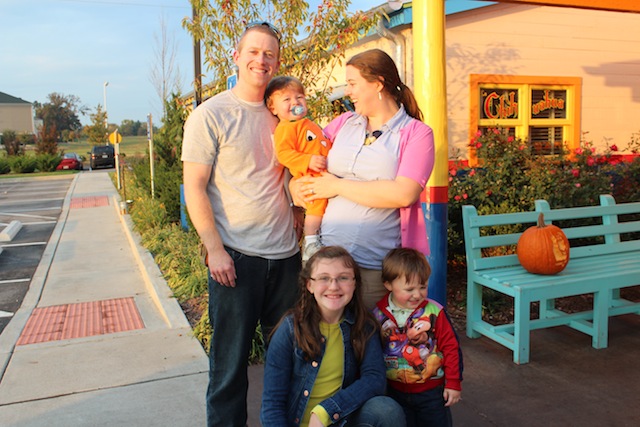 With our kiddos – Abby, Josiah, Levi, and Hudson (in utero)
All day I prayed that I would not fall apart in front of the kids.  God sure has a sense of humor, or maybe I should have asked to not fall apart at all, because about seven seconds after I got in my car to leave I was a bawling mess.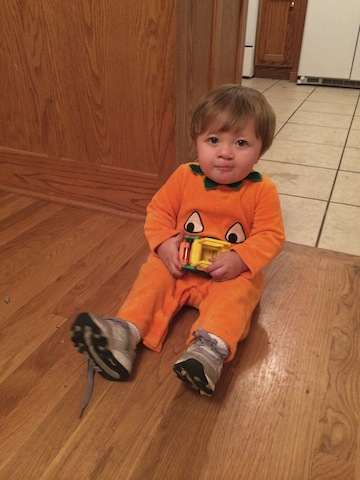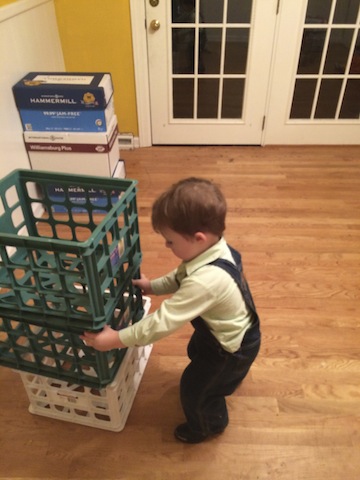 Tuesday night we swung by their house to pick up something off the porch, thinking they had already left for Alabama, but when we got there they were still just packing away.  So I watched the kids while Michael helped Daniel and Tiffany finish packing.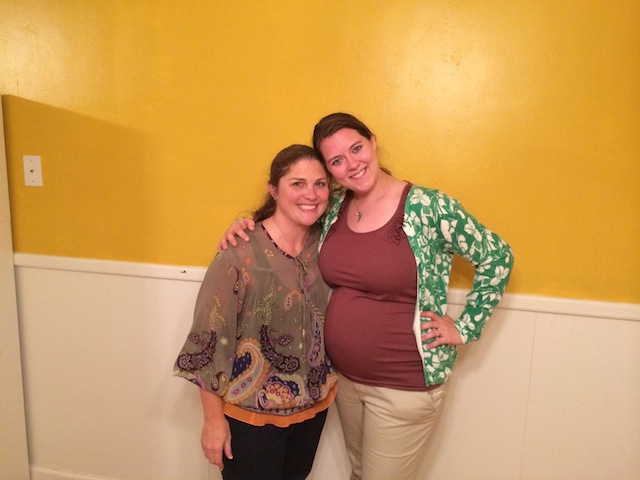 Love her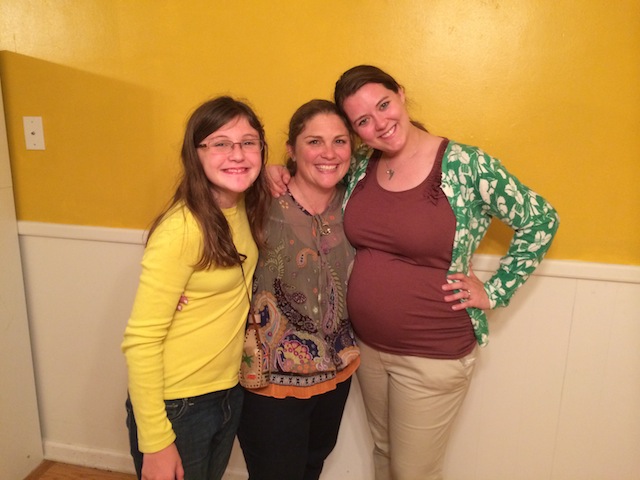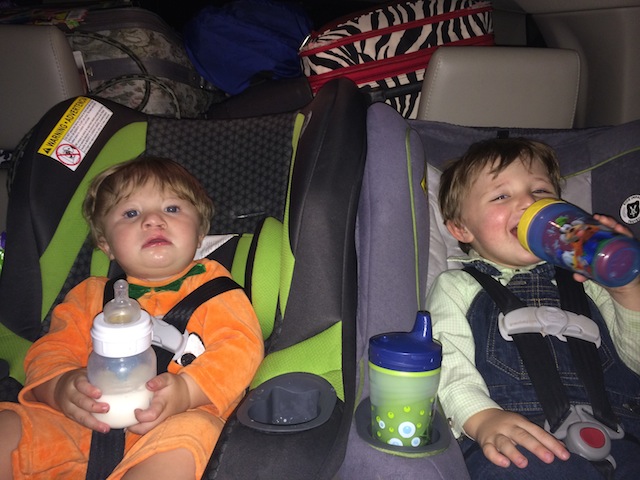 We buckled the boys into their carseats for one last goodbye.  Jojo kept saying "The sun is so bright!  Do it again!" when I would take pictures (because of the flash on my camera).
And I suppose that's our last picture of them for a while :(.  I miss them already.
Keep up with the Gaines' and their African missions here.