Abbie from M is for Mama started this challenge called Project Elephant, where you "chew through your to-do list one bite at a time" (you know, because of the old saying…How do you eat an elephant?  One bite at a time).  Then be proud of what you've gotten done and show it off!
Well believe me, I have quite the to-do list right now.  I am in full swing getthehousereadybeforebabycomes mode and am nesting for sure.  All through October we've been taking some bites out of the list and Saturday, since I knew it would be a hard day for me, I tried to keep as busy as possible by having a mini-work day at our house.  I'm excited to show you what we've gotten done, but I'm also super nervous.  Why?  Because I prefer to wait until a room is completely done, clean, and staged before I show it off.  But instead I'm stepping out of my comfort zone and snapping some "in progress" pictures.  Junk laying around, messy, real life stuff.
Without further ado, here are some of our completed projects.
1.  Paint the dining room and master bedroom
I had never picked out paint before.  We've always just left our apartments or houses whatever color they previous owners' used (every place we've lived has had a fairly neutral color scheme that matched our furniture well enough).  This house was painted all one color, what I liked to call Builder Beige.  It wasn't hideous, but I really wanted to add my own personal touch.  After much thinking and nervousness about picking paint, I finally just went for it.  Michael and his dad knocked both of these rooms one Saturday.  The ceilings are really high so they were not the easiest things to paint, but they turned out fantastic and I am in love with the colors for both rooms.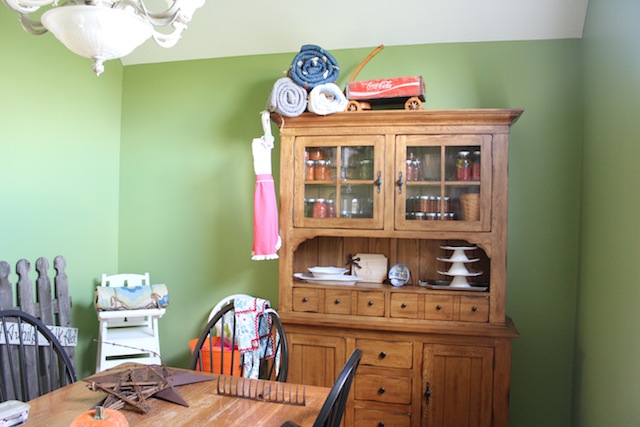 I went with an apple green color for the dining room.  I almost went with a red dining room but I'm so glad I decided to grab some green paint chips, too, because I ended up liking that so much more.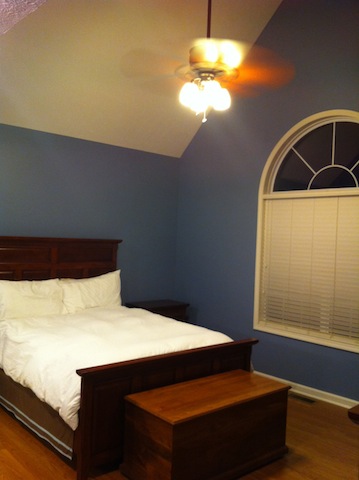 Our bedroom is a deep blue-gray (it looks a little more blueish-purple in this picture than it does in real life).  I'm slowly transitioning our room from brown and blue (you can see our old bedskirt in the picture) to a more neutral palate of white, navy, and gray with yellow accents.
2. Stain the deck
This was actually Michael's big thing he wanted to tackle before it got too cold, and it definitely deserves a mention.  The person who we bought our house from basically flipped the house – he bought it from the previous owners, fixed it up, and then turned around and sold it.  That was great for us because our slightly old house (11 years, I think?) had been updated with all new flooring, carpeting, paint, and appliances.  He also built a new deck on the back of the house but it hadn't been stained or treated yet.
Michael pressure washed the desk and then he and his dad treated it with some stuff that stains and seals the deck.  I don't know what it is exactly, but I do know it is a nice, pretty color now and that water beads up on the deck when it rains.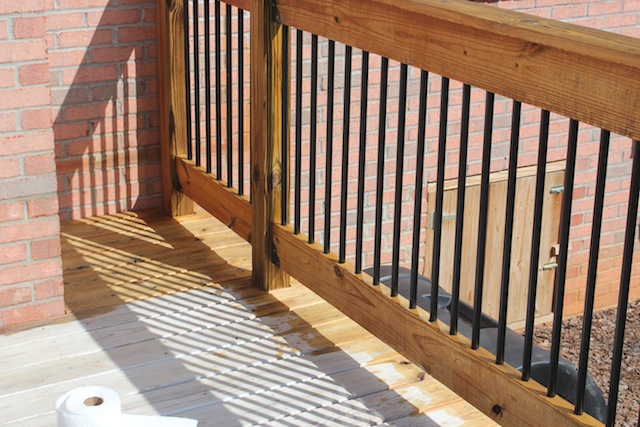 That back corner (the goldish color) is what it looks like with the new stain on it.  The front part (that almost white wood), is the oRIGINl, pressure washed wood.  It looks great now and it's all ready for winter.
3.  Paint the desk for the foyer
I bought a desk months and months ago for our foyer but it's taken me this long to get around to painting it.  My inspiration was this picture from Pinterest, and even though I used the same color of yellow that they used I feel like it missed the mark just a little.  My yellow turned out a little more lemony when I was expecting a buttery color.  Part of that could be because it's in front of a beige wall, which I knew was a risk putting yellow against beige but I went for it anyway.  For now I'm just living with it and hoping it grows on me.  My mom spent a long time painting it for me and it is beautiful, just not what I expected exactly.  I do love the turquoise knobs from Hobby Lobby!  I think they take it to a whole 'nother level.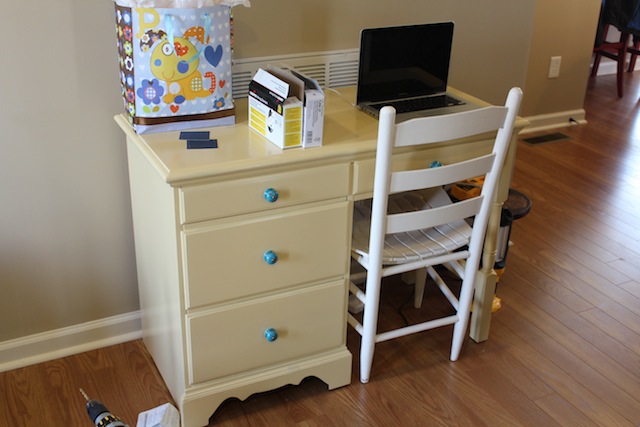 4.  Buy a rug for the living room
This was another one of those things that made me very nervous.  I haven't made all that many big, expensive purchases in my life and I've definitely never bought carpet or rugs.  I looked and looked for weeks at rugs before I finally stumbled upon this one from Overstock.  I was hesitant to buy online having never seen it in person before, but I am beyond thrilled with how it looks!
I originally didn't plan to get a rug at all.  I liked the ease of cleaning our hard floors just by sweeping, swiffering, and mopping.  I could see all the dust I was getting up and it made me feel like everything was nice and clean.  However, everything in the room was beige – beige walls, beige furniture, light wood flooring, and fairly light wood furniture.  I want to paint those walls eventually, but the kitchen, living room, foyer, stairwell, and bonus room are all connected in one big continuous loop so picking one paint color for all those rooms (or figuring out how to break the rooms up without looking weird) and tackling the painting job is just too overwhelming.  So for now, I'm just trying to bring some color to the room by getting new throw pillows, a colorful rug, etc.
Also, as I thought about the fact that we'll soon have a little one crawling around everywhere I figured it'd be nice to have a soft spot for him and not just hard floors everywhere.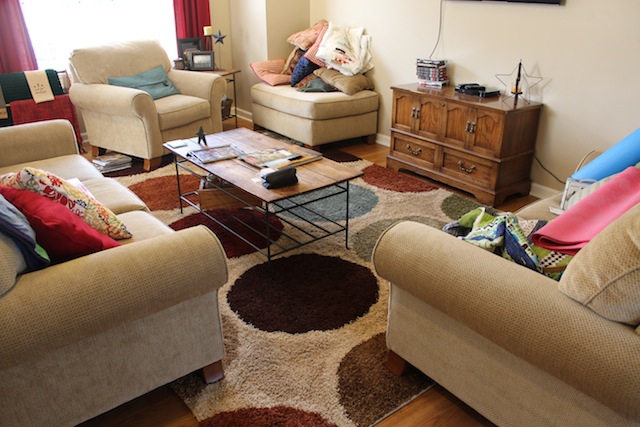 5.  Paint Hudson's nursery
My mom painted the base coat (the light blue) a few weeks ago, and then Michael tackled the stripes this weekend.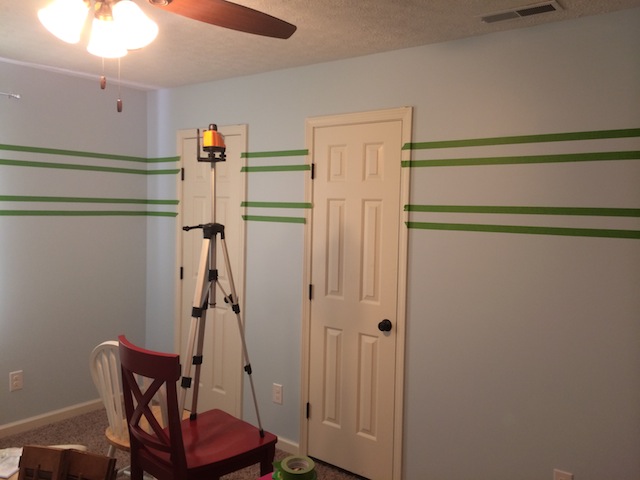 He used this 360 laser thing that he borrowed from a friend of ours (thanks, Jim!).  It sits on the tripod and spins really fast and makes a nice, level line on the wall, which Michael then followed with painter's tape.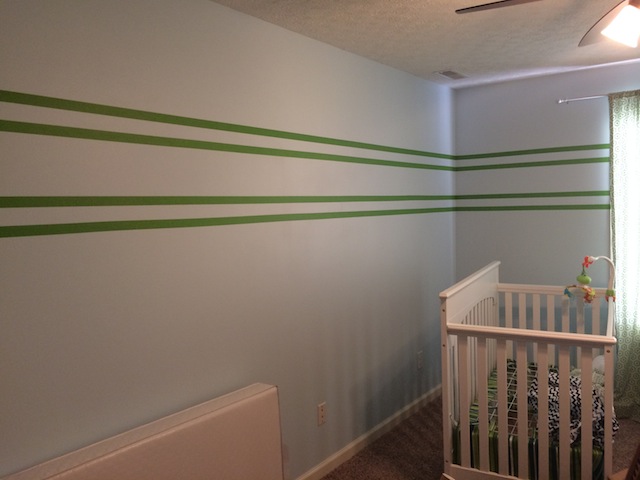 The tape actually looked really good just by itself and even matched our color scheme!  How funny!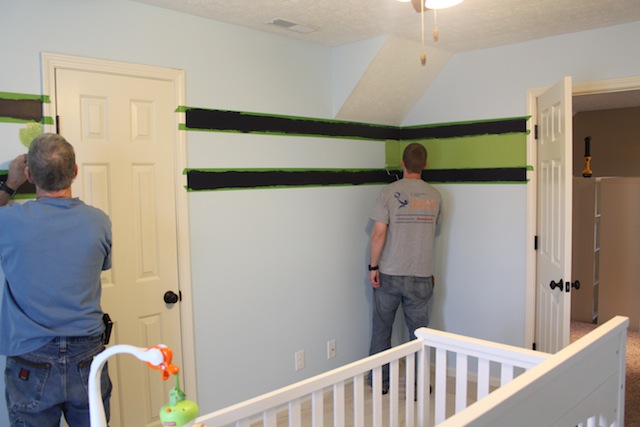 Michael and his dad filled in the stripes with navy and green, and then once it was dried we peeled it off.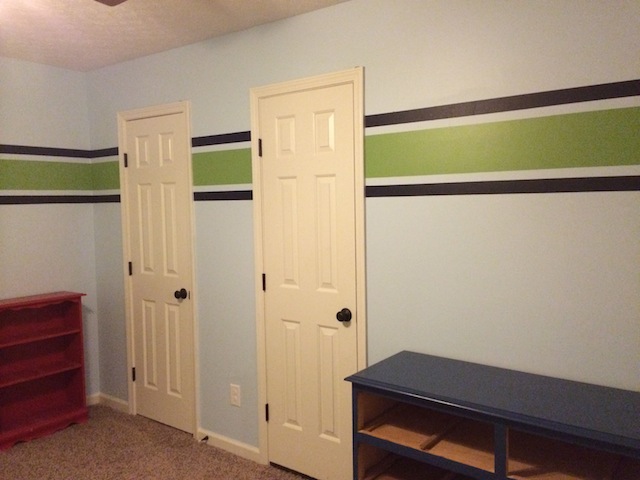 How great does that look?!?!  I am so, so happy with the way it turned out!  (apologies for the grainy nighttime cell phone picture)
6.  Paint the half wall in the office/bonus room
Remember my wonderful (albeit quite the hassle to get home) Ikea Expedit shelves?  Well, I really wanted to paint the half wall behind the shelves so that the color peeked through the back of them.  I picked out a nice deep turquoise color and Michael and his dad slapped that on there for me this weekend.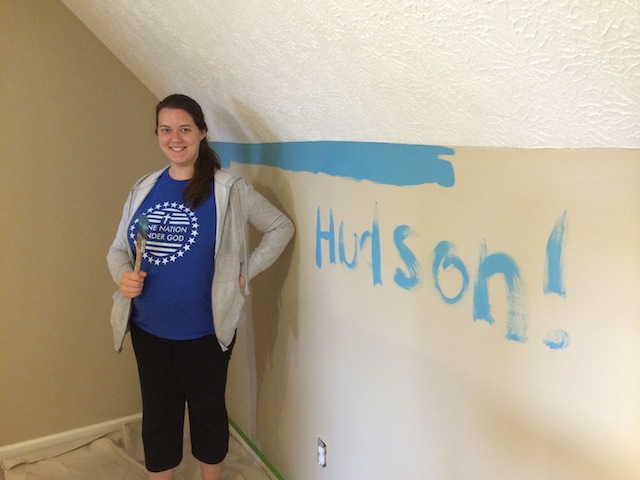 I've never actually painted a wall before so I figured it would be safe for me to do the one that would be hidden mostly behind a bookcase for my first attempt.  Actually, I just painted Hudson's name and then Michael painted over it to fill it in.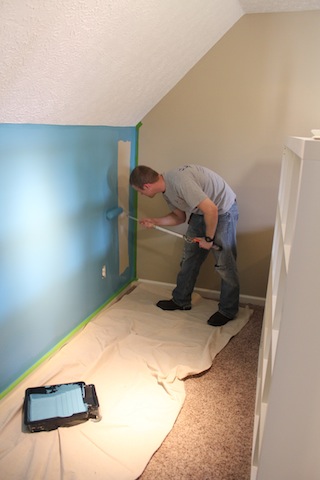 7.  Paint the master bathroom
Our bathroom is now a nice blue gray color, just a shade or two lighter than our master bedroom wall color.  I forgot to take a picture once it was painted, but here are some in progress pictures so you can see the color.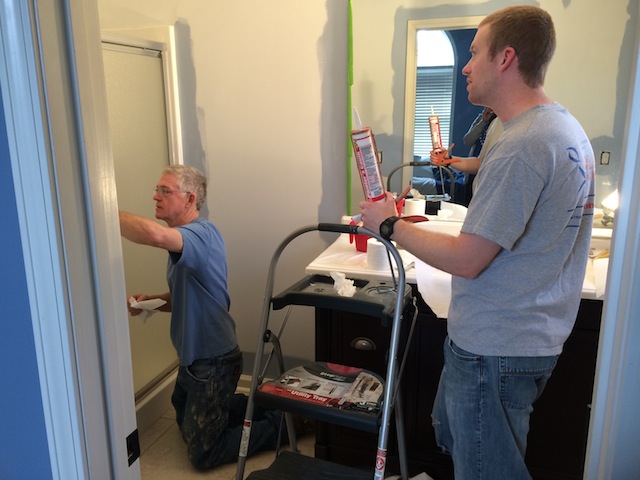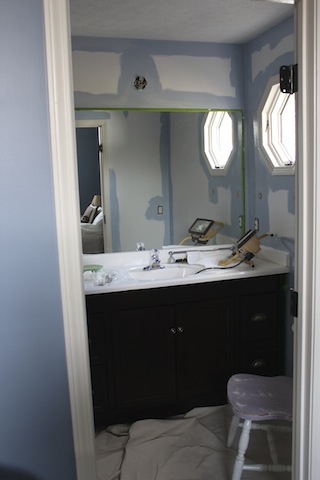 8.  Paint and finish the dresser for Hudson's nursery
We got an old dresser from my grandparents, Mom repainted it blue for us, and then we changed out the knobs for some that matched his room.
Whew!  What a few weeks it has been!  I am so pleased with how much we've gotten done, and I'm so thankful to have a husband, mom, and father-in-law who have been willing to help me get all these items checked off my list.  There is still much to do, but we're getting there!
Join me in celebrating the little things – What is one thing you got checked off your to-do list this weekend?