I actually like these outfits for a change!  Dressing my pregnant bump has been challenging in that I don't usually feel like my outfits are really all that cute.  Mostly as long as they fit and don't look too tacky or outdated, then I'm satisfied, but I don't typically look back at pictures and particularly like the way they looked.  The ever changing belly, the clothes that fit one day and not the next, the awkward way the clothes are made in order to accommodate several months of body changes; these things just make it harder to find things that fit well I suppose.
Anyway, this week I had some winners that I'm proud to show off :)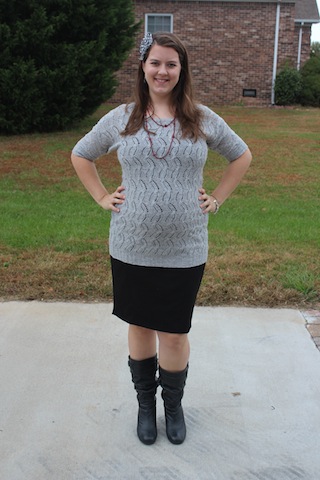 26w3d
sweater – Motherhood Maternity
skirt – Motherhood Maternity
boots – Madden Girl via Marshall's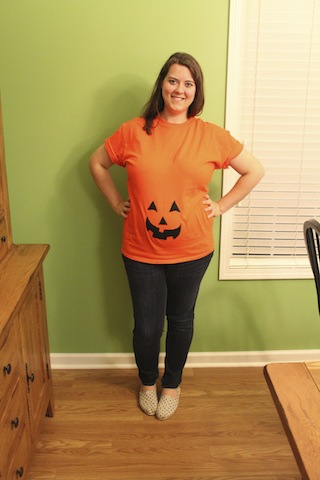 26w6d
shirt – Hobby Lobby (jack 'o lantern face added by me)
jeans – Motherhood Maternity
shoes – Toms
I was inspired by a picture of a shirt that a friend texted me many months ago (I'm sure it's on Pinterest but I can't find it right now).  This was so easy to make – I just bought an orange shirt from Hobby Lobby, cut the jack 'o lantern face pieces out of black felt, and sewed them on with a zig zag stitch.  It probably took less than 30 minutes.  The only think I didn't like was that because the shirt was just a regular t-shirt and it had to be big enough to fit my belly, the shoulders were way too big.  In hindsight I might have tried to track down an orange maternity shirt so it would fit better, although for one day of wear and less than $4 I can just deal with the big shoulders, huh?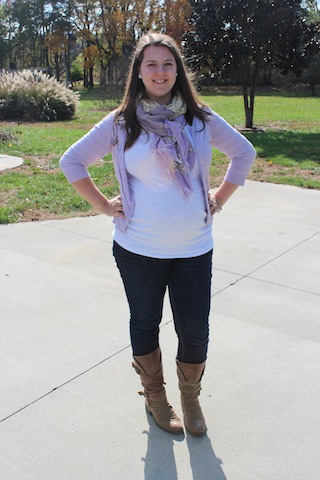 27w3d
shirt – Old Navy maternity
sweater – Limited
scarf – Rugged Wearhouse (aka Gabriel Brothers)
jeans – Motherhood Maternity
boots – Gianni Bini via Hyder's
Linking up with Lindsey