How far along: 28 weeks – this week starts my third trimester.  Can you believe I'm 2/3 of the way there??
How big is baby:  Supposedly, Hudson weighs 2 1/4 pounds and is 14.8 inches long (how on earth do they pick such a precise number anyway?) – comparable to an eggplant.
My symptoms:  Hmmm, I can't really think of anything new.  I still have back pain daily, but it's not as excruciating as it was a few weeks ago.  I went and got a prenatal massage Friday after work and that seemed to have really helped (it better have, as much as it cost!).  It is much harder for me to bend down now.  I can squat down, but if I just bend straight over I can't breathe and it's really uncomfortable.
I don't know.  Mostly I just feel good.  Big, but good.
Oh I did have a weird dream where Michael had a pregnant belly with stretch marks.  That was the extent of the dream but it was definitely weird.
Weight/belly: up 25 pounds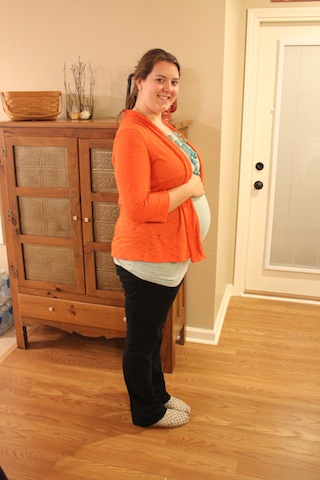 27w6d
Sometimes I forget how big my belly is and whack it in to things.
Movement:  Yes yes and yes.  Kicks, punches, rolls, you name it.  I don't know what he does in there but it sure feels crazy.  Sometimes I'll even feel him move in two separate places on my belly, so I don't know if his legs and arms are going at the same time or what.
I've also finally experienced what people talk about with babies being up in their ribs.  It hasn't been painful or that uncomfortable yet, but sometimes he'll move up into my ribs and it makes me need to sit up straight right away.
Food cravings:  I can't think of any this week.  There probably were some but I can't remember right now.
Food aversions:  None.
Sleep:  Still really good (and boy am I thankful!).  My masseuse when I got my prenatal massage suggested that I sleep with one pillow under my belly/knees (which I was already doing) and also one wedged under my back (which I had only done once and then quit) – she said both of those things together would help my back pain.  I've been doing that ever since and so far my pain has been much less, so maybe she was on to something.  I do have to wake up to switch all my pillows around during the night, but it's not a big deal and I'm always able to go right back to sleep.
Best moment(s) this week:  Getting the stripes and dresser done in the nursery.  Michael, his dad, my mom, and I worked hard this weekend to get the nursery finished.  It isn't completely done but all of the big stuff is done.  I still want to paint a little bookcase that we have (it was used in my brothers' room when they were little and now it will be in Hudson's room – how cool!) and we need to get a little side table to put next to the rocker for a lamp, humidifier, water bottles, etc.  Other than that, I just want to hang a few decorations on the wall and then we're calling it done!  I can't wait to show off the whole completed room, but for now here's a sneak peek of the stripes.
Funny comments:  A 5th grader asked this week "Who's the daddy?".  I hate that they even think to ask such things.
Some of my younger ones are cycling back through the questions they asked when they first found out, such as "Where is your baby?" and "When is your baby going to get out?".  Also, the 1st grade girl I mentioned a few weeks ago who said that she knew I was going to have a boy because I was a girl and girls have baby boys (and daddies have baby girls) made the same comment this week. Poor girl is obviously very confused about babies.
What I'm looking forward to:  I have a doctor's appointment today and after today I start going every two weeks instead of every four.  I'm not really looking forward to going to the doctor that much, but it's exciting because it means that we're getting close!
Baby items purchased:  We took advantage of a great Babies R Us deal and went ahead and got our Rock 'N Play.  That's what we plan to use as Hudson's bassinet next to our bed until he is old/big enough to move upstairs to his crib in the nursery.  If for some reason he decides to make an appearance early (I'm praying for 40+ weeks, though) at least he will have a way to get home (carseat) and a place to sleep (Rock 'N Play).  Those are the necessities; everything else is just icing.
I guess this doesn't really count as a purchase yet, but we got our maternity pictures booked to take at the end of November and we selected a photographer to use for Hudson's baby pictures.
Our BIG purchase of the week isn't specifically a baby item, but it was certainly baby-motivated…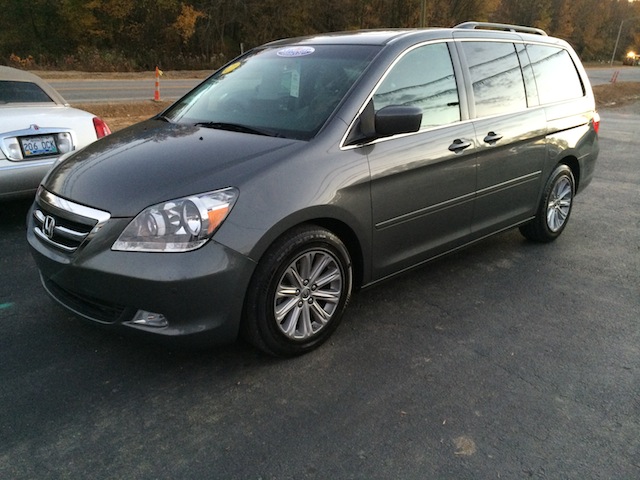 A minivan!!
Yes, after my brief vain breakdown about the fact that I wanted to be cool and just wasn't ready for a minivan, I finally came to my (practical) senses and decided that a van wouldn't be so bad after all (thanks much in part to my Facebook friends who all raved about their vans and said forget being cool, vans are way more convenient).
I found this one on Craigslist at a dealership in Morgantown, KY (about 30 minutes away from us).  We went and looked at it Monday, loved it, wrote them a check, and drove it off the lot that day.  What a great feeling!  It's a 2007 Honda Odyssey Touring Edition.  I am so so excited about it!  I currently drive a 1997 Toyota Camry that I love, but let's be honest, it's not all that up to date.  The Odyssey has a remote control clicker (which I don't have), a DVD player, built in GPS, heated seats, sliding doors that open and shut with a click of a button, dual heat and air, back up camera, sensors if you get to close to another object, and a bunch of other gadgets and gizmos that I haven't figured out yet.  Plus I love that gunmetal gray color.  The inside shows a little wear on the leather seats and carpet, and it has a bit of milage on it (155,000 I think), but overall it looks great and being able to pay for it outright with no car payment was a huge plus.
Michael wants to do a little maintenance to it to make sure that it's good and safe before I start driving it, so for now I'm still driving the Camry, but hopefully soon I'll get to switch to the van (I feel a little silly driving the van with no baby yet, but at the same time it is so much nicer than my car that I really don't care).  Getting a van was our goal for November and look at us…we got that marked off our to-do list only five days into the month!
Thoughts:  Everyone says that they had lots of energy in their second trimester but that in their third they got very big and uncomfortable and tired.  Right now I'm still feeling great, but I want to hurry up and get the rest of my big projects out of the way so that if/when I do hit that uncomfortable stage I'll be mostly done with all my stuff.  My to-do list has gotten significantly smaller, but there are still quite a few things left!