A common question that I get asked frequently these days is the "what are you going to do about work when the baby is born?" one.  It comes in various forms, such as "How many months will you be taking off?" and "When do you plan to come back to school" and "Are you going to back to work after Hudson is born?".
Answers:  All of them.  Never.  No.
In fact, as of January (or February…whenever little man decides to make an appearance), I'll be retiring from teaching at the ripe old age of 26.
My new job for the foreseeable future is that of a stay at home mom.
This is my dream job.  From an early age I wanted to be a teacher but from an even earlier age, basically as far back as I can remember, I've wanted to be a mommy.
Staying home with our kids is something that Michael and I feel strongly about.  We both had moms who stayed home most of our lives so that is the norm for us.  We've known since before we even got married that once we had kids we wanted for me to stay home, and we've planned accordingly ever since.
I feel incredibly blessed that I have this opportunity.  I can think of nothing better than getting to be home and raise my babies!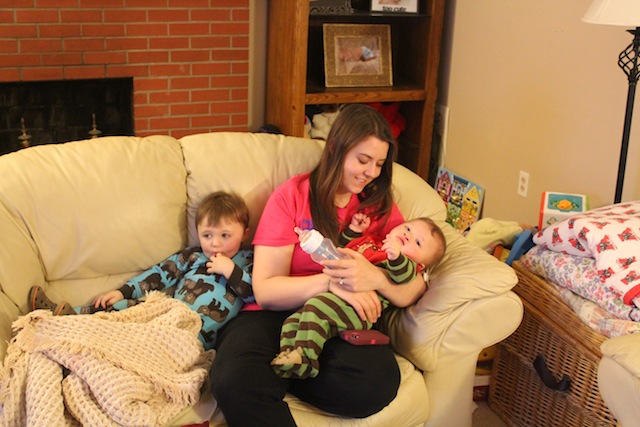 Obviously I have no pictures snuggling Hudson since he isn't here yet, but what's a blog post without a good picture?  So here's a picture of me snuggling my other sweet babies.
(Disclaimer: This is not meant to be a judg-y, anti-working-mom post.  Everyone has their own situations and choices.  This is only a post telling you what my plans are after Hudson is born and what's right for our family.  Just felt like I needed to throw that out there to avoid any negativity)