How far along: 29 weeks
How big is baby: Hudson now weighs approximately 2.5 pounds, is 15 inches long, and is the size of a butternut squash
My symptoms:I have a whole list this week!
– Hudson must have been having a little growth spurt earlier this week, because for a few days I just couldn't get enough to eat!  I ate way more, and much more frequently, than I normally do.
– Those awful dry spots on my face are still there.  This is so unusual for me as I've always had oily skin, not dry.  And this isn't like "normal" dry skin (like my hands get in the winter), it's two very dry patches on my cheeks that are also very red when I wash my face at night.
– I've had some very mild leg cramps/stiffness this week but they released as soon as I moved my legs a little.
– I thought I was going to join the swollen feet club this week, but it turned out to be a one time thing.  Sunday morning when I put my boots on before church I thought they felt a little tight, but I didn't think anything of it until we got back from church.  I took my boots off and noticed that my legs/calves were puffed over the tight band at the top of my socks.  I took my sock off and saw that the band had made a deep red indention and that the threads from my socks had left argyle-shaped indentions in the tops of my feet.  They were definitely swollen.  However, that went away and I'm sure it's because the previous day I had spent most of the day in the car (i.e. not moving around much or having my feet elevated) and had eaten out for lunch and dinner…not my healthiest day.  It was strange, though, because usually I notice swelling in my hands way before my feet.  Anyway, good news is I seem to be avoiding the swelling thus far.
– I've been having some pains in my belly.  The pain runs in a band from about an inch above my belly button to two inches below it, kind of on a diagonal.  From what I read it's not Braxton Hicks and it's not round ligament pain, but I don't know what exactly it is.  My doctor wasn't concerned, he said it's probably just a nerve that's being aggravated, or a ligament that is stretching and hurting, or a weak spot in my muscle that isn't holding up as well to the changes my belly is undergoing.
Weight/belly: up 26 pounds
I totally forgot to get a belly shot last night (when we normally do my weekly pictures), so here's one from Sunday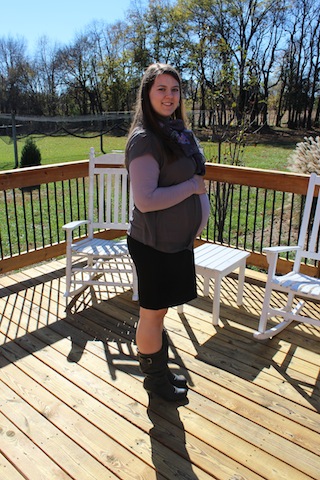 28w3d
Movement:  Oh yes.  Not as many sharp kicks/punches now and more rolls/stretches.
Food cravings:  A peppermint mocha from Starbucks.
Food aversions: None.  Well, that's not 100% true…I'm getting mighty tired of eggs, but not because of pregnancy – more due to the high quantity I'm consuming.  The Bradley Method recommends eating two a day and I'm getting burned out.  I think I need to try some new creative ways to eat them.
I mentioned a few weeks ago that the smell of my Scentsy warmer was still bothering me and 'Becca made a good point that it might be the artificial smell.  I didn't realize it before she said that, but she totally nailed it!  I've been fine with food smells and such for weeks, but I have been avoiding perfumed lotions, my shampoo still smells yucky and obviously the Scentsy wax bars bothered me.
Sleep:  Still really good.  I've used my "pillow box" (one under my head, one under my stomach and knee, and one little one at my lower back) all week this week and it feels really good to sleep that way.  The only bothersome thing is having to switch the pillows whenever I want to switch sides during the night – I have to wake up a little in order to do that rather than just turning in my sleep, but it just takes a second and I go right back to sleep so it isn't too bad.
Best moment(s) this week:  A great check up last Thursday!  My blood pressure was low (100/60…means nothing to me but I actually remembered the numbers this time so I thought I'd write them down in case that means something to someone else) which is normal for me, Hudson's heart rate was 157, my uterus is measuring exactly as it should (according to the measuring tape on the outside of my belly thing that the doctor does), and my doctor is satisfied with my weight gain so far.
I'll now be going every two weeks instead of every four so I'll be back at the doctor next week!
Semi-related: I am very thankful that my doctors' office is less than 5 minutes from my work and that they schedule appointments for me after school so I have yet to miss any school to go to the doctor.  The one time I had to go in the morning (my glucose test) happened to fall during fall break so we were out of school anyway.
Funny comments:  A parent came into the library yesterday and said "Are you expecting?  I didn't want to ask."  I was thinking "And why did you then?".
What I'm looking forward to:  Finishing Hudson's quilt.  I am thisclose to being done and I hope to finish up this weekend.
Baby items purchased:  Nothing.  Unless you count the small piece of fabric I bought to be the binding on his quilt.
Thoughts:  This is my last week in the 20s….next week I'll be 30 weeks!  That's so crazy to me.  Also, I'm still so amazed at just how great I feel.  I mean, yes, sometimes I can't breathe if I try to bend over to put my shoes on and random things hurt on occasion, but overall I feel basically like my non-pregnant self.  The other day I told someone I was having a textbook pregnancy, but that really isn't true…the books tell you about all sorts of bad things that might happen and most of those haven't happened to me at all.  I have been very blessed thus far.