We had another productive weekend and got a few more things marked off our to-do list…eating that elephant one bite at a time!  Here's what we've gotten done:
1. I finished Hudson's baby quilt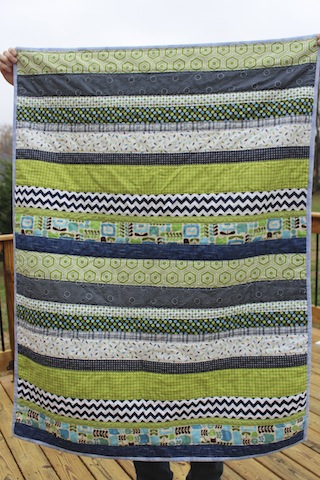 You can see more details about the quilt here
2. I made an adorable turkey wreath.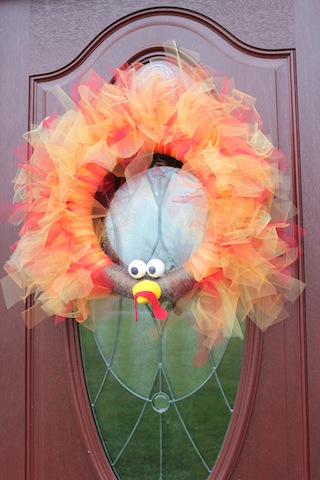 I saw the wreath on Pinterest but there were no instructions so I just made it up myself.  It wasn't hard at all!  Basically I just wrapped part of a wreath form (the white ones in the styrofoam section at Hobby Lobby) with brown yarn, then cut strips of red, orange, and yellow tulle to tie around the rest of the wreath for feathers (I ended up using almost 1.5 yard of each color).  The eyes are white styrofoam balls from Hobby Lobby with Sharpie'd pupils.  The beak and wattle (is that what that thing is called?) are felt.  Tying all the tulle was time consuming, but overall this was a super easy project…you could easily finish it while watching a favorite tv show or two.
3. I slipcovered our ottoman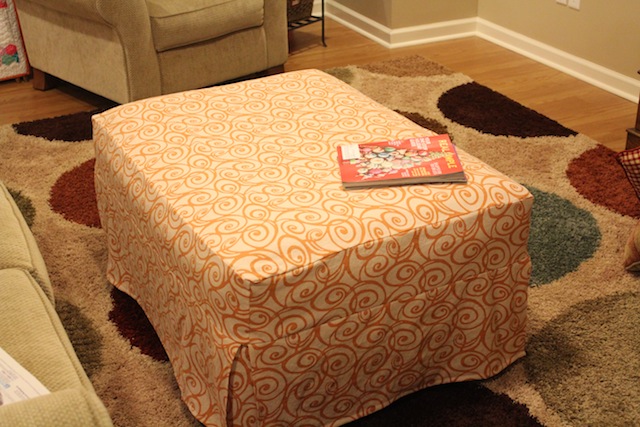 In an effort to un-beige our living room without having to buy all new furniture or paint the whole downstairs, I decided to make a slipcover for the ottoman.  I thought that would give us one less beige piece of furniture and add a little more color to the room.  For some reason I really wanted an orange ottoman with a pattern – that is hard to find my friends!  I finally found this fabric at Hobby Lobby and think it is perfect!  This project was nearly an elephant in and of itself.  This was by far one of my hardest sewing projects yet and required much more time than I anticipated, a lot of stress, and even a few tears.  But all in all, I'm happy with how it turned out.  Just don't look too closely so that you don't see all the flaws!  I drew inspiration from several tutorials, but this one was the one I mainly used (in case you want to make one, too, I used cotton duck fabric and needed 3.5 yards).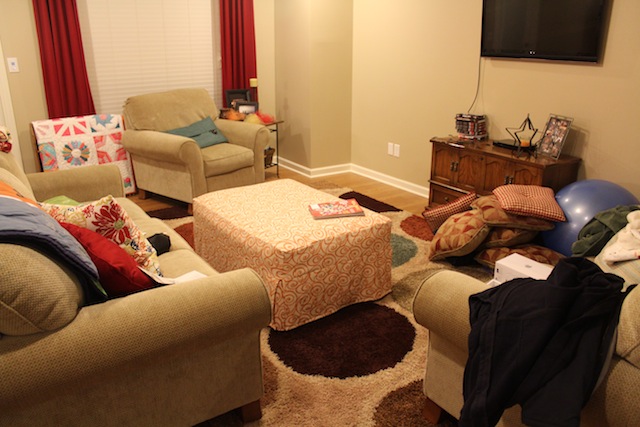 Pardon the mess and the huge pile of pillows I need to figure out what to do with (but hey, that's what project elephant is all about, right? celebrating the little successes even when the whole thing isn't finished).  Here's the ottoman along with the new rug.  I really like it!
You might remember from when I showed you the rug the first time that there used to be a coffee table in front of the couch and the ottoman used to be pushed in that corner, almost like another small couch/chair.  What I've decided to do (for now) is to put the coffee table in the attic and just use the ottoman right now.  The main reason being because it was getting crowded in there, but also because every little kid that comes over tries to climb on the iron parts of the coffee table and gets their limbs stuck.  I know we could teach Hudson not to do that (plus that's a long way down the road), but I'm afraid every time one of my friends comes over with their little one that it would be an issue.  So for now, we're going to see how we like it without a coffee table at all.
That empty corner where the ottoman used to be is bugging me, but in just a few weeks I'll put up the Christmas tree there and then once we take the tree down we'll use that corner for Hudson's play pen, swing, toys, etc., so I won't have to live with it empty for long.
That's what I got done this weekend – what about you?
Linking up with Abbie
You can see my first round of Project Elephant projects here.