How far along:  30 weeks!  I can't even believe it…I'm already in the 30s!!  This has gone by soooo fast.
How big is baby:  According to BabyCenter, Hudson weighs almost 3 pounds and is 15.7 inches long…about the size of a head of cabbage.
I usually don't include all the other little weekly tidbits that they share, but this week there were some pretty cool ones so I want to add them in :).  He can open his eyelids and can distinguish light from dark.  He may already have established sleeping and waking cycles.  He can hear and recognize my voice (and Michael's and other people he hears a lot).  He is capable of gripping a finger and has lungs that can breathe air (although probably with assistance).
My symptoms:  Sadly the heartburn is back.  I had a few heartburn-free weeks but this week it has been back with a vengeance.  I'm not sure if it's because I'm eating too much or what, but I definitely know that the hummus I made earlier this week and was so excited to eat (that makes it much more palatable to eat my veggies) triggers some wicked heartburn.  Bummer.
I.Drop.Everything.  Is this a pregnancy thing?  Did you do this too?  I mean, I feel like I'm constantly dropping stuff and of course it is much more inconvenient to bend over and pick it up than it was a few months ago.  Last week we had the bookfair at school and I can't tell you how many coins I dropped and then had to crawl under my desk to retrieve.  One day I was counting the ones and sent my nice, neatly stacked pile of 97 one dollar bills flying…which I then had to crawl under my desk to pick up, restack, and recount..  I've dropped my iphone so many times that I'm afraid Michael may glue it to my hand so I don't break it (and on that note…I am so thankful for my Otterbox and how many times it has saved my phone – it was well worth the money!)
Also, I think I many have been having Braxton Hicks contractions.  Our Bradley instructor was talking about them in class and I asked her when I should start expecting them; she said that I probably already had been having them and just hadn't noticed yet.  Then she said that it doesn't hurt, your belly just gets really tight, and I remembered that I have noticed that happening.  I just assumed it was Hudson stretching in there and it was making my belly feel tight, but now I wonder if they were Braxton Hicks.
I've had a little swelling.  Not nearly as bad as the puffy feet debacle of last week, but my hands swell if I get too warm (like at church Sunday morning when I thought they were trying to roast us out), and my rings are a little tighter than usual.  I'd really like to be able to wear them through the whole pregnancy so I'm hoping that the swelling doesn't get much worse.  My feet are also a tiny bit swollen sometimes.
Weight/belly: + 28 pounds (and getting to where I can hardly see the number on the scale because I can't see over my belly very well)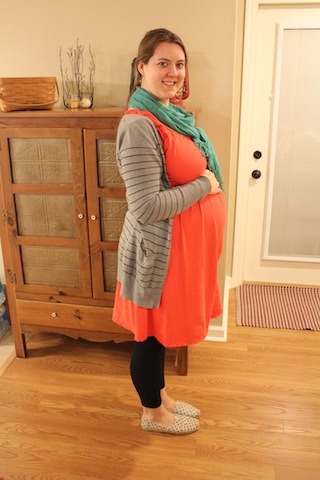 29w6d
Honestly, a lot of the time I totally forget I'm pregnant until I try to squeeze past someone or something and my belly bumps it/them.  Or when I'm laying down and have to roll over or get up.  Yeah, that part I notice.  The other night as I was wallering in the bed trying to sit up I told Michael that I just feel big and heavy.  He laughed a lot.
Movement:  All day every day.  I've noticed that I feel it much more on my right side so he must hang out over there more or his feet must be on that side or something.  There was one time this week that I looked down and thought my belly looked a little lopsided, like he was all on that one side.  I've heard of that happening to others and it wasn't super obvious on me, but I think that's what they are talking about.
Food cravings:  Peppermint mochas…I've enjoyed a few this week.  Nothing else really specific, although I've wanted sweets in general (trying so hard to avoid though!)…mmmm, cheesecake, chocolate chip cookies, milkshakes, fudge pie – I want it all!
Food aversions:  None.
Sleep:  After 30 weeks of great sleep, I think I'm finally entering that not-so-great phase.  I usually wake up once around 3am to go to the bathroom and switch sides (which requires adjusting my many support pillows).  That part isn't so bad, but then as it gets closer to time to get up I get very uncomfortable and start flipping back and forth trying to find a better position.  My legs/hips ache toward the end of the night from laying on one side.  Pre-big belly I was a very active sleeper and moved around changing positions a lot during the night.  Staying on one spot for so many hours straight like I'm doing now is really hard on me.  I've tried putting a pillow between my knees but it always ends up on the floor while I sleep.  What I really want to do is lay on my belly – I can just imagine how much better my legs would feel.  Too bad I have a tiny human inside me that would get squished in the process.  If I could scoop a hole into my mattress for my belly to rest in, I'd totally do it.
Best moment(s) this week:  We attended a Newborn Care and Safety class provided by our hospital that was very informative.  I was at one point (in college) certified in infant CPR and knew what to do when a baby was choking, but that was a few years ago and having a refresher was really good.  They also taught us how to swaddle and bathe a baby, and we learned some more things about what will happen in the hospital (for example, there's a good chance baby will have mucus that he starts to cough up/choke on…no need to panic, they showed us how to use the snot sucker bulb thing to get it out).  I felt like it was well worth our time to go to that class.
Funny comments:  One second grade girl asked "Who is going to take care of your baby while you teach us?"  I told her that I was going to stay home and take care of the baby and that I wouldn't be the librarian anymore.  She looked so puzzled when I said that.
I haven't made a big announcement or anything to the kids about my plans not to come back, but when they ask I am honest and straightforward with them.  Several kids/classes have asked recently and so I've told them that I'm going to stay home with Hudson.  This has caused a lot of misconceptions because their librarian before me (not last school year but the year before, so recent enough that the older ones remember) also left after she had her first baby (which is when I got my job).  So multiple kids in various grades have made comments like "so do all library teachers have babies and then leave?" or "why does every library teacher have a baby and not come back anymore?" (and yes, they call me the library teacher…I can't ever get them to say librarian for some reason).  It is clear that they have made the conclusion that every librarian has to have a baby and not come back to work anymore.  I'm trying to tell them that it is just a coincidence that that has happened twice recently, not a rule per say.
What I'm looking forward to:  Maternity pictures!  We're getting them done on Sunday and I'm very excited.  I just hope the weather is mild enough that we'll be able to take them outside…I like outside pictures so much more than indoor ones.
Also, Thanksgiving and Thanksgiving break!  Thanksgiving because we'll get to see family that we haven't seen in a while (some that I haven't seen since before I got pregnant…boy will I look different to them!).  Thanksgiving break because I'll get a few days off of school to get more things on my to-do list done (or maybe rest and be lazy, we'll see).  We only work two days next week and have Wednesday – Friday off, so I am super excited.
Baby items purchased:   Nothing purchased but I did get Hudson's quilt completed which was a huge accomplishment!  I am so proud of it!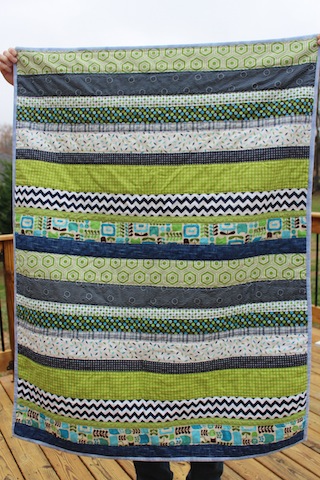 Thoughts:  Some of our friends at church, the first couple in our long line of preggos, had their baby boy last week.  Seeing pictures of him just made me so much more excited to meet Hudson.  We (all these pregnant women at church) have been walking around with babies in our bellies, but now that they are making appearances I just can't wait to see what Hudson is going to look like and hold him!  (But don't worry, as much as I want to meet him, I want him to stay in as long as he can…a February birthday would be just fine with me!)