How far along: 31 weeks
How big is baby: Hudson is approximately 16 inches long, 3.3 pounds, and the size of a coconut.
My symptoms:  I don't guess there has really been anything new since last week.  The heartburn is still sticking around.  Getting up and down has become increasingly harder and if I'm down on the ground sometimes it takes a little rocking and momentum to get back up.
My hands are definitely swelling now and I'm still wearing my rings, but I'm not sure how much longer I'll be able to do so.
I had a doctor's appointment last Thursday (I'm going every two weeks now).  My blood pressure was good (120/70) and Hudson's heartbeat was great as usual (150 bpm).  The only concern was that I've had high levels of sugar in my urine the past two appointments.  I passed my glucose test with flying colors a few weeks ago, but just to make sure my doctor wants me to do another blood test (not with the glucose drink, just a normal test two hours after eating) next week just to double check.  My uterus is measuring exactly as it should be, so my doctor is more puzzled than worried about gestational diabetes (another indicator of GD is that the baby measures large).  I'm hoping that everything will be fine – it may be heredity and based on that plus my past experiences it may be that I just happen to have high sugar levels in my urine but not in my blood.  That's what I'm hoping for at least.
Weight/belly: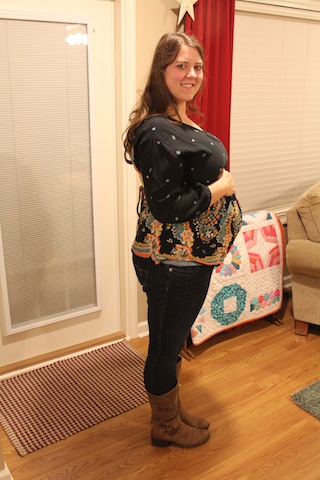 31w0d – Thanksgiving 2013
Movement:  In addition to all the kicks and punches, I'm experiencing the movement that makes my belly look like it's doing the wave that everyone talks about.  My whole belly moves up and down sometimes.  He is a very active little boy for sure.  Sometimes he gets really wound up and it feels like he's having a party in there; fortunately he hasn't done that in the middle of the night (although he sometimes does that if I sleep "too late" in the mornings…i.e. past about 7:30).
Food cravings:  Thanksgiving foods…which I ate a lot of yesterday and now have leftovers for the rest of the week :).
Food aversions:  None
Sleep:  Other than having to adjust all my pillows a few times during the night, I'm still sleeping really good.  I wish we could get to bed earlier but we are just so busy that we hardly ever go to bed before 11:00.
Best moment(s) this week:  Teaching our last week of Sunday school.  Don't get me wrong, I love teaching Bible class and I've had the best little group of 1st and 2nd graders, but preparing lessons each week (Michael was also teaching this quarter – the junior high class) has just been one more thing on our already busy schedules.  Now we get a little break…just in time for Hudson to get here!
At my doctors' appointment last Thursday we went over our preliminary birth plan with my doctor.  He was very on board with most of what we wanted (minimal interventions, no drugs, etc.) so that was wonderful.  In fact there was one thing that he questioned a little (delayed cord clamping) and said that he would do whatever we want, but that he was just curious what the reasoning/research behind that choice was because he said that is becoming more and more popular and he didn't exactly know why.  We said we would do some more research before our next appointment.  Well, that same night I got a voicemail while I was at the gym from my doctor telling me that he has been researching it and he gave me some information about what he found.  I was beyond impressed that he not only did some research, but also called me personally to let me know what he found out.  That says a lot to me about him as a doctor.
Funny comments:  Nothing new or out of the ordinary.  Something that really surprises me is that I haven't had anyone that I don't know touch my belly.  I've heard so many stories from my friends about strangers who have rubbed or tried to rub their bellies.  So far, that hasn't happened to me yet (and I certainly hope doesn't happen).
What I'm looking forward to:  Our maternity pictures.  We were supposed to do them Sunday but the weather was unseasonably frigid (for Kentucky) so we cancelled.  We haven't rescheduled yet but I'm hoping we can do them sometime next week because I want to use the pictures on our Christmas cards and I need to get them ordered soon!
Baby items purchased:  Nothing directly for Hudson, I don't think.  I bought a cute new sweater for our maternity pictures (almost all of my maternity clothes have been borrowed/second hand/hand-me-downs so I haven't bought much brand new stuff for myself).  We also bought a recliner for our living room.  I have a glider in the nursery, but from talking to others it seems like a rocking recliner in the living room is the piece of furniture that I'll probably end up using the most.  So we're moving our big armchair from the living room to our bedroom and replacing it with the recliner.
Thoughts:  Tomorrow I'll be two months away from my due date.  I've said it before and I'll say it again, I don't believe in due dates and fully expect to go over (Did you know that average first time mom, if allowed to go into labor naturally, actually has a gestation of 41 weeks 1 day?  For me that would mean February 7, but again that's just an average number.), although I'm planning to be prepared in case he comes early.  But point being, I'm two months away, give or take, from meeting this little guy!  I'm so very excited…but also feeling like I have a lot left to do to get ready!
December will be crazy with all the Christmas stuff going on, but I'm hoping in December (or at least by the time my Christmas break is over on January 6) to get the carseat installed (and inspected to make sure it is done correctly), have the hospital bags packed and ready to go, and have most of his stuff washed, folded, organized, and ready to go (I will have had three of my showers by that point so I'll probably have a good amount of stuff by then).  The biggest thing is to get our hospital bags packed – I'm going to feel nervous until that is done so I need to get going on that!
I hope you had a wonderful Thanksgiving with friends and family!  We sure did and we have so much to be thankful for this year, Hudson and a healthy pregnancy being way up there on that list.  Yesterday as we did our traditional Thanksgiving things it was crazy for me to think that next year we'll be bring a baby with us to Thanksgiving!  And Christmas!  And all everywhere else we ever go :).