How far along:  32 weeks
How big is baby: About 3.75 pounds and roughly 16.7 inches long (about the size of a jicama…whatever that is).  He now has toenails, fingernails, and hair.
My symptoms:  Cankles.  Yep, it's true.  Embarrassing, swollen, puffy feet, calves, and ankles.  I first noticed them right after Thanksgiving and I was hoping it was due to the junk that I ate around the holidays and would go back down, but it seems that is just happened to be an unhappy coincidence because they are still sticking around and I'm back to my normal, mostly healthy diet now.  They puff out over the tops of my shoes and my shoes, socks, and pants leave weird indentions in my skin now.
I know, so attractive you can hardly handle it…
My fingers/hands have also been a little swollen.  Not as badly as my feet but my rings are definitely tight, especially when I get hot.
But in all honesty, I'm not surprised that I'm swelling; in fact, I'm surprised I made it this long before it really started!  Pre-pregnancy I was a total sweller.  If we ate chips and salsa for dinner, I could guarantee that the next morning my rings would be super tight because of my swollen hands.  One summer at church camp, the combination of junky food + hot weather + being on my feet all day made my feet swell hugely!  By the end of the week the only shoes I could wear were my flip flops (and even they left strap marks on my feet).  So, given my tendency to swell, I'm quite impressed that I made it to week 31-ish before it really became an issue.
But if you have them, please share any tips for reducing swelling this late in the game (unless the only tip is to have a baby, 'cause then I guess I'm just stuck for a few more weeks).
I also noticed this week that I am now lumbering.  Some might call it waddling, but to me it doesn't feel like a waddle…I feel like I'm lumbering around like a large animal, not waddling like a small-ish bird.  I went for a walk around my neighborhood Monday evening and boy was I a sight to behold slowly lumbering around the street, cankles and all!  It also took my 20 minutes to walk a mile…pathetic (I use to run 3 miles in just over 30 minutes, so this is quite a change for me).
It doesn't help that my lower back has been hurting a little this week and I walk a little funny anyway when my back is hurting.
Speaking of back pain…some good news is that I made it three whole weeks without having to go to the chiropractor!  I have battled terrible back pain through much of this pregnancy and have had to go every other week, every week, and sometimes even multiple times a week.  This time I was able to go three weeks between adjustments!
Weight/belly:  Up 34ish pounds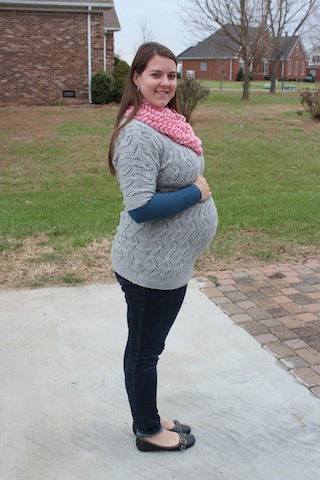 31w3d
Movement:  Lots and lots, and very visible from the outside.  I wear a name tag on a lanyard necklace at work; it lands right on top of my belly and this week I noticed him moving/kicking hard enough to make my name tag move several times.
Food cravings:  Peppermint ice cream.  I also made some lactation cookies for some friends who recently had babies and I saved a few out for myself – they are way yummy…especially with peppermint ice cream (basically they're just chocolate chip oatmeal cookies with a few extra added ingredients that are supposed to help with milk production).
Food aversions:  None.
Sleep:  Still pretty good other than having to wake up to readjust my position and pillows every night (usually two or three times each night).  If I sleep my usual 7ish hours at night, I wake up feeling fine, but on the rare occasion that I get to sleep in and sleep any longer than that, I wake up with my hips and legs aching.  I've tried using a pillow between my knees but it always ends up on the floor during the night so that doesn't work.  Basically my only option is to not sleep that long.  Fortunately, seven hours is still a good stretch of sleep without pain, so I can't complain.
Best moment(s) this week:  Getting to see tons of friends and family at Thanksgiving.  Also, two more of the four babies at church were born this week.  Now it's Hudson's turn – we're next!  (but not for two more months please sir).
Funny comments:  One of the most common comments I get when people ask what we're naming the baby is "Hudson is a very strong name".  That's not really a funny comment, per say, just one that we get a lot so I wanted to make sure I wrote it down.  I'm glad that people think it's a strong name!  We thought and debated for a long time to choose a name that wasn't too common yet wasn't too off-the-wall, semi-traditional, not a name of any student I've had (or at least not one with whom I associate negative actions), and not a gender-neutral name.  I'm glad that other people like our choice and think it's a good, strong name.
So here's this week funny comment…one of my students (2nd grade) asked me "Is your baby going to be white?".  I mean, it's a semi-legitimate question since he doesn't know what Michael looks like, but it's still an odd question (and not really any of his nosey little business, huh?).  Anyway, I didn't have to answer because another student said "Duh, it'll be white because she's white".
These kids, they keep me on my toes.
Oh also, last week I saw a lot of people (family and out of town friends due to Thanksgiving) for the first time since I've been pregnant.  The vast differences in their comments cracked me up.  About half said things like "Wow, you're not nearly as big as I thought you'd be!" or "You don't look like you're 8 months pregnant" (i.e. my stomach isn't huge), and yet the other half said things like "Looks like you're carrying a big baby!" or "You sure are sticking out there" (i.e. your belly is ginormous).  It's funny to me how people have such different perceptions of my belly.
What I'm looking forward to:  My first shower is this weekend!  I am so excited – not only about all the sweet baby things for Hudson, but also to get to see my friends that I haven't seen in a while.  I just hope the predicted crummy weather holds off!
Baby items purchased:  Michael bought a camera for the baby monitor system he's rigging up for the nursery (it sure is nice to have an engineer around).  I also bought a mei tai baby carrier from one of the local swap and sell groups I'm a part of.  I didn't do much Black Friday shopping, but Gap was having a good sale so I did buy two onesies from there (plus a cute new maternity dress for me – I hope it fits!).  I considered making some cloth wipes to go with our cloth diapers, but then I found a really great deal on some from Etsy so I just went ahead and bought those…making your own stuff is worth it sometimes, and then other times it's better just to pay a little more and let someone else make it for you, ya know?
I started working on my packing list for our hospital bags.  I think I've got the majority of the list done, and now I'm just trying to gather things up and buy the stuff I don't have.  This week I bought a few clothing items (pj pants, robe, and soft socks) to go in my bag.
Thoughts:  I am so frustrated about our maternity pictures.  We had them scheduled in plenty of time to get Christmas cards made with the picture on them, but that has abruptly gotten cancelled (I won't go into the long saga right now).  So now we're less than four weeks away from Christmas and I don't even have a session scheduled, much less the pictures taken, edited, Christmas cards ordered, or anything.  Not only that, but I really wanted to do them outside (the reason they got cancelled the first time – because of freezing cold weather that day), and based on the upcoming forecast it looks like unless we take them like today, our outside opportunities are basically gone.  Boo.
I've tentatively got some lined up for next week, so fingers crossed that they work out!