How far along:  33 weeks
How big is baby:  A little over 4 pounds and about 17 inches (the size of a pineapple)
My symptoms:  I'm still having some swelling but not nearly as much as last week.  It makes me wonder if I was retaining water from Thanksgiving or something and that's why I was swelling so badly.  However, it's still enough that I've had to take my wedding rings off :(.  It's uncomfortable to wear them and my skin bulges very unattractively around them.  Plus I'm scared that they'll get stuck and have to be cut off.
That was a really hard thing for me to do – other then showering and washing dishes, I almost always wear my rings.  Even when I sleep.  This is the first time I've had to take them off for a long period of time since I got them (5.5 years ago for my engagement ring and 4.5 for my wedding band).  It was much harder than I expected and I feel so weird without them.  Hopefully I'll be able to wear them again soon after Hudson's birth.
I had a doctor's appointment last week and my OB wasn't concerned about the swelling.  He said that it's normal and as long as my blood pressure is fine then there isn't anything to worry about.  He also said it was normal for the left foot/ankle to swell more than the right, which is what was happening to me – something about a vein or artery or something on that side.  Speaking of blood pressure, mine was 120/60, and Hudson's heartrate was 140.  My stomach is still measuring exactly as it should.
Also, remember how my doctor was concerned because I had had high levels of sugar in my urine during my last two appointments?  Well, this week he had me do a blood test – not the 1 hour glucose test where you have to drink the sugary drink, I just had to eat lunch two hours before coming in for my appointment.  So I came in two hours after lunch and gave both a blood and a urine sample.  My doctor got my urine results back while we were still there for my appointment and my sugar was high (Again.  For the 3rd time in a row).  He didn't have my blood work back yet, though, so the next day I got a call from the office that said my sugar was normal – low, but normal.  69 to be exact.  Michael said that's pretty low (the numbers mean basically nothing to me, same as my blood pressure).  Because I was concerned about my blood test, I had made sure to eat very low carb/sugar that day and apparently that resulted in quite the low reading.
My doctor wasn't the one who called, it was one of the lab people, so it will be interesting next week to hear what he thinks about the discrepancy between my blood (very low) and urine (high).
Also, my skin is so stinking sensitive.  The red dry patches on my face are back – they disappeared for a few weeks after I switched face lotions but now they are back.  The eye makeup remover that I've used in the past (I've been out for a while and have been using something else for the past few months) burned my eyes when I tried to use it the other night.  I get random rashes on my legs even though I'm not using different detergent or anything.  So annoying.
Weight/belly: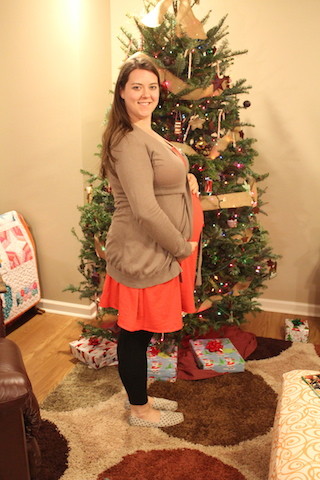 Just take it from me that trying to wear hose/tights while pregnant is probably not the best idea.  I bought some at Motherhood Maternity and tried to wear them Sunday for church.  It was like trying to put sausage back into it's wrapper – I had such a hard time getting them on!  Then once they were on they felt like they were squishing my belly.  And to top it off they had a run in the back…I'd had them on less than 30 seconds.  I bought the right size based on my height and weight, but apparently I should have gone up a few sizes.  I'm not sure that I'll try that again.
I thought I might make it stretch mark free but alas, that is not to be.  I've noticed some stretch marks appearing on my belly this week.  Wonderful.
Movement:  Yep.  Very active.  I can't say for sure, but I'd guess he's head down because it feels like kicks up near my rib cage and smaller movements (like little hands) under my belly.  I almost always feel the kicks on the right side or directly behind my belly button – very rarely does he seem to hang out with his feet on my left side.
It's so weird to see sections of my belly lift up, like it's doing the wave.  From the outside it looks like there's an alien in there.  Last night we sat and watched while one side of my belly would lift up, then the other.  Freaky….cool, but freaky.
Food cravings: None
Food aversions: None (I think it's time to take these off since I don't seem to have any aversions anymore and very few cravings and add something new in…signs of labor, perhaps?  Maybe I'll change this for next week).
I still don't like many perfume-y smells (lotion, candles, etc.)
Sleep:  Still pretty amazing for this late in the game (based on what I hear from others).  Up once during the night to use the bathroom and adjust the pillows, and then that's it until my alarm goes off.  Once it goes off I turn back and forth for a bit and have to keep adjusting my pillows a few times for about 30 minutes before I actually get up.  As long as I don't sleep longer than about 7 hours, my legs don't hurt either.
Best moment(s) this week:  I had my first shower with some of our friends from our old church in Lexington.  It was wonderful to see everyone and I had so much fun getting all the sweet stuff for Hudson!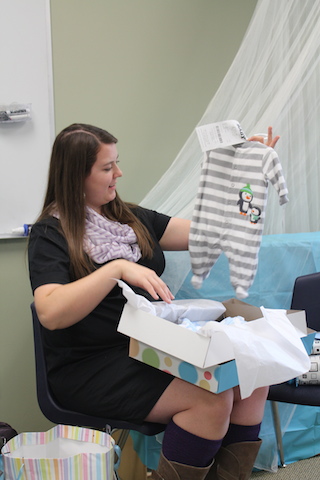 We also had a very impromptu "snow" day last Friday (as in, the forecast was calling for a big ice storm so we got out of school as a precaution…and then none of the predicted ice came until well after school would have been out had we gone).  But no complaints here!  I used part of that day to wash and sort all the hand-me-down baby clothes we've gotten and to start organizing the nursery.  I'm going to wait until after most of my showers to really organize so I'll see what all we have, but it was fun to get started.
Funny comments:  I get variations of "So how are you feeling?" multiple times a day.  The reaction when I tell people that I feel great is quite funny.  Most of them look like they don't believe me, or say "Well that's wonderful!" in a very surprised way.
I had a third grader ask me this week if I was going to have a baby.  I said yes and he said "How old is your baby?".  I had no idea how to answer that…0?  Negative 2 months?  Finally I just settled on saying "He's been in my tummy for about 7 months and in about 2 more months he'll be here".
What I'm looking forward to:  Our last birth class is this coming Monday night.  Don't get me wrong, I've loved our class and I feel like I've learned a lot, but driving almost 3 hours each Monday (it's just under 1.5 hours one way) plus taking a 2 hours class for 12 straight weeks gets kind of tiring and is very time consuming.  I'll enjoy having my Monday nights back!  Plus, being at the end of our class means we're getting close to the actual birth!  At some point I need to write a post on the Bradley method so you'll know kind of what we've been learning in all these classes (12 weeks of classes seems excessive to most people).
I also have my church shower here in Bowling Green this weekend that I'm excited about!  I just love all the teensy clothes and baby paraphernalia and it's so fun to celebrate Hudson's arrival with our family and friends.
Baby items purchased:  I don't think we purchased anything this week.  We were given lots of great things at our shower (clothes, books, rattles, blankets, diapers, pacis, etc.) though so we got quite a bit of new baby stuff this week!
Thoughts:  I can tell pregnancy has lit a fire under me to get stuff done.  We had our Christmas tree up on November 29 and the whole house decorated by last weekend.  NEVER have I gotten the tree and decorations up that early in December (and certainly never in November), but we have an incredibly late Christmas break this year (our last day is December 20) so I can't wait until Christmas break to get all that done like I usually do.  We've also gotten way more Christmas shopping (thank you, online shopping) done by this point than I usually have.  Oh and I used part of that "snow" day to wrap all the presents that we'd bought so far…so we actually have presents under the tree already!  I'm feeling quite accomplished.
My goal or mantra or whatever during pregnancy has been that I want to be pretty much prepared by Christmas…really meaning that by the time I go back after Christmas break (January 6) I am ready (as far as having stuff taken care of…I know I'll never really be "ready") for Hudson to get here, just in case he decides to come early.
Well that's less than a month from now, y'all!  Mercy, that flew by.
So I sat down and made a list of baby things that still need to get done.  My most important things to get done before we go back to work in January are:
finish our birth plan – written and typed already, might need just a little tweaking before printing
pack our hospital bags – I've made a list that I feel good about, now I just need to get everything gathered up, purchased (if needed) and packed
install the carseat and get it inspected – carseat is purchased, just need to set up an appointment at one of the places that does the inspections
Once we get those three things done, then I'll feel like we're ready whenever our little man decides to make an appearance, even if I don't get anything else from my list done.
Some other things that aren't essentials, but that I'd  like to get done before he comes are:
take all the Christmas decorations down
clean the house really well
make some freezer meals
prepare all our cloth diapers (he won't be wearing them right at first because they will be too big for him, but I'd like to have them ready anyway so I don't have to worry about it later on, especially since it will take several washings to get both the new and the used ones ready to go)
dentist, eye doctor, and hair cut – all things I usually do over Christmas break each year and that I'd really like to get done without having to drag a little one out in the cold
meet with Hudson's pediatrician
decorate the nursery – we have all the essentials but I haven't put any cute things on the walls or anything
get caught up with my scrapbooking – this is completely un-baby related, but I'd really like to get this done because I'm quite behind and I'd feel better getting it done because I know that once he's here my scrapbooking time will go down significantly (and yet my amount of pictures taken will go up…).  It's just kind of been hanging over my head so I'm going to do my best to get some done over Christmas break.
We'll see how much of that gets done!