How far along: 34 weeks
How big is baby: Hudson (according to the all-knowing Baby Center app…) weighs 4 and 3/4 pounds, is almost 18 inches long, and is approximately the size of a cantaloupe.
My symptoms:  The swelling got better for a bit but has returned this week.  My feet are the worst and look pretty puffy by the end of the day.  I'm very thankful for my Toms because those are just about the only shoes I can wear these days.  The rest of my shoes are either too tight, too hard to put on, or I'm afraid I will stretch them beyond wearability if when my feet go back to a normal size (trying not to count on that, though, since my mom's feet grew during pregnancy, as did many of my other friend's).  Putting my boots on is next to impossible – they actually fit okay once they are on, but trying to get them on is way too hard.  I have to exhale before leaning over the try to tug them on, then come up for a breath of air, exhale, bend over again, and so on until I've finally gotten them on.  I put them on for our maternity pictures and that's the last time I'm planning to try to wear them until I'm no longer pregnant.   I know my Toms will be too stretched out to wear again after pregnancy, but they were already showing some wear and tear and holes and I would have needed to get rid of them anyway.
After going about a week without wearing my wedding bands I just couldn't stand it…my hand felt too naked but obviously my rings were not going to fit.  So Michael and I hit up the Walmart jewelry counter and I got a plain, $28 sterling silver band to wear for now.  It's not quite the same as wearing my own rings, but at least I have something to wear for now.
For the most part I still feel pretty good.  One day this week my back was hurting a lot and I just felt uncomfortable that day.  Two different teachers mentioned how much I was waddling all of the sudden, but I knew it was just because my back hurt so bad (and I was right, the next day it wasn't hurting anymore and I was walking up and down the halls at my normal quick speed without any problems).
The biggest change this week is that I have to go to the bathroom a whole lot more.  I had to go all the time in the beginning, and then it tapered back off to my normal amount of times, and now we're back to having to go very frequently.  Sometimes I go and then five minutes later feel like I have to go again!  I know that's to be expected, but it's certainly annoying!
Weight/belly:  I keep forgetting to get on the scale…not that I really want to see that number anyway.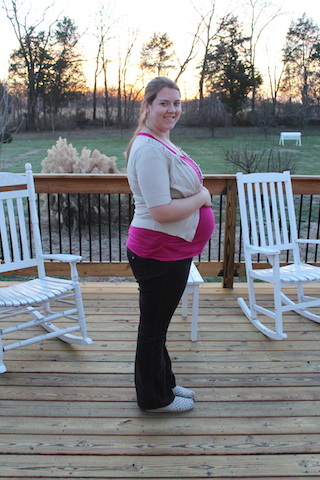 33w6d
Movement:  Same answer as the last few weeks…lots and lots.  They are big 'ol movements, too!  It's especially noticeable at night right when we get into bed and I'm reclined back on my pillows.  He gets really fired up and you can see my whole belly shift.  It will almost point out in one direction and then the other, like he's stretching really big or something.  Sometimes he pushes right behind my belly button and it nearly flattens out.  He's an active little dude, that's for sure.  It is so, so cool to feel and to watch!
Saturday night we went to take dinner to some friends of ours who just had a baby and meet their sweet little girl (the only girl amongst our large batch of boys being born right now at church!).  We had just been discussing how Hadley (her baby) had the hiccups a lot and I said that I was pretty sure Hudson hadn't had any yet.  Apparently those were the magic words because wouldn't you know it that next night (Sunday night) I felt what I'm just about positive were hiccups.  They were very consistent and rhythmic movements, jerks almost, that I could feel at the same time in multiple parts of my belly.  And I could feel his normal movements in addition to the hiccups.  He had them again Monday as well.
Sleep:  Still good for the most part.  I'm up to four pillows now – one for my head, one for my belly, one for my back, and one for my knees.  I've tried multiple times in the past (pregnant and not pregnant) to sleep with a pillow between my knees but the pillow never stays put.  Just this past week I decided to try again because I was waking up with my hips hurting so bad and guess what, it finally stayed!  I guess I just never really had a need for a pillow so my body didn't try hard to keep it in place during the night.  Now I do need the pillow so my body knows to use it.
I wake up once in the middle of the night to use the bathroom and switch sides, then I switch again when my alarm goes off the first time in the morning.  I have to wake up a little more to get all my pillows and such situated, but I'm always able to go back to sleep.  I really can't complain too much.
I've had some crazy vivid dreams this week, too.  Most of them have to do with school stuff with just a little baby stuff sprinkled in…I'm guessing I must be a little stressed at work right now since that keeps coming up in my dreams!
Best moment(s) this week:  Finally getting our maternity pictures done!  That has been a huge ordeal (go here to see the rest of the pictures)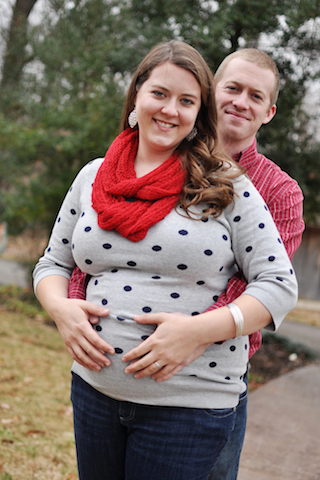 Also, I had my church shower on Sunday and got so many wonderful things for Hudson!  We have a wonderful church!
Funny comments:  One kindergarten student asked her teacher "Who's that?" (in reference to me) when she came into the library this week.  I've had this kid all last year and this year, so surely she knew who I was…it's not like I've changed that much since she saw me last!  She may have just been being silly, though.
One of the sweetest things happened this week, too.  A 2nd grade student came into the library with a gift and a card; she said it was for me, but her classroom teacher has the same name as me so I was afraid that she had gotten confused and brought the gift to the wrong person (it's pretty rare for the librarian to get a gift, in my experience).  I opened the card really quick and sure enough it was for me.  The gift was a little pampering set with a sleep mask, nail file, lip gloss, foot pumice, and some other beauty things…she said her mom said that since I was about to have a baby I would be tired a lot and probably need some relaxation.  Y'all, I almost cried right then and there because it was just so very sweet.  Not only did she give me a gift, but that it was something so thoughtful.  And I've never met this girl's mom (as far as I can remember) – she just had heard her daughter talk about me and wanted to give a gift.
What I'm looking forward to:  Christmas break, baby!  Tomorrow is our last day of school before Christmas break and then we're off until January 6.  I am raring to go to get a bunch of baby things ready!  Not to mention I can't wait to lounge around in my pjs all day.
Baby items purchased or prepared:  I spent Saturday getting some of our cloth diapers prepared.  We aren't planning to start cloth until he is about a month old (he'll probably be too small at first for the diapers we have, I don't want to fool with diaper laundry and such until I've gotten my mommy-legs under me, and we've been given quite a few disposable diapers at our showers so I can use those up first) but I wanted to go ahead and get the diapers cleaned really well and ready to use for when we do start using them.  I've prepped all our used diapers (bleached them and washed them really well, then stuffed them with the inserts so they're ready to go).  I'm waiting to wash the new diapers because I'll probably buy a few more before he gets here and that way I only have to do one load.
We got a ton of great stuff at our baby shower on Sunday and so I've been trying to get that semi organized.  We basically just dumped everything in the floor after the shower and I re-unwrapped everything to look at it again but just left it in piles everywhere, then finally one evening I sat down and actually started sorting, hanging, folding, organizing, etc.  Here's the nursery pre-organization:
(and yes, I promise someday I will actually show you pictures of the whole nursery, I'm just trying to finish a few more things before I do the big reveal)
I finally found an end table/nightstand thing to put next to the rocker in the nursery that I was happy with.  Even better, we caught it on sale on Amazon for $8 (down from $40-something).  The price went back up that night so we got it just in time!  We also caught a super good sale on the activity gym thing we had registered for so we snapped that up, too.  Babies are sorta expensive so I like finding good deals!
Labor signs:  Nothing that I know of.  I've had a few Braxton Hicks contraction, I think, but I really couldn't tell you for sure.
Thoughts:  How can it nearly be Christmas!  That's a huge mile marker in my mind…once Christmas is over then it's basically all downhill from there until baby time!  I can't believe it.